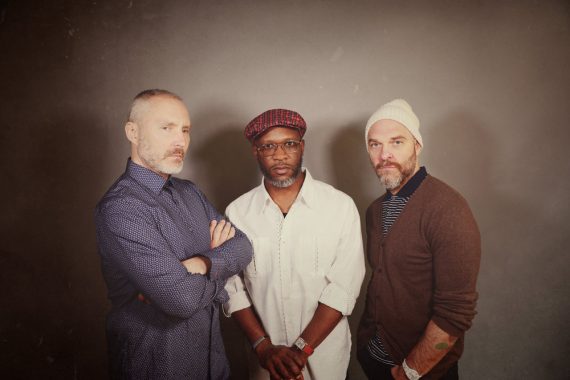 The movement of musicians into or out of a jazz ensemble isn't the kind of news that draws much attention. They are so often juggling different projects and schedules that it doesn't raise any eyebrows when there's a fill-in for a gig or another player sits in for a recording session. But the announcement that pianist Ethan Iverson was stepping down as a member of the Bad Plus, the trio he co-founded in 2000, to be replaced by Orrin Evans, sent a small ripple of shock through the jazz world.
The music of the Bad Plus–an angular, fractured sound, incorporating the influences of modern classical, experimental electronic fare, and rock–was entirely dependent on the chemistry of Iverson and his longtime bandmates drummer Dave King and bassist Reid Anderson. Even when they welcomed other players into the fold for a spell, as they did with tenor saxophonist Joshua Redman (for the 2015 album The Bad Plus Joshua Redman) and vocalist Wendy Lewis (on 2008's For All I Care), the trio remained the nucleus around which these charged particles swirled.
But as Iverson transitions into a new chapter of his musical life (he announced at the PDX Jazz Festival that he had just finished and submitted his first piano concerto), Anderson and King decided to not let their artistic connection fizzle out. Instead, they reached out to a friend and fellow musical wanderer Evans to complete their circle.
It's a fitting pick, too. While Evans' recordings as a bandleader are much more direct, bluesy, and often swinging than the Bad Plus's work, his playing is so versatile and deeply considered that it can adjust to meet the challenges of King's mathematical compositions and get into the swim Anderson's more fluid songwriting.
That's what's apparent when listening to Never Stop II, the first album these three men have made together. The title is a nod both to the fact that it is the second Bad Plus album to feature only original work and to this new phase of the group's trajectory. As this collection proves, the transition was clearly a smooth one, with Evans even adapting a pair of his own compositions–"Boffadem" and "Commitment," both originally recorded for the 2000 project Seed–to blend in with the trio's minimalist aesthetic.
Aquarium Drunkard reached Evans on the phone in his native Philadelphia to talk about joining the Bad Plus, and finding his place within this beloved musical institution.
Aquarium Drunkard: How did this come about, you joining The Bad Plus? Was this Reid and Dave coming to you directly?
Orrin Evans: Well, yeah. That's the only way it's gonna happen. Reid and I go way back. He was one of the people that exposed me to a lot of music. There's only two years between us, maybe three, but somewhat of a big brother. I was finishing up high school and he was attending Curtis Institute. I needed a bass player for my sister's graduation party back in 1991. The bass player I had originally called couldn't make it. There's an organization in Philadelphia called the Clef Club of Performing Arts, which came out of the Black Musicians Union. A gentleman by the name of Lovett Hines called me and said, "There's a bass player who just got in town. You need to give him a call. His name is Reid Anderson." And the rest is history as they say.
AD: I know you've played with Reid before and you've played with dozens of other ensembles, but how was it to step into this already established band and already established brand, if you will?
Orrin Evans: I'll tell you next year. [Laughs] And I mean that in a good way. I'm figure out something new every day. Honestly, the hardest thing is that I've always been a leader. I've always been able to call the people I want to play with. Everything was on my terms, except when I would play with people like David Murray, Sean Jones, and all that. Walking into this, I had the history of knowing Dave King as a person and as a beautiful human being but I hadn't really played with him. That's not discount Reid's participation with the band but my first thing is to connect with the drummer. What's been so great two weeks into gigs…yeah, we did a record together but we didn't play gigs. Now we're two weeks into gigs, and every day is a new, pleasurable experience getting to know Dave King, musically. It's really cool connecting with Dave because he has a very distinctive voice and knows a lot about a lot of music. Not just one genre. He knows about music. I'm finding out new things every moment on the bandstand and off. With Reid and Dave's compositions, finding a way to respect their mission and then also respect my mission as a player. All I look forward to is next year when I can look back and say, "Oh man, I remember that first gig." Everything's going to get better every second.
AD: How does that extend to performing Ethan's compositions for the band? Are you trying to stay true to the original intent or are you looking to put your own spin on them?
Orrin Evans: The Bad Plus is a very curated space. It's also a space that respects compositions and songs first. Then you get into the space of improvisation and what you're going to do with it. That being said, if you respect compositions and songs and melodies, then getting into this band is an easy transition. It's not about playing like Ethan. It's like playing the music of the Bad Plus. There really aren't three people in the Bad Plus. That's one big person divided into three people. A lot of people have heard the record and said, "It sounds just like Bad Plus." Good! That's exactly what it should sound like because Bad Plus is the sound you like.
AD: For your first album with the Bad Plus, all of the tracks on it are original compositions. I know this is something they've done in the past, but I feel like most people know the band for their unusual cover song choices, at least unusual for a jazz trio. Was the decision to make this an album of all original songs by design, as a way of introducing you to the fans?
Orrin Evans: I doubt it. Unless that's a conversation that Reid and Dave had that I wasn't privy to. I think it's just the direction that this project went. Everybody had to bring music and I didn't even think about bringing in a cover or another tune. When they said, "Bring music," I just figured you meant originals. It is funny that it connects with Never Stop, which was also all originals. The industry, the media, they find what they want to talk about. And I've had this happen with Tarbaby or other ensembles that I've been in, where they say, "This is what they do!" I was, like, "That's not what I meant to happen." When you step back and look outside of The Rite of Spring and the Nirvana covers, there's a lot of original music that exists in the Bad Plus. It's just that covers were more recognizable to people and a huge fan base can be attributed to that.
AD: Was the material that you brought in songs that you wrote specifically for the Bad Plus or were these ideas you had been working on for yourself or another project?
Orrin Evans: For this record, I brought in two songs that were previously recorded. Now, we have a couple of new tunes that we're going to add to the list but the first two that I brought in were specifically that I had already recorded. Up until January first, I'll be honest, I was, like, "Is this gonna happen?" Not because of anything that Reid or Dave or Ethan said. Everything was, "Yeah, this is about to happen." Sometimes it's, "Nah, something's gonna happen." But when the recording gig came up, I didn't take the time to write a new tune for it because I'm always trying to create new standards. It's like going into someone else's classroom or someone else's house. Everyone says, "Make yourself at home." If you're there for an hour, you start to feel at home. If you're there for a day, you might be walking around totally comfortable opening the refrigerator. And that's what I felt moving into it. I didn't want to assume and come in with this grandiose idea. I'm respectful of an 18 year relationship. I'm just moving in and figuring out how everything operates. And I've been loving the journey. Every step of it.
AD: What can you tell me about the conversations you and Ethan had as you were transitioning into the group?
Orrin Evans: Not tons of musical conversations. I didn't really want to have musical conversations about the Bad Plus with Ethan. I mean, that's a good friend of mine. We actually did some duo concerts in November before I joined. He's just been nothing but gracious.
AD: Did he offer advice or did you seek any advice from him?
Orrin Evans: I didn't ask. I haven't asked anybody advice on how they played in any band before I joined because that was their experience. I want to have my own experience. The musical questions I try not to ask. I just try to listen. The musical ones can be intimidating and they can deter you from really appreciating your own experience. I want it to be my own. And I was trusting my musical GPS for lack of a better word. words/r ham