Welcome to the April edition of the Aquarium Drunkard podcast, coming in from West of the Rockies. On this program, we explore the late night radio theater of the late Art Bell. The Coast to Coast AM host passed away on Friday, April 13th, and we've spent the days since exploring his classic archives. Aquarium Drunkard founder Justin Gage and co-host Jason P. Woodbury sat down to reflect on Bell's singular voice, dedication to chronicling the unknown, and status as a purveyor of genuine American weirdness.
Also on the show, guitarist Nels Cline joins us to discuss his new quartet, the Nels Cline 4, and "Imperfect 10" from the combo's new Blue Note Records LP, Currents, Constellations. Maybe you know his playing with Wilco, but here he focuses on the notion of "jazz fusion," which he's been exploring since the late '80s.
And we begin the podcast with a discussion with Jaime Fennelly of Mind Over Mirrors. The synthesist and composer just released a masterpiece called Bellowing Sun. It's cosmic in scope but rooted in the earthy reflections of naturalist writers like Henry Beston, whose 1928 book, The Outermost House: A Year of Life on the Great Beach of Cape Cod, served as a guidepost for the new album. Earlier this month, the album debuted alongside a multi-media installation at the Museum of Contemporary Art Chicago featuring a light sculpture modeled after an enormous drum. The suggestions — of biorhythms and universal patterns — are in keeping with Mind Over Mirrors' space-folk.
Transmissions Podcast :: Mind Over Mirrors/Art Bell/The Nels Cline 4
Though Mind Over Mirrors began as a solo project, it's very much a group effort now, featuring Janet Bean of Freakwater and Eleventh Dream Day, Jon Mueller of Volcano Choir, and Jim Becker of Califone. The band's latest, Bellowing Sun, arrives in conjunction with a multi-media installation at the Museum of Contemporary Art Chicago featuring an ambitious light sculpture. One of the marvelous things about Mind Over Mirrors is the way the group's music feels both spacey and earthy. On the new album, which is at turns ecstatic, spooky, and revelatory, Fennelly and company the band maximize that ability, putting the idea of our planet as a cosmic vehicle into context.
"I think about [the cosmos] in relation to my own music as being otherworldly, but I also think of it as being grounded, in the way that the Earth is cosmic," Fennelly says. "It's not just about the area beyond us or outside of us, in kind of an exploratory sense as well."
On his new album with the Nels Cline 4, Currents, Constellations, guitarist and composer Nels Cline reigns in the conceptual mood music of his previous Blue Note Records release, Lovers, in favor of tight, spiky interplay with guitarist Julian Lage, bassist Scott Colley, and drummer Tom Rainey. It's a record fueled by Cline's energy, incorporating avant-garde, rock, and blues influences. It is, for lack of a better term, jazz fusion music, which explains why Cline's initial title for "Imperfect 10" was "Jazz Fusion Composition."
"I definitely chose that term to bother people, particularly people who think they're cooler than 'jazz fusion,'" Cline says. "Basically, it's a meaningless term. It's a combination of basically whatever. It doesn't have to mean a combination of jazz and rock and classical and funk…it doesn't mean the same thing from one person to another, and that's why it's a fun word to use. It's basically a meaningless word that bothers people, which I find linguistically fascinating, but it also, stylistically, does kind of define me."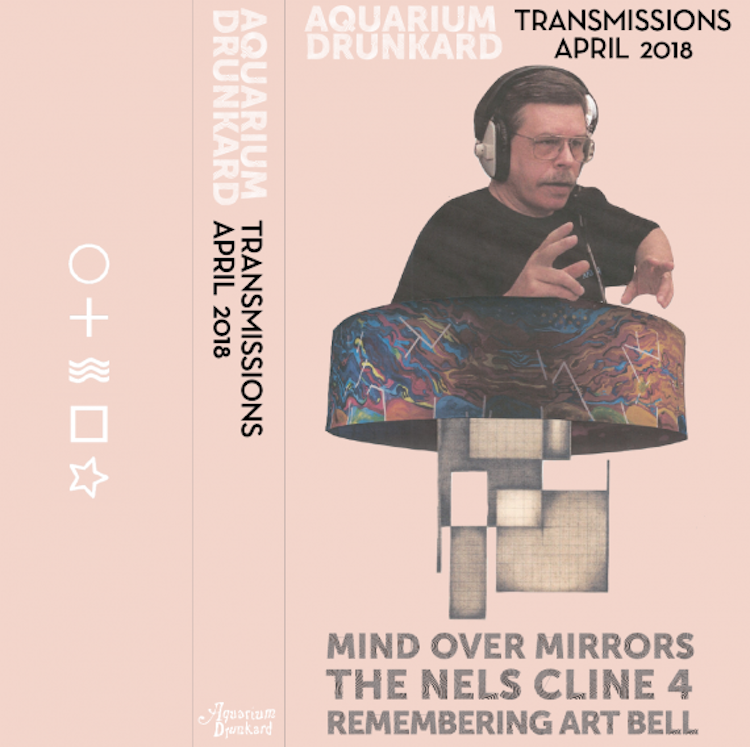 If you've ever been the sort of person content to sit around the radio late at night or scan the airwaves on a long drive through the middle of nowhere, there's a good chance you've experienced the strange radio theater of Art Bell's Coast to Coast AM. Since Bell passed away earlier this month and since his passing, we've been tuned into his archives. Here, we reflect on the impact and legacy of Bell's pioneering program.
"Coast to Coast AM felt like this secret handshake between people," AD's Justin Gage says. "Not unlike when you find a record or something that means a lot to you, that might be a little esoteric or obscure. Coast to Coast AM definitely kind of felt like that in the late '90s, early 2000s."
Thanks for listening to the Transmissions podcast. Support by subscribing to the Aquarium Drunkard podcast on  Apple Podcasts,   Spotify, Stitcher,  Mixcloud, Tune In, or via the  RSS feed. Please rate and review the show, or even better, share it directly with friends.
Collage image by Michael J. Hentz.
Dig into the podcast archives, which include interviews with Laraaji, Tim Heidecker, Eileen Myles, Daniel Lanois, Hiss Golden Messenger, Ryley Walker, Eleanor Friedberger, Idris Ackamoor, and many more.