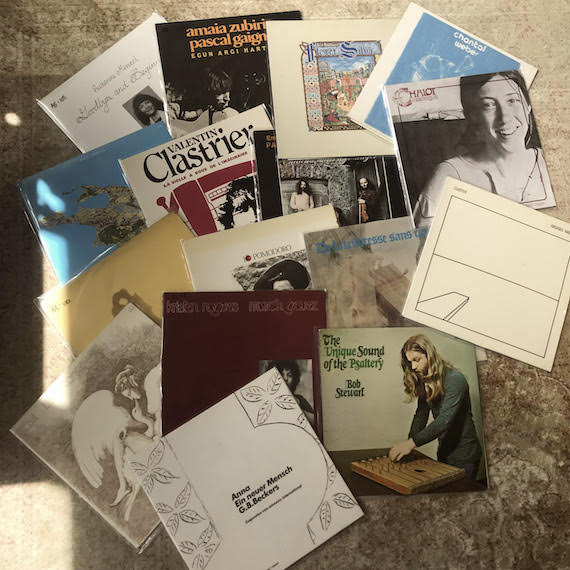 In my 20+ years of record digging there isn't much I haven't dropped a needle on, but nothing will ever be as near and dear to me as my first love – the psych/folk, English folk, and acid folk sounds of the late 60s/early 70s. The seed for this mix was planted about four years ago when my friend Elijah and I were digging together in Copenhagen. Martin at Can Records played us Suzanne Menzel's 1981 Goodbyes & Beginnings lp and I was floored. What I heard was the spirit of all the of the Wicker-Man'y folk records that I loved being taken into the modern age–complete with drum machines & synthesizers!
The record was recently reissued on the excellent frederiksberg records, and has inspired me to pull together some like-minded things for a mix that picks up after the well-documented heyday of this sound and carries us all the way into thru the 80s. Big thanks to Chee Shimizu, Brandon Hocura, Izabel Caligiore, Vincent Privat, Andy Cabic, Jen Monroe, and Martin at Can Records in Copenhagen for the various tips heard throughout.
Bob Stewart – The Leaves Of Light
Kristen Nogues – Hirness An Devezhiou
Kay Hoffmann – Tempus Instat
Chantal Weber – Ballade Aux Chataignes Tombees
Suzanne Menzel – What A Winter's Day
Emmanuelle Parrenin, Phil Fromont, Claude Lefebvre – Ballade En Foret
Valentin Clastrier – Madranque
Steve Tibbetts – Black Mountain Side
Luli & Lucinha – Numa Rede
Lucia Bose & Gregorio Paniagua – Nana De Una Sola Nota
Cluster – Manchmal
Linda Cohen – The Dust
Veronique Chalot – Cantique
G.b. Beckers – Dritter Monat
Danielle Romain – J'ai Reve D'un Chateau
Amaia Zubiria & Pascal Gainge – Itxasoan Laino Dago
+ Cowie is presently putting the finishing touches on the listening lounge/hi-fi bar In Sheep's Clothing, which is opening in the Arts District of LA this summer. Stay tuned.
Related: Aquarium Drunkard Mixtape Archives
While you're here. . . Aquarium Drunkard has launched a Patreon page, which allows readers and listeners to directly support our online magazine as it expands its scope while receiving access to our secret stash, including bonus audio, exclusive podcasts, printed ephemera, and vinyl records. Your support will help keep an independent cultural resource alive and healthy in 2019 and beyond.