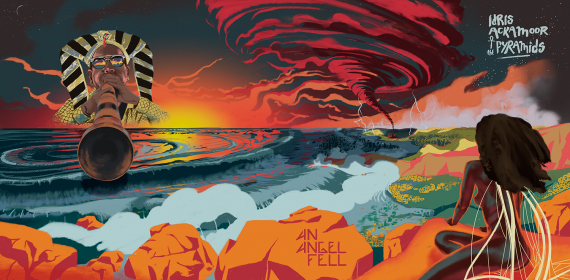 Since forming the Pyramids in the early 1970s, Idris Ackamoor has crafted a body of work fusing spiritual jazz with Afrobeat and lyrical mysticism with social justice. After studying with the late Cecil Taylor at Antioch College, Ackamoor traveled to Africa, learning new skills and picking up new instruments — and settled in San Francisco, building a sound blending the cosmic jazz of Sun Ra with R&B, funk, and homespun folk-art. Like his noted inspiration Pharoah Sanders, he has a mighty, impassioned tone, and that sound propels Ackamoor's new album, An Angel Fell.
Working with a parred down Pyramids ensemble, he and his six-piece band create a beautiful and vivid song-cycle, employing spacey language to address the present moment, reflecting on the lingering traumas of Hurricane Katrina and the destructive storms that followed, the shooting of the 18-year-old Michael Brown in Ferguson, Missouri, and putting song to the Water Protectors' battle at Standing Rock. Inspirational is a word that gets tossed around a bit too loosely most the time, but it's hard to come up with a better term to describe the resilience in these sounds. Confronting grim realities, the Pyramids brew up a heady response. These aren't escapist jams. Rather, they position celebration at the center of the human struggle to be recognized. There's joy found in true justice.
In advance of the album's release this week, Ackamoor joins us to explore deeper song by song. His notes provide not only insight into An Angel Fell, but also Ackamoor's creative process itself. Let's dive in.
Idris, Messenger Of The Moon, arrives in ancient Fra Fra Land to attend the second burial of a Fra Fra King in Bolgatanga, Ghana. Meeting up with his spiritual guide Atibila he begins a series of rituals whereby he can walk the earth protected!
"Tinoge"
"Tinoge" began as a collaboration between the band and Kologo player Guy One from Ghana. As we entered the Philophon recording studio I saw this African from the Fra Fra tribe of Bolgatanga, Northern Ghana, playing this African stringed instrument and I tripped back 46 years ago when I made my pilgrimage to this same region. Guy One was either not born yet, or very young when I arrived saxophone in hand, accompanied by my romantic partner and traveling companion at the time, Margaux Simmons, with her flute in hand. While I was in Northern Ghana I participated in ancient ceremonies including "The Second Burial of a Fra Fra King", and the ritual of "The Washing of the Legs" with a traditional healing priest (Tendana) out in the bush in a grass hut temple. I also played in "prayer drumming" rituals with the King's Drummers of the Dagomba people in Tamale. Originally entitled, "Tinoge Ya Ta'a Ba," it was released as a 45-inch recording on the Philophon label, but I updated it for the release of An Angel Fell.
"Tendana, crooked stick in hand… Metal striking stone of the land… Chant of the spirits echoing within…. calabash shaking rhythms ascend…Metal with hole fell from the sky…Vocal sound sent soar on to high."
"An Angel Fell"
Out of the hole of "the metal that fell from the sky" sprang An Angel with Broken Wings looking for earthly experiences. In a minds flash, she transformed into a beautiful South African woman now encased in stone for an earthly deed they said was wrong…Murder! I met her inside the Naturena Women's Prison outside of Johannesburg with "eyes so bright, smile alive with such intense light." I blew my horn…She came to me…As much breath as possible exhaled into the cosmic expanse of the silver serpent as it hums and resonates lyrically and passionately! My tenor solo is a love song followed by Sandi's gypsy serenade on violin. Innocence and separation express a longing…is it love…or lust?
"An Angel Fell and Broke her Wings She Fell from the sky
To planet Earth from Stars Above To live with you and I"
"Land of Ra"  
During the '70s and '80s, Jamaica was my second home as I listened to the music of the Revolutionaries and other unrecognized, instrumentally-based Jamaican bands. "Land of Ra" is not only paying homage to Sun Ra, but also to those Jamaican bands. The melody was composed long ago during my summers spent playing with Jamaican reggae bands.
"The Messenger (Idris) calls for reinforcements as he confronts earthy hosts gone mad with greed… intent on destroying the musical spheres and vibrations of the planet…"
"We are children from the Land of Ra Travel space from star to star Music of Today and Tomorrow Sounds of Joy
No more sorrow"
"Papyrus"
Egypt…The ancient Land. Nubia…Ta-Merry…Upper Egypt, Lower Egypt
Imagine you are floating down the Great Nile River on a barge with musicians playing instruments of old…the sistrum…the harp…Poets reciting their writings, The Book of the Dead, from Papyrus scrolls… "Ma'At" the ancient Egyptian concepts of truth and harmony.
"In his quest to rescue the Angel, he proceeds to the ancient holy ground of Egypt… He secures the papyrus amulet to wear at his throat   for protection, healing and health…."
"Soliloquy for Michael Brown"
I have always believed that musicians are spiritual messengers! Just like the ancient griots of Africa musicians are the repository of the collective cultural memories of a people. Whether it is John Coltrane's "Alabama" as a homage to the four black schoolgirls killed in Birmingham, or Charlie Parker's "Now's The Time," the powerful music of Bob Marley or Fela Kuti, or "Soliloquy For Michael Brown" from my album. These are the compositions and the musicians I most admire and listen to. Musicians who are not afraid to compose and play music with a positive message. I composed "Soliloquy" after the tragic death of Micheal Brown that resulted in weeks of riots and unrest in the city of Ferguson, Missouri.
"He enters the underworld to seek alliance with the rebels who are in desperate need of help… Their followers are dying at an alarming rate due to a vicious onslaught of negative earthly forces… Their standard bearer is assassinated in broad daylight…"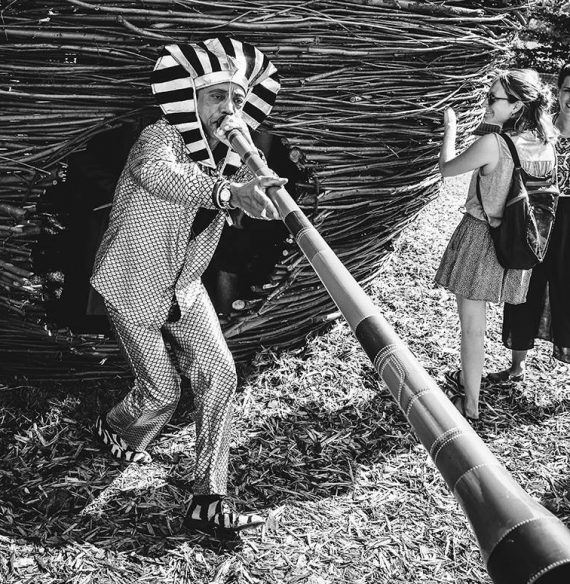 "Message to My People"  
August 2005…sitting in front of my television starring aghast as Hurricane Katrina slammed into my ancestral home, New Orleans, as the Horses of the Apocalypse danced and pranced wreaking havoc on the earthly beings, mostly people of color, as "the world starred in utter silence". Fast forward…several months after recording An Angel Fell in London, 2017 became one of the worst seasons for the unyielding devastating march of global climate change as the harbingers appeared one after the other…Harvey, Irma and Maria slamming into Puerto Rico, Texas and Florida.
"Storm clouds gather, heralding the entrance of the Four Horsemen of the Apocalypse to aide in the battle, wreaking havoc… Bees die, polar ice caps melt, seas rise…"
All I wanted was a chance to live my life… live my life…Like anyone…like anyone"
"Warrior Dance"  
Idris Ackamoor and The Pyramids departed for their 2017 summer tour on May 31, the day after my daughter's 42nd birthday that was particularly fateful in that it was her second trimester of pregnancy! I was going to be a grandfather for the very first time! A continual development for months prior to the departure was the occupancy and protest at Standing Rock, South Dakota, by members of the Sioux nation, America's FIRST PEOPLE over claiming their land and securing it from the rape and destruction of their native rights from the poisoning of their water. This composition pays homage to America's indigenous people… dedicated to them by progenitors of America's indigenous art form…JAZZ!
"Sunset"
Time to take spiritual protection/Time to wake there be no deception/Life's at stake heed your own reflection/Only hope is collective action. Walking on the beach of Negril, Jamaica, my spiritual place, I watched as the sunset descended into the warm, tranquil Caribbean Sea casting unimaginable colors of brilliance! As the waves rolled in this melody was sent to me from the Creator as a promise that, "After the Rain" there will be hope, new beginnings, love, and peace… A perfect way to end the journey of An Angel Fell.
"I see the SUNSET Blue and Green
I see the SUNSET Yellow too
I see the SUNSET It's a sign
It's a prayer Prayer for the WORLD No more Ending Forevermore"
An Angel Fell is available May 11 via Strut Records.
Previously: Idris Ackamoor :: The Aquarium Drunkard Interview