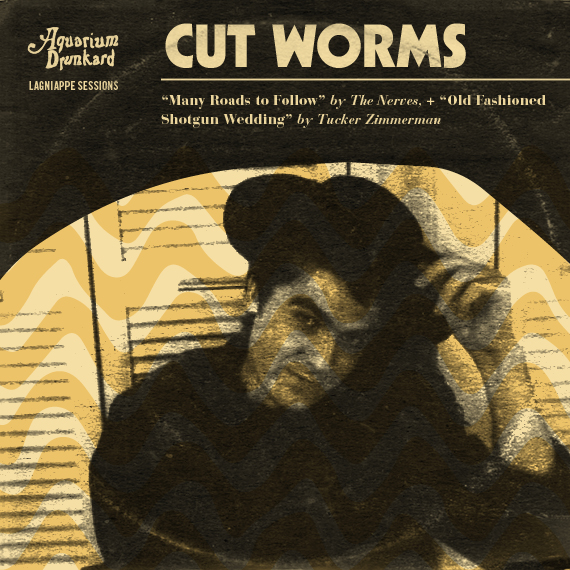 Lagniappe (la ·gniappe) noun 'lan-ˌyap,' — 1. An extra or unexpected gift or benefit. 2. Something given or obtained as a gratuity or bonus.
In early 2017, in the twilight hours outside a Michael Hurley show, John Andrews of Quilt, Woods, and Yawns first told us about Max Clarke, who records under the name Cut Worms. It wasn't long before we experienced his spectral sound for ourselves. Clarke sounds like he stepped out of a late night Time-Life rock 'n' roll memories commercial to take the stage at the Bang Bang Bar in Twin Peaks. Hollow Ground, the debut lp from Cut Worms, is out on Jagjaguwar, and Clarke is on tour with King Tuff. In his own words, he describes adapting songs by the Nerves and Tucker Zimmerman for this installment of the Lagniappe Sessions.
"Cut Worms has never really been only one group or thing. That's part of what I like about it … In this instance, it's me (Max) and my girlfriend, Caroline Gohlke. We collaborated on these tunes that we both really like and tried to do some honest interpretations of them. Both are fantastic songs and we had fun putting them together in our way."
Cut Worms :: Many Roads to Follow (The Nerves)
The Nerves are a favorite group of mine and Caroline's. I've loved this song from the first time I heard it. The original song only exists as a demo, so there was room for interpretation. The vocal harmonies are really interesting and I'm not sure we really got it exactly "correct" but we did our own thing with it and I like how it turned out.
Cut Worms :: Old Fashion Shotgun Wedding (Tucker Zimmerman)
Caroline and I each recently found this song independently of one another and so it was kind of a serendipitous thing when she suggested it as a song choice for this project because I had been thinking about it too. The original version of this song by Tucker Zimmerman is singular and basically perfect the way it is. So without any intention of "improving" on the original, we did our own interpretation of it which I think does fair justice to the spirit of the thing. I'm really pleased with how it came out.