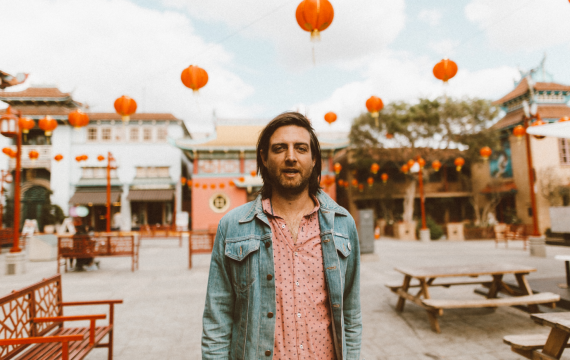 "I'm stoked, man. Back at work after so long."
This is Stuart McLamb of the Love Language, standing on an L.A. sidewalk having just emerged from a barber shop. It's a relatively new surrounding for the North Carolina native who took Huck Finn's advice about a year ago and lit out for the territories. The impetus for our phone call is the first new Love Language record in five years. Baby Grand will see the light of day August 3rd on Merge Records, and it marks a sizeable change in McLamb's surroundings.
AD spoke with McLamb about what he's been up to since 2013's Ruby Red, writing and composing inside a defacto hammock factory, the way album ingestion can affect your own art, and how the new album's title has its own cheeky fit in the universe of the Love Language. Check out the video for the first single, "Southern Doldrums," down below.
Aquarium Drunkard: This is the longest time that has elapsed between Love Language records. What's been going on and what lead to that long of a break?
Stuart McLamb: Well, it's always kind of been me writing and doing it. I think maybe I just got a little — maybe not burnt out, but you shouldn't just churn things out to just do it. It needs to come from a spot. So it took a while for me to rediscover my passion and have songs pile up that I thought were good. I spent hours and hours making demos, and there was a lot of stuff I just didn't feel was honest or real and ended up just scrapping them.
That was the deal with the Love Language, but I did stay busy with several other things. Right after the tour for Ruby Red, I mixed a record by a Chapel Hill band called Last Year's Men. It was a great record and they put it out, but they'd started a punk band right after that and it never went that far. So I spent a long time working on that and then I had a band called Soon. That was a band I did that was a bit more of a heavy thing. Put that album out. I did a record with a project called Pretty Ponies. Maybe it didn't seem like it in the public eye, but I definitely felt pretty busy. It probably does appear that way to people who just know me from the Love Language.
AD: Well, and after doing three albums under that name, I'd imagine just doing something different for a while — especially if you didn't feel the things you were writing were things that would naturally fall under what you'd put out as a Love Language album — is as good for that writing process as anything else. But you've also been out in L.A. for a year or so now?
SM: Yeah, it was a year ago. It's been really rewarding. It's definitely a hustle out here. I've found that's been really good for me, to get out of my comfort zone and do some things I wasn't sure I could do. It's a pretty sprawling, wild and crazy city, but I've been navigating it pretty well.
AD: You're a tarheel by birth, right? So I'd imagine it's different.
SM: Yeah, I grew up in North Carolina. Me and my brother were raised in Cary, a suburb of Raleigh. And I kind of messed around for awhile. I lived in Wilmington for a bit. Did the kind of Triangle circuit. [laughs] Kind of like a pinball game I never quite bounced out of going back and forth between Raleigh and Chapel Hill a few times. And maybe in my mid-30s was a weird time to make a big jump, but it just felt right. I did feel sort of in a rut for the past 2 or 3 years.
I actually hit up my brother who lives in Roanoke, Virginia with his wife. And I said I just need to get out of town and clear my head. He said, "Come up here with us." And he has a studio where he has a side business where he weaves hammocks. And Roanoke is an amazing small town and so affordable. Really a lot of cool up and coming stuff there. He had this space where he told me I could put a studio in there, do a little recording. I ended up staying 5 months, and the builk of the new album was written there. I had a studio set up – the intention was to do the entire thing there. It didn't all get done there, but about 70% of the way. While I was there, I met my now-girlfriend and we started talking about L.A. and we just drove cross-country in a Honda Civic packed to the gills. It was kind of insane, but we made it work.
AD: So most of the record was recorded also before you headed out there? Or just written?
SM: Part of the record was recorded in Roanoke, and there are some songs that I knew were about me thinking about moving to L.A. And some of the lyrics were finished once I got to L.A. In-transit, in-motion is the vibe of the record. I got to L.A. and finished writing it. I had a version of it that was in demo form, and it was at that point that I realized, okay, this thing is almost there. So I hit up a friend of mine, Kris Hilbert, in Greensboro, North Carolina, at Legitimate Business recording studio. He'd worked on the Soon record and we'd really hit it off.
I sent him the stuff and he's like "Dude, this is great. Why don't you send me all these tracks and we'll just pull it up in Greensboro and see what needs to be replaced?" So a lot of the vocals needed to be redone, and the drums – I used a lot of drum machines for the demos, and we got Tom Simpson, who has been the Love Language drummer for a long time now, he came in. And we re-patched the MIDI synthesizers I had in the demos. We redid those with analog synths and just added a lot more authentic sounds to the thing. So it's this kind of Frankenstein record, but I think a lot of records are like that these days. The cool thing with the initial spark and that sort of energy that's in a demo when you're excited in the moment – that was kept. We never got to the studio and started over with a live band. We'd open the components of the demo and say, "Oh, let's rework the drums here." But we never scrapped the whole demo. I feel like it kept the excited vibe the whole time.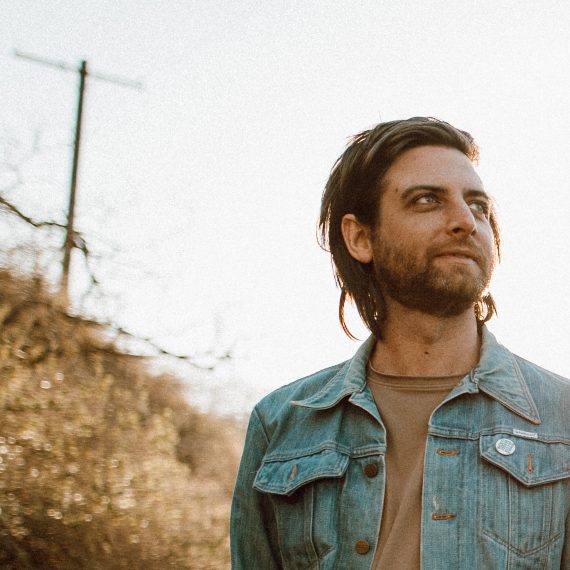 AD: The new album sounds like an evolution of what you've been doing, but also sounds like it pulls from past iterations of the band. How would you describe what you were doing with this record?
SM: Since it was so many years in the making, honestly, there are bits and pieces of this album from the past 5 years. With The Love Language, starting out, it was this nostalgic '60s throwback kind of thing. Lots of tambourines, and kind of Beach Boys/Zombies-inspired melodies and songwriting. And that reflected a lot of what I was listening to at the time. But in 2018, you rarely meet someone who listens to one style of music. We all ingest a lot of different things and influences. Even when the band started, and I was happy with our aesthetic, I was like "Man, I want to do this thing or that." And I think with Ruby Red I started to explore a few of those sounds, or at least hinted at them.
With this album, I had about two records I was working on. One was more modern, with some more noise pop kind of stuff or some drum machines, synthesizers, that kind of stuff. Things that had formerly been in our pallette of sounds. But I had another one which was more songwriting/folk-based almost. I was planning on doing these two, but I got to a point where both felt half-formed, and I decided to just take parts of both. I think Love Language is like my personal life-long process. So I wouldn't just scrap this if I wanted to try a different sound. So I just knew this was going to be a life-long project, there are going to be a lot more records until I literally can't play anymore. So it's just whatever I'm feeling. This record is an intentional mish-mash of things I like and whatever I'm listening to. The record kicks off with a song I think of as like heavy Cocteau Twins and ends with kind of a country song. But I think of it more like a playlist, a lot of different vibes.
AD: That's an interesting way to describe it. Do you think that's the future of albums? The big question has been "Do albums matter in the age of streaming," right? So, it sounds completely rational for you to describe the album that way, but is that maybe an unconscious reflection of the way albums are experienced these days?
SM: I do think so. I think much of the way I, personally, have ingested music the last three, four, five years has been streaming, playlist-based, short attention span, song at a time playlist. For better or worse. I'm often in transit, so I think you're more inclined to put on a record when you're at your home. I've mostly just been taking music in through streaming services. And I do love an album with a cohesive, singular vibe, where you can just slow down and take it in. But where I was at in my life, it was more about taking chances, and exploration and trying new things. And that's what came out with this record. But that is interesting. I just finally moved my LPs out to L.A. and I'm getting my turntable fixed and am really excited about sitting down for Side A, Side B, having to flip them. [Laughs]
AD: The record is called Baby Grand. There's a reference to grand pianos in the song "Independence Day," but aside from that, no explicit reference. So was this a modified title in a way?
SM: Yeah, that line probably sparked the idea for it, but I think I liked the way those words sound together. It was actually made on a very small budget, this album. That is no slight to Merge Records. I was in a lot of debt after Ruby Red. I went kind of crazy. I joke that that's my Spider-Man 3 record, all these explosions. With the mixing, I kind of went out of my mind and mixed it like four or five times. It was so much money. So I finally got out of debt with that and I think Merge, with very good foresight, didn't give me a big advance. Which is good. I think it is good to do more with less. You don't always have to hire an orchestra or whatever. That was a little bit of the joke too. It felt like a grand thing for me, like a big record, but made on a small budget. So Baby Grand is a play on that. That's just one that seemed to fit and was a good fit for it. I felt like it was on-brand. [Laughs]
You can pre-order Baby Grand here. words/j neas; photos/Marci Hohner
Further listening: The Lagniappe Sessions :: The Love Language (Jay Reatard, Frank Black)