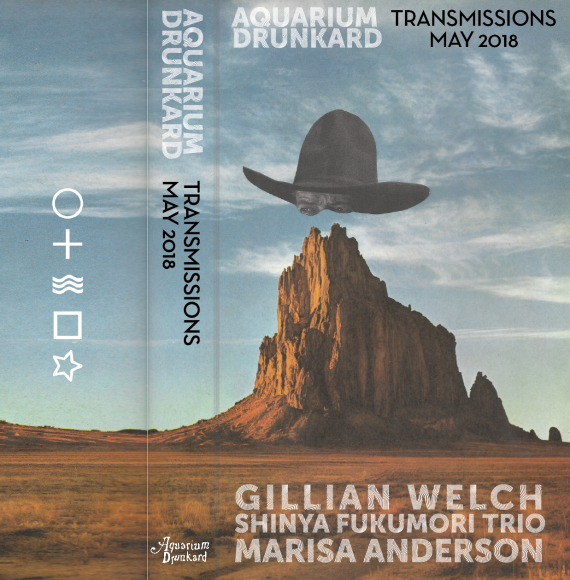 And we're back. Welcome to the May edition of the Aquarium Drunkard Transmissions podcast, our recurring series of conversations and audio esoterica. On this program, we're joined by singer/songwriter Gillian Welch. Along with her partner David Rawlings, Welch has tapped into the wellspring of American vernacular music. Her masterful albums – including 2001's Time (The Revelator) and 2011's The Harrow & the Harvest – are part of one of the strongest bodies of work in the modern folk music canon. Welch is about to hit the road with Rawlings, embarking on a series of "An Evening With" dates June through October, and this summer sees the vinyl reissue of her 2003 LP Soul Journey. We spoke to Welch via phone about her attention to the long player, album-length statement, and how it's resulted in such fine lps.
Then, we have a review of the release by the Shinya Fukumori Trio, For 2 Akis by writer and Footfalls Records founder Leah Toth; released by the stalwart ECM label, the new release unites players from France, Germany, and Japan for a quiet, but subtly immersive new album, produced by ECM mastermind Manfred Eicher.
And to close out this month's episode, a conversation recorded live backstage with guitarist and composer Marisa Anderson. She's one of the most engaging solo players in the field today, blending blues, folk, and country forms into political and personal statements. On June 15, she releases her debut for Thrill Jockey Records, Cloud Corner. A meditative and peaceful album, the record serves as a respite from the constant noise of our modern times. We spoke with Anderson about the need for those kinds of musical spaces, the influence of science fiction on her work, and her subversive reinterpretations of traditional and public domain music.
Transmissions Podcast :: Gillian Welch/Shinya Fukumori Trio/Marisa Anderson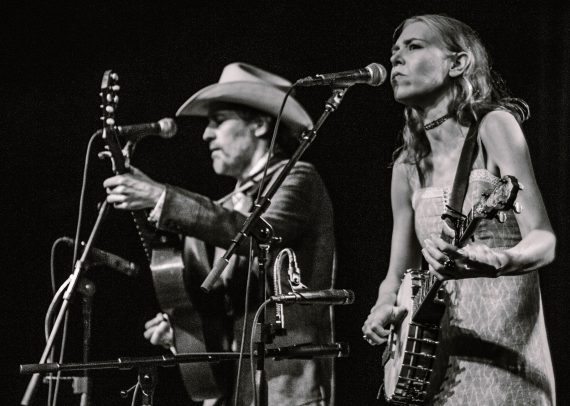 Forget pretty. Folk music is "incredibly gnarly," Gillian Welch says. For the singer/songwriter, traditional folk forms offer a language for approaching the human condition. Emerging with 1996's Revival, Welch and her musical partner David Rawlings have merged bluegrass, blues, and Appalachian music into a singular Americana sound. But Welch doesn't live in the past. Her music grapples with the here and now, not so much "recreating" past traditions as breathing continued life into them. "I understood the language," Welch says. "It was just a really good fit for me. Just all of it. Some people, I don't know, they like talking about jet planes and diamonds. I like talking about flowers and death. That's just how it goes. That's how I sort of get my point across."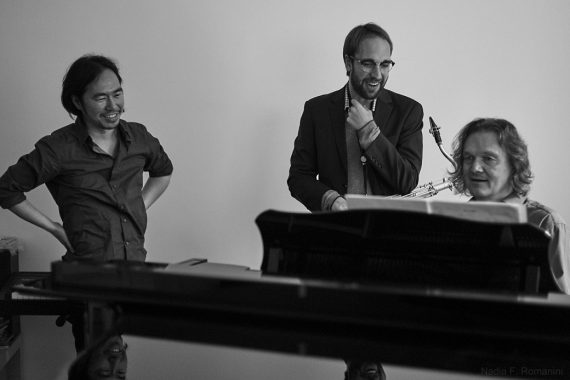 On its ECM debut, the Shinya Fukumori Trio crafts a stirring sound. Comprising drummer Shinya Fukumori, tenor saxophonist Matthieu Bordenave, and pianist Walter Lang, the trio's For 2 Akis is an early contender for the sweetest sounding album of 2018. Recorded by ECM founder Manfred Eicher at Studios La Buissonne in the South of France, the new album is reviewed this episode by Leah Toth, an assistant professor at Hamden-Sydney College, and head of Footfalls Records, which has released music by Mary Lattimore and Elysse Thebner, Tashi Dorji and Marisa Anderson.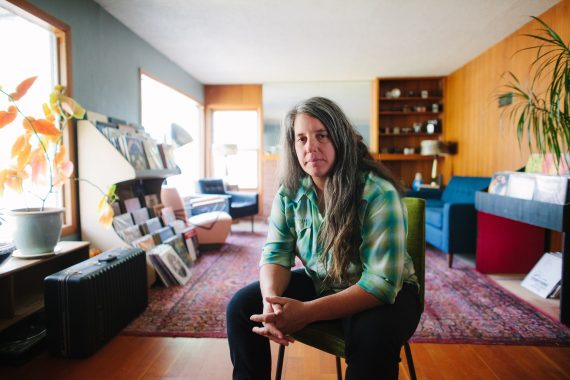 Marisa Anderson's music evokes space – wide open expanses – but to call it simply pastoral is to miss the mark. Anderson's music is political and personal, and it's cutting in its own way. This is true of her new album, Cloud Corner, which navigates profound tragedies – including a reflection on the Syrian refugee crisis – but also creates a space removed from the constant noise vying for our attention. We recently spoke with Anderson backstage at the Van Buren in Phoenix, Arizona, before her set opening for Godspeed! You Black Emperor. It's very much a backstage recording – you'll hear folks milling around, some clanking, a few kids running around – but it was a real pleasure to explore Anderson's catalog and reflect on the stellar new LP.
If you enjoyed our show, please feel free rate and review on Apple Podcasts. Even better? You can personally tell a friend to check it out – by sharing the show via Spotify, Stitcher, MixCloud, or the TuneIn app. As always, tune into the weekly two-hour show on SIRIUS/XMU, channel 35, which can now be heard every Wednesday at 7pm PST with encore broadcasts on-demand via the SIRIUS/XM app. Follow AD on Facebook, Twitter, Instagram, and Tumblr.
Collage image by Michael J. Hentz.
Dig into the podcast archives, which include in-depth looks at the Voyager Golden Record and the Jesus People psychedelia movement, Laraaji's new age public access show Celestrana, how Numero Group revitalized the natural sound series Environments for the app age, and how Art Bell's late night conspiracy theories on Coast to Coast AM influenced broadcasters all over the world.