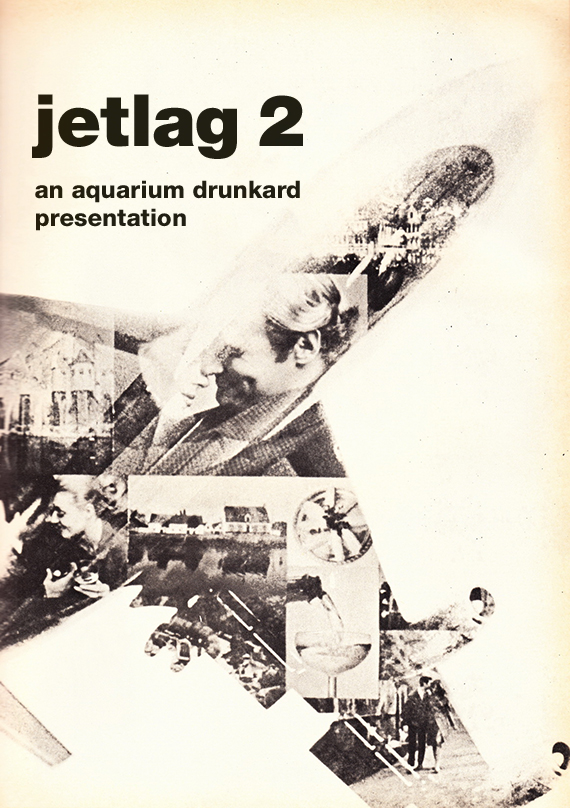 In 2012 we intercepted two hours of Jet Lag — the radio program hosted by Yoon Nam — which ceased airing three years ago following an inspired decade-long run on Atlanta's 88.5 fm. Earlier this year we caught up with Nam as she put together the following two-hour mix amidst a visit to her native Korea. Below, the selector in her own words, followed by two hours of music.
My last mixtape with Aquarium Drunkard showcased my 60s-70s international psych and prog radio show, Jet Lag, that I hosted for almost ten years. Since then I have been hosting an all-vinyl, monthly dj night with Chris Devoe at The Sound Table in Atlanta called "The Trip," and I do always think of sets as trips, both in a literal sense of taking listeners from one place to another and in a psychedelic sense. Records seem perfect things to use to make trips because they are somehow personal, physical, and nostalgic, and this mixtape actually contains several songs I loved while growing up. Nostalgia is central, I think, for the sonic imperfections of well-played records become part of the experience, physical markers of someone's past emotional journey through the same musical experience shared by the current listener. I wanted this trip to feel really fresh, so it's mostly little-known music, and the sets build from the really giddy and blissed out first hour to the beautifully heavy introspection of Lard Free and Annexus Quam at the end.
Jet Lag II – Night Flight (zipped folder)
1. Riz Ortolani/ "Fino All' Ultimo Colpo"/ April Orchestra Volume 6 (France, 1977)
2. Basabasa Experience/ "Konya"/ Together We Win (Nigeria, 1979)
3. Ambassadeur International/ "Mandjou"/ Mandjou (Ivory Coast, 1978)
4. Grupo Irakere/ "Bacalao Con Pan"/ Teatro Amadeo Roldan Recital (Cuba, 1974)
5. Cisse Abdoulaye/ "A Son Magni"/ 7" (from Burkina Faso, released France, 1975)
6. Bembeya Jazz National/ "Sou"/ Authenticite 73: Parade Africaine (Guinea, 1973)
7. Christy Essien/ "Take Life Easy"/ One Understanding (Nigeria, 1979)
8. Dennis MacDavid/ "May Be It's Time I Let You Know"/ Bugalulu (Nigeria, 1978)
9. Manu Dibango/ "African Battle"/ Africadelic (France, 1975)
10. Dao Bandon/ "Kon Kee Lang Kwai (Man on a Water Buffalo)" / Essential Dao Bandon (Thailand, 1976, played from 2014 EM Records reissue)
11. Emma Dorgu/ "Afro Fever"/ Roverman (Nigeria, 1979)
12. Siagbo Dieudonne Eddie et Martine Blanchelle/ "Nounagnon"/ 7" (Benin, late 70s/ early 80s)
1. Hye Jeong Kim/ "Rainy Night" / Can't Forget (Korea, 1978)
2. Hung Cuong and Mai Le Huyen/ "Tai Anh Hay Tai Em"/ Vietnamese 7" EP (1970)
3. Panbers/ "Rock and the Sea"/ Panbers Sound 2 (Indonesia, 1972)
4. Hung Cuong and Mai Le Huyen/ "Gap Nhau Tren Pho"/ Vietnamese 7" EP (1969)
5. Jang Hee Lee/ "Who Are You?" / Meet Me in a Room (Korea, 1973)
6. Milton Nascimento/ "Hoje E Dia De El Rey" / Milagre Dos Peixes (Brazil, 1973)
7. Som Imaginario / "A No 2" / Matanca Do Porco (Brazil, 1973)
8. Klan/ "Nerwy Miast"/ Mrowisko (Poland, 1971)
9. Mammut/ "Classical Mammut"–"Mammut Ecstasy"/ Mammut (Germany, 1971)
10. Lard Free/ "12 Ou 13 Juillet Que Je Sais D'Elle Part One"/ Gilbert Artman's Lard Free (France, 1973)
11. Annexus Quam/ "Seite 1: C"/ Osmose (Germany, 1970)
12. Thanh Tuyen/ "Con Gia Cua Me"/ Vietnamese 7" EP (1970)
Previously: Aquarium Drunkard Presents: Jet Lag — A Mixtape
Why, hello there… Aquarium Drunkard has launched a Patreon page, which allows readers to directly support our efforts as we expand our scope while receiving access to our secret stash, including bonus audio, exclusive tees, printed ephemera, and vinyl records. Your support will help keep an independent cultural resource alive and healthy in 2019 and beyond.