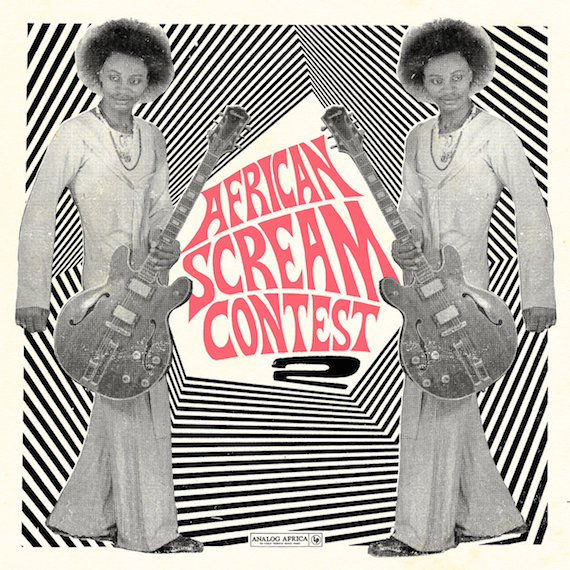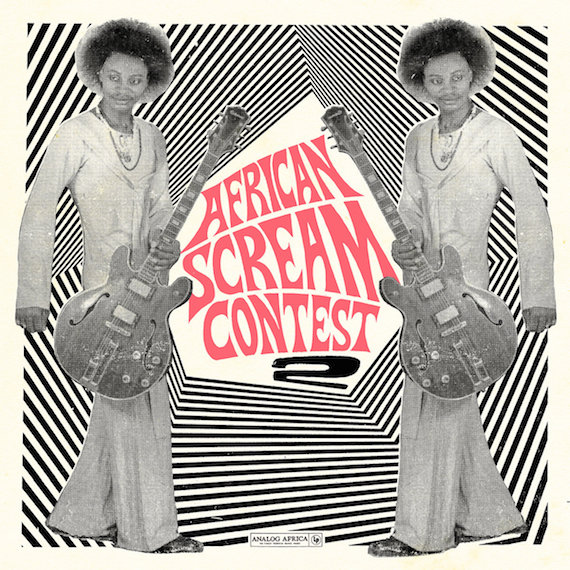 Five songs into African Scream Contest 2 comes one of the greatest recorded screams I've ever heard.The Picoby Band D'Abomey have just begun to play "Mé Adomina," a track built around a loping surf groove and a lazy shaker that suggests almost anything besides ecstatic fits of joy. And then the singer gets free. He lets loose a blood-curdling howl that immediately redlines the song and that's probably still resounding in the Beninese city where it was recorded. It is a wild thing, a shriek of joy, truly an entrant in the hall of fame of great rock 'n' roll screams. Move over, "Won't Get Fooled Again."
It's such a powerful shout that it shakes you into realizing that it's the first of its kind on this two-LP compilation of afro-funk from Benin. The modest yelp that caps the North African lullaby of Elias Akadiri and Sunny Black's Band's "L'enfance" notwithstanding, the contested screams here aren't being laid down by the musicians; it's that the musicians are competing to make the listener scream.
And there's a lot to scream about on African Scream Contest 2, the sequel to the legendary 2008 compilation of the same name put together by ace crate-digger Sam Ben Redjeb, the former flight attendant behind the Analog Africa label. Like its older brother, 2 makes the case for the vitality and richness of the music scene in Benin, a country whose musical legacy is greatly overshadowed by its Nigerian neighbors to the east and, to a lesser degree, by Ghana to the west.
The sounds here are immediately familiar, but reveal unexpected complexities: Les Sympathics de Porto Novo kick things off with a zamrock-worthy lead guitar before segueing into a loose afrobeat pattern, l'Orchsetre El Rego spangles a stutter-stepping afro-cuban jam with tinny synths and soul-jazz organ, the Orchestre Poly-Rythmo de Cotonou play chanting Ghanaian disco from deep pocket grooves while the vocals shift into wispy calls-and-responses that sound more like Tuareg vocal melodies than the sounds typically associated with West Africa. It suggests that Benin's musicians soaked up everything that came near them and then some, a kind of accidental melting pot of sound.
Not that this versatility should be all that surprising; the incredible variety of African records that have been reissued since the original Scream Contest long ago illuminated the level of interplay among the various music scenes of the region for Western listeners. But it's a welcome reminder that that interplay wasn't only happening in the cultural hubs of Accra and Lagos, that the contemporary sounds of Mali and Morocco were just as mobile as their West African counterparts, and, more than anything, that style isn't the sole property of power centers; this music was being made and adored for its own sake long before anyone outside of Benin – let alone the United States – had ears for it.
All of which gives African Scream Contest 2 a sense of power all its own, one that's made manifest on the comp's second track. Ignace de Souza and the Melody Aces set "Asaw Fofor" rolling on a rockabilly groove. de Souza himself leads the band with all the smoothness of Cab Calloway or Nat King Cole, and the sax, rather than stab along to the song's rhythm, sits back and waits, finally taking a long, warm solo before bowing out for the rest of the song. That sense of confidence, the willingness to luxuriate in a groove or a tone or a feeling without hurrying to an ending, animates all of the music here, and, maybe more than anything else, makes me wonder what was happening in Togo, and The Gambia, and Gabon, and everywhere else in African flyover country. words / m garner