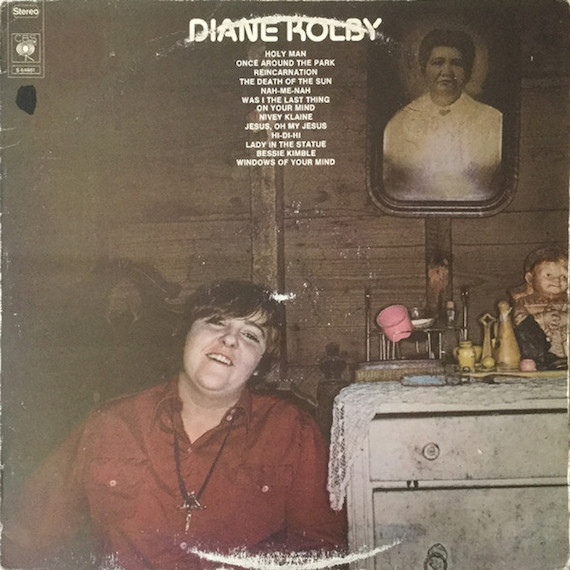 "…Robust, delicate, [she] tauntingly charges with the freshness of a child, the discernment of a sage"
— Marge Crumbaker
Born April 2, 1946 in Houston, TX to parents of German descent, Diane Kolbe's family never expected anything of her in life other than to be a singer. Surrounded by music at birth, she grew up in a home inundated with instruments, so gifted with an ear for music that she soon surpassed her teachers and became mostly self-taught at guitar and piano from then on. Weekends were spent alternately going to church on Sundays, or hanging out at the local dance halls the night before, shooting pool and soaking in the music and nightlife. Socially, she was described as being simultaneously both simple and complex, and conversationally talking either non-stop or not at all. After graduating high school, she started playing gigs in the small town of La Grange, situated between Houston and Austin, moving on to bigger cities and even various local political events (Texas state senator John Wilson was a huge fan). At some point, music executive Clive Davis apparently fell head over heels for her voice, and signed Kolby to Columbia Records. Music executives were shocked when she arrived to her first recording sessions, 12-string Fender acoustic and dog, Ginger, in tow, and proceeded to record her self-penned songs with one barefoot on top of a homemade bar of lye soap made for her by elderly friend Bessie Kimble (for luck). Although initially slated to go by the moniker Jancy Lee Tyler, she ended up simply changing her last name from Kolbe to Kolby professionally, releasing her first and only self-titled album in 1973. It contained her only charting single, "Holy Man", peaking at #67 on the U.S. Billboard charts, and charting in other countries as well. The remainder of the album is filled with soaring spiritual songs ("Reincarnation", "Jesus, Oh My Jesus"), mixed with reminiscent love songs ("Once Around The Park"), and songs about the people and places she knew ("Bessie Kimble"). Competently recorded in both Hollywood and Houston by two different producers/arrangers, the album stands out because of the bold, loud, perfectly tuned vocals of it's performer.
Diane Kolby :: Holy Man
Diane Kolby :: Was I The Last Thing On Your Mind

"Living is important, but how you die is what really counts" — Diane Kolby
Initially, Kolby happily sought fame and fortune, for it allowed her the opportunity to help the impoverished and elderly in her immediate community. However, after opening for John Denver on a nationwide tour, Kolby showed signs of exhaustion. Her recording and touring commitments were described as energy burners, in which after working 6 days a week she would "get bone tired and quit writing". Returning home, she confided with her father, expressing the hurt, stress and pressure she was exposed to in the music business, along with an apparent mafia encounter that left her shaken. The final straw may have come when her friend, Janis Joplin, was found dead just a few doors down from her own room at the Landmark Motor Hotel. Continuing to perform for a few years, her fear of a similar outcome, (along with a strong devotion to God, often conflicting with career ambitions) led to eventually informing Colombia that she would not be coming back. The repercussions of this decision may not have fully been understood by the somewhat naî¯ve Kolby, for she was forbidden from recording or performing live until after her contract expired. In the immediate aftermath of leaving the business, Kolby found herself depressed and despondent, feeling like a failure. Not to be discouraged, she turned her talent to singing in the Church Choir, at family gatherings and funerals, and small neighborhood fundraisers to benefit the needy.
Diane Kolby :: Once Around The Park
Diane Kolby passed away in 2016 of cancer at the age 0f 70. Despite attempts by Clive Davis and others to get her to record another album, she has been described as "her own worst enemy" in career terms, and could not be coaxed into professionally recording again. Despite this, she apparently continued to pen new songs in later life, some of which were recorded, and are continuing to be archived as of this writing. Meanwhile, we can bask in her vastly underrated and largely unheard self-titled album. words / zb