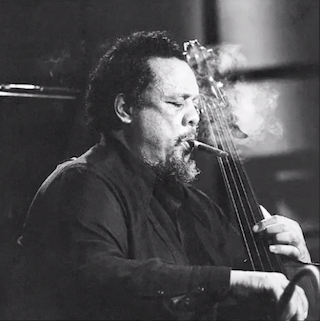 These days, when Charles Mingus is remembered, it's primarily for records like Mingus Ah Um, Mingus Mingus Mingus Mingus or The Black Saint and the Sinner Lady. All great records, but Mingus kept recording and playing for another decade-plus — indeed, he was recording almost up until his death from ALS in 1979.
Live in Montreux, released earlier this year by Eagle Rock as a two-CD set and as a standalone DVD, is a look at Mingus in his autumn years. He's older and has less to prove, but he's still full of fire and outrage. Who else would write a composition about Governor Rockefeller's decision to send armed police into the Attica prison?
At this juncture, Mingus had been playing with the same core group for some time. Don Pullen was on piano, George Adams on reeds and Danny Richmond was on drums. All three had appeared live with him on the Carnegie Hall record, not to mention studio ones like Mingus Moves or Changes. As such, when they appeared live at the Montreux Jazz Festival on July 20, 1975, they were a solid unit.
The set opens with 'Devil Blues," where Adams shouts like a preacher and the band wails behind him. Set against a slow, plodding beat, the tune is downright dirty and bluesy, especially with a tasty trumpet solo by Jack Walrath, where he stretches out with a rich, full tone. From there, Pullen takes a nice solo, and Adams alternates between raging vocals and overblown saxophone. Anchoring it all is Mingus' walking bass line and Richman's steady beat.
On the next tune, which Mingus pointedly introduces as "Cell Block F Tis Nazi USA," the band crashes into another later Mingus composition, but one which shows his talent for creating a distinctive melody — with a hook could have fit right into the Ellington songbook — before Adams launches into a twisting solo, where his sax sounds like it's struggling against the amount of effort Adams is throwing into it.
Charles Mingus :: Cell Block F
Meanwhile, Pullen's solo sounds restrained by comparison, but when he works up and down the keyboard, he draws the listener in: like Mingus, Pullen also died young — in 1995 at the age of 51 — and also like Mingus, you can hear outside influences in his playing. Most of Pullen's records, including a few with Adams, have vanished from wide circulation, so it's to have an example of him in a live setting.
The first disc ends with a lengthy rendition of "Sue's Changes," a slow almost waltzing song that appeared on Changes One. A song dedicated to Sue Graham, editor of Changes and Mingus' wife, it builds and dissipates, raging into a climax some three minutes into the song before settling into it's lengthy solo sections: Walrath stretches out for while, while the band slowly builds up behind him, and later everyone drops out to give Pullen some alone time. His solo keeps the energy going, especially when he starts hammering away at the same note when Mingus and Richmond kick back in. Meanwhile, Adams solo is far more mellow than his earlier ones: he's still a busy player, but he limits the overblowing and goes for a deeper, fuller tone. Still, after about 24 minutes, the band starts thrashing and crashing and Adams' playing (and Pullen's stabs at the piano) takes on a certain urgency that's lacking on the Changes record. It ends with the band dropping back into a ballad mode, stretching out the notes — it's hard not to picture Mingus conducting them with a sideways glance — and an enthusiastic response from the crowd.
On the second disc, the band welcomes Gerry Mulligan's baritone sax and Benny Bailey's trumpet. Given Mulligan's reputation as a cool, west-coast player, one might expect the band to lean back on Chet Baker/Dave Brubeck/etc sort of playing, but to everyone's credit they dip into a Mingus staple, "Goodbye Pork Pie Hat," his bluesy tribute to Lester Young. Bailey's playing is immediately distinctive from Walraith: his tone is higher and more piercing; Mulligan's solo is slower and more relaxed than Adams' playing earlier in the set.
It closes with the group launching into an Ellington staple: "Take the A Train." For Mingus, Ellington was a powerful figure and inspiration: he served in Ellington's backing band for a while (and was fired after allegedly punching out another player mid-set), and recorded a trio album with him and Max Roach. For Mulligan, there wasn't as much of a direct connection, but it's easy to assume Ellington was a shared interest. Indeed, his solo builds into a jumping climax, and gets a rush of applause from the audience. Pullen's solo, which has him running up and down his piano, builds on the energy.
At about 85 minutes, this set is rather short when compared to Mingus bootlegs from around the same time, but even so, it's one packed with energy. In particular, Adams and Pullen shine here, often taking the lead with Mingus and Richmond keep the music moving along.
This era of Mingus' band is overlooked when compared to his Eric Dolphy-era groups, but as this set shows, they were also a compelling stage presence, giving a palpable energy to his both his later compositions as well as the. Sure, it's a tad on the short side, but I'll take whatever live Mingus I can get, especially when the sound is as good as this. Recommended for jazz fans. words / m milner