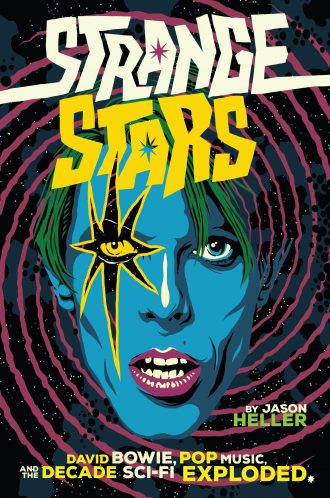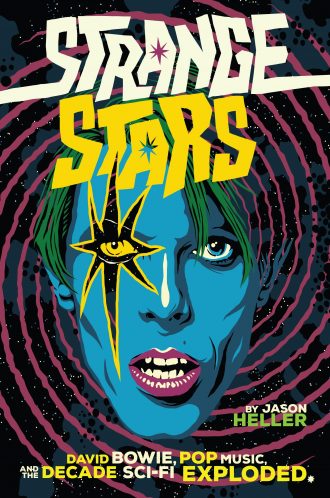 Six days before he died in a car crash in 1977, Marc Bolan of T. Rex published a review of  George Lucas' new film Star Wars  in his weekly column for Record Mirror. Praising the space opera as a "classic," he noted, "Now perhaps more people will pay attention to the science fiction field, where so many great poets, writers, and musicians are lurking unsung."
Jason Heller is not the first writer to take science fiction and its poets and musicians seriously, but you get the sense that Bolan was distinctly forecasting something like Heller's new book, Strange Stars: David Bowie, Pop Music, and the Decade Sci-Fi Exploded.  In it, the science fiction field – and specifically its impact and influence on the music of the 1970s – gets its due. Focusing on under-recognized connections and moments when the science fiction establishment embraced music, like when the animated Yellow Submarine film and Paul Kanter's Blows Against the Empire earned Hugo Award nods — the equivalent of Emmys in sci-fi, Heller's sharp, lyrical, and evocative pages bring the relationship between music and science fiction to life.
Heller, the author of the satirical novel Taft 2012, whose work has appeared in Rolling Stone, Pitchfork, The New Yorker, and elsewhere, knows his stuff. Here, he connects Robert A. Heinlein's Starman Jones to David Bowie's Major Tom, traces hard SF pioneer  Samuel Delany's early forays into rock criticism  for Crawdaddy,  examines the "myth science" ethos of Sun Ra, how Michael Moorcock's  consciousness-expanding literature crossed over into the psychedelic rock of Hawkwind, and explores a  dozen  more corners of the pop spectrum where the influence of the space program, technological advancements, experimental science fiction novels, and films gave musicians license to showcase their most  propulsive ideas.
Though  his original idea for the book was to  broadly chart science fiction's influence on pop music — encompassing everything from Billy Lee Riley's 1957 rockabilly rave-up "Flyin' Saucers Rock & Roll" to Janelle Monî¡e's current Do Androids Dream of Electronic Bangers aesthetic — Heller instead chose to focus on the 1970s, a decade that found the tone and character of pop music tilting toward potential ideas about the future.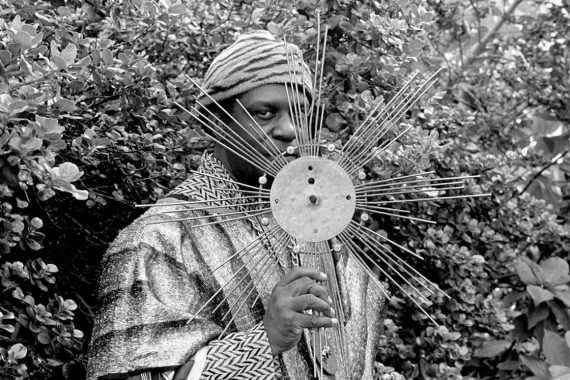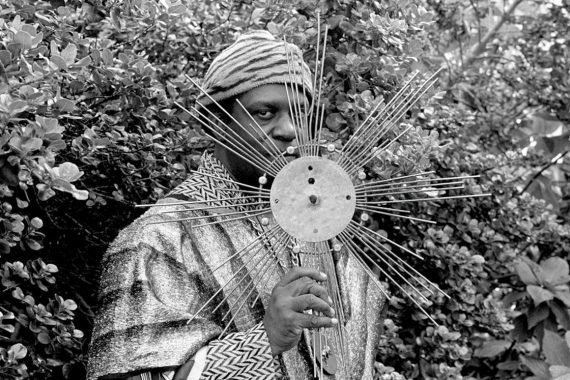 "The late '60s is pretty much when popular music began taking science fiction seriously, and it's also when cinema began taking science fiction seriously with 2001," Heller says. "By the beginning of the '80s, things had become so ubiquitous with science fiction…it was more or less just a coating on things. You even had Rick Springfield doing science fiction videos in the '80s –no offense Rick Springfield."
But what happened in-between made narrative sense. It was the decade of industrial robots, artificial hearts, and the dawn of home computing,  "not to mention the musical innovations that came about during the '70s," Heller says of the prevalence of new recording technology and synthesizers. Futurism itself transformed the '70s,  an arc that ran concurrently in both science fiction and pop culture. With this SF framework established, Heller's omnivorous musical taste is allowed to take over, bouncing from Lee Scratch Perry to Amon Düül, from Eno to Stevie Wonder, from X-Ray Spex to Labelle. Patti Smith rubs elbows with  Blue î–yster Cult; Frank Herbert's  Dune pops up all over the musical map; Star Trek informs funk and soul.  Rock in all its mutations, from glam to prog to even punk, feature heavily throughout, but never at the expense of other genres, which fill these pages with musical variety: soul, jazz, reggae, disco, even "science fiction country."
"I want to talk about Rufus Thomas doing 'The Funky Robot,'" Heller says of his charge to represent non-rock genres in Strange Stars. "I want to talk about Michael Jackson and the Jackson Five's Dancing Machine and go into science fiction disco. You don't hear as much about this other stuff…you especially don't hear science fiction disco given any credit whatsoever for its importance, its inventiveness…"
But while Heller free ranges across genre, certain characters emerge as pivotal figures. George Clinton, leader of the funk collective Parliment/Funkadelic, steps forward as a spacey pioneer, as does Sun Ra, whose sci-fi blacksploitation film Space is The Place and sprawling discography stand as foundational works of Afrofuturism.
"I don't think Sun Ra was reading all these science fiction novels and processing them," Heller says. Ra didn't view himself as an artist interpreting science fiction, Heller says, he  was science fiction. "It gave a template for this concept, of what Afrofuturism looks like and sounds like in music…even if it [was] taken in different directions by more accessible artists like George Clinton."
But no figure looms larger in the book than David Bowie. "Early on, the voraciously bookish Bowie absorbed not only Heinlein, but the works of other sci-fi luminaries such as Ray Bradbury and George Orwell, whose classics The Illustrated Man and Nineteen Eighty-Four would prove to be vital influences as he became popular music's ethereal, mercurial ambassador to science fiction," Heller wrote for Pitchfork following Bowie's passing early in 2016, as he was working on the book. Though Bowie's relationship with the genre was conflicted, reverent one minute, dismissive the next ("Bowie liked to contradict himself," Heller says) the influence of science fiction shades his work immensely, from the otherworldly character of Ziggy Stardust to the 1976 film The Man Who Fell to Earth, culminating in the dark, alien themes of his final record, Blackstar.
Like Sun Ra, Clinton, and the many others chronicled in Strange Stars, Bowie used science fiction as a means to invent himself. He used its idea to create a world in which his music lived and resonated. Though Heller's book ends as the '80s begin, with its synth pop, video culture, and an entirely different Star Wars, artists continue to tap into the spirit of science fiction. In addition to untold numbers of symphonic metal releases each year, artists like the Hugo Award-nominated clipping., Shabazz Palaces, and Janelle Monî¡e use the genre's framework to create bold, fascinating new work. 2018 feels rife with science fiction moments. The president can't stop going on about Elton John and Bernie Taupin's mournful "Rocket Man." On his new album Heaven and Earth, saxophonist Kamasi Washington offers "The Space Travelers Lullaby"; drone metal titans Sleep's new album The Sciences is a weed-laced sci-fi saga; noted sci-fi aficionado Daniel Lopatin's new LP as Oneohtrix Point Never, Age Of, takes on the trappings of classic high concept SF, owing as much to space opera as the dense historical mythology Lopatin cites. We've even reached the point of long deceased artists being digitally reincarnated as holograms, a dystopian nightmare straight out of  Blade Runner.
After reading Heller's book, these seemingly isolated occurrences begin to  coalesce as a narrative. Like Peter Bebergal's essential read Season of the Witch: How the Occult Saved Rock and Roll, its theme never feels forced or its stories retro-fitted; like Ed Piskor's equally riveting Hip Hop Family Tree, it's a tremendously exuberant read. Heller himself exists with one foot in music, one in science fiction. With Strange Stars, he proves an apt guide to the wonderfully weird middle ground shared in these overlapping worlds. words/j woodbury
Further reading ::  The True Topography: The Paradise of Bachelors' Guide to Science Fiction and Fantasy Fiction