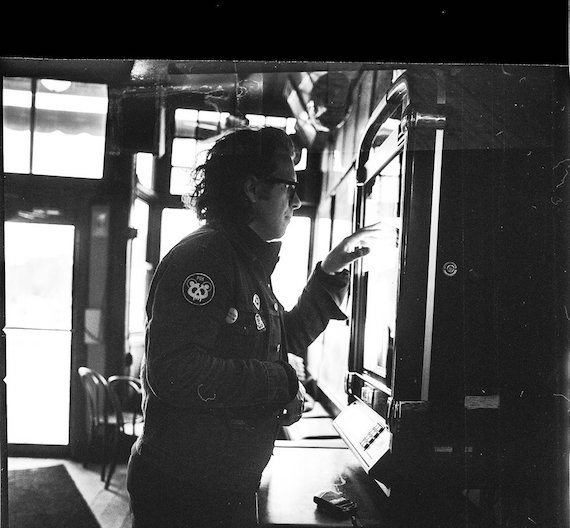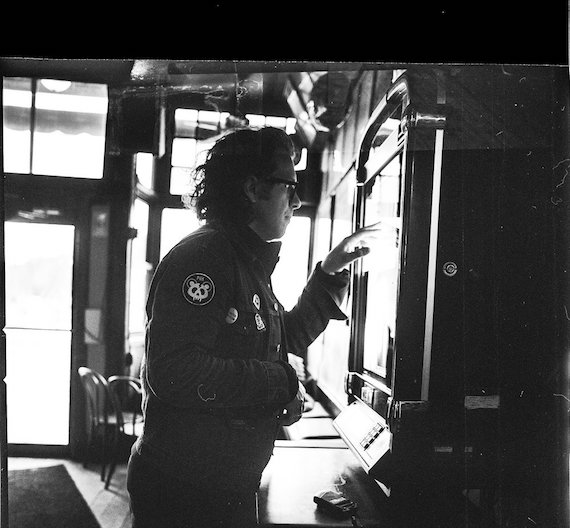 Wherever he ends up musically, from his work with Hiss Golden Messenger to sitting down with gospel legends the  Blind Boys of Alabama, guitarist Phil Cook seems to be smiling. But it's on his solo albums, including 2011's Hungry Mother Blues and 2015's Southland Mission, that he seems most jubilant. That's doubly true of his latest recording, People Are My Drug. If our present moment feels like a strange one for rollicking party music, well, that's the point. On the lp, Cook doesn't avoid reality –the standout cut, "Another Mother's Son," centers its gaze on police brutality against black people –but the Durham-based singer/songwriter clearly views his mission as a celebratory one, recognizing that the work required right now is good work to do. He's here to share the kind of joy that transforms, to bask in it, and he invites the listener in.
Cook's sound draws freely from America's vast musical traditions, incorporating country, soul, folk, gospel, and the blues, but it's his personal spirit always shines through. Singing songs like Randy Newman's "He Gives Us All His Love" or the Allen Toussaint-via-James Booker jam "Life," Cook inhabits the grooves. He's chiefly an enthusiast, and on People Are My Drug, he indulges in messy, abundant humanity. We caught up with Cook while on tour with Hiss and dove into the heady space the album occupies.
Aquarium Drunkard: I think just about everyone I know considers the times we live in precarious. But People Are My Drug just radiates joy. How do you tap into that feeling in a time when it's difficult for a lot of people to get to that place? Is it a struggle for you to get there yourself?
Phil Cook: I think it should be a struggle for anyone to clarify where they stand…We're living in times when you really need to sort out how you feel about certain things.  [You have to pay] attention to your gut; pay attention to the news; pay attention to your body and how it's receiving all these things. A natural response to all of the last year has been anxiety. Fear, depression, despair. Generations go through these cycles, [times] where power threatens to destroy the things you hold dear. To destroy your perception of reality, your understanding of how society works.
AD: But music, it allows you to guard against that feeling?
Phil Cook: I've been clinging to things I hold dear for strength. My whole life, since I was a child, playing music has centered me. Almost equivalently, it's acted like mediation for me. When I sit down with an instrument for an hour and get completely lost in something, it's as if I've recalibrated my mind, body, and soul into alignment. I'm able to process something I couldn't before that hour. Or you know, to wake up and sit down with my kids. In these moments, you feel the preciousness of the things you love. I've started to [recognize] people I cherish in my life, to recognize how much they've given me. The more I've thought about it, the more I've leaned into that. I've become more grateful than I have been.
I'm a positive guy, but I can't take credit for that. It's not by my own design. I was raised by a social worker and a nurse. I was built for people. I was built to see people. My parents gave me that. One of the things I've found in the last year, in my beautiful community of Durham, and among the musicians I surround myself, the road family I've earned, is that there's so much strength to find and use in each other. To use for good. To realize we're not alone.
AD: So that's where the album title came from?
Phil Cook: It was inspired by a specific moment watching my friend Kym [Register] play with Loamlands at their bar, the Pinhook, during Hopscotch. The bar was almost shut down due to tax stuff, but the community rallied and saved it. And it's Durham's bar now. It's a space that's for everyone. So I was watching Kym play this show that they organized in Raleigh at this dungy, red-lit queer bar. I watched this show, watched Kym speaking from their heart, giving themselves completely to this community they've helped forge and solidify and grow. I felt the whole thing like a bolt of lightning go through my chest. I realized, "I get a little high every time I see Kym. Because Kym is a drug to me." The thought hit me, "People are my drug." And I grinned from ear to ear because I had my album title. What a cool thing to realize a truth about yourself.
AD: On this record, you cover Allen Toussaint, Randy Newman, Ted Lucas, a song made famous by Brother Theotis Taylor, and your bandmate in Hiss Golden Messenger, MC Taylor. What is the quality you look for in a song to cover?
Phil Cook: To go back to what I was saying before, it's about paying attention to what your body is saying. You pay attention to vibrations; that's all music is. I always say, "Music chooses you." You might deny something you really love or talk about it as some kind of bullshit guilty pleasure, which is some weird '90s posturing thing, but you love what you love. You gotta own it. Something either speaks to your or it doesn't. It's like a bell ringing, this music that's been traveling through the cultural fabric. A song has resonance because it lives on in people.
With that Toussaint song, "Life," I'm actually covering the James Booker covering Allen Toussaint. I give credit to Allen for being the genius he is, of course, but in my heart, I've listened to James Booker's version 200 versions, at least. There's this live version from Germany, and in it, he plays this unbelievable solo in it. When he gets done, he cackles. He looks at the crowd with his one eye, and he says "Danke schî¶n, danke schî¶n," and he lets out this maniacal laugh. It's so true. That was completely him, the purest bell you could ring of him as a person, playing that song. That is absolutely my favorite thing.
AD: You wrote an essay about "Another Mother's Son" on your site, about the need to dismantle the systems of white supremacy. When I think about the kind of songs I'd hope a person might write right now, that's the kind of song I think of. It's a song that puts things out there in a way that's uncomfortable, in a way that asks more of listeners  they might be used to giving. Did it take more from you to write that song?
Phil Cook: I grew up in a small town in the midwest. Very homogenized, very white. But I discovered my dad's record collection right as I hit adolescence, and it introduced me to so many different kinds of people.
AD: What  kind of records?
Phil Cook: A lot of Motown, Stevie Wonder, Chicago blues. The usual '60s rock and folk standards. Bitches Brew, Bob Dylan, etc.
AD: And that led you down the road of recognizing people different from yourself or your surroundings?
Phil Cook: There are so many truths out there when you look to people who don't look like you and don't act like you. You have to listen to other people. I've had so many incredible experiences with other musicians, black and white and beyond. It's one of the joys of my life to be able to be on a stage with a bigger vision about what this country can be, and a bigger vision of what other people care about. When someone hurts someone you love, it hurts you. When the HB2 act went through in North Carolina, the transgender ban in the bathroom, that hurt so many people I love. You have to allow yourself to feel that pain. Your heart needs to work through these things with other people. Police shootings have happened for hundreds of years, but with social media, they've become ubiquitous. You can't ignore it. You see it happening in east Pittsburg to Antwon Rose, a beautiful soul, shot in the back by a cop that was sworn in hours earlier. And my friends of color, those things hurts them, over and over.
I can't even imagine what that does to a mother's heart. What that does to a community of mother's hearts. How over time and decades, it erodes people's dignity and spirit. It's so real. Being able to write a song about it, that was the way I could talk about it. That's the way I communicate. I don't know how people can be silent. Martin Luther King himself said the real enemy isn't the racist, it's the silent sympathizers. That's a really important thing to think about when you have kids who are growing up and are going to watch their parents in times like these. Watching their body language. I know my boys are looking at their mom and their dad. What are they gonna say when they're older? White people need to talk. We need to speak out. The fierce women of color of Durham that are changing our city, politically and culturally, that are showing so much  grit and spirit. They are doing every single thing they can. I see it happening all around me. So what choice do we have? We can't be quiet anymore. No matter where you live, you have to speak. words/j woodbury
Further Reading:: Phil Cook :: The Aquarium Drunkard Interview