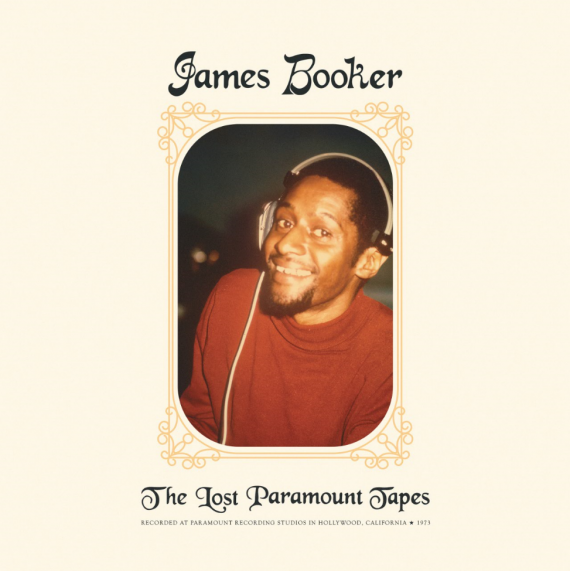 One night in 1973, pianist James Booker and his band, freshly seasoned from recent shows at the nearby club Dirty Pierre's, sauntered into Paramount Recording Studios in Hollywood. It was late at night, maybe 10:30 or 11, and the plan was loose. Booker sat down at a spinet tack piano, and his group of Dr. John associates–bassist Dave Johnson, drummer John Boudreaux, saxophonist David Lastie, guitarist Alvin "Shine" Robinson, and percussionists Richard "Didimus" Washington and Jesse "Ooh Poo Pa Doo" Hill– proceeded to cut a record.
As the story so often goes, the tapes got shopped around to labels, each one passing on them, and a reference copy wound up shelved somewhere to be mostly forgotten. Booker went on to find appreciative audiences in Europe, where he was hailed as an American treasure, "the Black Liberace," or as Dr. John called him, "the best black, gay, one-eyed junkie piano genius New Orleans has ever produced," all the while struggling with substance abuse, which eventually resulted in his passing in 1983.
But good sounds have a hard time staying a secret forever. This August, General General and Vinyl Me Please is set to reissue the wild recordings Booker and co. laid down that night, 45 years after the fact. The album follows a CD edition of the tapes released by DJM in the '90s, but the new version comes with expanded liner notes by Lily Keber, director of the essential Booker documentary Bayou Maharajah, and decked out with a new cover, featuring a photo snapped by Ginny Winn, one of the rare photos featuring a two-eyed Booker. The music here provides a startlingly electric taste of what led Allen Toussaint to call Booker "an extraordinary musician, both soul-wise and groove-wise."
Despite the nonchalant nature of the sessions, all of which were cut live save for a few organ overdubs, the resulting album nonetheless displays Booker's intricate, but always funky, prowess.
"He could play everything," bassist David Johnson, producer and author of the new edition's liner notes, says. "He was what they called in the business a two-handed player: he could play right hand just as able as his left hand. A lot of piano players just work on right left-hand technique and play chords with their left hand but he could play chords as fast, because of the demands of the classical music he'd learned when he was young…He could be unpredictable, but within the confines of the song itself –it had the changes, had the rhythm, but he could play around it."
Ripping into songs like "Junco Partner," "Goodnight Irene," and "Lah Tee Tah," reflective of his New Orleans upringing– "that's what he liked to play," Johnson says–Booker and his group simply put down what felt natural, the lived-in, heavy-grooving material they played live, blending R&B, soul, and jazz, led by Booker's virtuosic touch.
"We didn't have set arrangements, we'd just follow Booker, whatever he would do," Johnson says. "When we got to the studio, that was the same thing. We played those songs many times…it was just a matter of laying them down."
Not long after that night, Booker took off out of LA, hooking up with Dr. John's Bonnaroo Revue and the Jerry Garcia Band. But this unique and vital document is a testament to his "spiders on the keys" live approach. A must-hear document of the summer. words/j woodbury