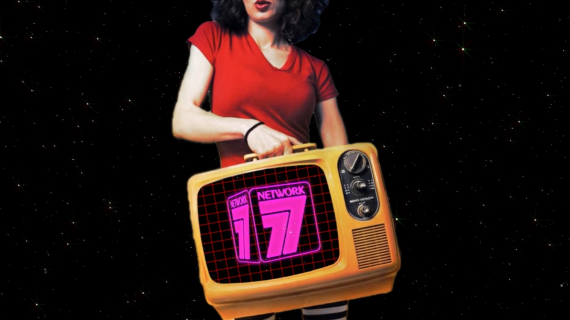 Near the end of "Escalator to the Stars," the first episode of the new comedy series  Network 77, Robyn Hitchcock and Emma Swift, as hosts of a star sign-themed segment about pop music called Astrology Domine, speculate what about Bob Dylan "really encapsulates that Gemini spirit." "He constantly disappoints his fans," Hitchcock deadpans. "That's why they keep coming back for more." The joke sprawls out from there, into improvised riffs about Dylan's dating life and Iowa City's two Starbucks locations. By the time the credits roll, featuring the charging French new wave of Edith Nylon, you may find yourself wondering what exactly you just watched. Network 77 feels a little like being let in on a secret.
Quietly released onto the internet last month, the show features an all-star indie rock cast, including Swift, Hitchcock, Ted Leo, Jon Wurster of Superchunk and The Best Show, Pat Sansone of Wilco and The Autumn Defense, and more. The conceit is simple, built around a number of individual segments, including Pulse 77, a mock news report about the rise of "new wavers," Parade of Strange, which features a look at the "disappearance" of country singer Dottie Carroll, a Rockpalast-styled music program called "Muziekpop," featuring a performance by modern Nashville band Creamer, though you'd never guess it from the Raspberries meets Todd Rundgren sound. Along with these and other diverse clips, Network 77 provides the sensation of flipping through channels sometime in the late '70s or early '80s, complete with period-appropriate graphics and text, time checks, commercials, and bumpers for programs yet to air – including "The Judee Sill Show," a parallel universe variety show hosted by the late, and legendarily reclusive, singer/songwriter.
Created, written, and directed by Rachel Lichtman, who wrote and directed the Boyce & Hart documentary, The Guys Who Wrote 'Em, Network 77 was born from a desire to create as "dense and beautiful a world as I could." Calling in favors from friends, including graphic designer Jeff T. Owens and editor David Shamban, Lichtman turned to her massive library of vintage production tools – including a "super OG, groovy production music library" – to create something that feels as funny as classic SCTV and as retro-accurate as recent shows like IFC's  Documentary Now! and Netflix's GLOW.
"I knew there was an audience for this particular kind of vibe," Lichtman says. After all, it's what she wanted to see on the screen herself. "I have a fascination with lost art, lost graphics, fonts, or things that would never even make it to the 21st century," Lichtman says.
As of now, Network 77 doesn't have a set release schedule. New episodes will simply show up on the show's website when Lichtman finishes them. Production is labor intensive, and shooting for the first episode took place in North Carolina, Tennessee, Rhode Island, and Illinois. "Nobody lived in the same city," Lichtman says, with a laugh. The show's site is sparse, offering little in the way of biographical info (though there is a donation button, as making things is not cheap), which adds to the show's strangely elusive appeal.
"It's an escape in a way," Lichtman says. "It's an escape into…the retro-futuristic future of television we were promised."
Though engineered as an escape, a slightly fuzzy respite from the modern digital sphere, Lichtman and  crew aren't afraid to inject socially relevant themes, particularly in the Dottie Carroll segment. Inspired in part by Bobbie Gentry's dealing with the notoriously sexist music industry, and drawing on Lichtman's own experiences in the entertainment world, the Parade of Strange  tale finds Carroll, played by Swift, deciding to skip out entirely on the mansplaining and harassment that plagues her successful C&W career.
"You hear stories about Bobbie Gentry and you're like 'Gee, why did she leave show business?'" Lichtman says.  "As a woman, I am Dottie Carroll. So is every other woman I know. My mom came back from the paint store the other day, and she said, 'Well, I had a Dottie Caroll moment.' The guys at the paint store were like, "Oh, this little lady needs some paint." My mom's an artist, she's been painting for a million billion years and she got condescended to at the paint store."
Escapes in 2018 don't always come easy, but Network 77 feels in its own way holistic. Like putting on a great record or getting lost in a YouTube rabbit hole, watching the show offers a Technicolor diversion that indulges non-toxic geekery and enthusiasm for that past that doesn't feel regressive or reductive.
"It's hard to know where art belongs," Lichtman says. "I'm not trying to be super high-minded, but where does it belong? Who's going to take care of it, or get it to people?" With Network 77, she's established a direct connection to the nostalgic pleasure centers of her viewer's brains. "I really try to do it in a way that I hope [gets] to the people who appreciate it." words/j woodbury
We've recently resurrected the bi-monthly Aquarium Drunkard email newsletter. Every two weeks, get interviews, mixtapes, cultural ephemera, and more delivered straight to your inbox. Sign up to receive it, here.