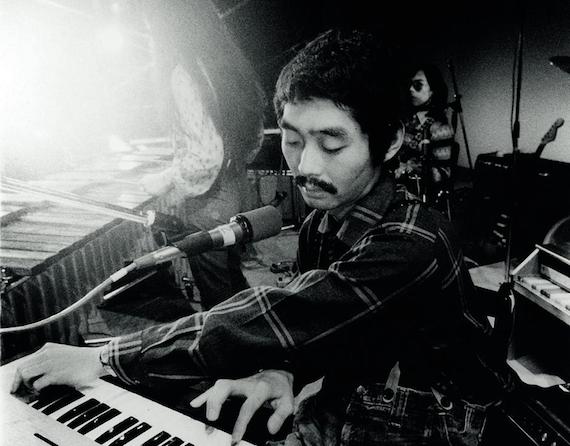 For the past fifty or so years, Haruomi "Harry" Hosono has let his mind wander. That wandering has led him to any number of strange places. He's made records that sound like Shotgun Willie, and he's made synthesized raga so intense it'd make Terry Riley blush. He's collaborated with Levon Helm and Bobby Charles, and he's recorded incidental music for the Japanese home goods store Muji. With Ryuichi Sakomoto and Yukihiro Takahashi, he founded the deeply influential experimental pop group Yellow Magic Orchestra, and he produced the theme to the Studio Ghibli film Nausicaä of the Valley of the Wind, one of the most widely acclaimed anime films of all time. Oh, and he's always had a weird thing about coconut drinks and Hawaiian shirts. Few artists can credibly claim to have influenced both Mac DeMarco and Kaitlyn Aurelia Smith; few artists are anything like Haruomi Hosono.
Like Midori Takada and Hiroshi Yoshimura, Hosono seems to have gained new visibility from a YouTube algorithm that automatically serves up rips of Japanese records from the '80s to anyone browsing old Pharoah Sanders cuts. But where the former two musicians largely focused on a supremely distilled form of ambient or minimalist music, Hosono has freely moved between sounds throughout his career. As Light in the Attic's recent five-LP reissue campaign shows, he can be aggressive and discordant, then buttery smooth, and if his oeuvre is united by anything, it's his charismatic playfulness; he brings the same sense of liveliness to Arabic street music that he brings to outlaw country.
All of which makes him seem like a sonic magpie at best, and at worst a perpetrator of larceny-scale cultural appropriation. Remarkably, his sonic journeys were often inspired by his actual journeys. Cochin Moon, his 1978 attempt to create a sampled and processed Bollywood record, was inspired by a government-sponsored trip to India (one beset by legendary bouts of diarrhea, too). omni Sight Seeing, from 1989, makes its musical tourism plain in the title, and in the liner notes, Hosono elaborates on his search for a place where "Arabs, Indios, Mongoloids, and Europoids can all understand each other." "There is nothing difficult in this world," he writes, then hedges his bet. "That's what I like to tell myself."
Cochin Moon, it should be said, is not anyone's idea of a Bollywood record. Though its synth lines interlock and percolate in a way that can sound like a set of tablas if you're willing to squint, its high-stakes chopping has far more in common with wide-eyed kosmiche and predicts the futuristic fear of Detroit techno, even as Hosono gooses his own seriousness with what he'd be delighted to hear described as farting organ patterns. Later, the whole piece fragments into a twinkling mess of liquid mercury, TV static, and warped dialogue, then re-forms itself as a gorgeous waterfall of soft tones and spangled sparks.
Haruomi Hosono :: Owari No Kisetsu
This comes only five years after 1973's Hosono House, a set of songs played on acoustic guitar that feel as warm and worn-in as an old wallet. Hosono's love for Buffalo Springfield is the album's guiding light, as is the massive influence of Neil Young's Harvest, which had been released the year before. The playing here is gentle and undisturbed, the arrangements as tasteful as you'd expect from someone who'd recently recorded with Van Dyke Parks in Los Angeles. The influence of The Band looms large here, too. Like Music From Big Pink, the album takes its name from the home studio where it was recorded, and the clopping "Owari No Kisetsu" lilts along on an accordion melody lightly reminiscent of "When I Paint My Masterpiece." Hosono himself, still learning how to use his voice, sings in Levon Helm's slightly froggy wail throughout.

Hosono never fully abandoned the vocal influence of Helm, even as the music around it evolved. Paraiso, which he recorded in 1978 with his future Yellow Magic Orchestra bandmates, is probably the most accomplished of his straightforward pop records, the final release in his "Tropical Trilogy" that also included Tropical Dandy and Bon Voyage co. Where Hosono House can feel like rural American pastiche, the warped yacht rock of Paraiso is built with Japanese scales and instrumentation, a synthesis of western form and eastern components made with so much swagger you practically have to shield your eyes against its Ray Ban glint.
From there, Hosono's music would become much more idiosyncratic. Despite the eeriness of its cover, 1982's Philharmony is practically a party-rock record in the vein of "Planet Rock," lightly coated by Fear of Music's paranoid dust. Naturally, it begins with a song about a picnic and features a truly goofy Japanese-language cover of the Italian cable-car anthem "Funiculì, Funiculà" (re-titled, incredibly, "Funiculi, Funicura"). omni Sight Seeing, meanwhile, manages to rehash nearly every single one of Hosono's previous musical interests without forcing any of them. Distorted New Orleans piano twirls against Miharu Koshi's stretched and distorted voice, 808 hits, and a pushy organ line in "Orgone Box," while Duke Ellington's "Caravan" is presented as what the liner notes call "a mirage of a famous jazz band in N.Y.," by which Hosono apparently means a semi-ironic work of lounge-age junk art.
By distilling his career-long approach into a single record, omni Sight Seeing makes the clearest case for the breadth of Hosono's continued influence. It's a work of sonic collage that brings together seemingly disparate elements for no reason other than Hosono's intuitive sense that they might play well together. In it, you can hear the musical genesis of his countrymen in Cornelius and Cibo Matto, as well as the theoretical genesis of much of the music that's followed on either side of the Pacific. Hosono is a revolutionary artist whose chief virtue is his seeming lack of interest in revolution or adherence to any ideology greater than his own sense of taste and curiosity about the inner workings of the sounds he encounters. The result is a virtuosic and beguiling discography that still feels approachable. It's the kind of thing you'd expect from a guy named Harry. words / m garner
Related: AD Presents: Some For Harry / A Haruomi Hosono Companion
Pssst…Aquarium Drunkard has launched a Patreon page, which allows readers and listeners to directly support our online magazine as it expands its scope while receiving access to our secret stash, including bonus audio, exclusive podcasts, printed ephemera, and vinyl records. Your support will help keep an independent cultural resource alive and healthy in 2019 and beyond.