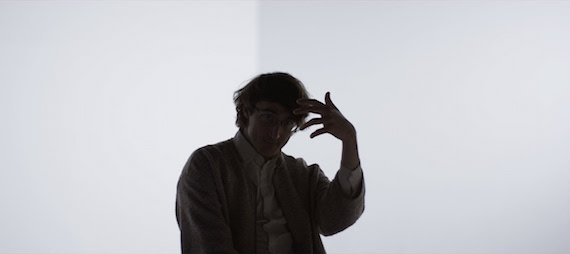 Shortly after I moved to Providence, an ex-girlfriend was telling me about a kid named Jay. Together, we went to catch one of his shows in a dingy little room above an arts centre. A metal band opened for him. When he finally came on, he looked like the younger brother of Louis Theroux. I remember being impressed that beneath the somewhat obvious Dirty Projectorisms and Vampire Weekendy hooks there were hints of wiser, grubbier touchstones: Kevin Ayers, John Cale, Dory Previn. I can even recall, after the gig, chatting with him about a song of his that reminded me vaguely of Stackridge (it was called 'Cyndi Lauper'). I made a mental note. Later, I would learn that this same kid had hosted Smiley Smile listening parties during his freshman year, giving mini-lectures on each track, presenting them as little tragedies to his fellow students. Regarding the Beach Boys, he now says, 'Maybe Anton Bruckner is a good comparison…Brian Wilson's work ought to be considered sacred music for a cruel, secular world.'
The first single off of J. Mamana's forthcoming debut, Nothing New in the West, is nevertheless a surprise, all mumbly rhythms and fluttery fragments of classical guitar. The indie overlay has been stripped right back, making room for something more airy and peculiar. The song is punctuated throughout by cascades of pining harmonies that keep asking a very Wilson-y question (what it's gonna take to fit in, how to stop playing the third wheel), all of it building to a crescendo of strings and a plea to tell the truth. It's a song that manages to sound both minimalist and baroque at the same time. The drums, when they arrive, are orchestra-pit deep. But the most startling thing here is how all of the above gets arranged around a solo piano composition — Emahoy Tsegué-Maryam Guèbrou's 'A Young Girl's Complaint' — that makes the song's hesitations throb with ghostly history.
When I ask him how he came to twin his lyrical dejection with the music of an Ethopian nun, he begins by telling me that growing up near the Emahoy Tsegué-Maryam Music Foundation in Washington DC was part of the equation (he is now 'semi-employed' in the foundation's archives). But it was really about her relationship to Americana.
'What fascinated me at first about her music was that it sounded like the Chopin nocturnes or something. Then I found out that she in fact saw herself as part of this Western classical tradition of Brahms, Schumann, Beethoven, etc. The pentatonic scale used in "A Young Girl's Complaint" is the same one used by Dvořák and Barber and Copland in their "American" compositions. It's also an Ethiopian makam. I'd already determined that the record would deal substantially with American music and American imperial history. That history is a global history.'
Emahoy Tsegué-Maryam Guèbrou :: A Young Girl's Complaint
It was like a branch of homo sapiens that didn't become homo sapiens.
Whenever he's asked to reflect on his debut album (Randy Newman (Creates Something New Under the Sun)), Newman always makes sure to remark that he and co-producer Van Dyke Parks were, at the time, consciously making music that sounded as if they had never heard the Rolling Stones. 'I thought you could move things along just with the orchestra, that it was somehow cheating to use drums.' On Park's Song Cycle too, there was a similar queering of the Rhythm and Blues narrative that had always given rock its sonic vertebrae. Guitar-slinging was being swapped for the baton. To be clear, this wasn't just throwing a harpsichord or a string section on a track and dubbing it "chamber" pop; this was more like a conscious effort to create songs that were arrangements. In effect, to morph like backwards Joe Atlases from buff rock n' rollers to nerdy composers, from Singer-Songwriters to Arrangers who happened to sing their own stuff (Newman's press pack at the time reads more like an apology: 'Once you get used to it, his voice is really something.') Of course they knew their pop music: Parks's first real gig was arranging 'The Bear Necessities' for Disney, while Newman had arranged for Peggy Lee and written b-sides for the Fleetwoods. Yet, when they first set out on their own, both were imagining an alternative history for where that pop came from, a world where the Schoenberg maybe got the same kind of attention and airplay as the Johnny Mathis.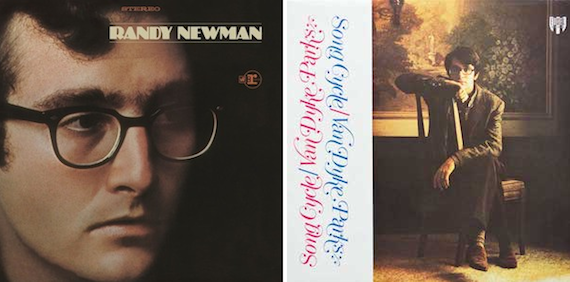 According to Newman, 'what Van Dyke and I – and Harry Nilsson, to some degree – were doing, it was like a branch of homo sapiens that didn't become homo sapiens.' If you like, you can try to plot the course of this divergent species from its earliest days in 'Nature Boy'-era Nat King Cole recordings, through the symphonic pop of early Drifters songs, through Phil Spector and Girl Groups, to Pet Sounds, onto 'A Day in the Life', right down through Zappa and prog-rock excess and Joanna Newsom's genius. It's a legacy that, contrary to Newman's modesty, lives on in the DNA of artists as diverse as Andrew Bird, Tindersticks, Rufus Wainwright, Grand Salvo, Lambchop, Efterklang, Grizzly Bear, Sufjan…
I wanted it to sound like Highway 61 Revisited as arranged by Bartok.
In 2016, Jay quit his job as a music teacher in a Providence private school in order to concentrate on J. Mamana. He moved alone into a barn and began recording songs. Then he befriended engineer-producer Seth Manchester (Deer Tick; Battles) and together they cut Nothing New in the West at a stately pace. That it took them the better part of a year is perhaps unsurprising given that all the orchestral elements were arranged by Jay himself and recorded at home, divvied up among string, brass, and woodwind ensembles that he invited round to his house.
The resulting album is weird and brainy in a fin de siècle sort of way. Throughout, the Old World is bleeding anachronistically into the New, musically as much as lyrically. Album opener, 'Up From Land,' for instance, is all map and territory — but whether we're in the last days of Ancient Rome or Ishmael's Nantucket has yet to be ascertained. As in Nabokov's Ada, the borders have all fused. What we get is one big brokenhearted landscape, littered with the wreckage of failed utopian visions and populated entirely by ancestral ghosts. Over the course of the album, walk-on parts include Rhodes, Guthrie, Japheth, and Waldseemüller. Even the abandoned hippie commune, Drop City, gets a whole song unto itself ('Drop City Noise'), saturated in a burnt-out-melancholy-Seventies-trailer-park vibe, but applied to a Jokerman vision of the Holy Land, its hot Steely Dan guitar standing-in for the buzz of locusts: Riding west of Capernaum/to Canaan or Colorado/reading Cybernetics like the psalms.
Meanwhile, second single 'Last American,' is a lugubrious, synth-and-string-laden tapestry, that reenacts Delmore Schwartz's 'In Dreams Begin Responsibilities' amidst the crumbling monuments of Western Civilization. (There's no one in Hollywood/who could possible play my father/so I no longer go to the movies.) We might be wandering around the darker, fatalistic edges of Rufus Wainwright or Surf's Up. The elaborate harmony loops round and round Ozymandias ruins, stumbling over a guilt-ridden refrain: did you ask for it?
Jay says he wanted the album to sound 'like Highway 61 Revisited as arranged by Bartok,' and the analogy does go some way in capturing the album's postmodern collage. As with Highway-era Dylan, our guide through this wasteland is just as likely to spot Jericho alongside the 95-corridor. However, a more revealing precedent might be John Cale's Paris, 1919 where it's the symphonic melodrama that serves to underscore a world gone wrong. Cale's is a vision where neurosis really hits the landscape, where geopolitical fracture becomes the analogue of personal crisis. In Paris, 1919 we are still taking tea and waving handkerchiefs in No Man's Land, dreaming of Andalucia and childhoods in Wales. And Nothing New in the West is certainly mining similar, poppy-strewn ground when, for instance, we get warned that Oxford's working for a Third Boer War…
But even that would be to overlook the range of musical textures that the album keeps throwing out of left field: the hybrid West-African-Latin-baroque guitar that gives 'Buried in the Yard' its off-kilter groove; the crunchy distortion that interrupts the effete folk of 'Rhoticity'; the diffident Smiley Smile harmonies that keep creeping their way into everything. These songs are as shifty as Canterbury Prog and, occasionally, as manic as Zappa. That is, they are as mixed-up as the brokenhearted, battle-scarred landscapes that they all describe.
When I mention to Jay that the minimalism of the drumming reminds me of Nilsson Sings Newman — an album it took me forever to realise had no drums on it — he says he was far more influenced by Frank Ocean's Blonde. Whatever. I still stand by my claim that Nothing New in the West springs from the Newman-Parks arranger-driven gene pool. It's an intrepid piece of work for fucked up times. words / dk o'hara