Yuletide sails into Jamaica each year on what the locals call the Christmas Breeze, a slightly crisper air that tends to waft through the island come December. There's another seasonal harbinger, one that is more common around the world, and that's the sound of Christmas songs on the radio. But Christmas music in Jamaica is, well, uniquely Jamaican. Traditional carols get a reggae underpinning while lyrics about snow and holly are usually substituted for sunshine and mango trees. Back in the day, it was hardly a given that every Jamaican artist would record a Christmas song, unlike today. But several did–and they're worth digging for.
In the first half of the 20th century, calypso music ruled the islands. There were many Christmas songs being recorded by calypsonians–and it's entirely likely that these songs were enjoyed in Jamaica at the time–but scant details exist about any such Jamaican recordings. One known example is a frighteningly-rare mento 78 called "Jingle Bells Calypso" by the Jamaican artist Lord Lebby. Why this matters is that, while mento is indigenous to Jamaica, calypso is not (it came from Trinidad). As it happened, many of the Jamaican mento musicians became so frustrated with outsiders confusing the two styles that they eventually just gave in to being called "calypso" in order to sell records and please the tourists (as evidenced by the aforementioned Lord Lebby title). But that would soon change.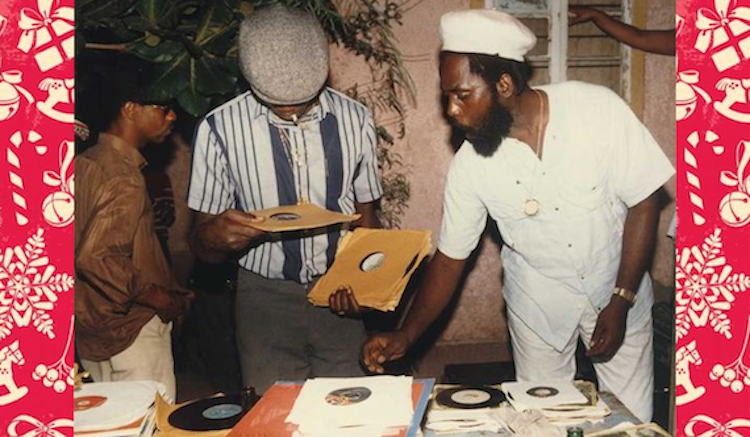 For the songs collected here, we travel back to 1962, the year Jamaica gained its independence. The move toward Jamaican independence was already under way in the late 1950s and coincided with a growing sense of national pride across the country during this time. This would, in turn, trigger a musical shift, too. Throughout the 1950s, the island's sound systems and dances were dominated by American records (mostly R&B, some jazz). Likewise, the majority of songs being recorded by Jamaican artists during this period were simply attempts at mimicking those same American sounds. By the early 1960s, however, sound system operators like Coxsone Dodd (these were the men who owned the speakers, played the records and generally got paid according to how much beer was sold at the event) began to notice something: Increasingly, they were seeing a stronger reaction from the crowd to records that were more distinctly Jamaican-sounding. These were songs that featured not only elements of the island's own musical forms (mento and its late 50s successor, ska), but also vocals sung in a native tongue about experiences familiar to Jamaicans. It was evident that this next generation of young, proud Jamaicans was eager to have a music to call their own–and Jamaica's burgeoning record industry was only too happy to oblige. Quite naturally, this would soon extend to holiday music, too. And thus began a golden period for Jamaica's unique homegrown Christmas catalog.
"Christmas was BIG. When I was a yout', the local department store would sponsor it, and Santa would journey down the road in a float that was all done up like a sleigh with reindeer… it was a street parade! And we would go up and greet Santa, and he would throw out gifts to the crowd."

To help paint a fuller picture of Jamaica at the time, we talked to a friend who was there: Stokey Love was the founder of Soul Ghetto, a sound system he started in 1968 and ran for two decades. He remembers growing up in Kingston in the 50s and 60s, on its' famed Orange Street. Nicknamed "Beat Street", Orange Street became the cradle of ska, rocksteady and reggae in the 60s and 70s, lined with record shops owned by now-legendary producers like Coxsone, Sonia Pottinger and Bunny Lee.
"Christmas was BIG," Stokey says (today he's a host on Kingston station Kool-FM). "When I was a yout', Santa would travel down our road. The local department store would sponsor it, and Santa would journey down the road in a float that was all done up like a sleigh with reindeer, all the way down Orange Street to King Street where the store was located. It was a street parade! And we would go up and greet Santa, and he would throw out gifts to the crowd."
It was a different time in Jamaica then, and it's a been a few decades since Santa last visited Orange Street (indeed, only a couple of record shops still exist there). "It was something we would look forward to," he continues. "Because when you came from a poor background and your parents cannot buy you a gift, you go and see Santa, and he would give you a gift. I would love to see them bring back that street parade."
Another strong tradition at the time was "Jonkunnu", the noisy masquerade parade featuring music and dancers dressed in elaborate costumes that included characters like "Pitchy-Patchy" and "Belly Woman", along with animals, policemen and, of course, a devil. "Oh man, I would scream my head off!" Stokey laughs. "In my day I was so afraid of them–and they were out in numbers! When I was young? Jonkunnu all over the place! But the younger people are not interested in carrying on these traditions so much now."
Recordings of Christmas music by Jamaican artists in the 1960s and 70s typically comprised either established favorites or newly-penned songs reflecting the musical style of the time. The Wailers' mid-60s cover of "White Christmas", for example, is more akin to an American R&B/vocal group (these were pre-reggae days, remember), while The Ethiopians' "Ding Dong Bell", released at the height of the rocksteady era in 1968, rides along on an easy rocksteady beat.
Another common approach, used to this day, was adapting an already-popular instrumental (or "riddim") with holiday-themed lyrics. See, for example, Half Pint's "Christmas Vibes" which uses the familiar "Real Rock" riddim (used most famously on Willie Williams' "Armagideon Time", later covered by The Clash), or Skatalites vocalist Doreen Shaffer's "Wishing You a Merry Christmas" (for which Coxsone re-purposes The Heptones' hit "I Hold The Handle").
All of which meant that, during the holidays, a soundman needn't hesitate to drop a few festive numbers at the dance. "As long as people can shake to it," says Stokey. "Jamaicans have rhythm, so we'll dance to anything. For me, 'Christmas Coming' by Alton Ellis was always a good one to mix in with some rocksteady around the holidays." This particular highlight finds Ellis re-cutting a new, season-appropriate vocal for his hit "Sunday Coming" over an instrumental from Studio One house band The Soul Vendors, led by Jackie Mittoo. (It's no coincidence that releases on Studio One dominate the selection here; not only was it the most prolific label of the era but owner Coxsone Dodd was an astute businessman who knew his marketplace well.)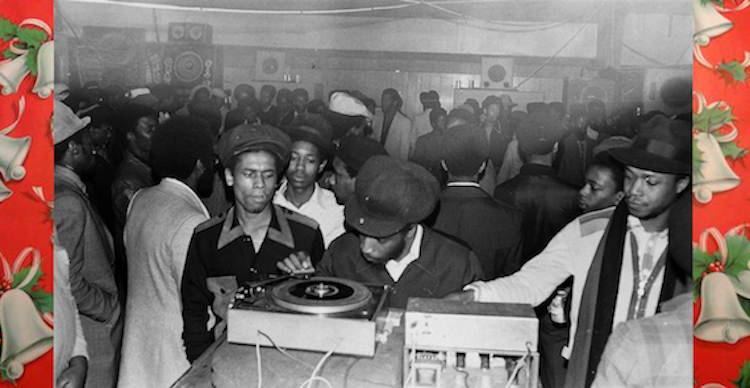 There were also, of course, the Jamaican-ized lyrical touches, which became more common over time. "Save a lickle chicken for Christmas," urges Little John on his track "Save a Little For Christmas" ("You have turkey in America," explains Stokey, "We have chicken!").
And in a Christmas song that could only have come out of Jamaica, the delightful "Santa Ketch Up Eena Mango Tree" finds the song's authors (sisters Pam Smith and Faith D'Aguilar) going out to search for Santa after he fails to show up with their presents–only to find him stuck in a fruit tree. ("Why Santa always coming down a chimney? We don't have chimneys in Jamaica!" Faith would later point out. "So we decided it should be a mango tree instead.")
Anyone who has listened to much reggae, especially from the 70s heyday of roots and consciousness, could be forgiven for thinking Jamaica is heavily Rastafarian. So you might also wonder what was up with Rastas singing Christmas songs. The island today is around 70% Christian (centuries of Spanish and British rule, remember) with Rastafari, perhaps surprisingly, making up less than 2% of the population (though, this number would have been higher in the 1970s). But also, when artists like Bob Marley and Cornel Campbell recorded their Christmas tunes, it was prior to their embrace of Rastafari. Now, this doesn't mean Rastas would never record a Christmas song. Jacob Miller (vocalist for Inner Circle before his passing in 1980) was one of the more ardent dreads in the game in the 1970s, and he recorded an entire album called Natty Christmas [we haven't featured it here but it's easily found on any streaming service nowadays].
In the world of Jamaican music, it's always been pretty common (and even accepted) for artists and producers to cash in on a trend if the opportunity is there. In 1979, producer Joe Gibbs, apparently taking his inspiration from Phil Spector's A Christmas Gift For You LP, assembled artists from across his stable for the album Joe Gibbs Family Wish You a Merry Rockers Christmas. It's actually kind of remarkable that it took so long for a Jamaican label to do this (and, among others, Coxsone Dodd was quick to follow suit with the Studio One LP Sir Coxsone's Family Album Christmas Stylee) but then, Jamaica was always a singles market. When albums started being recorded (or, oftentimes, compiled from singles) in the late 60s/early 70s, it was mainly because of demand from England and the export market. So, the Gibbs Christmas album remains a milestone of sorts.
"That still gets played in Jamaica every year," confirms Stokey. "Joe Gibbs led the way in a lot of ways, and that album is still one of the most popular ones." Maybe it was inevitable (since it was beginning to happen everywhere else, too) but Gibbs' album did signal a new era in which it became common, even obligatory, for Jamaican artists of every stripe (even the hardest of dancehall characters like Elephant Man or Vybez Kartel) to record a Christmas song.
As for Christmas itself, it's Christmas Eve that Jamaicans really look forward to. This is the time of "Grand Market", when literally everyone goes out to shop and revel late into the night. Stores remain open until the early hours of morning, vendors lay their wares out on street corners and sidewalks, and parents let their children buy something special. There is an energy in the air; food carts sizzle with the smell of jerk meat, roasted nuts and sweets. And, of course, there is music. Everywhere. You can get a sense of this energy in the excerpt from Michael Campbell (aka Mikey Dread)'s legendary radio broadcast on Christmas Eve in 1978, with a recurring "Christmaaaaaas!" toast bellowing over the music.
Once Christmas Day rolls around the island is much quieter. Similar to American Thanksgiving, it's a day spent with family and friends enjoying a big dinner. The special meal might include baked ham, gungo peas an' rice (the special, extra large gungo peas come into season just in time for the holidays), Christmas cake and a drink made from sorrell that is steeped in spice (similar to a mulled wine) and often mixed with rum. "Always add white rum," smiles Stokey.
"Jamaicans love to celebrate," he concludes. "And they love Christmas."
Indeed, it's such a special time on the island that even devout Rastas have been known to forego their vegetarian diet for the day in order to enjoy a little taste of Christmas ham. In the words of Alton Ellis: Praise Jah, it's Christmas. words / dev sherlock
TRACKLIST
1 The Ethiopians – Ding Dong Bell
2 Alton Ellis – Christmas Coming
3 The Kingstonians – Merry Merry Christmas
4 Rupie Edwards – Christmas Parade
5 Doreen Shaffer – Wishing You a Merry Christmas
6 Joe Gibbs Ultra Sound – Rock It For Christmas
7 Owen Gray – Collins Greetings
8 Byron Lee & The Dragonaires – Winter Wonderland Reggay
9 Little John – Save a Little For Christmas
10 Heptones – Christmas Is Here
11 Palemina & Faith D'Aguilar – Santa Ketch Up Eena Mango Tree
12 Alton Ellis & The Lipsticks – Merry Merry Christmas
13 The Cimarons – Holy Christmas
14 Don Cornel (aka Cornel Campbell) & The Eternals – Christmas Joy
15 Sugar Minott – Christmas Jambree
16 Jackie Mittoo – Joy Joy
17 Mikey Dread – JBC Radio broadcast, Christmas Eve 1978
18 Half Pint – Christmas Vibes
19 The Maytals – Happy Christmas (The Christmas Song)
20 Al & The Vibrators – Merry Christmas
21 Premo & Joe – Peace on Earth
22 Silvertones – Bling Bling Christmas
23 The Wailers – White Christmas
24 The Cables – Christmas Is Not Just a Holiday
25 Joe Gibbs Family (feat/ Beres Hammond) – Winter Wonderland
26 Lee Scratch Perry & Sandra Robinson – Merry Christmas Happy New Year
27 Alton Ellis – Praise Jah, It's Christmas
28 Gaylads – Christmas
Related: Bomboclat! Island Soak 8 :: Jamaican Vintage (A Mixtape)
If you've ever been inspired via these pages, please consider backing us. After 15 years of music and culture writing, we've never had a 'donate button' or a pledge drive, but maintaining independent media requires support. To that end, we've launched a Patreon page. By pledging, you will not only receive bonus audio, printed ephemera, and records, but you'll make a statement about what matters to you.