The story of Kudzu Wish is the kind of great indie-rock tale that, in a movie, would have ended with some great, mammoth success. Instead, it's something much sweeter, much more moving, and now, 14 years later, getting its bittersweet coda. The band's final recording sessions from 2005 are being released by Ernest Jennings Records, their long time label, and will be playing a one-off reunion show in their hometown of Greensboro, North Carolina on March 22nd.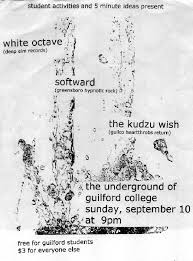 The band (guitarists Devender Sellars and Eric Mann, bassist Tim LaFollette, drummer Geordie Woods and singer, Adam Thorn) were the result of five guys meeting at Guilford College in 1998. They didn't all necessarily listen to the same music, but what they did like seemed to work together. They played their first show, sans Thorn, in November of '98, did little in '99, but then, on LaFollette's recommendation, added Thorn as a singer in 2000. It would still be another year before they released any recorded material – 2001's split 7″ with Florida band And Sometimes I – in that kind of slow build that is something that we see less and less of in the streaming age.
The late 90s were an interesting time to be in college in North Carolina starting a band. Chapel Hill had had its own small moment in the musical spotlight with Superchunk, Archers of Loaf, Ben Folds Five, Squirrel Nut Zippers and a handful of others breaking through on the national stage to varying degrees of success. Guilford College served as a thoroughfare for bands passing through thanks to its proximity to Chapel Hill/Raleigh and its free-form college radio station, WQFS.
The band's sound fits nicely into the music that surrounded it – raucous, hooky indie, all with a sense of self-deprecation and awareness and humor. And their sound continued to develop through the course of another split EP, a full-length, and their final EP from 2005. During all of that, the band was a workhorse, mounting 10 tours across North America, more than 300 shows, and doing a lot to connect with people wherever they went in the true spirit of touring bands.
The group called it a day in 2005 when members scattered off into different parts of the world and performed together again only twice – once in 2007 with a one-off reunion show in Greensboro and again in 2009. The second time, however, wasn't just for pure fun. In April of that year, Tim LaFollette was diagnosed with ALS. Knowing that his time to even be able to physically play bass was finite, the band pulled together a show in August of that year. Tim managed to survive much longer than most typically did with his particular strain of the disease, but a little over two years to the day of that final concert, he died.
In early 2016, Eric Mann discovered that he still had some of the unreleased recordings cut in 2005. The decision was made, in conjunction with Ernest Jennings, to put these out – that Tim would've liked that. The result is this self-titled EP – a collection of four originals and three covers. It captures the band at their sardonic, genuine best. And in addition to being a good, final farewell to a great band, it's also another chance to say goodbye to Tim.
Below, check out, "Bookend," and a cover of Archers of Loaf's classic "Web In Front" along with links to pre-order the EP. words / j neas