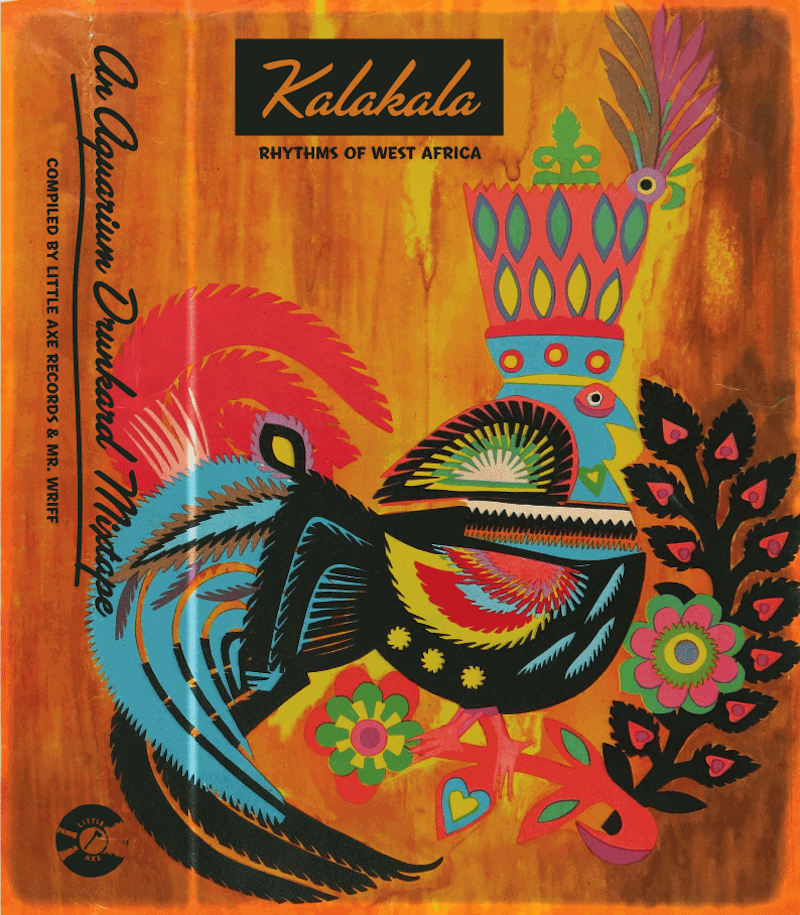 From Nigeria and Benin to Côte d'Ivoire and Ghana, the polyrhythmic percussive patterns of West Africa have always been funky. But the starting in the early 70s and continuing late into the 80s, synths began to snake their way onto the scene. Traditional talking drums co-habitate with drum machines. And the sounds of Yoruba Juju, Fuji and Afrobeat evolved into something that, to uninitiated western ears, sounds wholly other-worldly in all the right ways.

Portland's Little Axe Records has spent the past five years researching, sourcing and importing some of the most compelling (and rare) records from this region. And now it's time to share the love. Compiled by Portland DJ Mr. Wriff and Warren from Little Axe, this is Kalakala; a primer to the sounds and rhythms of West Africa.
Kalakala | Rhythms of West Africa (mp3)
Side A: Little Axe Records
Ododo – Ijebo
Zakry Noel – Yakibonou
Christy Ogbah – Advice
Orchestre Poly-Rythmo de Cotonou Dahomey – Do Ve Nan
Ode Omore and his Ewaen Osetinottu Stars – Enothiomwani
Ama Maiga – Lannaya Tilebana –
Sunday & His Dance Band of Nigeria – Up National
Side B: Mr. Wriff
The Music Makers – Ranti Omo Eni Ti Iwo Ise (Mr. Wriff Edit)
Sir Shina Adewale And The Superstars International – Eleda Mi Ja Fun Mi
Christiana Essien – Black Ladies Are Funky Ladies
Kofi Sammy And His Okukuseku Band – Akokohwere Agya Bode
Valen Guede – Doodo
Sir Shina Peters – Ijo Shina / Omoge To Rewa (Mr. Wriff Edit)
Fela Anikulapo Kuti & Roy Ayers – 2,000 Blacks Got To Be Free
Basabasa Experience – Homowo
LA People: want a gratis physical copy of this mix? We've got a baker's dozen worth of tapes to give out at the the pop-up at Fellowship Records (5206 Monte Vista) this coming Saturday the 23rd. Just whisper "aquarium drunkard" to walk away with one.
Related: Good Trip Peru, Vol I & Good Trip Peru, Vol II
Aquarium Drunkard is powered by our patrons. Keep the servers humming and help us continue doing it by pledging your support via our Patreon page. Only the good shit.