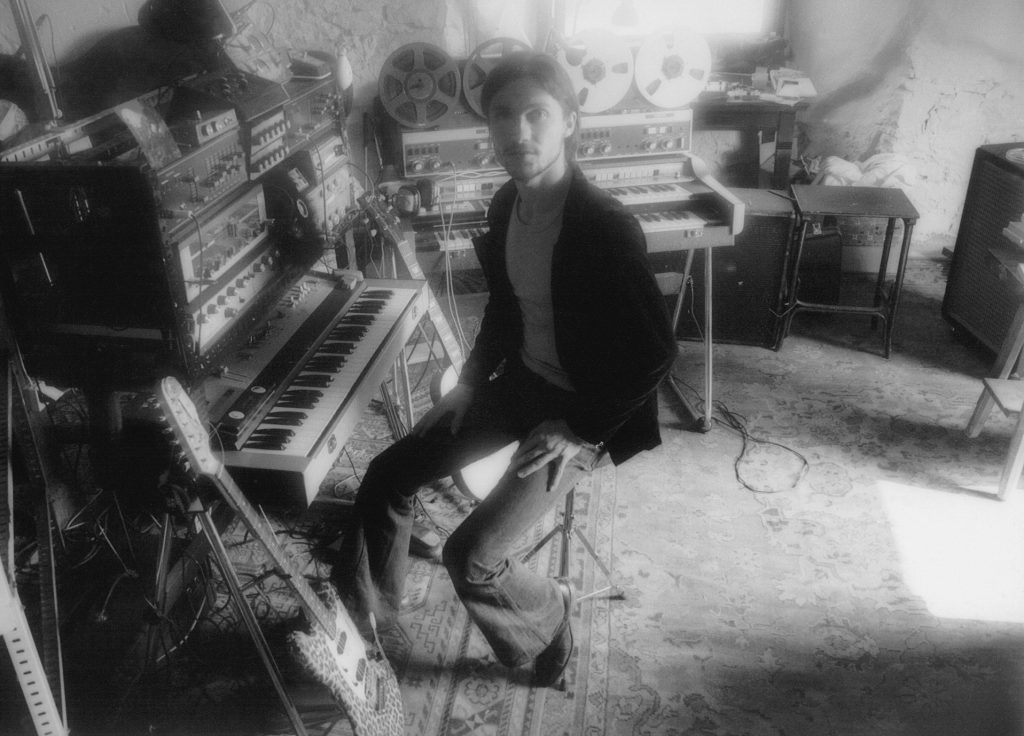 Michael Rother has been present at every evolutionary step of the apocryphally named genre called Krautrock. The 68-year-old musician lent his fluid guitar work to an early, more proggy version of Kraftwerk in the early '70s; with drummer Klaus Dinger, he went on to set the motorik pulse of the German scene, co-founding the band Neu! and releasing three albums of freaked out rock and driving rhythms that influenced everyone from Bowie to Stereolab to LCD Soundsystem; Rother also recorded and performed live with the members of Cluster—Hans-Joachim Roedelius and Dieter Moebius—under the name Harmonia, taking their collective psych-synth efforts to greater heights.
For the size of the impact he's had on popular music, Rother's solo work has gotten far less attention than any of the above collaborative efforts. Since 1977, he has released a series of fantastic albums that further developed the melodic sweep and steady beats (often provided by Can drummer Jaki Liebezeit) of the music he fostered in the early part of that decade. The narrative is shifting thanks to the recent release of Solo, a multi-disc boxed set that pulls together Rother's first four solo albums—1977's Flammende Herzen, 1978's Sterntaler, 1979's Katzenmusik, and 1982's Fernwärme—and more recent soundtrack work, adding further definition to the musician's story and revealing the fuller scope of his use of atmospherics and melody for deep emotional effect.
Recently, Aquarium Drunkard hopped on a Skype call with Michael Rother to talk about the music compiled in Solo, the impact of producer Conny Plank, and making music for movies.
Aquarium Drunkard: You've been doing a lot of press for this boxed set and played a lot of shows in recent years where you've focused entirely on your past work, especially your releases from the '70s. Is it a little frustrating that so much attention is given to the past rather than the music you've released since?
Michael Rother: You know, I'm a free man. I can choose what I want to play. These days, it's different than how I felt in the '80s and '90s. I enjoy playing this more fast forward, dynamic music. So I'm not doing anything against my will, you can be sure of that.
AD: The biography for this set talks about you moving to Forst in the '70s. What can you tell me about that part of the country and what drew you there?
Michael Rother: I'm still sitting in the same kitchen I was in when I moved here! I'm kind of a slow-moving, stable guy. It was mainly a musical decision. Hans-Joachim Roedelius and Dieter Moebius of Cluster were living here already. They moved here, I think, in the summer of 1971 from Berlin. I visited them in order to check whether they would be the right guys to help Neu! put the music on stage. With Neu! as a duo, it didn't work just the two of us on stage. We needed the multi-track machine and we needed Conny Plank in the studio.
For live appearances, we tested two musicians in Düsseldorf and that was totally hopeless. It didn't work at all. That was in late '72 and after we played, a guy from United Artists in London came over. They released Neu!. This guy told us, "We'd like to bring you over to the United Kingdom for concerts." At that time I knew the music of Cluster because we had already met and played together when I was in Kraftwerk. They had this one track that really appealed to me, called "Im Süden." It has these four notes repeating and the basic melodic idea made me think, "Okay, this is a basis where I could start." That's why I came over here with my guitar and jamming with Roedelius discovered a whole new horizon, which led the forming of Harmonia six weeks later.
AD: Does that part of the country appeal to your sensibilities, to have more nature around and living in a more bucolic area?
Michael Rother: Maybe this is true. I love this place and I notice whenever I come back from travels in London or Berlin or any big city that you can go nuts in cities like that. The bustling crowd and everything is so loud and pushy. I enjoy making photos and quite often when I open the curtains in the morning, the first thing I do is get my phone and make a photo of the new light. Because you know, over the seasons you have different light. The sun comes from different directions. It's so beautiful and it appeals to me. Of course, other people may think other landscapes are more exciting but I like the soft hills. I love the river. I live right next to the river. When I look out my windows, I don't see any structure built by humans.
But I hesitate to say that the music can only be done here. I think this is not true. This is too simple. I love being in the city from time to time. I spent three weeks in Hamburg recently to be with my friend and sitting in nice cafes and playing pool, things that can't be easily done living in the countryside.
AD: Listening to the records collected in Solo and the material you did with Neu!, there is a sound that you hit on at that time, a signature approach with the repetitive motorik drum beats and you playing over the top of them. Was that the intent of your work from the start? To find a sound that fit for you and tackling it from different angles?
Michael Rother: It was never the result of a theoretical approach. It was doing and discovering. The only thing that was very clear was at the end of the '60s and early '70s, I needed to move to some new musical ground that I could consider my own. Not the pop music structures and rock music structures and the guitar hero stuff. I used to worship those guys as a young teenager, right up to the end when Jimi Hendrix changed everything. It was a dead end street, what I was doing in the '60s. I didn't know any other people who had these ideas. I didn't know Kraftwerk. I met them by pure chance.
This changed the situation immediately when I jammed with Ralf Hütter in the Kraftwerk studio in early '71. Suddenly, okay, I'm not alone. This was a guy where we could just throw ideas around and didn't have to talk. There was no Blues connected to the music. Because I grew up in the middle of Europe, I guess my first imprint is music from central Europe. The traditional tunes. Folk music. Classical music. My mother played classical piano. She did that at home when I was very small. I was exposed to this idea of melody and harmony. I found this again when I met Ralf Hütter. We never talked. We just played. But it was clear that he had the same idea about melody and harmony.
From then on everything just evolved. It was meeting the right people at the right time. Meeting Conny Plank, working with him. Making music with Florian Schneider and also Klaus Dinger. And after six months with Kraftwerk and failing in our attempt to record the second album, it became clear that we couldn't continue working together. But I was already on my way then and it was an easy decision to go along as a duo with Klaus Dinger. Just a few months later, we had recorded the first Neu! album. Conny Plank is so important to that era of music in Germany and beyond. It feels like it's only been over the last 15 years or so that he's finally started to get his due.
He was known to the sharp-eared musicians in the late '70s and early '80s. Bono and U2 wanted to work with Conny. David Bowie wanted to work with Conny. Brian Eno. He was picky. I never talked to Conny about why he didn't want to work with U2 but it seems he said, "I don't know what he wants. I can't work with this guy." [Laughs] He was quite radical. Unfortunately, he had already passed away in '87 and his widow had a hard time keeping the studio going after he had passed away.
Nowadays…at least in the last 20 years I think, especially since the Neu! albums were re-released, people ask, "Who is this guy Conny Plank? We read his name everywhere. He's on all our favorite albums. How come?" Back in the early '70s, we were a very small bunch of musicians with the very ambitious idea of changing music, being independent from Anglo-American music. Conny was just as adventurous as we were so we were natural allies. We didn't have to push him into experimentation and he didn't try to push us because the basis of our work was mutual respect.

AD: The other person that was a key figure on your first four solo albums was the drummer Jaki Liebezeit. How did you come to start working with him?
Michael Rother: Well, of course, I knew Jaki as the drummer of Can. Although, to be honest, I wasn't a fan of Can. But I had some respect for them. My earlier girlfriend already had the first Can album in '68, but I was not interested. I knew that Jaki was a great drummer. That was apparent. You didn't have to be an expert to see that he was the heart and soul of Can. We had, I think, two concerts when I was in Kraftwerk with Can. When Harmonia stopped, I had to look around and I didn't want to ask Klaus Dinger because that would have been Neu!. The only guy I really thought of Jaki Liebezeit. I was very, very happy that when I contacted him, he said, "Yeah. Why don't you come around?" When I met him in Köln where he lived and played him some very abstract sketches, we didn't talk about details. He was very relaxed and mysterious in a way. I think he didn't want to be mysterious. Sometimes I compare him to a cat. If you know how much I love cats, you know this is a sign of huge respect.
So I asked him along and we started working together on Flammende Herzen. It was so easy to work with him. His intuition was so great. The technical skills, he was by far the best drummer I had ever seen. Klaus Dinger was a great drummer but in a very different sense. Klaus was such a determined drummer who could pull a cart through the wall. [Laughs] Klaus just aimed at the horizon and off he went. There was no stopping Klaus. Jaki Liebezeit was a much more sophisticated drummer. He was elegant. And with the right mindset to adjust to my ideas. Sometimes we had small discussions and I'd ask him to focus on certain things and he delivered. It was amazing how he understood. He did all the right things at the right moment.
AD: Your solo work has been influenced by some rather unexpected sources. Sterntaler was the name of a fairy tale and you've talked about your love of Donald Duck. How does that translate into your songwriting? Are you trying capture a similar mood or on "Feuerland" where you almost sound like you're trying to ape the sound of Donald Duck talking…
Michael Rother: No, actually, it was completely the other way around. All I ever wanted to do was music and I had these ideas for melodies and sounds and structure. I didn't have a concept like "Autobahn" or something like that. But I was lucky. I had a good friend; he came with very smart ideas for the titles. That was also the case with Sterntaler. The funny thing is, my friend also had maybe a wry smile because he thought maybe Sterntaler was a bit cheesy or a bit too sweet. I don't agree with that. Of course, I understand why someone can think that, but I don't see it that way. For me, it was just a composition. And if you look at the last three or four minutes of the track when the thing just goes on the highway and rushes to the horizon, then you understand what this is about. No, these nice titles that make you think this guy is a dreamy character reading fairy tales and thinking, "Oh, I will have to make some music out of this," this was definitely not the case.
AD: At the same time, your work has surely been impacted by your personal life. Is that something you think about when you were writing and recording these albums?
Michael Rother: To a certain extent. Some tracks are only music and there's no specific feeling I remember when recording it. A track from Fernwärme called "Klangkörper." I had this drum machine with a delay and it goes like a steady river until it reaches the waterfall. Suddenly, there's only mist and the whole thing just floats away. Other tracks have a more emotional connection. Another song from Fernwärme, "Elfenbein"…a very nice uncle of mine died. This really struck me and I was really unhappy. I guess the really heavy feeling you get in this track, this emotionally very heavy stuff. But the way I performed it and put it on tape, people may think, "Wow, this is really depressing."
The funny thing is, when Fernwärme came out in Germany, people were going crazy for Neue Deutsche Welle. Suddenly there were all these bands playing very silly and positive tunes. Having a happy time. So when my album came out, it was like a slap in the face for the times. Back then, that was my first album for Polygram. Maybe they didn't see the timing so clearly and were so surprised by my dark mood in some of the tracks that they asked to use one of my tracks in a compilation, which was put together with this happy, funny, stupid music. Because they had to ask my permission…I didn't want to say "No." I didn't want to disappoint them straight away. And this album is by far the best-selling album I've ever had music on. It sold more than 500,000 copies and was promoted on television back then.
"Flammende Herzen" was a very emotional affair. I remember this was probably something that was channeled out of my unhappiness. My girlfriend was studying in Köln at the time and we didn't meet that often and I missed her. So, this is maybe the result of the yearning melody and the yearning sound of that track. And others were just pure joy of dynamic propulsion like "Zyklodrom." This is a track we play live these days. I added it to our set list two years ago and people really get it. They go crazy because we push it all the way up and we hit the ceiling every time.
AD: Solo also includes a couple of movie soundtracks that you've done, which is something that you've done only recently. Is that something you've wanted to do for a long while or did it just fall into your lap?
Michael Rother: It fell into my lap. I didn't really go around looking for that. I got this email or a phone call from [Bastian Günther] who did this film called Houston. We met and he's a very sympathetic guy. There was not much money involved but I enjoyed the challenge. He asked me to use old instruments, my instruments from the '60s. I have all that stuff. That was a very inspiring situation to see the film and think of the dynamics and the setting of the music. I remember also after I worked on the music, he came to visit me in Forst. I put together my ideas, different sketches and mixes of the main theme. He was sitting at my space where I usually sit right in front of the speakers, listening very closely. After about 30 minutes, he just turned around and smiled and was happy.
And, I think in 2013, I was approached by an agent working for a film company and they had problems with [The Robbers] and desperately needed music. I said I'd give it a try. The director came to visit me in Hamburg. At the time, that was during the winter when I used to have a flat in Hamburg. He brought his editor along and I played them some basic ideas. I looked into my archives and though what kind of musical world would fit into this film. I spent a lot of time working on that. Maybe five months. This was fascinating work for me.
After recording so many albums in the studio, which with the way I work, is a lonely job, sitting there and slowly going mad, thinking about music all the time. Now, I can laugh but back then I remember being alarmed because at night after working on certain stuff for ages, I couldn't sleep. I thought I was sleeping but I was still trying to mix. [Laughs] That's when I noticed I needed to get this done and off the table. For a long time now, it's my biggest joy to present the music live and enjoy an evening with an audience. That's what I enjoy most these days. words/r ham
Aquarium Drunkard has launched a Patreon page, which will allow readers and listeners to directly support our online magazine as it expands its scope while receiving access to our secret stash, including bonus audio, exclusive podcasts, printed ephemera, and vinyl records. Your support will help keep an independent cultural resource alive and healthy in 2019 and beyond.