For about a quarter century, P.S.F. Records was an amazingly reliable source for Japan's wildest underground sounds. The label's founder, Hideo Ikeezumi, passed away in 2017, but he's paid fitting tribute to on Black Editions' new volume in the supremely heady Tokyo Flashback series, Psychedelic Speed Freaks (Black Editions reissued the original Tokyo Flashback last year.) A lavishly packaged four-LP set made up entirely of previously unreleased material, it showcases the awesome breadth of the P.S.F. discography, ranging from Fillmore East-ready jams (Ghost, White Heaven) to hair-raising free jazz (Masayoshi Urabe, Maher Shalal Hash Baz). There's even room for unclassifiable excursions, like the positively wonderfully spacey solo accordion offering from á qui avec Gabriel. This isn't just a compilation—it's an odyssey.
West Coasters will be able to get a rare taste of the live prowess of many P.S.F.-related acts (and several like-minded bands) during this month's California Flashback shows in Los Angeles and San Francisco, presented by Black Editions. Over the course of four jam-packed nights, lucky audience members will have their faces well and truly melted by Acid Mothers Temple, Psychedelic Speed Freaks, Heron Oblivion, Major Stars and many more. It's gonna be loud, and it's gonna be glorious.
For further insight into the P.S.F. saga, we're proud to present an excerpt from Ghost founder Masaki Batoh's Tokyo Flashback liner notes below… words/t wilcox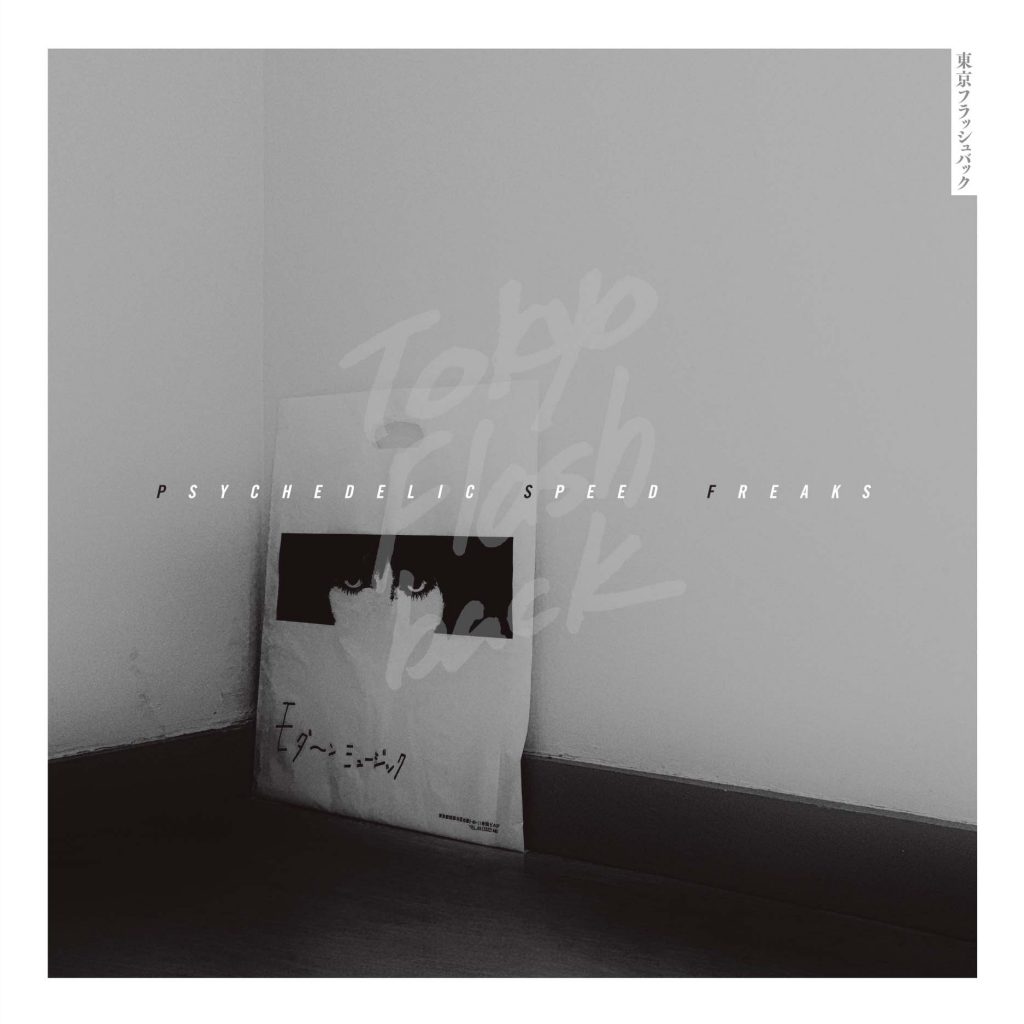 Tokyo Flashback :: P.S.F. – Psychedelic Speed Freaks
During my high school years, I had learnt a lot from Rock Magazine, which featured radical art and music and enjoyed a meager distribution in Kansai. But the kinds of records its writers covered—Can, Ash Ra Tempel, Area, Magma, Gong, Cluster, Neu!, Throbbing Gristle, SPK, free jazz on ESP and BYG—were impossible to find in Osaka or Kobe, let alone in my hometown of Kumano in Wakayama. At the time, I imagined that at least some of that music was sort of major in the US and Europe, but the first time I would lay eyes on those records was when I visited Meidaimae several years later.

The store was called Modern Music and it was located above a coffee shop. When I walked in through the open door, I was confronted with mountains of books, faxes, cassette tapes, and records, all teetering on the verge of collapse. The shop counter was completely filled by these heaps, objects piled one on another, shop stock jumbled together with trash. It looked like the owner had consciously decided that if a disaster were to happen, he was going to make escape impossible. This would be the unchanging layout of the store, no matter how many times I visited in the future. Italian prog, krautrock, contemporary composition, experimental, avant-garde, Japanese music, 50s and 60s Japanese pop, rakugo comedy, rock from East and West, independent releases, psychedelic, folk, free jazz, pro wrestling, medieval music, etc…Now it's not that unusual, but at the time there were hardly any shops that featured such a wide spectrum of records and had such a chaotic interior. But above all, the shop was an inexhaustible storehouse of rare records that I had never even seen before. It blew my mind.
The owner, Hideo Ikeezumi, had an unusual name. Normally he was a kind and generous man, but when the conversation moved to music, stubborn and harsh criticism would spill from his lips. Many musicians at the start of their careers had the experience of bringing Ikeezumi a demo tape. His musical tastes were clearly reflected in the stock in his store, but he was always willing to listen carefully to new music and give his candid opinion.
One day he told me that he was going to start a label. This would have been in 1984, I think. He borrowed the initials from (Munehiro) Narita and (Asahito) Nanjo's band Psychedelic Speed Freaks and named the label PSF. The first release on the label was by High Rise—essentially Psychedelic Speed Freaks under a new name. Releases by Fushitsusha, Keiji Haino, Kan Mikami, and the Kataashi Kutsuya group with Motoharu Yoshizawa soon followed. It was around this time that I brought in a tape by my group Eternal Chaos (Eikyū Konran). I had been turned down again and again, and my confidence in these songs had turned to complete despair. PSF was my last hope. I still remember with total clarity the sight of Ikeezumi listening to my tape. From behind the counter he took the cassette from me, slid it into the tape deck and pressed play. He listened to it for less than two minutes before he said, "this is great. I'll put it out." I was in shock. "But, but, but…" I protested, "you've only heard the first bit. Listen to the rest, please." I was dumbfounded by his reply—"I can tell that it is really good without listening to any more of it."
PSF Records released over 230 titles. Things were never easy financially, but Ikeezumi possessed an uncompromising will to continue to put out new titles. The label had a really varied roster of Japanese and international artists, and the releases continually created an impact of excitement and anticipation. The role that Ikeezumi played in providing a platform for Tokyo underground artists was a vital one. Across many years he continued to release music that he believed in, music which possessed a hidden avant-garde soul and which transcended many genres from psychedelic to free music to folk. I believe that the day will come when his achievements will be more fully recognized.
Aquarium Drunkard has launched a Patreon page, which will allow readers and listeners to directly support our online magazine as it expands its scope while receiving access to our secret stash, including bonus audio, exclusive podcasts, printed ephemera, and vinyl records. Your support will help keep an independent cultural resource alive and healthy in 2019 and beyond.