"Any ride on the Horse must not have a destination." – Neil Young
Just about 50 years ago, Neil Young & Crazy Horse put the finishing touches on their debut LP, the classic Everybody Knows This Is Nowhere. The saga continues today – the band played a few Canadian gigs in early 2019, with Young promising further adventures down the road. Neil's bands come and go, but the Horse has been a constant companion over the decades, giving the songwriter an elemental and pure launchpad for some of his greatest work. Of course, as is usually the case with Young, much of that work is still in the vault. Since the launch of his NeilYoungArchives.com site, fans have been tantalized by several unreleased work, many of which feature Crazy Horse in starring roles. Check out what's (possibly) in store below …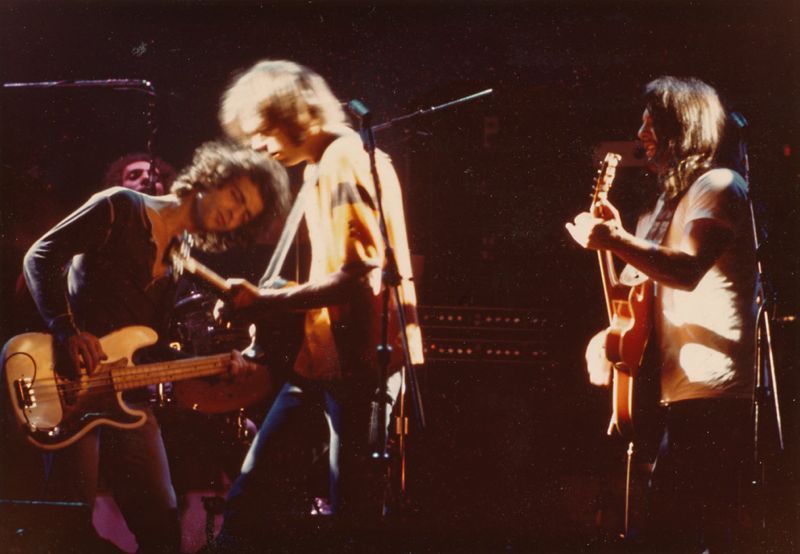 Early Daze: This compilation of tracks from the late 60s/early 70s era seems to be focused on giving guitarist Danny Whitten his due via unheard studio outtakes and alternate mixes.
"I thought Danny was a great guitarist and singer," Neil wrote in Waging Heavy Peace. "I had no idea how great, though. I just was too full of myself to see it. Now I see it clearly … I have made an Early Daze record of the Horse, and you can hear a different vocal of 'Cinnamon Girl' featuring more of Danny. He was singing the high part, and it came through big time. I changed it so I sang the high part and put that out. That was a big mistake. I fucked up." Early Daze seeks to settle the score. photo / Andrew Jarmus
Odeon Budokan: Think of this one as the electric flipside to the just-released Songs For Judy. Young and Crazy Horse's spring 1976 gallop through Japan and Europe saw the reconfigured four-piece in raggedly glorious form, whether playing extended renditions of old favorites like "Down By The River" or debuting future classics like "Cortez the Killer." Fans have had to make due with rough audience tapes from this period, but Odeon Budokan, made up of multitrack recordings from gigs at Tokyo's Budokan Hall and London's Hammersmith Odeon, promises to burn off all the fog and let these performances shine. In a perfect world, this one would also include a DVD of the pro-shot video from the tour, which shows up in hazy form on YouTube from time to time. :
Chrome Dreams: A well-traveled bootleg in its own right, Chrome Dreams was originally slated as the follow-up to Zuma. Featuring a hodgepodge of material recorded between 1974 and 1976, the LP jumps from electrifying Crazy Horse rockers ("White Line" and "Sedan Delivery") to visionary solo acoustic trips (the original versions of "Pocahontas" and "Powderfinger"). Somehow, it all hangs together perfectly — a true testament to Neil's mid-70s powers. Like the recently released Songs For Judy, die-hards will be more than familiar with Chrome Dreams, but it'll still be a long-overdue addition to the official canon.
Garage: Neil's 1986 Live From A Rusted Out Garage tour of the States was ostensibly in support of the just-released solo album Landing On Water – but in reality it was more of a sequel to the legendary Rust Never Sleeps tour of 1978. Setlists were packed with well-worn riff-rock favorites like "Cinnamon Girl" and "Mr. Soul" alongside less familiar material like "Prisoners of Rock & Roll" and "Mideast Vacation." A live album culled from the tour could also include some intriguing rarities, like a crunchy Horse version of Trans' "Computer Age."
Ragged Glory II: This one is so fresh it hasn't even been added to the NYA Archives timeline. But a few months back, engineer John Hanlon dug up a bunch of Ragged Glory session outtakes that apparently are "equal to anything on the existing record if not better." As usual, it's unclear as to what songs will be included (though a Horse version of "Box Car" has been hinted at). The release may feature the ripping Zuma-era tune "Born To Run" (not a Springsteen cover), which Neil and co. tried out during the Ragged Glory rehearsals.
Toast: Neil has been teasing the release of this unreleased Crazy Horse studio LP from the early aughts for almost a decade. Named after the San Francisco studio where it was made (a spot where Coltrane recorded in the 1960s), Toast was eventually jettisoned in favor of Are You Passionate? But Neil's descriptions suggest that Toast may have been the more interesting effort. "There is a lot of soul in it," he wrote in Special Deluxe. "I played my guitar like an old horn, with a big fat sad sound. Ralphie, Billy and Poncho gave it the old funky feel. It might be a gem."
Alchemy: A few months back, fans got a preview of this unreleased live album from 2013 in the form of an astonishing video that showed up for 24 hours in the Neil Young Archives' Hearse Theater. During a 30+-minute rendition of "Like A Hurricane" performed at an outdoor show in Victoria, Australia, Young and Crazy Horse conjure up … well, if it's not quite a hurricane, it's at least a torrential downpour. "Definitely the biggest weather event I've ever played in," Neil commented later. As for the rest of Alchemy, we can likely expect similarly earthshaking and extended versions of latter day Horse jams like "Walk Like A Giant" and "Ramada Inn." Young has hinted that this may well be Crazy Horse's last recorded statement … words / t wilcox
Recommended listening: Neil Young :: Music Arcade / A Medley (1980-2007)
Aquarium Drunkard has launched a Patreon page, which will allow readers and listeners to directly support our online magazine as it expands its scope while receiving access to our secret stash, including bonus audio, exclusive podcasts, printed ephemera, and vinyl records. Your support will help keep an independent cultural resource alive and healthy in 2019 and beyond.