In the late 1970s, after getting his financial house in relative order, David Bowie had a firmer grip on his studio recordings than many of his contemporaries. While Bob Dylan's outtakes and demos would keep trickling out on bootlegs for years, the "unofficial" Bowie releases, 1976-2016, with some exceptions (see below), are greatly confined to concert tapes.
Sure, there are plenty of confirmed studio outtakes—"Pope Brian" (from Lodger), "Blaze" (Blackstar), a cover of the Velvet Underground's "All Tomorrow's Parties" (Tin Machine) and a full earlier version of the 1999 album 'hours…,' among others. Will there be a Bowie Bootleg Series at some point? A Bowie Anthology? Will his estate turn over his archive to the New York Public Library, as the Lou Reed estate has?
It's possible the 2020s will be a time of substantial Bowie archival releases. Or in ten years' time, Aquarium Drunkard could reprint this piece and little will have changed on that front. That said, there are many "unofficial" things to look for, on bootlegs and on YouTube…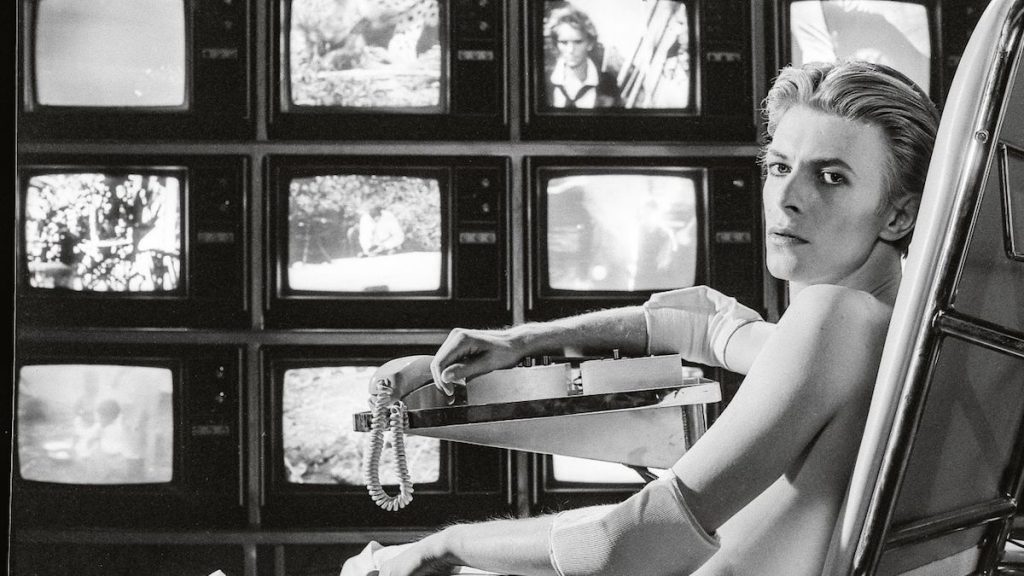 The Bowie/John Cale demos: While in New York in autumn 1979, Bowie and John Cale collaborated on a few pieces, two of which ("Velvet Couch," "Piano-La" or "Pianola") were bootlegged. Cale later told Uncut that "when we did that bootleg, it was like the good old bad old days. We were partying very hard. It was exciting working with him, as there were a lot of possibilities and everything, but we were our own worst enemies at that point." Far more intriguing in concept than in reality, the bootleg Cale/Bowie demos are murky efforts with Bowie singing place-holder phrases over Cale's piano—raw materials for compositions that never (apparently) were.
The Scary Monsters roughs: A set of rough mixes from the Scary Monsters sessions (lacking some backing vocals and Robert Fripp's guitar overdubs, among other things) disclosed some working titles of songs: "Cameras in Brooklyn" ("Up the Hill Backwards"), "People Are Turning to Gold" ("Ashes to Ashes"), "It Happens Everyday" ("Teenage Wildlife"). There's also Carlos Alomar, Dennis Davis and George Murray's take on Cream's "I Feel Free," a track that a bootlegger mislabeled as "Is There Life After Marriage?" and so kicked off decades of confusion. It's a fascinating look at Scary Monsters in a half-cooked state.
When the Fires Broke Out on the Rio Grande: One light moment in the month of Bowie's death in 2016 was the engineer Mark Saunders retrieving this glorious outtake. Bowie had cracked up his producers one night in August 1985, singing over the backing tracks of "Absolute Beginners" a ridiculous refrain—"when the fires broke out on the Rio Grande/ left nothin' standin' but the smell of the land…"—while imitating the voices of Bruce Springsteen, Marc Bolan, Anthony Newley, Iggy Pop and Lou Reed, among others. It was Bowie as a magnificent goof. Springsteen should perform it one of these days.
Tin Machine II Outtakes:The making of Tin Machine II stretched from fall 1989 through spring 1991—a sprawling, multi-continental affair that generated scads of outtakes. Over two hours' worth have leaked over the years: surf instrumentals like "Exodus," lots of blues jams, early takes and/or rough mixes of nearly every Tin Machine II track, and a strong piece that was cut from the album: "It's Tough."
Leon: What became 1. Outside, the first collaboration of Bowie and Brian Eno since the 1970s, started in March 1994 as group improvisation sessions at Mountain Studios in Switzerland. These resulted in over a day's worth of recordings. While such songs as "The Hearts Filthy Lesson" were crafted from these tapes, a longer piece was also being worked into an "improvised opera," provisionally called Leon. This would, over time, become the basis of the "art murder" character segue pieces on 1. Outside.

Three roughly 20-minute Leon "suites" were bootlegged earlier this decade. While shards of these suites, which weren't official edits but apparently made by the original bootlegger, had turned up over the years, the longer extracts give a better sense of what Leon sounded like: a chaotic series of sonic events with Bowie in various voices, including "Western prospector" and "English patrician."
The Nine Inch Nails/Bowie tour, 1995:For Bowie's autumn 1995 US tour, Nine Inch Nails opened for him. It would be some of the most combative shows of his life: Bowie contended with audiences who were a) young people who came to hear NIN and couldn't care less about a middle-aged man singing about Ramona A. Stone, or b) Bowie fans who couldn't stand NIN and weren't wild about the mostly-new-songs setlists either.
Bowie and Trent Reznor designed a sequence to bridge their sets. Bowie, then his band, would join NIN, then the latter left the stage, with Reznor remaining. This interim set was usually "Subterraneans," "Scary Monsters," NIN's "Reptile," "Hallo Spaceboy," and ended with NIN's "Hurt." With hope, one of these excellent 1995 shows will appear in an upcoming box set.
The Earthling Tour ("O Superman"): For Bowie's 1997 tour, he again aimed for younger audiences, not catering to nostalgia. On early dates he played "rock" and "drum 'n' bass" sets, though he soon mingled the two. A good example is his "preview" shows at the Hanover Grand in London in June 1997, which included his and Gail Ann Dorsey's take on Laurie Anderson's "O Superman," a tour standard: (video with poor audio, 2 June 1997). Again, I'd imagine at least one of these shows gets an official release at some point.
"Mother" / "Tryin' to Get to Heaven": In a retrospective mood by the end of the 1990s, Bowie paid homage to John Lennon and Bob Dylan by covering, respectively, "Mother" from Plastic Ono Band and "Tryin' to Get to Heaven" from Time Out of Mind. "Mother," meant for a Lennon tribute album that was never released, was one of the first recordings Bowie made with Tony Visconti in well over a decade—the track started in Bermuda in summer 1998 with Reeves Gabrels and Andy Newmark (appearing on a Bowie track for the first time since Young Americans) and was finished by Visconti in New York.
The "Tryin' to Get to Heaven" cover was a quickie cut in early 1998 by Bowie, Gabrels and Mark Plati. Though it appeared on a promo CD-R the following year, it remains in the Bowie vault at present.
Toy: Cut in 2000, Toy found Bowie remaking early songs from his first single "Liza Jane" to the 1969 B-side "Conversation Piece" and the Hunky Dory-era outtake "Shadow Man." Rejected by his label at the time, Toy was subsequently released piecemeal, roughly half its tracks turning up on B-sides or appearing as bonuses. Among those still unreleased, however, is "Uncle Floyd," the magnificent first incarnation of Heathen's "Slip Away."
The complete Low live, 2002: During his tour to promote Heathen in 2002, Bowie also occasionally performed Low in its near-entirety on stage, such as at the Montreux Festival in July 2002. Also recommended are the "five boroughs" shows of October 2002, where Bowie and his band played small venues in every borough in New York City, even Staten Island.
Hurricane Festival (25 June 2004): Though he'd suffered a heart attack during a concert in Prague two nights before this appearance, Bowie rallied for one last complete show at the Hurricane Festival in Scheeßel, Germany, on 25 June 2004. After that, without any pronouncements, he retired from touring and, soon enough, live performance. The Hurricane Festival crowd were thus unknowing witnesses to history. That night, they saw David Bowie sing, for the last time in his life on stage, "Ziggy Stardust," "The Man Who Sold the World," "Fame," "Rebel Rebel," "Quicksand," and so many others. A video clip of the last-ever "Heroes," in which Bowie looks as if he's weathering a storm at sea, is a worthy finale.
The last performance: Black Ball, 2006: Barring an a capella "Pug Nosed Face" to introduce Ricky Gervais in 2007, this was Bowie's last-ever live performance—a November 2006 charity event at the Hammerstein Ballroom in New York. His song choices summed up a stage life: "Wild Is the Wind", "Changes" (with Alicia Keys) and "Fantastic Voyage."
This is Chris O'Leary's third rare Bowie entry for Aquarium Drunkard. Based in Massachusetts, O'Leary is the author of Rebel Rebel: All the Songs of David Bowie: 1964-1976 (Zero, 2015) and Ashes to Ashes: The Songs of David Bowie, 1976-2016 (Repeater, 2019). Both authoritative/essential reads.
Previously: Cracked Actors: A Look Through The Bowie Cover Catalog // The Unofficial Bowie: A Conversation Piece
Only the good shit. Aquarium Drunkard is powered by our patrons. Keep the servers humming and help us continue doing it by pledging your support via our Patreon page.