Author and artist Dmitry Samarov's new book, Music To My Eyes, was released last month via the Chicago based Tortoise Books. A 264 page love letter to independent music, Samarov's words and minimalist illustrations flow in tandem, presenting a portrait of fandom and appreciation, from Nick Cave to Bill MacKay. Below, Samarov catches up with one of the subjects of his new book, Mission of Burma's Peter Prescott.
I met Peter Prescott in the late 80s, while working at the Coolidge Corner Theatre in Brookline, Massachusetts. My in was that the father of Prescott's guitarist in his great 80s band, Volcano Suns, ran that movie theater. Movies would remain a touchstone of my talks with Prescott over the years. He once told me that Martin Scorsese's New York, New York was the best movie ever made about the musician's life. I tracked down that film soon after, just to see what he was talking about. I've made a point of visiting Prescott on trips back to Boston over the years. He's been one of my few constants in that town. The music he's made— and continues to make—is as important to me as an artistic influence as any work book or painting. These sounds have been with me most of my life.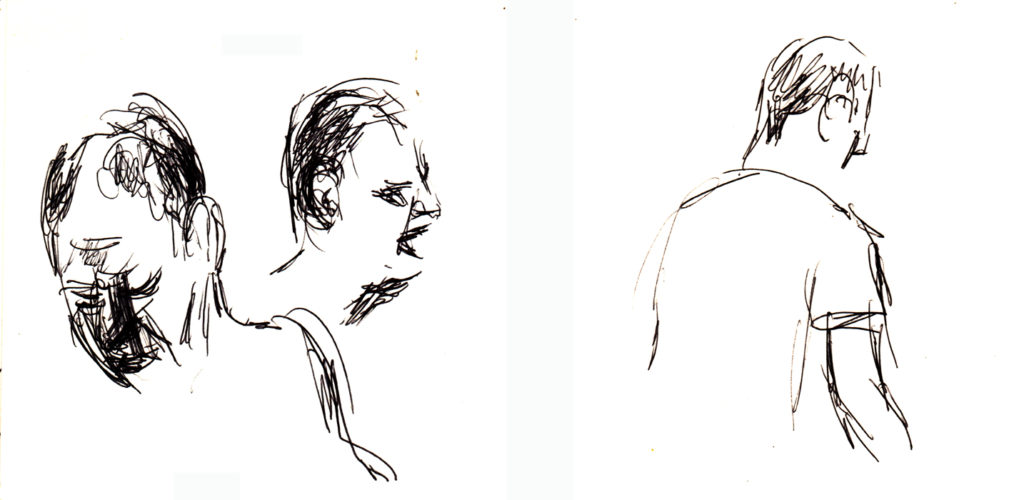 If anyone would know about the ins and outs of a musician's life, it would be Prescott. By the time I met him, the first run of his best-known band, Mission of Burma, was years behind him, and Volcano Suns, Kustomized, the Peer Group, the reformed Burma, and Minibeast—his current project—lay ahead. On a recent book tour stop in Boston, I borrowed my folks' car and drove to Prescott's house, situated on a quiet street in Providence, R.I. to talk about his career in rock.
Shooting the shit at a record store for a few minutes is one thing, but conducting an interview for an article is quite another, so I was a little nervous as I rang the doorbell of Prescott's house. His girlfriend, Lisa Rigby, an artist and wedding photographer, welcomed me in. Pete gave me a quick tour of his basement practice space—the first he's ever had in a place he's lived—then we settled at the dining room with cups of coffee and talked for nearly three hours. The conversation flowed easily, wandering on many tangents, but always returning to the subject of how to keep challenging oneself creatively, in spite, or because of, success and failure along the way.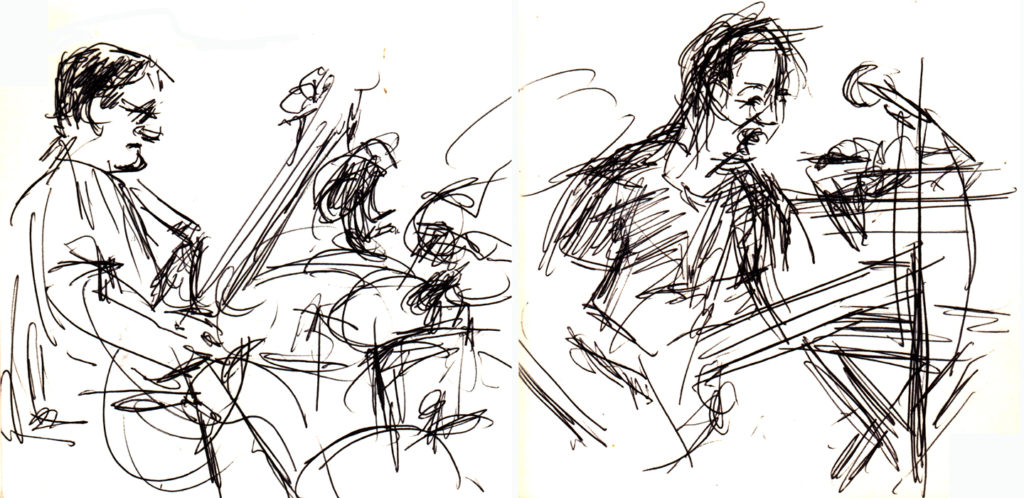 By way of explaining his current project, Prescott brought up David Cronenberg's Naked Lunch, one of his favorites, "there are events in your life that push you into a creative mode. Those events are not always good."
I was a little too young to catch Mission of Burma the first time around, so when they got back together in 2001, I was excited to finally catch them live. Not only did they not disappoint, but unlike so many of their reconstituted punk-era contemporaries, Burma put out a series of new records which were vital statements rather than just nostalgic artifacts. But about ten years into Mission of Burma's improbable second act, Prescott started chafing under the constraints of the band. "As out there as Burma was back in the day, we'd turned into a very traditional, song-based band." Restrictions can be a great tool for creativity, but do a thing the same way too many times and it gets old. Prescott had a lot of fun playing in Burma again and is gratified that they reached a far wider audience than they ever could have back in the early 80s, but came to point where it was time for him to try something else. "We were asked to open for the Foo Fighters in Fenway Park. Everybody was enjoying that, but it was slightly embarrassing to me."
When I ask if Burma's gone for good, he doesn't mince words, "Burma's kaput. We went out with a whisper."
"Very song-based material isn't very much fun for a drummer," Prescott says. He wanted a way to stretch out. So he bought a Tascam digital eight-track recorder and started experimenting with soundscapes in the basement of the Providence house he and Rigby had moved to. He played all the instruments, adding collaged clips from various sources. He figured it would just be a recording project to scratch the creative itch. He saved some Burma money and used it to release the first Minibeast record, "Look Don't Look", in 2012. It's a ruminative, spacey, surprisingly quiet piece of music from a guy best known for making pretty in-your-face sounds. Yet, the more I listened to it, the more substance I detected in the bits of found sound, synths, and glitches. Every time I put the record on at the bar where I bartend, at least a couple people come up to ask what it is.
"This is very on purpose, but if you look inside of it, it's like you're looking inside a cloud," is how Prescott describes what he's doing. A few years into Minibeast, he started wondering what it would be like to actually play this stuff live. "Fela Kuti, Can, Public Image, long, repetitive songs" was how he described what he was after to prospective collaborators. So he asked friends in Providence's music scene and assembled a band. Contacts from decades of service in the underground music trenches landed them opening slots for legacy groups like Pere Ubu, Wire, and Gang of Four, and Prescott was gratified by the positive crowd response to a band that virtually nobody knew anything about. The best way I can describe what they do is to imagine all the bits of recordings, detritus, and static found around the edges of Volcano Suns songs, pushed up to the front, and the verse-chorus-verse hooks pushed and cut up way in the background. What results is a wide-open, abstract sound, occasionally punctuated by bursts of abrasive noise or shouts.

In 2015, Prescott ran a successful Kickstarter to fund the second Minibeast record, "Free Will." He calls it a more intentional, organized effort than the first LP, but it retains a lot of the same dreamy, mutating sensibility. He played all the instruments on the recording himself, but by then the live band had congealed into a steady trio, with Keith Seidel on drums, Eric Baylies on bass, and Prescott on everything else, including voice, guitar, keyboard, and all manner of other sounds. When I saw them at the Hideout in Chicago in the summer of 2018, I was surprised at how aggressive the band had become. There were echoes of Volcano Suns and Kustomized to Prescott's vocals. New songs like "Your Exact Location" and "Town Crier" had some of the caustic humor which were always a key elements of those bands. Seidel's powerful, rhythmic drumming was the center around which the rest of the sounds revolved.
Yet, while the material may have name-checked some of what Prescott did before, the band retained the slippery, atmospheric quality Minibeast started with. "It's an interesting thing to have a song you never play the same way," Prescott says, by way of explaining how he keeps his current project fresh. We talk a lot about the pervasive phenomenon of festivals like Riot Fest, whose lifeblood is nostalgia. Old people recreating what they made in their youth for audiences who only want to hear what they already know and love. Prescott is fighting against the complacency endemic to the passage of time, "You know what the response of people my age is? They stop playing music."
What he's doing is the opposite of playing the hits. "I'm glad to see when anyone my age is stabbing around in the dark."
He remains committed to being open to explore and grow as a creative person. "I can't tell you how much fun that is—at sixty-one years old—to be surprised." He credits his many years working at record stores for opening his mind up to all manner of music, from children's records, to soundtracks, to Afrobeat, to techno. Last month, he ran a second successful Kickstarter to fund the release of two new Minibeast LPs this summer. These new recordings are more reflective of the new live sound of the current band. It's a sound which seems to acknowledge Prescott's long career in music while still being open to evolving. It's the nothing like the codified genres of punk or indie-rock, which often calcify into a kind of competent, lifeless repertory formula.
Although Baylies has left and was replaced by Neils LaWhite on bass, Prescott is very optimistic about Minibeast's future. "I've been in so many bands that go haywire. I don't know why, but with this band, the karma's just right. There's always a great present to be found out there. You just have to dig for it."
Aquarium Drunkard has launched a Patreon page, which will allow readers and listeners to directly support our online magazine as it expands its scope while receiving access to our secret stash, including bonus audio, exclusive podcasts, printed ephemera, and vinyl records. Your support will help keep an independent cultural resource alive and healthy in 2019 and beyond.