The golden age of guitar soli continues! Check out a fresh batch of diverse efforts from some very talented players …
Isasa – Insilio: Right around the middle of his excellent Insilio LP, Spanish guitarist Isasa tosses off a pretty much note-perfect John Fahey impersonation on "Arquitecto tenista." But having proved his American Primitive mettle, he quickly moves on to other zones. A wise choice – Isasa acknowledges the master and then goes his own way. Insilio features all kinds of six-string beauty, from dramatic Flamenco-tinged pieces to quizzical/mystical excursions. Throughout it all, there's a sense of patience and curiosity, a willingness to let the songs breathe and unfold at their own pace.
Jon Collins – Water and Rock Music Vol. II: Jon Collins' gorgeously skeletal guitar is complemented by an array of field recordings on Water and Rock Music Vol. II. There are both soothing natural sounds (an oar in the water, wind in the trees) and manmade noise (a plane buzzing overhead, cars whooshing by). But whatever wafts through the mix, Collins provides a fixed center, elemental and evocative. This record is one for quiet times, when you're searching for calm and stillness in a world that's constantly in motion.
Joseph Allred – Nightsongs / O Meadowlark: Two tasty releases from Boston-based multi-instrumentalist Joseph Allred. Nightsongs (a cassette/digital offering via Garden Portal) is a sparkling set of visions of the country, with Allred finding a spiritual, questing vibe, flickering sunlight cast through six and twelve strings. The Arvo Pärt cover will knock you right out. O Meadowlark, an LP via Feeding Tube (who seem to be putting out at least four records a week these days), feels like a more downcast, but no less successful, affair. A loose concept album revolving around "a very lonely middle aged man who lives in a house in a remote part of Tennessee," it's filled with haunting compositions — the banjo stuff here is particularly strong, with Allred coaxing scary/lovely sounds out of his instrument.
Michael Morley – Heavens Idleness Awaits: As co-founder of the long-running New Zealand drone collective The Dead C, Michael Morley has made intense and electrifying music over the past 30+ years. On Heavens Idleness Awaitshe unplugs, delivering four side-long pieces composed spontaneously for 12-string acoustic guitar. But the intensity remains. Morley's minimalist and meditative playing might seem a tad aimless at times. Is anything really happening here? But give the double LP your attention and it will quietly split your mind in two, with weird overtones and harmonics emerging, hypnotizing the listener. Watch out – Morley may have occult powers.
Eli Winter – The Time To Come: Eli Winter's The Time To Come is a remarkably assured debut, with the young guitarist moving nimbly from six-string (acoustic and electric) to 12-string. It's all fab, but the highlight is the ambitious 15-minute title track, with Winter proving himself capable of lovely cascading fretwork a la Robbie Basho. A waterfall of emotion transmuted into sound, it's a deep listen that never feels overlong or indulgent. Every moment is earned, every note rings out with warmth and wonder. Beautiful stuff.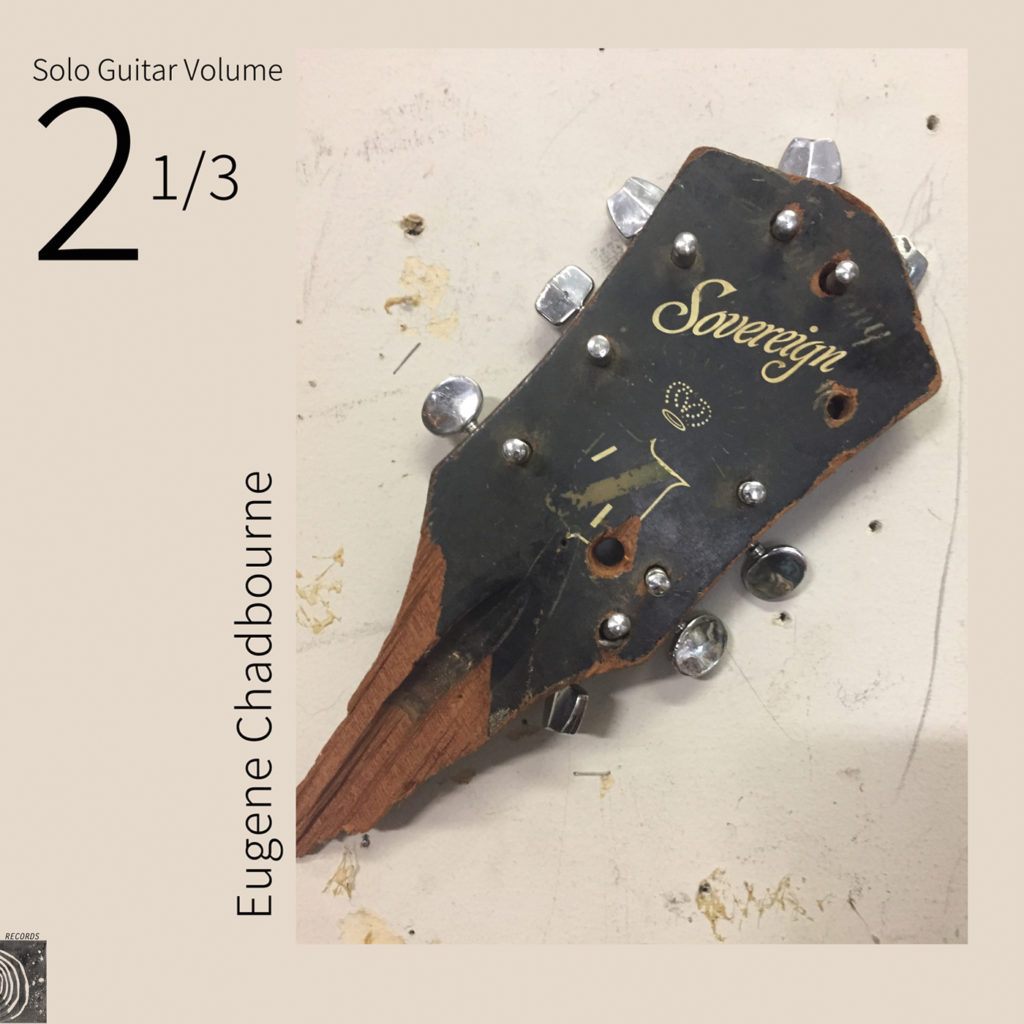 Eugene Chadbourne – Solo Guitar, Volume 2-1/3: Egads! The cover art for this one speaks volumes about the album's contents. Guitar maverick Eugene Chadbourne sometimes seems to be taking a literal axe to his axe at many points during these harrowing (but still extremely entertaining) acoustic improvs. Strings snap, necks splinter, frets crack! There are also odd moments of beauty amidst the madness – but Chadbourne isn't interested in much mellowness this time around. Totally bonkers, totally rad. words/t wilcox
Previously: Transfigurations 2013: Recent & Recommended Guitar Soli
Aquarium Drunkard has launched a Patreon page, which will allow readers and listeners to directly support our online magazine as it expands its scope while receiving access to our secret stash, including bonus audio, exclusive podcasts, printed ephemera, and vinyl records. Your support will help keep an independent cultural resource alive and healthy in 2019 and beyond.