Author and artist Dmitry Samarov's new book, Music To My Eyes, was released last month. A 264 page love letter to independent music, Samarov's words and minimalist illustrations flow in tandem, presenting a portrait of fandom and appreciation, from Nick Cave to Bill MacKay.
The first time I saw Tav Falco do his thing was at a long-gone grubby little bar called Green St. Station in the Jamaica Plain neighborhood of Boston in the late 80s. If the doorman bothered to check my ID, he'd see it was fake, but I wasn't there to drink, I was only there for the music. I can't recall if Falco opened that show with "Oh, How She Dances" but it has been his set opener every time I've seen him in the intervening decades. The tune is a litany of sideshow freaks, an evocation of forbidden delights, and the de facto theme song of Falco's 40-years-and-going outfit, the Panther Burns.
Tav Falco & Panther Burns :: Oh, How She Dances
When the band began in Memphis in 1979, Alex Chilton was the guitarist, and when Falco wasn't singing and dancing on stage himself, he was producing tracks for like-minded outre music obsessives, the Cramps. They both championed outcasts like Hasil Adkins and forgotten pioneers like Charlie Feathers and made their own performances into burlesque theater rather than the stripped-down, no-frills affairs many of their punk peers were putting on. While Falco took inspiration from the past, his was never a nostalgia act. Rather, it was an attempt to resuscitate a raw emotional art from the corporatized mire music had fallen into in the '70s. And to do so with a leer rather than a fist to the face.
I hesitated to buy a ticket when I noticed Tav Falco was coming to Reggie's. The last time I saw him at this club was in 2012 and it was kind of a listless performance. The fact the room looks like the set of the '80s video game Street Fighter didn't help. What sold me was that Falco would be playing in the smaller adjoining bar-and-grill area this time and that John Forbes' band, Tijuana Hercules, was opening.
Tijuana Hercules :: Let The Burning Grass Grow
I got to Reggie's a little before 9pm and found a spot stage right next to the booth where John, his wife, and his band were hanging out. He introduced me to his friend, Julia, whose band, The Columbines, was opening the show. He told me it was their first show in a long time as Julia had been battling cancer.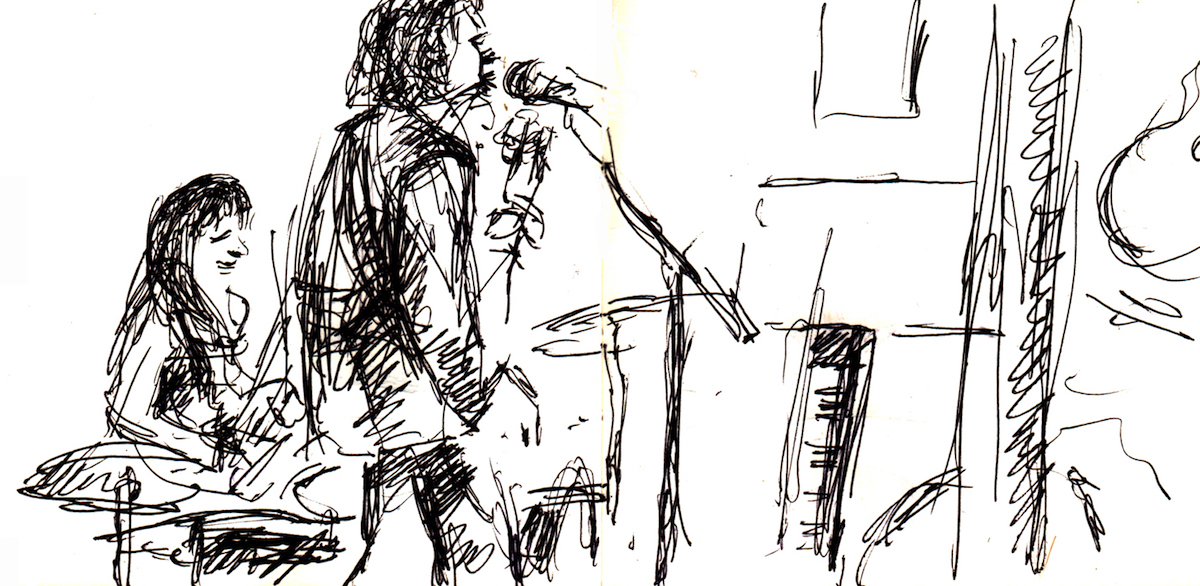 Falco and his bandmates were eating bar food a few tables away. He looked like a 50s Frenchman on holiday, in his tan hat, tucked-in checked shirt, and sandals. A few minutes later a man in a tux, with long gray hair and a pencil mustache, plugged in a guitar on stage, as Juliet settled in behind the drum kit. Within a few overdriven barre chords I knew I'd love this band. Falco turned toward the stage, then stood and listened appreciatively for a few minutes before disappearing. What this duo did was nothing revolutionary, but was all about inflection and feel. John, the guitarist, played a lot of the set facing Julia, each feeding off what the other was doing.
Tijuana Hercules followed with forty minutes of chugging, rhythmic blues. The percussionist banging away at crunched up PBR cans—a mainstay of the band for many years—is as good a visual representation of what they're about as Forbes himself. A slightly off-kilter but true driving tone which could keep going forever, were it not for constraints like space and time, and one more band waiting to go on.
The current Panther Burns—all from Europe, where Falco has lived for many years—took the stage and launched into a raveup to welcome the star to the stage. He walked between the tables from the back of the club moments later, a cameraman's flash lighting his path. He'd changed into show clothes—a smart dark-colored shiny suit and sparkling shoes. He sang songs from his long career, danced, and implored the small audience to do the same. When a couple women came up front about an hour into the show, he bowed to them and blew kisses.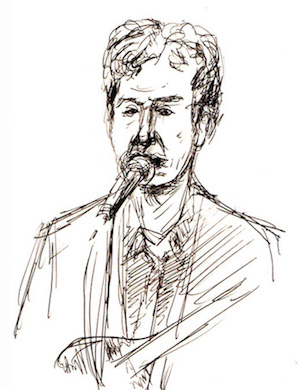 He sprinkled some killer covers, like his former bandmate Chilton's "Bangkok", in with the originals. But with an interpreter like Falco, the line between cover and original is never clear. Taking much of his inspiration from the pre-Beatles era—when performing and composing were often separate—Falco made every note his own, no matter its origin. I felt fortunate to watch this peculiar lifer do his thing, but also a little sad knowing the theatrical scope of this act deserved a much classier setting than this dumpy bar and grill. We all cheered as he went on and on and on. I checked my phone and was shocked to see he'd been on stage nearly two hours.
I biked home and opened the computer to look up some background on Falco. I was amazed to learn the man had turned seventy-four this very night. We'd all be lucky have his moves at half his age. Though he might be inspired by some long-gone era, Falco appears to be outside of time. I texted John and he was as surprised as me.
"Maybe he's a vampire."
"Clearly." John answered.