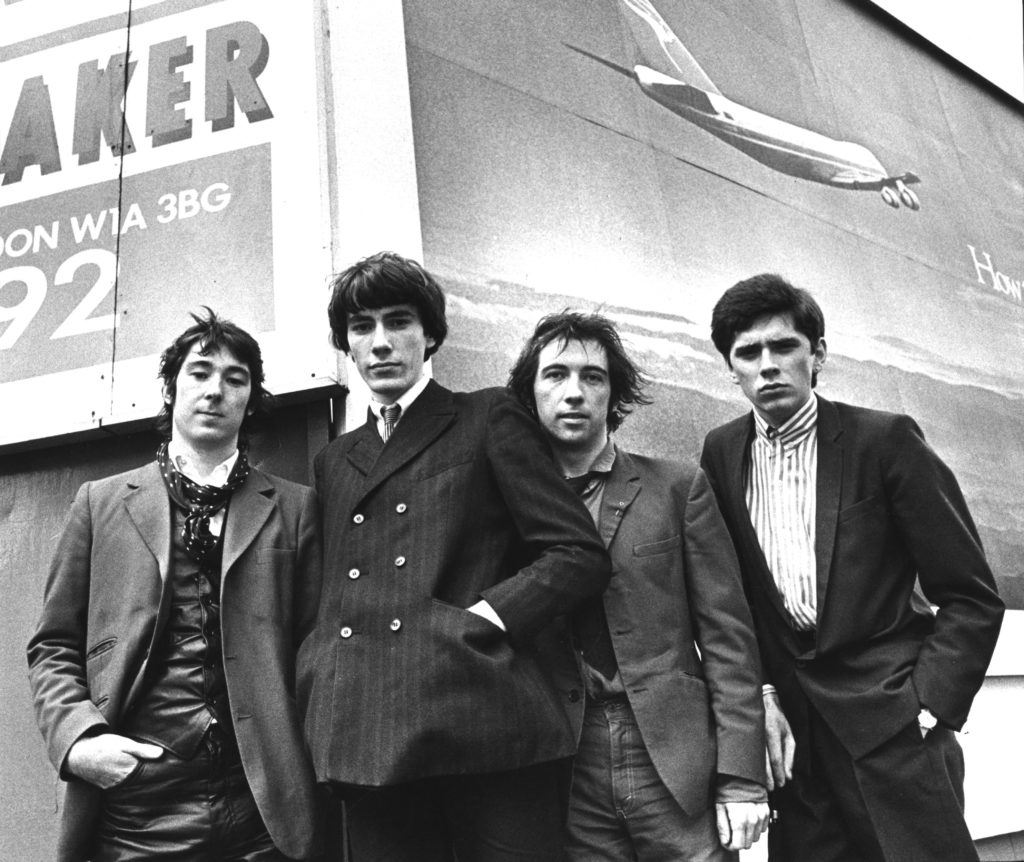 When Steve Diggle began making plans to play the Royal Albert Hall June 21, he envisioned it as a standard show for the Buzzcocks, the punk band he joined in 1976.
"You have to book that place a year out," he tells Aquarium Drunkard by phone, from his neighborhood pub in Hampstead, London. But things changed December 6, 2018, when Buzzcocks frontman Pete Shelley died at 63. So Diggle began thinking of the show as a chance to memorialize Shelley, his musical partner and friend for over four decades, whose sharp songs, like the universalist "Ever Fallen In Love (With Someone You Shouldn't've)" and "What Do I Get," proved punk could be as searching as it was searing.
To pay homage to Shelley and the Buzzcock's legacy, Diggle has recruited Thurston Moore of Sonic Youth, Tim Burgess of the Charlatans, the Damned's Captain Sensible and Dava Vanian, Peter Perrett of the Only Ones, Richard Jobson of the Skids, Pauline Murray of Penetration to join him, along with "classic" Buzzcocks members John Maher and Steve Garvey, on-stage. Coupled with Domino Records' recent 40th-anniversary editions of the band's airtight Singles Going Steady compilation and third album A Different Kind of Tension, the show will shine fresh light on the unique combination of power-pop, punk and existential poetry the Buzzcocks built a discography around.
Diggle says the original plan was to begin the proceedings with two minutes of silence for Shelley, just about the length of most of the band's best-known songs. But the solemnity didn't suit him. "That's a little bit too heavy," Diggle says. "So let's do the two minutes of clapping instead. That's better, isn't it? And then, on with it."
Aquarium Drunkard: You no doubt hear all the time from pop-punk bands who cite the Buzzcocks as an influence. But do you still hear from artists you inspired that surprise you?
Steve Diggle: We've had U2, R.E.M. Nirvana and Pearl Jam were big fans. The Ramones were fans, even Elton John is a big fan. Springsteen, I met him a few times. I said, "I'm in the Buzzcocks" and he said, "I know who you are—I put your records on." The list goes on and on. The Buzzcocks were kind of a band's band.
AD: Domino Records just reissued 1979's Singles Going Steady, one of the all-time great singles collections, and A Different Kind of Tension, your third record, also from the same year. It features "Radio 9," which incorporates samples of earlier songs, so both projects sound somewhat retrospective. The latter was your last album before breaking up. In 1979, was the writing on the wall? Did you sense the band's original run was coming to a close?
Steve Diggle: Not really [but] we'd been on world tours. That kind of takes the wind out of you. We'd been touring the States, and you don't take America, America takes you. It took us years to get to America, but when we finally landed in the States, we realized we had a lot of fans there. We had hit singles [in the UK] so that's why we put out Singles Going Steady: to get America up to date and compliment that tour. At the same time, we were on our third album. With the Tension album…we got more experimental, but also a bit darker in places. It was part of the journey of where we were at at the time.
AD: The band broke up a few years later, in 1981. What brought things to an end?
Steve Diggle: We were gonna do a fourth album at the time…[but] we were all burnt out from touring. It was getting a little crazy. We wanted to do another album, but [Pete] wasn't together for it. He went off to do this electronic album, Homosapien. I did a band called Flag of Convenience. We just went our separate ways.
AD: The lyrics you and Pete Shelley were writing were in stark contrast to a lot of your peers. Buzzcocks songs were lyrically vulnerable and emotive, especially regarding sexuality and individuality. Your song, "Autonomy," is a perfect example. A lot of other punk bands were tapping into the same anger and frustration, but not addressing it as articulately. Were you aware you were in a different headspace than a lot of your contemporaries?
Steve Diggle: We started to realize we were in a different place than all these bands. We were conscious of it, but we didn't use that consciousness to be different—it's just who we were. We weren't afraid to buy a book, as well. We were influenced by literature and the use of words. We realized the world was a complex place. We were interested in the complexity of human beings, so we sang about the human condition. I think we managed to make complexity sound simple. We mastered that a bit in our songs.
AD: Did you and Pete ever sit down and map out the territory you were covering?
Steve Diggle: It was a lot more organic, really. Pete was his own person, same as I was. But we spent many times in bars getting drunk. You know how the existentialists would sit outside in Paris and drink wine? I guess looking back, we spent many times in pubs in Manchester talking about this stuff. Paris and the existentialists sitting around a bottle of red wine, that's very romantic, but we were doing that in Manchester. We'd discuss art, poetry…that all just came out in the songs.
We never sat down to write a hit record. What we sat down to do was write song about what we believed in and what we felt. The songs are like propositions. We had the questions; we didn't have the answers. Nobody's got the answers, you know what I mean?
AD: After the breakup in the early '80s, you reunited in 1989. Had you and Pete kept in touch after the Buzzcocks? What inspired you to return and kick off another string of records?
Steve Diggle: We'd run into each other on occasion. During those years, people would ask, "Is the band getting back together?" I thought the boat had gone too far out to sea. But I was playing shows in France and Germany, and they started [including the name] Buzzcocks under FOC. Our American agent saw that and said: "The Buzzcocks [should come] back." So that was the catalyst. We started getting phone calls about how we never did a farewell tour of America. So we said OK we'll do a tour and that'll be it. We did America, Japan, Australia, Britain…and we just carried on.
We never had meetings to devise plans. We're real people. We don't calculate our lives. We're like Jack Kerouac, On the Road. We just take it as it comes. We'd have been twice as big if we'd sat down with accountants and business people and all that. Careers? What are you talking about? This is fucking rock & roll. [Laughs] That was what was real about me and Pete. Our office was the pub.
AD: Do you envision keeping some version of the Buzzcocks out on the road?
Steve Diggle: Well, yeah. When Pete died, it was an emotional thing. He was my brother for 43 years. When he died I [asked myself] "Do we carry on or not?" I thought, "If we don't carry on, the Buzzcocks songs are dead and Pete Shelley's dead." If I can keep his songs alive, and my songs alive, that's worth doing. I've been singing all the songs now. But I'll tell you what, when I picked up a guitar to try and sing "What Do I Get" just a few weeks after he died, I had to put the guitar down. It was difficult. I had to leave it for a week. But time's a great healer and you have to move on. I'll be carrying on Pete's spirit as well as mine. interview/j woodbury
Pssst…Aquarium Drunkard has launched a Patreon page, which allows readers and listeners to directly support our online magazine as it expands its scope while receiving access to our secret stash, including bonus audio, exclusive podcasts, printed ephemera, and vinyl records. Your support will help keep an independent cultural resource alive and healthy in 2019 and beyond.