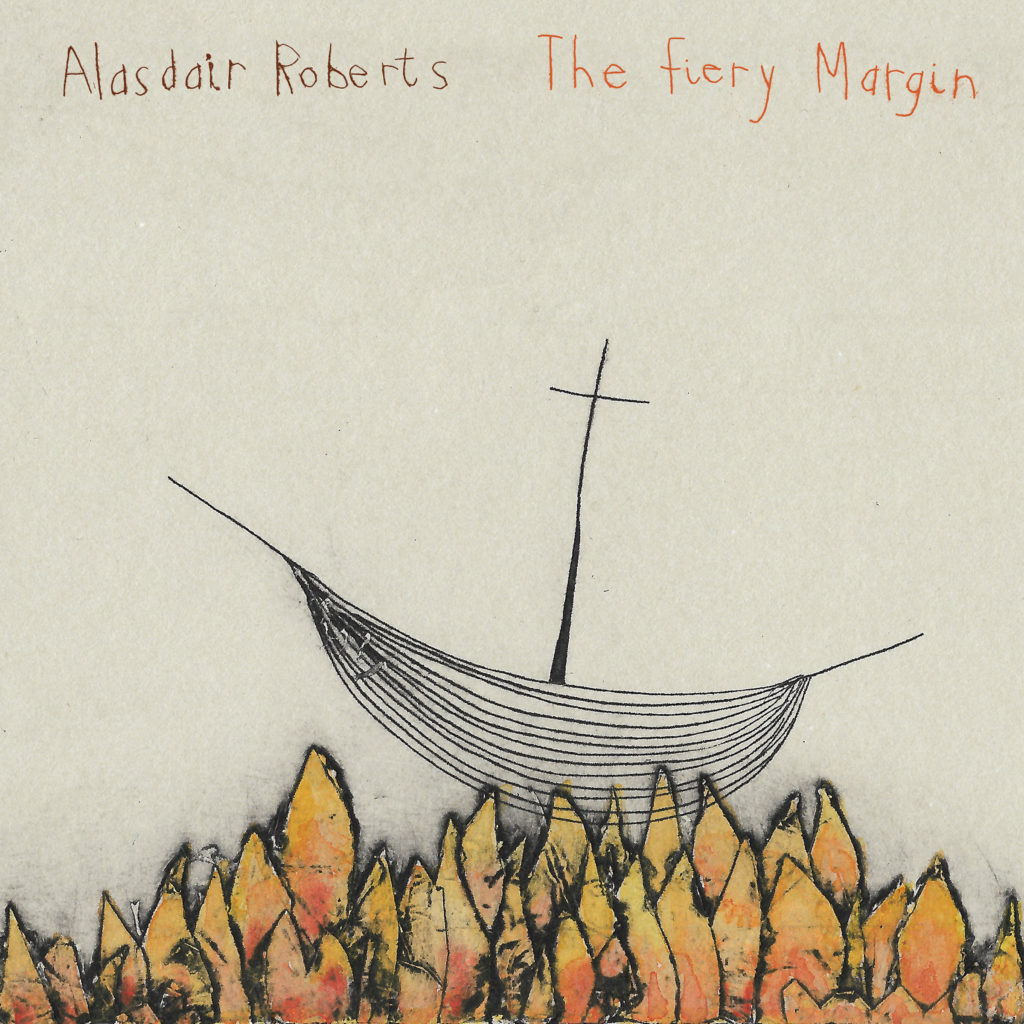 On September 13th, Alasdair Roberts releases his new album, The Fiery Margin, via the venerable Drag City label. To mark to the occasion, guitarist and archivist Nathan Salsburg reflects here on the first selection shared from the forthcoming lp.
There is no contemporary musician I know of who labors more seriously or sensitively at the intersection of collective tradition and individual creation than Glasgow's Alasdair Roberts. In fact I'm inclined to remove "contemporary" and say that no one has ever worn the two hats of interpreter-arranger and composer-songwriter with more skill. For over twenty years and in more releases than I have it in me to count, Roberts has prolifically reanimated folk songs and ballads—chestnuts and obscurities alike—while producing scores of compositions of incomparable originality, erudition, and heft. (This is saying nothing about his guitar playing, which is exquisite and inspiring and challenging as hell.)
Roberts has a new record coming in August on his long-time label Drag City. It's called The Fiery Margin and the first single, "The Evernew Tongue," is out today. I'm marginally relieved that I really need only address this song, in this space, on the occasion of its release. Like so many others of Alasdair's, it concerns the essence of things and contains multitudes. His note explains:
"The Evernew Tongue" — "In Tenga Bithnua" — [is] a Medieval Irish account of the mysteries of the universe… composed in the ninth or tenth century, [it] purports to reveal the mysteries of creation, of the cosmos, and of the end of the world as related by the soul of the Apostle Philip speaking in the language of the angels.
The song itself is a jeremiad against the all-too-familiar "mocking whine of demagogues…. quick to mock and slow to bless," amid the revelry of the changing year and among the small comforts of home (and maybe a hangover). It promises that "every wrong that's ever been done / will find its end in the Inscrutable One / Every song that's never more sung / will sound again upon the Evernew Tongue." It doesn't take a long trip through Alasdair's catalog before encountering a song that is, fundamentally, about singing: singing as subject and object; singer as actor and acted-on. He often recalls the psalmist: commemorating, comforting, condemning; howling or pleading or cooing, before returning to restate his task—to sing. Not that I construe Roberts' music to be anyhow devout, at least not in accordance with any denominational dogma. (Compare the Inscrutable One with the "shifty old God" who appears in "False Flesh," the first song on the record.) But he's nothing if not small-c catholic in the wells he draws from: apart from a spectacular range of folk and vernacular song, there are pre-modern calendar customs, herbals, bestiaries, varied mystical esoterica, Celtic and classical mythologies, Scottish Traveller cant and Scots vernacular, to list only a few. For all this, though, his references and resonances are never out of joint or in disharmony. He's too reverentially adroit to traffic in casually decontextualized folk references, as more than a few of his contemporaries do, and thus his songs don't get bogged down by affectations of atavism or quaintness.
"The Whole House is Singing," from Roberts' 2003 "Farewell Sorrow" (and revisited in 2012's "Urstan," his collaborative album with the Gaelic singer Mairi Morrison), seems to be me to be a particularly salient outline of his purpose and practice. Around the yearning voice of the narrator, who tries in vain to grab and hold a song—at once itself and its singer, similarly desired and fleeting—imagined forebears engage in archetypally pre-industrial Scottish activities and sing: Polly while she sits at her spinning wheel; Johnny while he fetches the herring creel. "The whole house is singing / and this is their song," Roberts sings, before a chorus of hums blows in and quickly fades to naught. All of these voices are momentary but no less distinct, while Alasdair pulls the strings of their tongues and adjusts the balance of time and space through them. As Virginia Woolf writes of the playwright Miss La Trobe in Between the Acts: "She was one who seethes wandering bodies and floating voices in a cauldron, and makes rise up from its amorphous mass a re-created world." That hangs just right on Alasdair Roberts.
The constricting category "folk singer" doesn't do Alasdair any favors, but I doubt he could so effectively tackle his subjects—desire, love, loyalty, freedom, death, something like redemption—without his deep interaction with the folk-song tradition, which has for a very long time rubbed these ineffabilities to a shine against the stones of common use and common experience. This is nearly always at work in Alasdair's songs: the old is made new, the new is grafted to the old, transcendent constellations are formed. He notes that the melody of "The Evernew Tongue" is culled in part from some strain of the square-dance tune "Give the Fiddler A Dram." I'd never thought about it before, but its lyrics nod to life's rhythms, circadian and seasonal, as well as the cycle of creative inheritance and indebtedness. Like an Alasdair Roberts song. "Dance all night with a bottle in your hand / just before day give the fiddler a dram."
Aquarium Drunkard has launched a Patreon page, which allows readers and listeners to directly support our online magazine as it expands its scope while receiving access to our secret stash, including bonus audio, exclusive podcasts, printed ephemera, and vinyl records. Your support will help keep an independent cultural resource alive and healthy in 2019 and beyond.