We recently caught up with singer-songwriter Ruth Garbus to delve deeper into the gorgeous, greyscale world she spins on her new lp, Kleinmeister. Garbus' hyper-specific lyrics are rendered timeless when delivered in her expressive mezzo-soprano and supported by the thrum of her signature rhythm guitar playing. This latest record highlights these two forces at their most bare, and draws upon a diverse array of influences such as her hometown of Brattleboro, VT, the book Garbage Land by Elizabeth Royte (see her song "Strash") and the song "Bali Hai" from the musical South Pacific (sampled on the final track, "Fetty Wah"). These particular songs serve as Kleinmeister's bookends, and are both sensual explorations of where the material world meets the ineffable and transcendent — perhaps a space where meaning can be made.
Aquarium Drunkard: A re-imagining of your song "Grey Sweatshirt" (from the 2016 ep, Hello Everybody) makes an appearance on Kleinmeister. I love the finger cymbals on this version– especially the lyrics about gongs ("my true nature is a very large gong / it's sullied and old with the tar of existence"). Why did you choose to re-record the song?
Ruth Garbus: Zach Phillips recorded the ep version brilliantly, in a really unusual way, and Larry McDonald, who is a legendary dub reggae percussionist, played on it, which still just blows my mind… I love that recording and I'm super proud of it. It's insane. I wanted to capture what it feels like when I perform it live, which conjures a different feeling. Julia Tadlock, whom I regularly perform with (come see us open for Ty Segall at the Teragram Ball Room if you're in LA on September 13), plays the finger cymbals. She's incredible – just her presence on stage even. We often sing together at performances and it just makes everything better. It's a serious musical partnership.
AD: Overall, the instrumentation and production on this record is much more bare, creating more space for your unique rhythm guitar-playing and voice. You studied with opera singer Jim Anderson in 2017-18, did that influence the decision to give your voice more space? What was your experience working with Anderson like?
Ruth Garbus: Jim, whom I still study with, is a gentle opera giant, who worked as a tenor in Germany for many years, and now resides here in Brattleboro, VT. He is a wonderful, positive, passionate teacher, and still just having so much fun with opera. Our lessons stretch my voice and my mind. It has been amazing to me how singing is both so physical and so much about thought. He constantly says "Think beauty!," and he tells me to be proud of this strange music of mine. What an invaluable thing, to have a teacher such as this. Also the images: imagining the inside of my skull and my soft pallet is like a famous European opera house; a high note is a small, soft, spinning light above and behind my head, and I sing it by cradling it from above; or whatever other images I make up that work for me in that visceral way. It's an intersection between words and physicality and art. So exciting and fun. With the Brattleboro Community Orchestra he's been doing these extraordinary operas in town here. I wanted to see him in Tristan and Isolde last weekend but I couldn't squeeze in the six hours it required
I began taking the lessons because I wanted to grow as a singer. I felt a bit stuck in a certain feeling, and like I didn't have access to my full potential in front of an audience. The lessons have helped a great deal. I also took a week-long workshop in Fitzmaurice Voicework last year which was fascinating, and I'm still using many of those tools. Studying voice is crazy fun.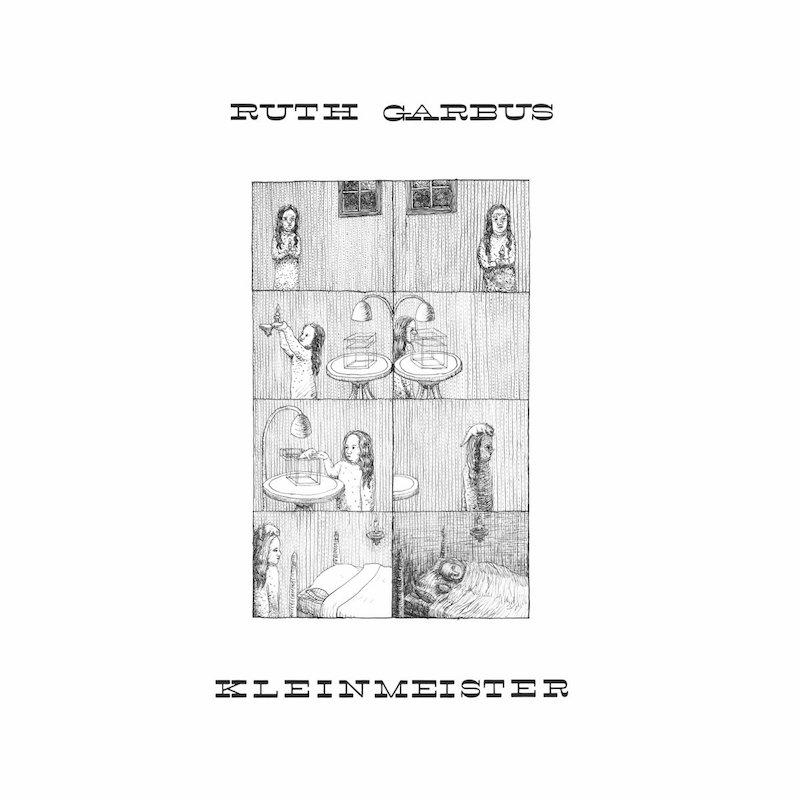 AD: Kleinmeister means "little masters" in German, and is associated with a group of printmakers from the 16th century. Your cover art seems to recall this style of printmaking…who made the art, and why did you name the record that?
Ruth Garbus: I came upon the title a few years ago in an art history book, and decided pretty quickly it would be the name of my next album. It just became mine. The more I learn about the term and its varied uses the more I love it. I made the artwork myself.
AD: The song "Strash" is inspired by the book Garbage Land by Elizabeth Royte. It's beautiful and ominous– and while the topic of the book is the excess and waste of humans, I wonder if you found something kind of absurdly poignant about it in the process of creating this track and its music video?
Ruth Garbus: I am drawn to trash. I am fascinated by waste streams. I enjoy going to the dump. I relish my appreciation for this on an aesthetic level because it allows me to face this terrible issue with more courage, unlike many other terrible, terrible things in our current world, which I haven't found any beauty in (like the burning of the rainforest, the detention of people trying to immigrate to the US for a better life… just the unending cruelty that we see in the news every day).
The video for "Strash" was made by Joey Agresta. It was totally his vision, his imagination that we're seeing in it. I knew he was good when I asked him to make this video, but I was still shocked by what a wonderful thing he created when I saw it. He really cared. He's made a lot of great music videos, and is a terrific musician and performer in his own right.
AD: Does your home of Battleboro, VT influence your work?
Ruth Garbus: I live in an amazing place. I am surrounded by brilliance. I've met so many incredible people who have influenced my life tremendously over the years.
I'm also surrounded by other things that have nothing to do with my music that inspire me greatly – my job at the cooperatively-owned grocery store where I work, where I have served on the board of directors and as a union steward; participating in the annual town meeting as a rep last year; witnessing the opioid crisis and its effects unfold in my community; the trees, plants, animals, the geography of this place. Plus I am able to live a dignified life without making lots of money. Brattleboro has influenced me a great deal.
AD: You improvise with a quintet, GLOYD, featuring Wendy Eisenberg, Donny Shaw, Neil Young, and Andy Allen. How much does improvisation influence your songwriting and solo performances? Is there overlap there?
Ruth Garbus: All of my bandmates are incredible musicians, and incredible people, and I'm absolutely in love with playing with them. It's the best, most funnest fun. So inspiring.
I have been improvising since I was in my early twenties. I have to give a shout out to Ron Schneiderman here, and the other members of Sunburned Hand of the Man…I spent a considerable amount of time in his Blueberry Honey studio going sonically wild with a bunch of weirdos in my early Brattleboro days. Improvising has influenced my song life a great deal. For me it is the same thing as what I'm doing in my studio when I'm writing songs: pulling the thread of inspiration from the void.
AD: A lot of the songs on this record discuss sex and desire within a Venn diagram of beauty/consumption. There are juxtapositions of intimacy and the material world like "Lamborghini underwear" ("Slusher"), "coming on a stage covered in roses and poppies / rooted in the sand covering our ancient plastic toys" ("Strash"), and almost spiritual invocations: "play me like an instrument / set my limbs on holy fire" ("Pitiful Poetry"). Do you think of these images as operating within a dichotomy or as something else?
Ruth Garbus: This question is deep and thought-provoking, thank you. I guess the moments when I'm referring to the material world are partly about consumption and partly not: on one hand, no, there's no dichotomy, because it's just pure tactile, earthly, sensory stuff. I'm a tactile person, I think. I see life in objects. I relate very much to the (as I understand it) Shinto sense of objects having spirits. Maybe I'm an animist? So it doesn't have to be read like a text, necessarily, but could simply be felt somatically.
On the other hand, I can also see these lyrics as referring to consumerism. I'm an American and I like cars and cartoons. Some of my deepest aesthetic imprints come from advertisements and commercials, movies and TV. Part of me embraces that and deeply enjoys it, and part of me is cynical about it and extremely depressed by what this has wrought on a large scale.
AD: One of the verses "Squirrels" focuses on some sort of bizarro communion: "Jesus give me direction / A laser's pointed grace / Drink the wine of neon vine / And blaze the wafer piece." Again, I see a juxtaposition of intimacy with commercialism or consumerism here. It makes me think of evangelical mega-churches. Do you come from a religious background at all?
Ruth Garbus: My parents didn't raise me with any religion at all. My mom comes from a family of Presbyterians, and when we visited them in Kentucky every summer that was the only time I went to church. I never had a relationship with organized religion, and I still don't. I don't feel antagonistic towards it on principle (though of course I am horrified by the terrible, hurtful things done in the name of religion, or with the consent of religion). It seems like, in the best case, it's wonderful way to build a community that coheres around an ethical code, which is so rare these days, it seems.
As I've gotten older I've come to appreciate the power of paying attention to and cultivating a connection to spirituality. I ask for help and guidance all the time from god(dess), or angels, or my higher self, or however I might define it or talk about it on that particular day. This connection influences pretty much everything I do, and I hope that influence only grows stronger as I get older. I think it's really important, and it has borne many gifts.
AD: The sampling of Rogers & Hammerstein's song "Bali Hai" in your song "Fetty Wah" is such an interesting re-contextualization of a popular melody. Travis Laplante's tenor sax is haunting, and the whole thing feels like quite the transportive ending to Kleinmeister. I love how your Bali Hai is a place, or a lack of place, that can find someone ("Bali Hai / will find you / Come away anywhere") instead of a place someone can find. How did "Bali Hai" work its way into your writing?
Ruth Garbus: Travis Laplante is an incredible musician. He's dedicated so much of his time on this earth to music, to tenor saxophone in particular. Seeing him perform with his band Battle Trance is like going to an intense sound healing event. I am so grateful to him and proud to have him on my album. I love his playing on this track.
"Bali Hai" is so brilliant, musically, but I sometimes feel queasy about referencing this song – the exoticism, how it plays into stereotypes…I haven't seen the movie/play in many years, but I watched a lot of old musicals as a kid. It's just a beautiful melody that's burned into my psyche. I decided to keep it in the song after it became part of the composition basically through just free-writing it. Once it was there it was there – I felt like I couldn't alter it without destroying the artwork. words / l turner
Aquarium Drunkard has launched a Patreon page, which allows readers and listeners to directly support our online magazine as it expands its scope while receiving access to our secret stash, including bonus audio, exclusive podcasts, printed ephemera, and vinyl records. Your support will help keep an independent cultural resource alive and healthy in 2019 and beyond.