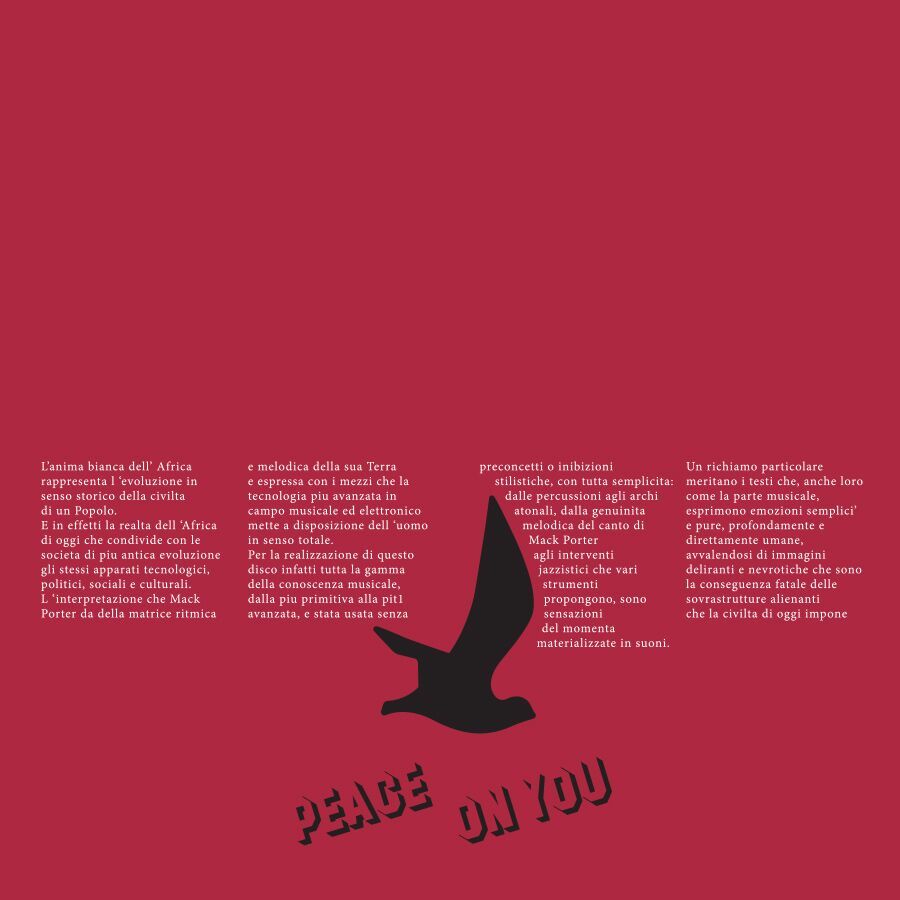 Sheathed in obscurity following its 1972 release in Italy, Peace on You–the sole long-player from Ghana's Mack Porter–is a true outlier gem of blues, soul, and psychedelic rock. With its dramatic David Axelrod-esque arrangements and Porter's blurry, mirage-like lines between Hendrix soul and doomy Sabbath riffs, the record exists on a plane of rarity entirely its own.
Very much embodying a post-summer of love ethos, Porter seems to be emotionally drawing from a 70s-burnout spirit while musically channeling a synthesis of styles that still feels ahead of its time. Backed by a ten-piece band of solely Italian players, the Ghanaian expat searches far and wide for sonic inventiveness, never coming up short on the album's lean seven song, thirty-eight-minute run time. The 10-minute title track dips into an almost prog-opera string-focused bridge with subtle glimpses of cascading piano and electric guitar amblings, before ascending into a kaleidoscopic flute solo.
Porter may have escaped his colonial Africa home for Europe, but there was little escaping political turmoil anywhere at that time, and Peace on You feels just as much a rebuke of Watergate, Kent State, and Vietnam as it does The Hot Autumn. There's an impassioned fire lit here, revolutionary in spirit and song. Seriously, this shit swelters. words / c depasquale
News you can use: Peace on You was given the proper reissue this past summer via Tidal Waves Music. Pressed to a limited run of 600, you're going to want to run rather than walk.