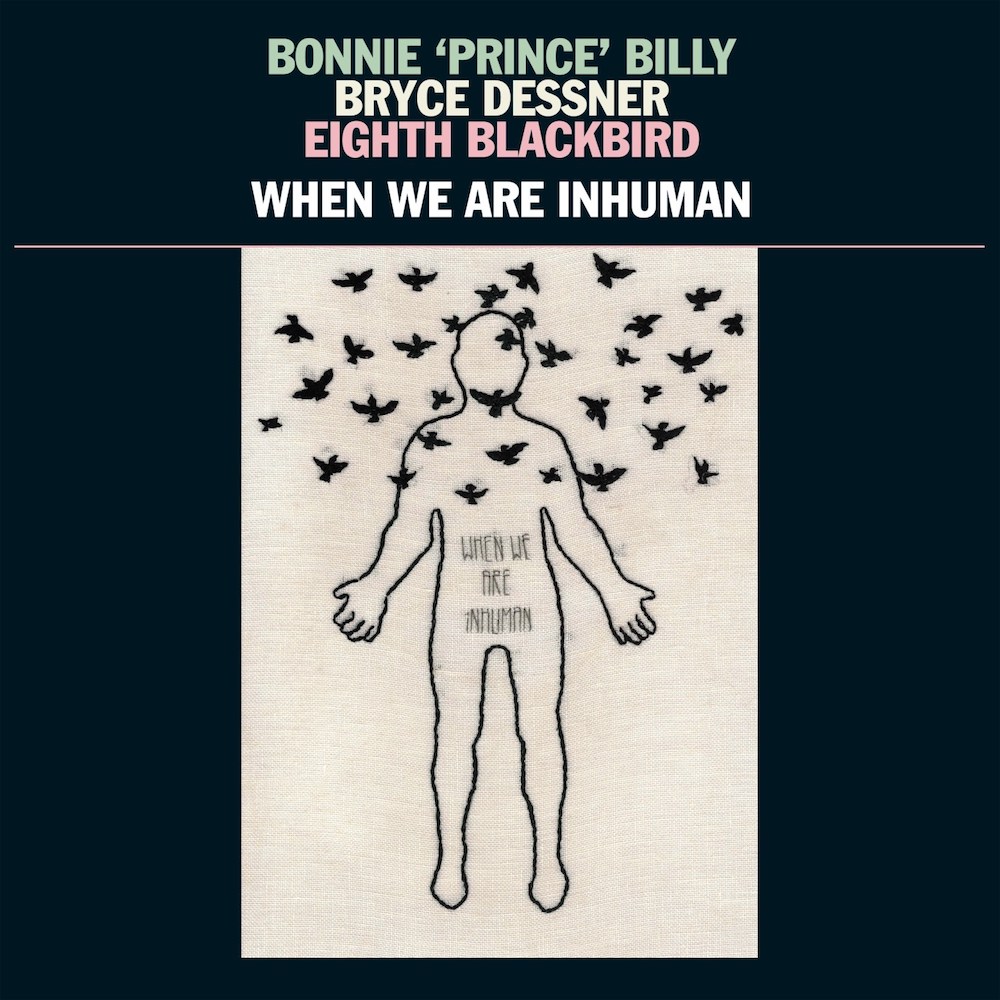 When We Are Inhuman, the beguiling new album billed to Bonnie "Prince" Billy, Bryce Dessner, and Eighth Blackbird, begins with quarter note pulses from a single instrument. Alternating pulses from a second and then a third instrument join in before ultimately giving way to the melody of "Beast For Thee," a song originally heard on Superwolf — the tremendous 2005 collaborative album by Bonnie "Prince" Billy and guitarist Matt Sweeney. This arresting opener immediately calls to mind "In C," Terry Riley's landmark 1968 minimalist masterpiece, which opens with solitary eighth note pulses that artfully tumble over one another as the performance expands.
The rustic, poetic lyricism and plaintive vocal stylings of Oldham don't, of course, readily bring to mind the heady precision of modern classical composition. And neither do songs like "Down in the Willow Garden" or "Banks of Red Roses," two of the ancient folk ballads that find themselves set against When We Are Inhuman's densely constructed sonic backdrop. Such sharp aesthetic juxtaposition shouldn't really work, but somehow completely does. Here, Oldham's yearning vocals seem even more gut-wrenchingly emotive when straining against a cacophony of thundering pianos, plinking marimbas, droning violas, and searing violins. Elsewhere within the record, Sufjan Steven's darkly baroque indie epic "John Wayne Gacy, Jr.," turns pitch-black when reworked as the instrumental "Underneath the Floorboards," and album closer "Stay On It," taken from a live performance of Julius Eastman's composition, is at once relentless and cathartic, evolving from repetitive pummel to meditative lilt and back again over its sixteen-plus minutes.
In all, When We Are Inhuman is a fascinating, challenging, and often counter-intuitive listen that is ultimately as rewarding as it is confounding. Highly recommended. words / s brower
Aquarium Drunkard has launched a Patreon page, which will allow readers and listeners to directly support our online magazine as it expands its scope while receiving access to our secret stash, including bonus audio, exclusive podcasts, printed ephemera, and vinyl records. Your support will help keep an independent cultural resource alive and healthy in 2019 and beyond.