Musician-folklorist-documentarian-artist John Cohen died September 16 at the age of 87. Here, archivist and guitarist Nathan Salsburg offers a remembrance of his life and work.

The 2019 Brooklyn Folk Festival took place in early June. I attended in two capacities: one was to accompany Joan Shelley on her set; the other was to give a talk about the "Southern Journey" field-recording trip made by Alan Lomax and Shirley Collins in 1959, on the occasion of its 60th anniversary. Eli Smith, an old friend who runs the festival and who invited us, was performing with his wonderful string-band, the Down Hill Strugglers, and he had unaccountably booked my presentation against his own set. I've seen them nearly a dozen times over the years, but I ribbed him for it—they were joined, as they often had been since their inception (although not when I'd been present), by the musician, folklorist, documentarian, and visual artist John Cohen. At 86, John was still banging it out on a variety of instruments, as he had done for nearly seven decades, and I felt a certain desperation about missing the opportunity to see him in this setting. He was, for one, performing with a band who to my tastes (which in this particular arena are admittedly conservative) are without peer in the interpretation of the classic old-time music repertoire: from the commercial 78s of the 1920s and '30s to the field recordings made in Central and Southern Appalachia by Alan Lomax, Cohen's fellow New Lost City Rambler Mike Seeger, and John himself, among others, in the 1950s and '60s.
But perhaps as important, they were appearing at a festival that is the direct heir to the Friends of Old-Time Music, founded by John Cohen, Izzy Young, and Ralph Rinzler in New York City in the early 1960s. FOTM presented legendary bearers of American vernacular music traditions—among them Mississippi John Hurt, Bessie Jones and the Georgia Sea Island Singers, Dock Boggs, Roscoe Holcomb (whom John had been the first to record, in 1959)—to urban audiences, and, with the Newport Folk Festival Foundation, helped to establish trade routes between those rural musical communities and record labels, radio stations, and listeners everywhere.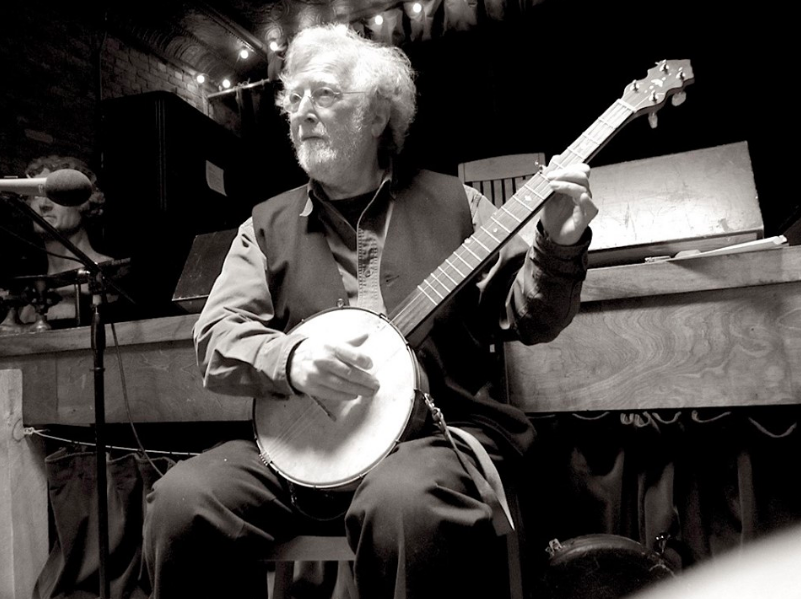 These men were among the most thoughtful and effective players in that era's Folk Revival—the "great folk scare"—but it was John Cohen who most approached the task as an aesthete. "In New York City, where I lived," Cohen wrote in 2006, "pop artists, the Abstract Expressionists, and the Beat Generation poets coexisted with the music scene on MacDougal Street.* For me, the new paintings by Franz Kline were as exciting and stimulating as Roscoe Holcomb's singing." Absent a unifying folkloric methodology or ethnomusicological philosophy, John's motivation was fundamentally (though not exclusively) aesthetic. More so than any of his peers, his engagement with his subjects—Blue Ridge ballad singers or Andean textile weavers or an Epirotic clarinetist living in Queens—produced not just documentation but frequently exquisite artwork. In this he effectively synthesized the best qualities of his diametrically opposed forebears, Harry Smith and Alan Lomax. (The former, whose mystical visions spawned Heaven and Earth Magic and compiled the Anthology of American Folk Music, with its indelible influence on the young urban folkies and beyond, despite being swaddled in Smith's suffocating occultism; the latter, who amassed the century's greatest collection of recorded traditional music through sheer force of will, but who was often unable to step out of its way long enough to let it speak for itself.)
Cohen himself was not immune to criticism: he was undeniably, particularly in his younger years, prone to romanticism. Some accused him of, as the Farm Security Administration photographers had been accused, aestheticizing poverty. Others (maybe it was some of the same?) felt he overstepped unspoken territorial boundaries—as a New York Jew, recordings and films of the likes of Holcomb or Dillard Chandler or the Aymara Indians of Peru weren't for him to make. It's difficult, though, to imagine this chauvinism surviving a single viewing of "The High Lonesome Sound," "The End of An Old Song," or "Choqela: Only Interpretation." It's also hard to imagine any of Cohen's contemporaries making such similarly enduring works of art.**
I met John circa 2004, at the Anthology Film Archives in New York City, where a series of folklore films, including his own and those of Alan Lomax, was being presented. When I was introduced as a representative of the Lomax Archive, he launched into a long-simmering and well-seasoned litany of grievances against Alan. (Their difficulties began in 1958, in the pages of Sing Out! magazine, where Alan and John argued the virtues, or lack thereof, of the so-called "city-billy" singers.) I was at that time ill-equipped to defend either side, but I had a hunch that John didn't care. He had things he needed off his chest. I quickly realized that, apart from the very real differences they had, in theory and in practice, he had wanted Lomax to give him the credit he deserved for the contributions he had made—through his recordings, photos, films, and his own music. And Lomax never did. If that particular dynamic weren't intimately familiar to me, I might have laughed: Lomax's films could be edifying and engaging but they hardly approached the realm of art. John's photos were in the permanent collections of the Museum of Modern Art and the Met. The New Lost City Ramblers had been the most influential and beloved band of the folk revival (they've certainly held up better than any of the others). But all this was beside the point.

When I saw John in June, I told him we were long overdue for a talk about his experiences with Lomax. He agreed, and invited me to come to his place as soon as I could; Eli, who'd already done several hours of oral history recordings with him, said he'd come along too, and we all settled on a date after Joan and I had wrapped up our brief tour that followed the Brooklyn Folk Festival. A couple of days before we were due at John's place in Putnam Valley, New York, however, a call came from home saying that my chimney had collapsed. Besides, I was tired and Putnam Valley was inconveniently placed just a little too far east, and everyone agreed to reschedule. I'll never forgive myself.

I pause from writing to look around my office, at shelves of LPs and CDs and books, and watch as, one after another, John Cohen's various works come into focus. Lomax and other documentarians of vernacular culture might have recorded more tape, shot more film, produced more publications than John (though not so many more), but none did it with a more refined vision or a subtler touch. The two volumes of Cohen's "Mountain Music of Peru," produced for Folkways in 1960, appear. On the first of these, there's a young unnamed Inca girl singing, in Quechua, what's identified as a "song of marriage." In 1977, Carl Sagan was recruited by NASA to manage the compilation of the famous "Golden Records," which would be affixed to the Voyager spacecrafts and sent as Earth's audio-visual emissaries into universes unknown. Dr. Sagan had approached Alan Lomax for assistance, since the official selection committee hadn't thought to reach past the Western classical canon. Of the 27 musical examples on the Golden Records, fourteen were chosen by Lomax. One of these is a fragment of that Inca girl's song.

That song is itself a fragment, sheared from the edifice of John Cohen's immeasurable contribution. "All this," he explained, "is a record of my search." His loss is equally immeasurable.
On the Voyager space craft is a recording
of a young girl singing an Andean huayno.
She's singing in Quechua, and her song is
included as a sample of the sounds
of our planet. Twenty years after its departure
from Earth, the spacecraft is traveling out
beyond the solar system. My recording of that
Peruvian girl will theoretically outlast all of us.
—John Cohen, from his There Is No Eye (2001)
Nathan Salsburg is a guitarist and curator of the Alan Lomax Archive.

*MacDougal was also the site, at this period, of Izzy Young's Folklore Center, the beating heart of the revival.

**Cohen wrote, circa 2000: "When the music led to political issues and social injustice, the films became controversial and were forbidden in some places. Anthropologists and ethnomusicologists distanced themselves. Since I couldn't compromise my purpose or abandon my path, I ceased making documentary films in 1992."
Photos: Doc Watson, John Cohen, Mississippi John Hurt, and Alice Stuart, Workshop, 1964 Berkeley Folk Music Festival [Kelly Hart]; Eli Smith
Aquarium Drunkard has launched a Patreon page, which allows readers and listeners to directly support our online magazine as it expands its scope while receiving access to our secret stash, including bonus audio, exclusive podcasts, printed ephemera, and vinyl records. Your support will help keep an independent cultural resource alive and healthy in 2019 and beyond.