It's common knowledge amongst armchair pop music historians that The Beatles album Rubber Soul inspired The Beach Boys' creative genius Brian Wilson to raise the bar for the group's seminal sleeper album Pet Sounds and that album, in turn, galvanized The Beatles to respond with Sgt. Pepper's Lonely Hearts Club Band. That's usually where the factoid ends, but there's another iconic album that emerged from this friendly transatlantic competition that perfectly encapsulates the zeitgeist of late-sixties pop-psychedelia and continues to inspire musicians around the world: The Zombies' Odessey & Oracle.
Recorded at Abbey Road studios immediately after the Beatles finished rolling-tape on Sgt. Peppers, the album even benefited from the Fab Four's forgetfulness in leaving behind John Lennon's Mellotron and a plethora of percussion instruments. Like Pet Sounds and it's aborted follow-up Smile, Odessey & Oracle was not an overnight success, but literally took decades to earn its reputation as one of the greatest albums of the late-sixties psychedelic era. As such, it's fitting that Brian Wilson invited the Zombies to open for his band of new, old (Blondie Chaplin), and older (Al Jardine) members of the Beach Boys for the upcoming tour "Something Great from '68" that kicks off in Las Vegas at the end of August. 
This tour hits the road just in time to celebrate a couple major milestones for the Zombies: their recent induction into the Rock & Roll Hall of Fame and the release of their (almost) complete discography on vinyl with The Complete Studio Recordings, out on Varèse Sarabande . While the Zombies' admittance into the hallowed hall might seem like a foregone conclusion today as their enduring anthem "Time of the Season" has become synonymous with Summer-of-Love retrospectives, their position in the pantheon of rock was the result of decades of building momentum, much like the popular reassessment of the Beach Boys' post-Pet Sounds material Brian's promised to feature on this tour, from the albums Friends (1968) & Surf's Up (1971). Besides its clever rhyme, the "Something Great from '68" tour pairs two bands with more in common than meets the eye.
Even before Clapton, Hendrix, Petes (Townsend and Frampton) blues-based pop music was a guitar game and much like the Beach Boys (no disrespect to brother Carl Wilson's shredding), the Zombies are not a guitar band. They are a keyboard-band that sang harmonies before the Beatles normalized the group vocal style. "It was so unusual to have a keyboard-driven band at the time," Argent recalls. "The few pieces of film that exist from that time with our hit records, like 'She's Not There,' you never see the keyboard playing at all because the cameramen didn't understand that concept at all.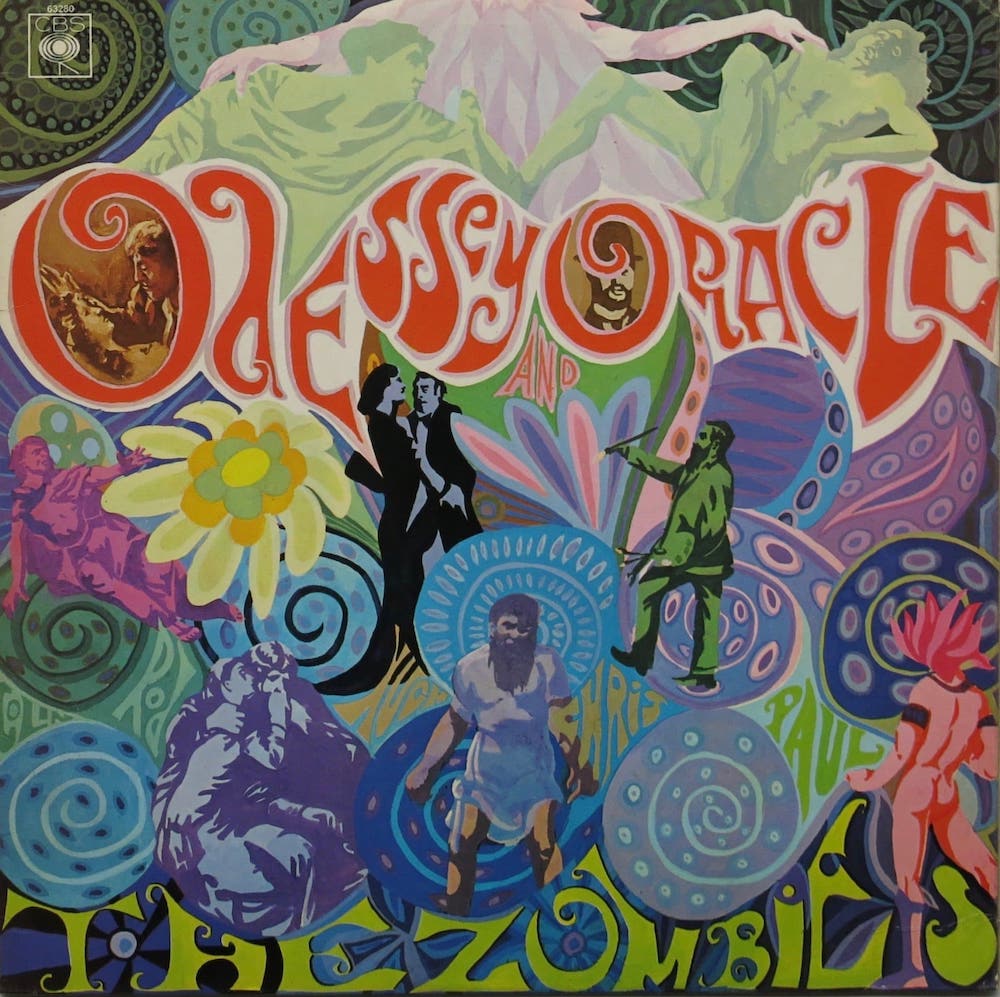 In today's era of effortless, universal music access and the ability to instantly know a band's popularity based on Spotify listens or Instagram followers, it's hard to imagine how a band as talented and prolific as the Zombies could actually break-up shortly after releasing Odessey & Oracle. "We were frustrated by lack of singles success at that time," keyboardist and one of the principle songwriters, Rod Argent said about the band's state of mind before recording Odessey & Oracle. You need to remember that the band had been hit-less following their two big songs from 1964 and '65 respectively, "She's Not There" (Tom Petty: "I remember first hearing 'She's Not There' on the radio in my bedroom. So ethereal. So spooky…the DJ said it was the Zombies from England. 'Of course,' I thought. 'That is exactly what a zombie rock group would sound like.'") and "Tell Her No." Their label didn't release a follow-up album after their self-titled debut dropped in 1965. One of their problems was having two songwriters (Rod Argent and Chris White) making bank while the rest of the band, including the lead singer (Colin Blunstone) living gig-to-gig. Another of their problems, according to Rod Argent, was working with a trend-chasing producer:
"If we are going to break-up we have to get a record deal where we can produce our own songs just so we can get our own ideas about how the songs should sound, on record, because it was driving us crazy and that's why we broke with the producer at that time. We went to CBS and they gave us a very small amount of money to make an album and we were like kids in a candy store. For the first time, we went in there and the songs were coming out the way we heard them and all the people in the band loved the album when it was finished. We'd done what we wanted to do. We'd gotten our songs down in a way that sounded great, but if that's it, that's it. And I immediately went away with Chris [White] and we started a production company producing my band Argent and some solo stuff, like for Colin [Blunstone] which ended up being One Year and that was that."
At the time, 1967, the members of the band felt like failures, unable to build off the success of their initial hit singles from a few years before. Their inept management and short-sighted producer were playing a singles-game on the eve of the album era. While it took a decade or more to catch on, their second and final album released during the band's first incarnation, matured like a C.O.D., slowly and steadily over the years.
"The Zombies were finished in 1967 and I think in general we considered ourselves unsuccessful at that time," singer Colin Blunstone said. "We were aware of the UK charts and we were aware of the US charts, but the fact of the matter is that The Zombies always had a hit record somewhere!" They were the biggest band in the Philippines, yet their iconic hit, "Time of the Season" never charted in the U.K. despite being re-issued twice and didn't gain traction on the U.S. and Canadian charts until 1969 more than a year after the Zombies had broken up. "And I think if we'd known the truth," Blunstone laments, "that we'd always had a hit record somewhere, maybe The Zombies would have played on a little longer, they would have played on indefinitely, nobody knows . . . But it is unfortunate that we considered ourselves unsuccessful, when that wasn't the case." That song and the album they'll be performing on the upcoming tour resuscitated the band's career, as Argent explains: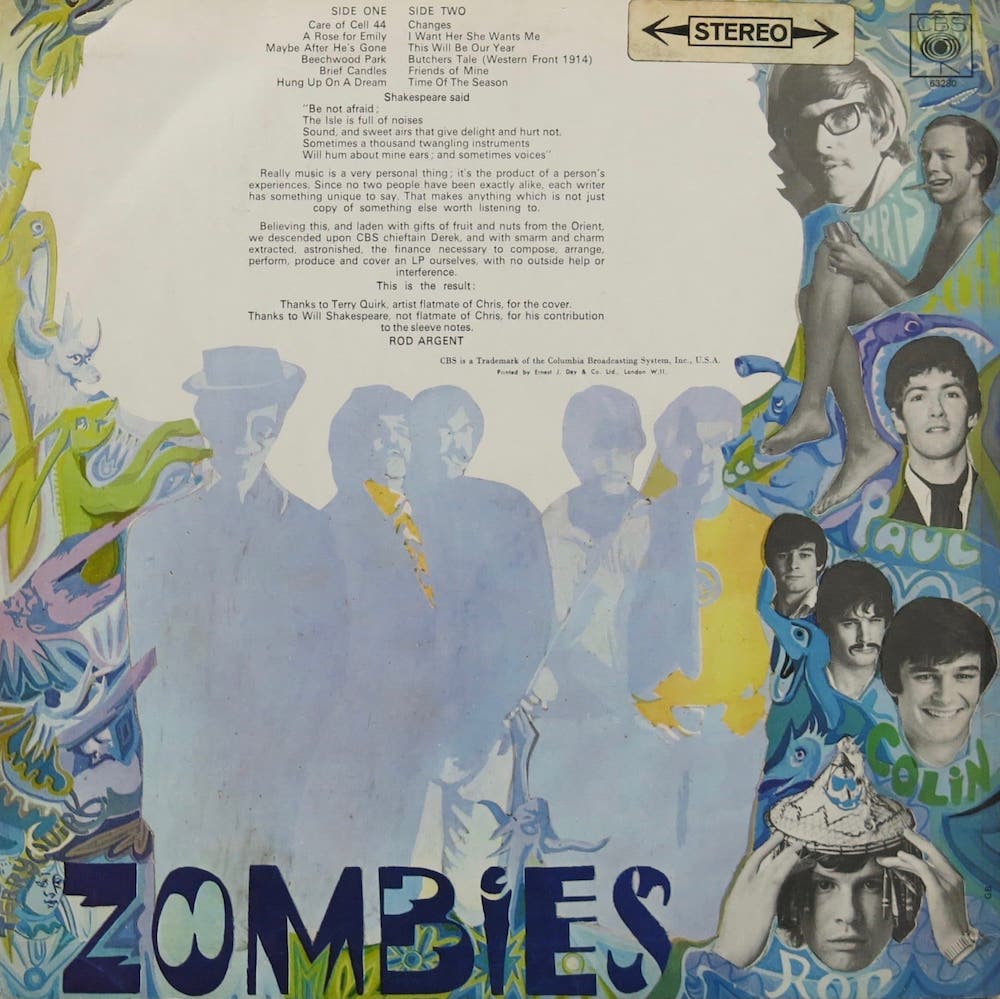 Then, ten or twelve years later people like Paul Weller, who was at the time and still is really one of the absolute biggest stars in the UK with The Jam, started talking about us and started saying Odessey & Oracle was his favorite album of all time. He said that to me a few moments ago when I was playing on his most recent album, 'this is still my favorite album.' After that, just everyone seemed to start talking about the album and it sells more copies every year than it ever did when it first came out. People like Tom Petty started to come along to our gigs and started being a huge supporter, and Dave Grohl, who was playing at the same festival, came up to see our set and said he was in tears while we were playing. It started to grow and have a life and seems to be getting stronger.
Beyond the iconic zeitgeist epitomizing "Time of the Season," which, to quote Wikipedia: "is frequently used in pop culture to represent the era of its release," the album is loaded with slightly askew, delicious pop moments bursting with harmony vocals, keyboards and unlikely jazz chords. The lead-off song "Care of Cell 44" is about greeting a lover recently released from prison and inspired everything from the Jam to the Smiths to Pulp to Oasis and all things indie-twee. The album's second song was plucked for use in a popular podcast, "S-Town" and compliments the series' Southern gothic and beautifully mournful mood. But the album's release in the U.S. after flopping in the U.K. was far from guaranteed and ultimately came down to the new A&R whiz-kid, Al Kooper (formerly of Bob Dylan sessions and the mastermind behind the Blues Project and the first incarnation of Blood, Sweat & Tears) who pestered Clive Davis to release the album domestically. "
The first day I went to work at CBS, I took it with me," Kooper writes in his excellent autobiography, Backstage Passes & Backstabbing Bastards. "I made an appointment with Clive Davis and put the album on his desk . . . he took one look at the cover and replied, 'We already own this album and I was just about to sign off on our option to release the album domestically.'"
By 1969, when "Time of the Season" topped the U.S. and Canadian pop charts, and the original members oftThe Zombies had all moved on. Colin Blunstone infamously went to work as an insurance agent before teaming up again with Rod Argent and Chris White, who'd formed their own production company, to record his debut solo album, One Year, while Rod Argent formed his next band, Argent, which released seven albums between 1970-75. Despite the growing popularity of their hit song that would soundtrack the summer of '69, the original members were not interested in reforming and touring, which led to as many as three ersatz Zombies touring groups, one of which hailed from Texas and featured two of the three members of ZZ Top, the iconic blues-rock trio that recorded their first album a year later in 1970. "We had this huge hit record and there was no band," Colin Blunstone generously told the CBC in 2017. "It's not an ideal situation, but I'm not going to come down too hard on anybody who filled the vacuum." At the time, the future ZZ Top rockers Dusty Hill and Frank Beard were experienced, but as-of-yet unsuccessful musicians and a paying gig is a paying gig, but given that they used stage names in the limited press materials about this shady tour, it's likely they knew their incarnation of the "original" Zombies was less than legit.
Like the bittersweet lyrics to the sleeper hit off their sleeper album, "This Will Be Our Year," the Zombies' music matures with age and perspective and continues to reward upon revisitation some fifty-years later, like diving into the three-plus LPs of unreleased albums and collected singles (in addition to the two albums released during the band's original sixties tenure) on The Complete Studio Recordings. Rather than sounding like random assortments of alternate takes or b-sides these other LP-length collections compliment the band's initial, original offerings. "We were working constantly," Blunstone remembers, "though we were only together as professional musicians for three years, we worked solidly through those three years and part of that work was writing and recording." Despite only two albums and a bunch of singles seeing the light of day during the sixties, the band, and especially its principle songwriters Rod Argent and Chris White were under "constant pressure that we had to come up with things so that helped to make a larger body of work than you'd probably expect for a band that was only together for three years as professionals." Blunstone continues:
We were very lucky to have two quite prolific and quite sophisticated songwriters in the band, which again almost came about by chance. Our first producer suggested before our first ever session, 'you know you could write something for this session if you wanted to?' and then went on to talk about other things and Rod went home and wrote, "She's Not There." I was amazed. I didn't know he could write songs and when he brought it back to the band, I think we all knew it was a special song right away.
"The music business is a mystery," Blunstone says, sounding gleefully befuddled, "I wish I understood it better, but you can never tell in what territory you're gonna be successful or popular . . . in the sixties, the Zombies were probably biggest in The Philippines and we had absolutely no idea, until we went there . . . I had no idea what to expect and we opened to 28,000 people and that went on for 10 days!" Who would have thunk this group of straight-looking, harmony-singing, modern-jazz-and-blues-listening blokes from the London suburb of St. Albans would win a talent contest with the reward being a recording contract and then find themselves in 2019 touring with their influential idol, Brian Wilson, reinvigorated and immortalized? "No one knew at that time that rock 'n' roll was gonna last as long as it has," Blunstone says. "No one understood that you could have a lifetime career in rock 'n' roll. That was the first generation, we were making the rules. This is the Zombies: Rod Argent and myself and we've been playing rock 'n' roll for fifty-five years and no one expected that, certainly we didn't expect that." words / a thayer
The complete Aquarium Drunkard interviews with Colin Blunstone and Rod Argent
Aquarium Drunkard: Among the pantheon of sixties British Beat bands, The Zombies' career was far from linear with your break-up before Odessey & Oracle was released and not reforming and touring as The Zombies until decades later. How do you explain the band's short original tenure and lasting legacy?
Colin Blunstone: I think there are a lot of reasons for that. I think we were very poorly managed. We were managed by a bit of a rascal, I think that's the nicest way I can put it, and that didn't help much. If he could have seen the bigger picture, because he was motivated mostly by money, it could have been so much bigger if he'd looked at it in a sophisticated way instead of grab every penny he possibly could. I don't think he had any fulfillment in what he did; I think in the end he wasn't a respected person in the business.
The other thing is that major labels at that time, they wanted A-sides every six weeks. They wanted to put out a single every six weeks and unfortunately Rod Argent and Chris White, who were our principal writers, had only just discovered that they could write songs and they didn't have any back catalog that we could call on. "She's Not There," was one of the first songs Rod ever wrote and the B-side, "You Make Me Feel Good," was probably Chris White's first song. As they were writing, we were putting them out as singles so we couldn't be selective, at certain times about what record went out, because anything that anyone had written was put out as a single. So, for instance, our first single was "She's Not There," and our second single came out a few weeks later and it was a song called "Leave Me Be," and none of us thought it was an A-side, none of us thought it could be a hit, but it was the only song we had and Decca put so much pressure on us and we'd only just come into the business and we didn't have the protection of a manager who was looking to the future, so we were left exposed and we fell into that trap. It's sort of a self-fulfilling prophecy, if you keep putting out singles every six weeks, they're not going to be hits, it's impossible…and the record company just drops you and moves on to the next band, you know?
AD: The Zombies are different than other bands, a lot of guitar bands, and as a vocalist, you're not a blues shouter like Eric Burdon or Van Morrison—what were your influences that might explain these differences?
Colin Blunstone: From the very beginning, we were a keyboard-based band, which certainly wasn't fashionable in 1961. All bands were three guitars in 1961 and the other thing is we always put an emphasis on vocal harmonies, which again, not many bands were doing in 1961 and it wasn't really until the Beatles came into prominence in 1963 that vocal harmonies were exploited in the way we got to know later on. We were always a keyboard-based band and we always sang harmonies.
Another thing that made us different was the wide spectrum of musical influences that went into making the Zombies, from classical music to modern jazz to the blues, rhythm & blues, rock 'n' roll, and pop music, it's all there if you listen to it. And in some ways it was very much to our benefit because it did make a unique sound, but it also created certain problems, because people in the music business like to categorize you and it was quite hard in those days to categorize the Zombies: a keyboard-based band that features harmonies and uses classical influences and modern jazz. Where do you fit them when you're putting together a playlist on the radio or if you're a particularly magazine? Do they fit in what you want to do and at some times that was a real problem for us.
AD: After winning the talent contest and getting to record for Decca as a relatively inexperienced band, the Zombies sort of leap-frogged that club scene rite-of-passage step didn't they?
Colin Blunstone: You know we kinda missed out on the club scene in London with Brian Auger and of course the Stones and the Yardbirds, they all played the club scene in London and we lived slightly outside of London, about thirty miles north of London and we would have done that…I think that was to our detriment that we didn't. Amongst the band there was a slight feeling of resentment that we hadn't gone through that particular part of our musical education, but it wasn't by choice; we'd have liked to have done that. We decided we wanted to be a professional band and that would have been the next thing for us if we were fortunate enough to get any work, but that was the time we made "She's Not There" and so instead of playing the clubs, which may well have been a better thing for us to do, to learn a bit about our craft in a professional sense.
The first tour we ever did in the U.K. was the Searchers, Dionne Warwick and Bobby Vee. I mean, it was a huge explosion for us because we'd just been a local band – we were 18 and 19 years old – and we made "She's Not There" and a few weeks later we're touring with Dionne Warwicke, Bobby Vee and the Searchers, it was incredible! Later on, the first time we came to the states, we arrived at Christmas 1964 and we played the Murray the K Christmas show at the Brooklyn Fox and actually in Cashbox we had the number one record and on Billboard it might have been number two or number three and Dionne Warwick was on that bill as well: Dionne Warwick, the Shangri-Las, Patti Labelle, and many other huge artists. It was a wonderful experience for us, a little scary but very exciting.
But you can't choose when success comes, you have to be really, really grateful for any success that comes and whenever it comes, but in an ideal world, I think it would have done us a lot of good to have had a year on the road learning what it was all about . . . So, we went from playing small, local gigs to playing on a national tour with these huge artists. It was a big jump, but when you're young, you're fearless and you just get on with it and that's just what we did.
AD: Did you have any particular rivalries among other bands of the era in the U.S. or the U.K.?
Colin Blunstone: We were huge Beatles fans. We'd never think we were in any way in their area of the business, they were a million miles away from us, but as far as inspiration goes, we certainly took inspiration from them. I just thought they were breathtakingly good and then after the Beatles, it would probably be the Beach Boys that we were really into and though we loved both of those bands and were probably influenced by them in a way, we certainly never tried to copy anyone. I think you can say, whether you like the Zombies or not, it's an original sound, they don't sound like anybody else.
AD: You entered Abbey Road right after the Beatles finished recording Sgt. Peppers Lonely Hearts Club Band. How did that feel and did any of their lingering presence rub off on the band?
Colin Blunstone: Well, I hope so. I mean, we were aware that they had just left and also they had just brought about quite a few technical advances at Abbey Road and we really benefited from that and the engineers who'd worked on Sgt. Peppers, like Geoff Emerick and Peter Vince, worked on Odessey & Oracle as well, so we were very fortunate to be at Abbey Road at that time. It was probably the most sophisticated recording studio in the world…the thing is, the Beach Boys were doing the same thing in America, but certainly ONE of the most sophisticated recording studios in the world, well it still is, it's a magical place to record, but especially then because we knew the Beatles had just left and famously John Lennon's Mellotron was left in studio three and, I'm afraid without asking John Lennon's permission, Rod jumped on that and if you listen to Odessey & Oracle, there's Mellotron all over that. The album would have been totally different without John Lennon leaving his Mellotron behind and in a smaller way I found it very exciting that they'd left all these percussion instruments around on the floor, so there were all these tambourines and maracas and all sorts of things lying around on the floor, and for us being such ardent Beatles fans to think we're the next ones to pick these instruments up, it was a real thrill.
AD: It probably set the bar high, to think the next thing out of this studio was the next great Beatles album that you hadn't even heard yet…you might have been thinking, 'we probably shouldn't mess around…'
Colin Blunstone: From our point of view, we had a very small recording budget. CBS had given us a thousand pounds—obviously, it would be a bit more than that nowadays, even with eight or nine thousand pounds – to record at Abbey Road with that kind of budget, you've got to record very fast. So this is where our minds were. We rehearsed extensively before we went into the studio so we knew those songs before we recorded them very well. We knew what key they were going to be in, we knew the arrangements, we were just looking for the performance, so primarily in our minds we wanted to enjoy being in Abbey Road and working with these wonderful recording engineers, but also, we wanted to record really fast, because otherwise we wouldn't have gotten the album finished, so Odessey & Oracle was recorded very quickly.
AD: We all know that the Beatles benefitted from the influence and advice of their producer and arranger, George Martin…did you have a similar figure involved with the Zombies? Who was the arranger for Odessey & Oracle?
Colin Blunstone: I've always thought the main arranger for the Zombies was Rod Argent, and for his songs especially, he wrote them with a bass line and with a rhythm track already part of the song.
AD: Your voice is unique in rock 'n' roll, especially during the sixties when white rock vocalists were very blues-inspired. Can you mention any particular influences?
Colin Blunstone: I think that I've always sung pretty naturally and when Rod and I have done interviews he's said that he learned to write songs writing for that voice and I'd counter that by saying that I learned to sing singing Rod's songs. I mean, Rod is very sophisticated when it comes to phrasing and interpretations when it comes to songs and we work on them extensively together and it really helped me when we were starting out and we still do things that way now, we'll work on a song first before it's played by the band and the way I sing is really pretty natural, but I do take input from Rod, especially when we're working on one of his songs—he really does have a great insight about how a vocal should be delivered.
AD: Are you still experiencing the afterglow of being inducted into the Rock & Roll Hall of Fame?
Colin Blunstone: We're not gonna rest on our laurels, but it's a lovely feeling to think that your peers have appreciated what you've been doing and the icing on the cake was the actual ceremony where we played in front of 17,000 people along with the other six inductees: Janet Jackson, Roxy Music, Radiohead, the Cure, Def Leppard, and Stevie Nicks; what a bill!
AD: How did the Odessey & Oracle anniversary tours came about?
Rod Argent: Colin and I, with our current band, had always performed about five of the songs from Odessey & Oracle, but the rest of the songs needed the extra parts that we had on the original record, a multi-track scenario like we had in '67 when we recorded Odessey & Oracle. So we decided to get all the living original members of the band, plus the touring band and one more keyboard player, which happened to be Darian Sahanaja from the Brian Wilson band to play the Mellotron parts and one or two other second keyboard parts so we could reproduce every single note from the original album. We had a ball doing that and we never meant to do it again and then we got an offer to tour Odessey & Oracle in America and that's the 50th anniversary and that was gonna be it…and then we got an offer from the Brian Wilson camp to tour with Brian! Colin and I said we cannot turn this down even though we said we were finished celebrating Odessey & Oracle. But this will absolutely be the last time we go out and tour Odessey & Oracle. It will not happen after this.
AD: Were the Beach Boys an influence on the Zombies during your original sixties run?
Rod Argent: We recorded Odessey & Oracle in 1967 and we were the band that walked into Abbey Road studios as the Beatles were walking out having just recorded Sgt. Peppers. Now, the thing is, we weren't particularly influenced by Sgt. Peppers' because it hadn't come out when we started recording Odessey & Oracle, but quite a few months before Pet Sounds had come out and we were completely knocked out by it as I know the Beatles were and I know the Beatles were influenced by that on Sgt. Peppers'. But really, the influences weren't direct.
I'd always loved exploring certain areas, from "She's Not There" in 1964, I loved working with melodic bass lines…in fact, the first thing I wrote when I wrote "She's Not There" were the bass and drum parts. The way that Brian liked to approach his work, after the original surf period, it really, really appealed to me, because rock was my natural inclination anyway, but with Pet Sounds he really took that to another level and the wonderful structure and the way that he actually put together the parts, on Pet Sounds, the vocal parts, but also the instrumental parts, it was just masterful, really. And it took those areas of melodic bass-lines and interrupted drum rhythms to another level and it made me excited to expand those areas, which were natural to me, to another level as well and showing what could be done on Pet Sounds with pop music composition…that really had an indirect influence on Odessey & Oracle and on me.
AD: When I asked Colin who would have played the George Martin role on Odessey & Oracle, Colin credits you as the mastermind behind the album's arrangements. Does that feel accurate to you?
Rod Argent: That's very kind of Colin to say that . . . I did tend to have the lead in putting together arrangements and suggesting things. We did have a very nice working method and we all respected each other and I think Chris [White] respected my ideas about harmony and construction of the parts.
AD: Why do you think albums like yours, Pet Sounds and Sgt. Peppers happened around this time? Did you feel you were part of the zeitgeist of taking pop music to more sophisticated realms?
Rod Argent: I think it was a zeitgeist actually. I think there was this feeling at the time of huge positivity. There was a feeling that in every area of life boundaries could be pushed and we were all young and we were all excited about the adventure of looking at music and trying to push the boundaries! Because the youth movement was so strong, for the first time it seemed to have a real effect on what was going on in the world and that gave a huge feeling of power to people, but that was all part of the positive zeitgeist at the time that made anything seem possible. The audiences were really ready to accept what could be quite advanced things, actually. It felt like a great time to be making music.
AD: Were you self-taught on piano? Who are your musical influences or inspirations?
Rod Argent: I am self-taught, but I was prescient about music since I was six years old. We were a very working-class family, but they made sacrifices…both of my parents loved music, my dad was a semi-pro dance-band leader from the age of 17 'til the age of 83 and my mum loves classical music, but it was the very populist, very romantic classics, which were all I heard when I was really young, and courtesy of my dad I heard Duke Ellington, which I really loved, but I didn't really like pop music until I heard Elvis when I was eleven years old. I heard Elvis singing "Hound Dog" and that spun my whole world around and I just wanted to hear the rawest rock 'n' roll I could get my hands on.
At the same time, my mother had gotten me to join this choir, this cathedral choir, with a young organist who turned out to be one of the world's premiere Bach organists, who introduced me to Bach, who's been a lifelong love of mine. At the same time, when I was about 13, I discovered the fantastic Miles Davis group from around 1958 with John Coltrane and Cannonball Adderley, and a little bit later Bill Evans, and I absolutely adored that as well. So, even though when we were working with the Zombies, I always imagined that we were just being a band in the image of, obviously the Beatles, but indirectly these other things without me realizing it, I think had a bit of an influence on shaping the music. Also, I think that my time in the choir gave me an intrinsic feeling for harmony and familiarity about how harmony could and should [sound like], so that kind of thing came easily to me. Early Ray Charles made me go to the piano, because dad was a pianist, and I just spent hours and hours working out how harmony works and playing records of the time by ear.
The first time I met Colin, he was just brought along by a friend and I was going to be the singer [in the band that would come to be the Zombies], but I wandered over to the piano, a really beaten-up old piano that was tuned-down a bit in the club we were rehearsing in and started playing "Nut Rocker" the B. Bumble and the Stinger's record, which I'd worked out from just listening to it and Colin came racing over to me and said, 'my god, you have to play piano in the band!' And I was really confused by this and then half-an-hour later I heard him just pick up a guitar and heard him sing a Ricky Nelson song and I said, 'you sound great, I tell you what, you be the lead singer and I'll play piano?' And we always sang background harmony, which was very unusual at the time. The Beatles, of course, made it very usual but this was just before the Beatles hit in England.
AD: Most of the beat groups were guitar-driven, but the Zombies were organ and keys-driven…you mentioned Ray Charles, who else informed your keyboard style?
Rod Argent: I remember in that early Miles Davis group when Bill Evans joined…and he played "On Green Dolphin Street" and I was completely blown away and I couldn't work out at the time how he got the improvised sounds in the melodies and the scales he was playing and I later worked it out. But I didn't, like many other players, transcribe solos, painstaking listening to it and working out exactly what notes were being played, I never did that, ever, but the overall effect and the basis of the harmony they were using did have an effect on me and I remember very clearly, the first time I heard Jimmy Smith play Hammond organ on things like "Walk on the Wildside," so exciting to me! That certainly made me want to play Hammond organ, which I couldn't afford at the time. Like many other people, I used a Vox Continental and eventually I managed to afford a Hammond and that was what "Time of the Season" was recorded on.
AD: The Zombies were featured in the Otto Preminger film, Bunny Lake Is Missing. How did that opportunity come about?
Rod Argent: We didn't know about it at the time, but we always had the Gerswhin song "Summertime" in our set (and I've always loved it, it's one of my favorite songs and one of Colin's as well, I believe), and we did an audition in a London club for Otto Preminger and we did "Summertime" and I later found out he'd been a friend of George Gershwin's in earlier times, obviously, and he loved it and that's why we got the gig.
I only have one memory of it. He was a wonderful director, he was fantastic, but he was a sod to work for and he put the fear of God into all of the actors and all the people that were involved in being directed by him. We didn't feel anything like that at all from him, but there was one little scene where you actually see my face on the screen and when that bit was being filmed, he started screaming at me! I stood up and said, 'if you ever talk to me like that again I'm just walking straight out of here—don't you dare talk to me like that again,' and there was complete silence on the set and he just looked at me and then he started laughing and it was fine from then on. But it was that thing where our careers didn't depend on it, we were just not gonna be treated like that.
AD: Reflecting on being inducted in the Rock & Roll Hall of Fame: The Zombies aren't a typical band with the break-ups and reforming and the slow building of appreciation for Odessey & Oracle—do you summarize the Zombies' legacy?
Rod Argent: It was an unusual tenure, if you like. We were passionate about what we were doing, but there were several factors at play. First of all, we had a producer who was a great musician but he was a very old school producer. I believe the very first session we had when we recorded "She's Not There," "You Make Me Feel Good," "Summertime," and the first song I ever wrote, "It's Alright With Me," I believe that was beautifully produced and then after that, instead of just taking the music he heard and making the best of it, the producer kept thinking 'what made the first record a success?' and in his head he said, 'ah, the breathiness of Colin's vocals on "She's Not There"' was the gimmick that he was trying to reproduce and we felt the production on some of our subsequent singles was really, really not right at all. The follow-up was "Tell Her No," which was really well recorded, but the next one was "She's Coming Home," which I still think could have been a hit, but the way it was recorded was crazy. I think the Righteous Brothers had just had the number one record with "You've Lost That Loving Feeling," and he tried to reproduce that sound with all that sort of echo on one part and it just wasn't being true to the song.
I think the fact that the current band has played so much and gained so much respect over the last few years means that even though we've been eligible to be in the Rock & Roll Hall of Fame since 1996, it's in the last five years that we've been nominated—we've been nominated four times in the last five years—and the current band, I think, has a lot to do with that.
AD: I can't help but think about the similarities between the Beach Boys with Pet Sounds and Smile and Odessey & Oracle and how these albums have all taken decades to receive recognition as the classics they are…
Rod Argent:  Sometimes I'm asked what advice to give to young bands, which is: just be true to yourself, just do things for the right reason. When you first got turned-on to rock 'n' roll or whatever it is, you did it with a massive feeling of enthusiasm and all you wanted to do was to reproduce this music and do something that excited yourself. And if you do that, rather than listen to all the record companies which were telling us we should be recording something a bit like this, which was usually something that had just been a hit on the charts, but we never did that, we never tried to make a hit record…In the short term, we didn't do ourselves any favors because it wasn't what the [radio] DJs were expecting, it wasn't always what was current at the time, but it was our own and then eventually, perhaps it doesn't date as much as some of our contemporaries did and I think that was true with Pet Sounds. Brian was just filled with wanting to fulfill his own creative ideas and he made it work because he's a master structuralist and composer.
AD: "Tell Her No" has a strong Latin, almost bossa nova feel. Where did that influence come from?
Rod Argent: Touring with Dionne Warwick gave me an introduction to the music of Burt Bacharach and I loved the fact, because I'd become interested in jazz, that the harmonies [and] his chord structures, were pretty jazzy and they were pretty advanced in terms of what most rock 'n' roll people were doing at the time. I wanted to write something using those chords and I know its sounds fairly simple, but if you ask someone to write out those chords you will see it starts out with a major 9th and then there's a 13th note in one part of this song…but the idea of using those sort of chord voicings came particularly from being knocked out by some of the Bacharach voicings. I always loved the feeling and syncopation in Latin music and even if you listen to the first hit, "She's Not There" you'll notice a lot of the notes are pushed, they're before the beat and that's typical of Latin music. I'm not pretending that "She's Not There" is a Latin song, it's not, of course, but it's interesting that Santana picked up on those [for a 1977 hit cover version of the song]…he felt that it was something he could do, Carlos, because of the melodic construction had those syncopations and those pushes.
Aquarium Drunkard has launched a Patreon page, which allows readers and listeners to directly support our online magazine as it expands its scope while receiving access to our secret stash, including bonus audio, exclusive podcasts, printed ephemera, and vinyl records. Your support will help keep an independent cultural resource alive and healthy in 2019 and beyond.