Beloved in the Bay Area but seemingly uninterested in breaking out of it, working-class garage-rock band The Mantles quietly called it quits last year. Their end is a well-earned conclusion of a romantic saga, but it's also another lost canary in the coal mine of independent rock. Nate Rogers reflects …
The best way I can contextualize a band like The Mantles is by indulging in a personal anecdote: Sometime in late 2009, not long after the release of their self-titled debut, I went to see them play at The Crepe Place in Santa Cruz, California. For those who've spent time in Santa Cruz, you'll know that an underground rock band playing a show in an establishment that serves crepes is not all that strange, but what was strange was that this band was simply more talented than one surrounded by Nutella should reasonably be. I expected that the next time I saw them they'd be playing to a much larger room—or at the very least to a room that wasn't also selling pastries.
At the end of their set, I went up to Michael Olivares, the band's singer/guitarist and main songwriter, to buy the then-new "Bad Design" single. He was selling merch out of a suitcase, standing essentially where he had just played during the set—there was no stage to get off of—and still on the floor next to him was his handwritten setlist from the show. Kind of without thinking about it, I asked him if I could have that too. He looked at me like I was insane.
Over the ensuing years, The Mantles never really became that bigger band that I assumed they'd turn out to be. From 2007 to 2015, they released three LPs, two EPs, and a handful of singles, but they rarely left the Bay Area to play shows—and when they did play, it was usually at bars, or in an occasional supporting slot for another band. Each of their LPs was met with critical support, but there just weren't that many critics covering them; each of their shows was attended by loyal fans, but a good number of those fans were also just their friends. In short, they were one of the best-kept secrets in indie rock. Too much of a best-kept secret, in fact. So much so that when they announced their "final show" at the Oakland gay bar White Horse last year, not too many people noticed. It was a dignified end, all things considered, but they deserved better.
"We're in our backyard and there's sun shining, for once," says Mantles drummer Virginia Weatherby, Michael's wife, when I call the couple at their new home in Portland, Oregon. "We have a beer in our hand and our kid is watching Daniel Tiger inside, so we're good. We're quite happy."
Michael and Virginia haven't done press in a good while, and the request for this interview came out of the blue to them. It's been eight months since their last show, and for the first few minutes of our conversation, you might have thought it'd been eight years. The San Francisco garage-rock scene? Just a memory now. Sharing a van with Ty Segall for weeks at a time? Have to check to see if that wasn't one big hallucination.
"We didn't want to leave the Bay Area—we love it there—but it's just too crazy," Virginia explains. "I mean, with the kid and everything it really puts everything into perspective. And we were maintaining, but we weren't ever progressing. So yeah, an opportunity came up here and we were like, 'Let's just do it.' But it was really, really hard."
Michael and Virginia are the only two members of The Mantles who were there from the very beginning. When the band formed in 2006, as a trio along with their friend Jermaine Collins on bass, they were just three semi-unemployed twenty-somethings with access to a garage and a drum kit. (For a scene that became known as the center of a garage-rock revival, there certainly are not many garages in San Francisco to choose from.) Michael and Jermaine had recently moved to SF more or less together, from the San Diego area, in that brief window of time in your life when you can flippantly make life-changing decisions. "I was just like, 'Yeah, this seems great, I'll live here,'" Michael answers, nonchalant, when I ask him what made him commit to moving 500 miles to a new city without anything in particular lined up. Virginia herself was a Bay Area local, having been born in SF and raised in nearby Redwood City.
At that point, Michael and Virginia were just friends (they became a couple a little further on), and only Michael actually knew how to play his instrument. But when Virginia explains the degree to which her and Jermaine had no idea what they were doing, Michael is quick to back them up: "They looked cool," he says.
Virginia's place was in Bayview, which, like most of San Francisco, has changed dramatically in the last ten years—many would say not for the better. Back in 2006, they could make the unholy racket of three buds learning how to play music together because their neighbors weren't the type to call the cops, lest the cops in turn be called on them—that sort of deal. Oh, and one of those neighbors was an original member of The Village People.
"He was dressed all sharp," Virginia remembers, "and was like, 'You know that song "Y.M.C.A.?"' And I'm like, 'Yeah…' And he's like, 'I wrote that.' I didn't believe him, but then I went and looked online, and he really was this one dude from The Village People—I forget which one he was…"
"The construction worker?" Michaels suggests, not as a joke, genuinely trying to place it.
"I don't remember," Virginia laughs. "This one would have to be fact-checked. But he was our first fan. The guy from The Village People."
With a band name chosen from a lyric in a Love song (Michael insists that '60s rock was always a bigger influence than the Paisley Underground and Flying Nun bands often assumed by listeners), the first official Mantles release was the 2007 Burden EP, a four-song ripper that sounds like it was recorded in a tin can. Two years later they found a bigger can to record in and released The Mantles, an LP that now stands as one of the best releases of the late 2000s/early 2010s San Francisco scene—a scene responsible for other landmark albums like Thee Oh Sees' Carrion Crawler/The Dream, Wax Idols' No Future, Girls' Album, and Ty Segall's Melted.
Ty, like pretty much everyone I talked to for this story, remembers being first blown away by the song "Don't Lie": "They were one of those rare rock 'n' roll bands that could rip a beautiful melody but make it kind of fucked up…" he explained. "Which always made me feel weird—in a good way."
Glenn Donaldson, who recorded the band's Pink Information EP and now runs the indie label Fruits & Flowers, calls the song "the 'Louie Louie' of that era." "All those other bands were listening to that single too and saying the same thing," he says on the phone from his (rent-controlled) apartment in SF, animated, practically jumping out of his chair talking about it. "I feel like of all the things they did—so many great records—that single will be rediscovered."
"'Don't Lie' is a fucking classic!" says Mike Schulman, who runs Slumberland Records, the label behind The Mantles' second and third LPs. "It's so simple and elemental, but it's not hackneyed or cliche—and it's more than just a nostalgia thing. It was like, they weren't a pop band exactly, but they could write a tune that most pop bands would kill for."
The song that made the biggest impact on me at the time was "What We Do Matters," which turned out to be the most raucous song the band ever recorded—something you might expect to be made by a scary-looking group in need of a bath. (For the record, The Mantles demonstrated nothing but the most respectable hygiene every time I saw them.) Besides being fun as hell to listen to, the song was also a lyrical anthem of sorts: "What we do matters / And if you don't think so / Just take a look around," Michael practically yells in his warbly, Spicoli-ish voice. With Virginia hammering the drums behind him, and new members Matt Roberts and Drew Cramer rounding out the chaos on bass and guitar, respectively, it felt like being a part of something. It felt like not just the band, but also the time and the place, mattered.
When I bring up that song's meaning, Michael amusedly reveals that the title was actually taken from a flyer that was posted around SF that read "WHAT WE DO MATTERS" next to stick-figure images of people pooping and tossing trash on the street, a line going through them as if to say "don't do that!!" (Twitter will really have won the gentrification war once there stops being shit on the sidewalk in the Tenderloin.) The premise of using the phrase for a song was kind of a joke.
"So you're saying none of that [anger] was authentic?" Virginia asks, jokingly aghast.
"No, there was some authenticity to it," Michael retreats. "It's true too. We also feel that way sincerely. It was kind of a call to arms."
***
In the blissful calm before the tech storm, the San Francisco rock scene was as tight-knit a community as you'll ever find in music. "No one really had ownership of a specific sound or idea—it was really communal," Ty says. "There were tons of people playing in each other's bands, and it really felt like it was just about the music. No one was trying to get famous—just make really cool art."
When I ask Michael what made the scene so special, he first adopts a corny tour-guide voice ("Well, San Francisco has a long history that goes back to, uh…"), before admitting defeat to the nosey writer and reflecting back: "I think there were just so many creative people there," he says. "And it used to be really cheap, so there were a lot of people just having house parties and stuff. It was more run-down, so there wasn't as much supervision or monitoring. People weren't so uptight."
Even in reflecting back on the early, innocent times, you can sense a feeling of frustration as to what happened to the city; as The Mantles continued to make music—really good music, on 2013's Long Enough to Leave and 2015's All Odds End, two albums that found them mellowing and maturing in sound—the scene started to unravel. While streaming continued to take over and revenue plummeted overall, the startups responsible for the financial collapse moved in, almost as if to add insult to injury. Pretty soon the rents skyrocketed and there was nowhere to go for musicians but out. Some, like The Mantles, went to Oakland, and some, like Ty, went to LA.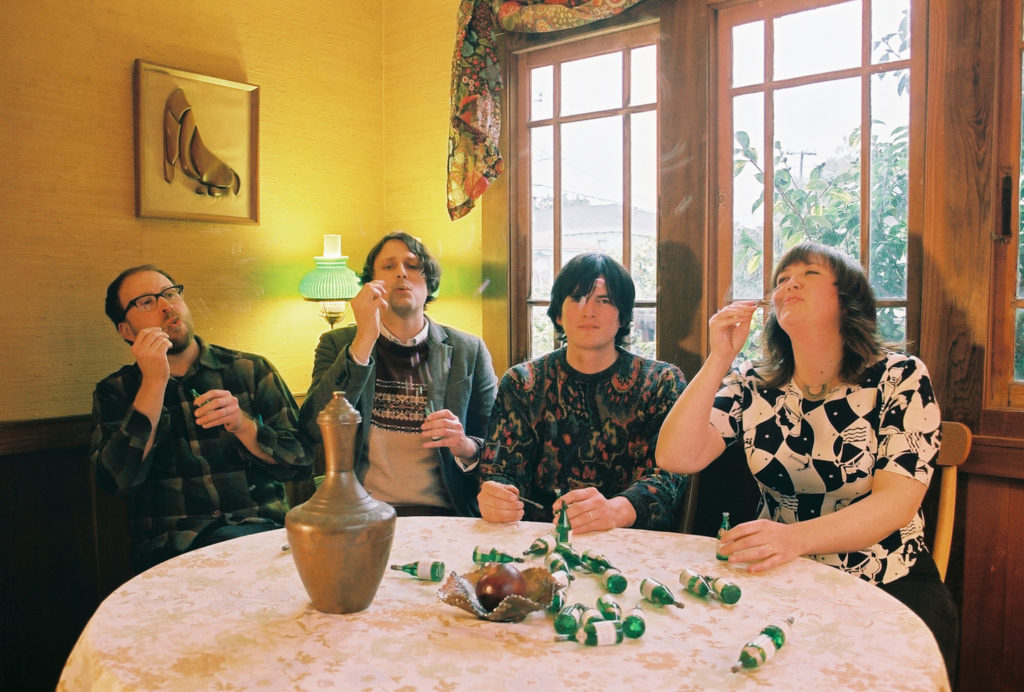 As the money continued to dwindle, and the startup culture began to move into Oakland as well, the temperature came to a boiling point. And in 2014, Josh Alper, a member of The Art Museums with Glenn Donaldson as well as a central figure in the Bay Area underground scene, died in Santa Cruz. In an event loaded with cosmically cruel symbolism, he was killed on a Saturday morning while riding his bike after being hit by a retired tech executive in a Tesla. (The driver claims that "the fumes from the interior of the new Tesla caused him to pass out"; he was sentenced to 200 days in jail.) Virginia, who was particularly close friends with Josh—and an occasional member of The Art Museums—was crushed. "He was our number one fan from the very beginning," she says, "and so supportive of us. That was one of the hardest things I've had to deal with, was losing him. And it was a big thing for the band… I think every day about, I just wish he had met our kid…"
***
Not long ago, an article by Larry Fitzmaurice on Vulture caused a bit of a stir after it detailed the part-time jobs that a handful of indie musicians have in order to be able to continue making music.
"I think a lot of people who consider themselves to be fans of the music and supporters of the bands don't realize how marginal it all is right now," says Mike Schulman, who is normally jovial enough to warrant his nickname of "Papa Slumber," but not when it comes to this subject. "I feel like people think somebody is buying the records; like, 'If I'm not buying 'em, someone else is.' But the problem is: People don't have any fucking money! Capitalism is destroying us all. And what's been going on with income inequality and wage depression and everything plays into that. If I'm a college student today, I don't have the kind of money I had in the '90s to just go out and buy records. It just isn't the way it used to be."
Money isn't explicitly why The Mantles decided to pack it in and move to Portland—they always had to have various full-time day jobs to support themselves—but the lack of it certainly didn't help. "People are way out of touch if they're not going to pay any money for music and then they think that [musicians] can make money on music," Virginia says, when I bring up the Vulture article. "Doesn't make any sense."
"Fucking Spotify, man," Michael laughs, not totally able to cover up a legitimate sigh buried in his tone.
With apologies to the other members of the final lineup—Justin Loney on guitar, Matt Bullimore on bass, and Carly Putnam on keyboards—I have to ask: If it was always a labor of love, why not just continue the band up in Portland with a few new players?
"It just kind of made sense, because the Bay Area was where all that took place," Michael says. "It was a part of the band's identity. We're not like the sports world, where the Chargers can move to Las Vegas or something and still be called the Chargers. We don't roll like that."
To continue with the sports metaphors: Instead of the farewell tour, we got the Tim Duncan treatment—which is to say, we got the understated, humble end. One last ripping show at a Bay Area dive, some shirts sold firesale for $5 a piece, and then: So long, and thanks for all the fish (or lack thereof).
"We wanted closure," Virginia says, "and it was really nice to have a last show, 'cause that meant a lot to me. We could've just drifted off and never played again, but I was like, 'No, we should make something of this.'"
***
Now settled in Portland with their two-year-old, Michael and Virginia are moving on from The Mantles. They're in a good mood about all this, and I'd hate to spoil that with an unfair question, but I do anyway: Do they feel like they got an unfair shake? Would they do anything differently if they could?
"I mean, we weren't crazy overachievers when it came to trying to put ourselves out there," Michael says. He pauses, the inner jokester switched off for a moment. "I guess to our fault we didn't try as hard as we could have maybe, and it could have paid off more. But it was just…"
Virginia steps in here: "I definitely feel like I appreciated our status, because I don't think we would have stayed a band if we suddenly had one album that was a big hit and then we toured all year… We would've broken up."
"Yeah, we probably would've imploded," Michael says, shaking off the brief bummer vibes.
For now, Michael is committed to continuing to make and release music as Michael O.—a recent EP, Power's Out, is available on Glenn's Fruits & Flowers label—and just for the record, they say their attitude is "never say never" regarding some kind of a Mantles reunion one day. (There are also a handful of recordings that still need release.) But overall, they sound like they've come to terms, not just with the end of the band, but also with the end of that time and place in their life. Truthfully, by the end of our conversation, I'm starting to feel the same way regarding that time and place in my own life.
"We had a really sweet moment," Virginia says, telling me about her and Michael's first show together in Portland. "We played with Woolen Men, and they called me and Michael out and said, 'Welcome to the family.' I was about to cry… A lot of people hate Californians here but we fortunately haven't gotten too much of that, 'cause we're not coming through with tons of money and buying all their houses. We're just wanting to make music and…"
"—and drink beer," Michael laughs.
"Basically," Virginia replies. "So we're accepted."
Psst….Aquarium Drunkard has launched a Patreon page, which will allow readers and listeners to directly support our online magazine as it expands its scope while receiving access to our secret stash, including bonus audio, exclusive podcasts, printed ephemera, and vinyl records. Your support will help keep an independent cultural resource alive and healthy in 2019 and beyond.