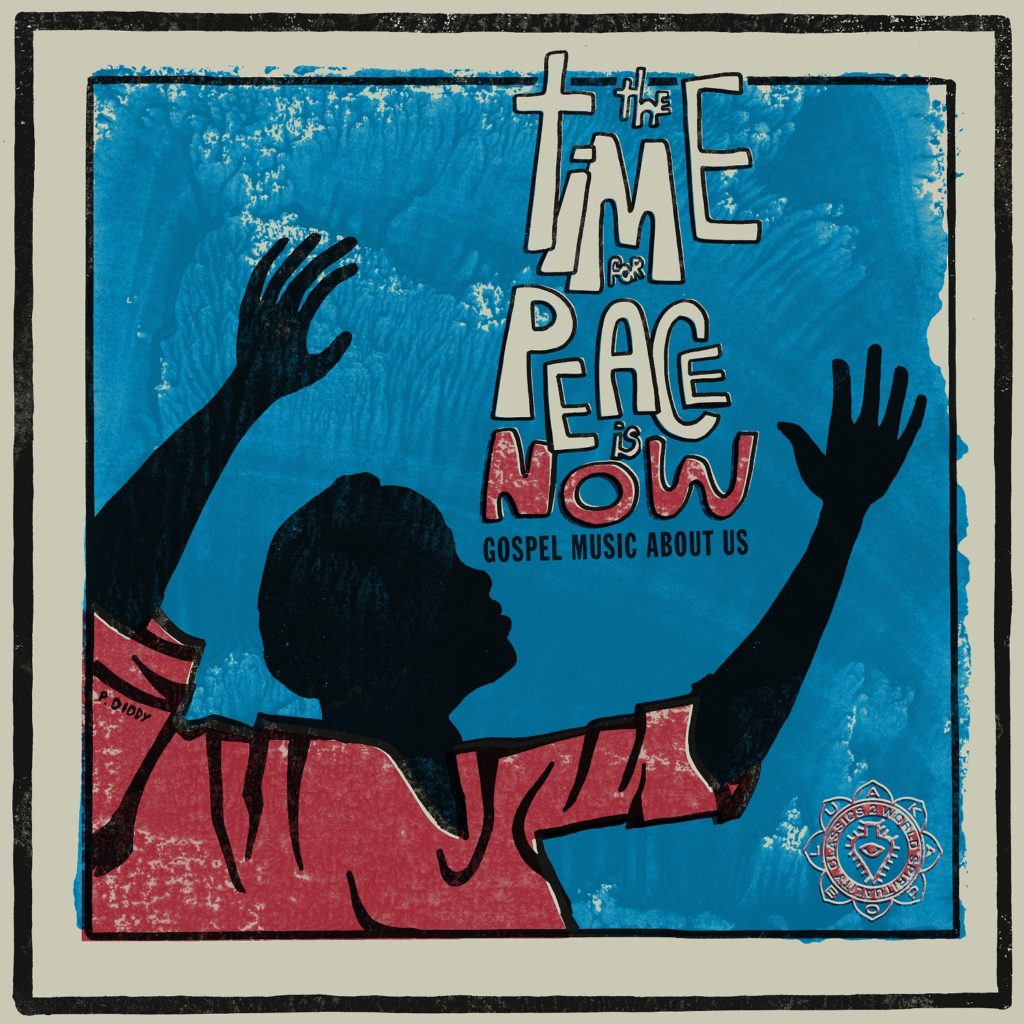 The line dividing black gospel and so-called secular music has always been a thin one, and musicians have rarely been afraid to step over it. In the 1920s, the blind singer "Arizona" Juanita Dranes wed ragtime and boogie—rhythms associated with saloons and barrelhouses—to Holiness movement hymns. Later, Mahalia Jackson, who refused to record secular records, nonetheless achieved massive popularity outside the sanctified confines of the gospel scene. A true pioneer, Sister Rosetta Tharpe scandalized the church by performing in nightclubs, practically inventing rock & roll in the process. By the early 1970s, blockbuster Stax singles by the Staple Singers proved artists could exist comfortably in both worlds, or suggested that perhaps these distinct spheres actually overlapped.
It's in this post Staples zone, as artists like the Mighty Clouds of Joy, Aretha Franklin, and Andraé Crouch took to the airwaves with great fervor, that Luaka Bop's The Time For Peace Is Now: Gospel Music About Us lives. It's the second volume in the labels's World Spirituality Classics series, following a landmark collection of Alice Coltrane's ashram tapes. Collecting rare 45s released by small labels in the 1970s, it's a compilation that prizes the galvanizing spirit of gospel music as much as explicitly evangelical aims.
"When I heard this album, I thought of the barbershop," writes Pastor Keith L. Whitney in his liner notes, presented alongside essays by People Get Ready! A New History of Black Gospel Music author Robert F. Darden and Motherless Brooklyn writer Jonathan Lethem. "This is the Gospel that is accessible to the 'ain'ts' and the 'saints.'" This assurance is meant to ease potential listeners in, a promise that this music is accessible to all, even those lacking Christian convictions.
And it is. But it's also a powerful illustration of the black church's power to animate expressions of woe, the struggle for economic justice, and the human condition with holy fervor. "It's so hard to live in this old world," Rev. Harvey Gates sings on the 1978 slow burn blues "It's Hard to Live In This Old World." Gates clearly believes the next world will be less difficult to dwell in, but his fellow soul stirrers, gathered together by compiler Greg Belson, stay focused on immanent, earthly concerns. While these aren't polemical refrains, they nonetheless revel in the radical possibilities of faith. From the Fantastic Shadow's funky title track (replete with "Gimme Shelter" intensity) to James Bynum's spooky "We Are In Need," and the Gospel IQ's "Peace in the Land," the calls here are explicit denunciations of violence, unjust economic systems, and greed. "Have you heard about Jesus?" Willie Scott asks over the smoky churn of his backing band, the Birmingham Spirituals. The Jesus he describes is a healer, a caretaker, and a teacher. But his wrath can be aroused; he won't abide exploitation. "He was angered," Scott sings. "Men carrying, scaring, or robbing people."
Owing to their homespun, sometimes self-recorded and DIY-released origins, the recordings here lack the polish of major label projects. Those rough edges only add to the gripping quality of these songs. The Religious Souls' "Condition the World Is In" is a stunner, its liquid guitars, slippery bass, and tight drums providing a dramatic backdrop for falsetto spikes and powerful hollers about the sorry state of creation. The Staples Jr. Singers' "We Got a Race to Run" recounts the story of the Rich Man and Lazarus from Luke 16:19–31, bringing a sense of overwhelming anguish to the tale, the vocalist shouting at the very edge of her range: "After the rich man died and went to Hell/They tell me the rich man said/Father Abraham, son lied to my brothers/And tell my brothers/Those cards they play."
"This album is reflective of the dichotomy of the sacred and the secular," Pastor Whitney continues. "The music here is in some sense the same as the music of the club." But its in this liminal space—the space between the sacred and the not-so-sacred—that the promise of a better world takes on dual meaning. The hope for transcendence haunts these songs, but their visions of a better world are not limited to the celestial realms. "Cause I'm coming from a new world," Willie Dale sings propulsive "Let Your Light Shine." He's singing of a world that could be achieved today, if the racist systems that hold down the oppressed were torn down. "This is our day now/We've got right on our side/And we don't have to run and hide/Just let your mind run free," Dale sings. It's a commission, for believer and non-believer alike, to imagine a better world, and to work to create in in real-time. The time for peace is not tomorrow, it's now. Shine light in dark places, expose what hides there, and drive it out. words/j woodbury
Hey you. Yes you. You can help support independent media. Aquarium Drunkard has launched a Patreon page, which allows readers and listeners to directly support our online magazine. Patronage includes bonus audio, podcasts, printed ephemera, and vinyl records.