There's almost certainly not a more contentious record in the catalogue of The Replacements than 1989's Don't Tell a Soul. Often described as their grab for the brass ring of success, it's an album that sounds in some ways like the most dated of any of their records. But it's also the Replacements album with the most involved backstory: at least one abandoned attempt at recording the album; a year where the band uncharacteristically played only one live show; a second run at the album; and a resulting mix done by a record label ringer that resulted in an album very different than the one the producer and band put together. Among fans there was always the rumor that Don't Tell a Soul was the album that could've been a contender if it hadn't been cooked to death. And unlike most rock and roll hypotheticals, we finally got an answer.
Dead Man's Pop is a collection that wouldn't exist without a lot of things falling into the right hands starting with a set of tapes unearthed by Chrissie Dunlap, wife of Replacements' guitarist Slim Dunlap. Found tucked away in a cupboard, these were the tapes that included some of the band's unfinished songs from sessions for the album at one of the studios, but they also contained two other extremely important things: the complete studio recordings of a drunken night spent with Tom Waits in the studio, and producer Matt Wallace's rushed 'rough mix' of the album that he had created to plead his case to be allowed to mix the record. The former is a curiosity long talked about but only fleetingly glimpsed in the previously released "Date to Church" from the "I'll Be You" single and later on 1997's All For Nothing / Nothing For All compilation. The latter became the impetus for this whole project.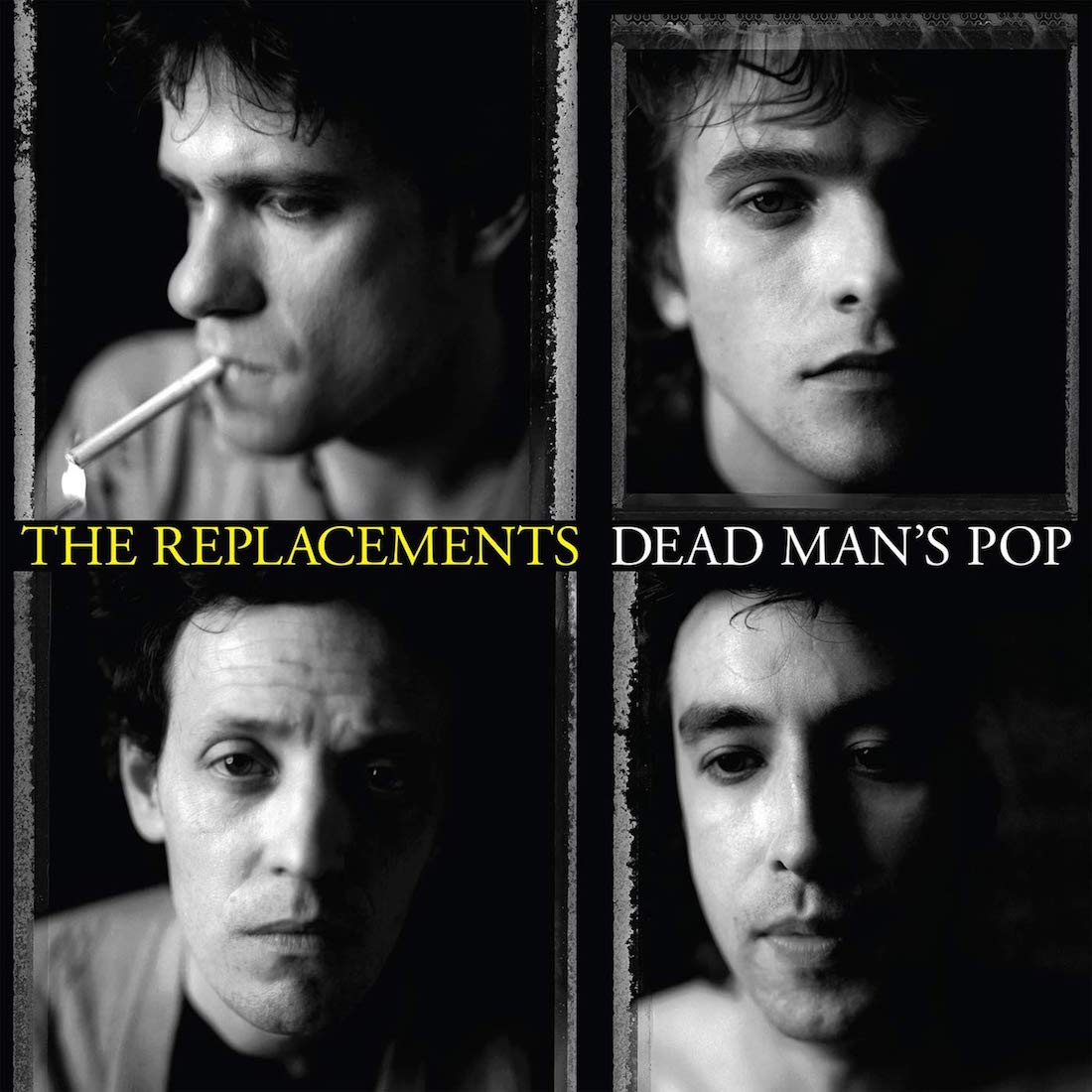 "There are Replacements fans who only like the first two albums, or only like the middle three, or whatever. The range is pretty broad. So on one level, doing a deluxe edition of [Don't Tell a Soul] might not make sense. But the other thing I'm finding out is that it's a lot of people's favorite, or one of their favorites, or in a lot of cases, it was their entry point to the band. In terms of actual copies sold, radio play, MTV play, this was their peak. So a lot of people know the band from this era." Bob Mehr is speaking over the phone about Dead Man's Pop. As the author of Trouble Boys: The Story of the Replacements, Mehr would be in a good position regardless to talk about this album, but Rhino Records also brought him in as co-producer for the set.
"For a long time, [the band] ran away from [their legacy.] But after 25 years, and certainly after the reunion, they realized they're an important band and it's not anything to run away from. If you have a legacy, it's better to tend to that legacy," added Mehr. Certainly to this point there hasn't been a ton of product like Dead Man's Pop. The aforementioned '97 compilation had a rarities disc that included some amazing things, but it was just one disc. The 2008 reissues of the band's eight studio albums added some excellent material that had been moldering as well, but the 2013 reunion clearly helped the band realize there was a fanbase hungry for what was out there.
Dead Man's Pop is extra fascinating because it's a rare thing in the life of this band – one project that has recorded evidence of a lot of the steps along the way. "The discovery of the tapes was the true genesis of this," said co-producer Jason Jones. "It really allowed us to create an entirely different version of the record. We knew the Bearsville [New York; recording studio] stuff was in the vaults, but we didn't know what condition it was in. It was kind of a crap shoot whether it would be usable or not. So we took a chance."
The band had started off working in Bearsville, New York with producer Tony Berg in June of 1988. They spent ten days in the studio cutting songs and as suddenly as they started, they left. Something wasn't clicking for the band with the results they were getting, and they decided not to continue to work with Berg.
"As a fan, I always wanted to know what a Bearsville version of this record would've sounded like," said Jones, and the second disc of Dead Man's Pop gives us a glimpse. "There are interesting takes where you can hear they're still figuring it out. And that, to me is the key to the magic within the box. You can hear the process within the band. I like hearing those different vibes and instances in time where an artist will try to commit something to tape." The songs here range from early versions of "Achin' to Be," "I'll Be You," and "We'll Inherit the Earth," to songs that wouldn't make the eventual album like the fantastic "Portland" (whose lyrics would be somewhat cannibalized for "Talent Show") and "Wake Up." Lyrics are slightly (or quite) different, bridges and choruses seem less formed – at least compared to their finalized versions – and songs like "They're Blind" and "Rock and Roll Ghost" appear in much more stripped back and acoustic versions that shine a light on the bare bones of the songs. It's a fascinating set that is paired on the disc with remnants from the fall sessions with producer Matt Wallace and a rambling late-night studio visit with Tom Waits. The Waits recordings are what you might imagine – some very drunken and very entertaining runs through some improvised blues and a few Replacements songs, including the eventual "I'll Be You" b-side "Date to Church."
The Replacements :: They're Blind (Matt Wallace Mix)
But the heart of this set is the remixed and remastered Don't Tell a Soul. Remixed albums often seem like an excuse to repackage the same product with a few bonus tracks, the average listener being hard pressed to find what's really different in the new version. This album is different, and it comes down to the combination of such unique circumstances. The band had found a good working partner in producer Matt Wallace; so much so that as the band and the producer did their finishing touches on the record at the then-newly opened Paisley Park studio in the fall of '88, Wallace decided to try and make a pitch that he deserved to mix the album as well. Warner Brothers though had someone else in mind. "Record labels do this all the time," said Wallace over the phone. "They want to hedge their bets. 'Let's see if we can make it a little shinier, a little more pro sounding." The record was eventually bound for the mixing board of Chris Lord-Alge, the mixer who would end up giving the album its controversial sheen and mix – though also the sound that would push "I'll Be You" to the highest chart position of a Replacements single to this day: #51.
"[Lord-Alge] did the job he was hired to do and he did a fine job. But I think our gut instinct was right. We were doing the right thing at the right time," lamented Wallace. As he and the band worked on that last day of recording, Wallace began to create a rough final mix for his and the band's vision of the album. His hope was that it would give someone somewhere enough of an idea of what he was capable of doing to help make his case.
It's that mix that was one of the tapes that emerged from Slim Dunlap's cupboard. "The thing that really turned everyone's head around was Matt Wallace's mix," said Bob Mehr. "The rough mix is a rough mix and it's not one-hundred percent there audio wise," added Jason Jones. "So it was good to have for Matt to use to take another pass at it. We gave him the multi-track recordings and he went back and used the rough mix as a reference to complete the job he'd intended to do."
The result is everything the Wallace-helmed album was always rumored to be. "You can just hear a lot more of [the band] in this record," said Mehr. "'Talent Show' was the first mix that Matt sent us, and I remember saying out loud at my speakers, 'there they are!'"
The Replacements :: Talent Show (Matt Wallace Mix)
The "Talent Show" that opens this version of the album is instantly more organic, more vibrant than the washed and compressed version from the Lord-Alge mixed version. To anyone who has heard any of the live shows of the band from this era, it will sound quite familiar – the song's Stonesy-swagger is back, and so is its sense of humor. A banjo comes sailing in under the last portion of the song, played by Westerberg, sounding for every bit like someone who was trying to find a way – any way – on to the stage to perform. And then comes…"I'll Be You?"
"It really makes for a totally different kind of listen," said Jones. "I feel it's a more psychedelic and emotional record in this track listing than it was. I feel like the songs in that order really do tell a story." Almost as much as the remixing of the songs themselves, the actual adjustment to the sequence of songs feels just as revolutionary. While "Talent Show" remains at the opening, "I'll Be You," firmly buried in the middle of side two on the original, leaps to the second spot. "We'll Inherit the Earth" and "Achin' to Be" still come in their normal positions, but then "Darlin' One," the original album's closing song, instead comes to close down side one. And it really works.
"The working sequence that they had—based on Matt's '88 mix—was what we had. It's as close as we could get to what they were thinking at the time," said Mehr. "The singles are kind of front-loaded, but moving 'Back to Back' to the top of side two and 'Rock and Roll Ghost' to the end is a much more Replacements sequence that falls in line with some of their other albums." "They're Blind" also moves from its spot on the front half to near the end of the album. And yes, now "Rock and Roll Ghost" closes things out.
"There's a real masterstroke in moving 'Rock and Roll Ghost' to the final slot on the record," agreed Jones. Given the intensely emotional time that Westerberg had recording that song during the sessions, its placement at the end seems appropriate – one last performance wrung out of a man who was starting to feel his band's age.
Wallace's mixes of the songs are absolutely stunning, and it helps the album recapture the truly scattered nature of its songs. The original's mix brought a consistency to the album's sound that wasn't intended in the first place. Listening to the new mix of "They're Blind," the song regains its noisy, ballad grandeur, complete with a much more thrilling Slim Dunlap guitar solo. "Asking Me Lies" scales back the muscular weight to reveal a song that sounds much more like Westerberg truly trying to tip his hat to his love of the Jackson 5. All of this helps show Don't Tell a Soul to be the obvious bridge between its predecessor, Pleased to Meet Me, and the band's swan song All Shook Down. Where Don't Tell a Soul had always sounded like an awkward growing-up phase, complete with one last shot at the big time, and ended up being one of the most dated sounded albums of the band's career, the new version helps reveal the lithe, spirited, multi-faceted and powerful album that always lay underneath. "[Fans] either love it or hate it. And we want people who hate it to take another pass at it, because there are some amazing songs here. And if you love the record, I want it to deepen your appreciation of the band from this time period," said Jones. Mehr added, "To me, it's like hearing a whole new record."
"I think it feels like a Replacements record," said Matt Wallace. "It really belongs in the canon of things they've done." When asked if this felt like something special and unique in his career, he completely agreed. "It was incredibly, absolutely, 100 percent rewarding. It was the opportunity of a career, but really of a lifetime. It's rare for me to get to go back and 'get something right.' And especially this record, which of all the ones I've made, we didn't quite present the way I wanted to present them. It's rare for me to feel that way about a record. But for once in my relatively long career, I can go back and do it the way I envisioned it. But not just me; Paul and I talked numerous times about how we wanted it mixed. We were hoping to have it not sound time stamped. There's tremendous banter and it's really funny, and it's the heart and soul of these guys."
Jones and Mehr wanted to give as much insight into the creative process as possible. "Something you don't always get is a peak into Paul's writing process," said Mehr. "It's interesting to hear the very early versions from Bearsville, and then Matt's mix, and then the live versions. You get to see them work in that way that other periods don't afford us to do." This makes the inclusion of the complete Inconcerated show from 1989 all the more important to the story of Don't Tell a Soul. Rhino released For Sale: Live at Maxwell's back in 2017, a fantastic document of the Bob Stinson-era band on a peak night. Inconcerated, recorded at the University of Wisconsin – Milwaukee, gives listeners a peek at the Slim Dunlap-era band in all its glory as well. Playing this show on the heels of their infamous performance at the International Rock Awards, the band is in fine form and tears through a 29-song set that is heavy on Don't Tell a Soul (they play every song on the album except for "They're Blind" and "Rock and Roll Ghost"), but also dig into something off all but their first two releases.
There's a bevy of fun covers—"Cruella DeVille," "Born to Lose," "Black Diamond," "Another Girl, Another Planet"—and the band stays in a pretty good mood most of the night. It helps that the Midwest-home crowd is having a blast. At the band drop-out in the middle of "Anywhere's Better Than Here," the crowd lustily fills in the shouted title phrase. The band banters with people shouting requests, mocks their own recent appearance on the awards show, and generally put on a great show. For all the stories of how going to see this band was like flipping a coin for what you would get, shows like this and the Maxwell's album show just how outstanding they could be in their prime.
The Replacements :: Anywhere's Better Than Here (Live)
It also shows some of the tenderness that was becoming more and more a part of Westerberg's writing. After the band finishes up a great run-through of "Darlin' One," Westerberg, tuning his guitar, mumbles that he wants to try a new song. He then softly sings his way through the first two lines of what would become All Shook Down's "Sadly Beautiful." And then he mumbles something and stops short, pushing the band into a raucous version of "I Will Dare" instead. This was a full-on Replacements show, after all, but when he later works his way achingly through "Here Comes a Regular," you can hear the audience's choral voice again, causing Westerberg to step away for a second – one can only imagine with somewhat of a smile – to hear them singing his words back at him. So of course he undercut the moment with an improvised additional verse full of profanity. What else would you expect?
Dead Man's Pop is the kind of box set that fans of bands dream about. It's a treasure trove of Replacements riches—the never finished original mix of the album; the Bearsville and Tom Waits recordings; the never previously fully released live show. It's put together in a fantastically designed package, featuring a vinyl edition of the new Matt Wallace mix, four CDs, and a bonus cassette with a 'best of the box' collection, plus two songs that couldn't fit on the CDs. The booklet contains two Bob Mehr essays that lay out the Don't Tell a Soul and Inconcerated stories with great storytelling and depth, and there's an additional essay from Matt Wallace about his experience with the original album and the new mix.
Thirty years later, it presents the album in a way that it always deserved but never really got. Chris Lord-Alge's original mix will always have a place in the ears of fans, but this new mix is unquestionably its equal and will probably get reached for almost as often by fans who get to discover Don't Tell a Soul all over again thanks to its resplendent re-envisioning of one of the most unfairly maligned albums in the band's canon. Often thought about, and now finally, thanks to Matt Wallace and this boxset, understood. words / j neas
Friendo! You can help support independent media. Aquarium Drunkard has launched a Patreon page, which allows readers and listeners to directly support our online magazine. Patronage includes bonus audio, podcasts, printed ephemera, and vinyl records.
Related: Trouble Boys: The True Story of the Replacements (A Biography)