As Dead & Co. fire up the machine for their fall outing, a remarkable stash of the early '80s Deadhead zine MIKEL provides a DIY window into what life on Grateful Dead tour was (sur)really like in the early '80s, before 1987's In the Dark blew the band into the top 10 and football stadiums. One of the more appropriately cartoonish aspects of the latest Grateful Dead revival is the fetishization of the band's touring culture. A collecting scene has coalesced around vintage parking lot shirts from the '80s and '90s, going for big bucks and getting covered as high fashion, including by this columnist. Facebook groups have become homes for various touring families, and the scene outside Dead & Co. shows has become a thoroughly Instagram-ready circus of drugs and bootleg merch, same as it ever was. Or is it?

Michael Linah issued MIKEL at nearly every stop of the band's tours between mid-1982 and early 1985, available for a $5 subscription or free with a self-addressed stamped envelope. Preserved and freshly scanned by fellow early '80s tourhead and legendary collector Eric Schwartz, the nearly complete run of MIKEL pops out of its PDFs with good Deadhead vibrations, a black-and-white zine that communicates in technicolor. Gloriously handmade, MIKEL is meant to be read in its original form–one folded sheet of paper, regular or extra-wide–that might be turned and folded further in order to scrutinize the pen-scrawled setlists and notes that curl into the margins. An obsessive paste-up job, each brief issue overflows with the most recent tour dates, song histories, letters, scene reports, side project reviews, news clippings, fan poetry, and folklore. There is little pretense of proper journalism, and maximum love for the Grateful Dead.
Deadhead zines had existed since early '70s iterations like North Carolina's bootleg LP-oriented Dead In Words. Founded in 1975 in Brooklyn, Relix had transitioned by the '80s from a publication for tape traders to a more mainstream rock magazine (with a more lucrative merchandising arm). Dead freaks with computer access had been massing online since the early '70s, but internet access was scarce in 1982. Established in its own sunshine street punk tradition, MIKEL was most likely the first real-time documentation of Dead tour, and almost certainly the first to report setlists within weeks of the shows.

Plus, along with each issue, proprietor Michael Linah distributed stickers with variations for every tour stop, for heads to collect (as Eric Schwartz did) or simply use as readymade hippie gang graffiti. Another popular tourhead past-time in the early '80s was to plaster highway toll booths with stickers from the dice game Cosmic Wimpout. One issue of MIKEL mentions a letter from the band asking fans to stop tagging the toll booths.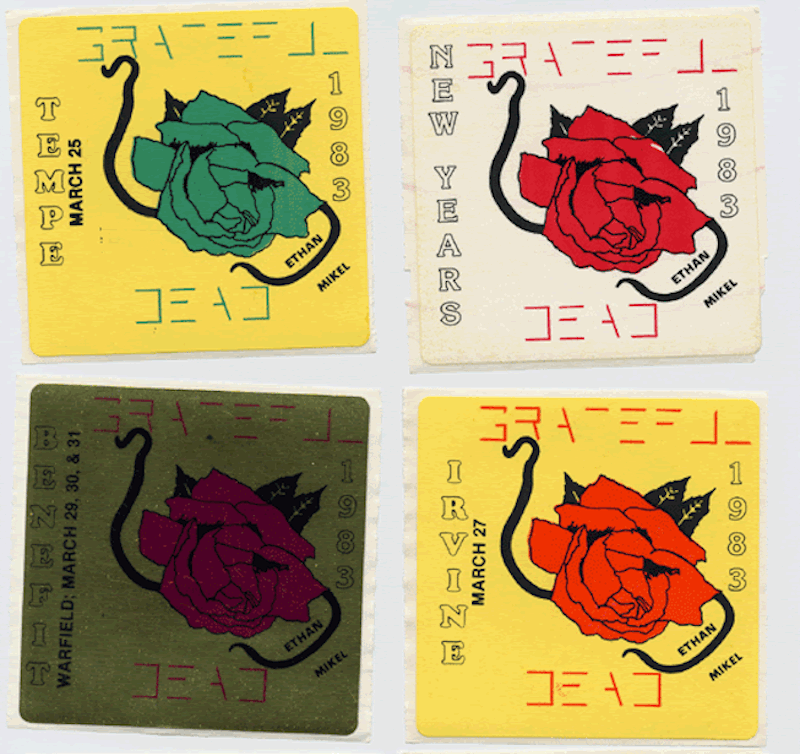 Though it's impossible to tell from the text of MIKEL, the zine's entire existence fell within perhaps the darkest period of the band's history. After releasing almost an album a year since 1967, the Dead were then struggling to finish recording sessions as its primary members battled (or didn't battle) addictions. Around the time of MIKEL's launch, the Dead debuted their first real batch of songs in three years, though it'd still be another half-decade before they made it to stores. The exchange of live tapes is a constant ambient presence in the zine, of course, but that's only one of the threads it illuminates in a new way. Despite the band's travails, Linah and MIKEL capture the joy of the Dead's last years as an underground act.
"He looked like Hunter Thompson/Uncle Duke from Doonesbury," Eric Schwartz told me, who didn't know Michael Linah at all, except to hunt him down in the parking lot for newsletters and stickers, each added to his own incredible collection of Dead ephemera. The Brooklyn-born Linah was in his late 20s when he launched his zine, having seen the Dead for the first time in 1967, spending the '70s on the perpetually broke bohemian fringe, and finding himself an unlikely and quietly lucrative career when he relocated to California and became a bridge tournament organizer. Praised for his obsessive understanding of the game's rules and his genial manner as a referee, it also gave him the freedom to jump on Dead tour whenever and for however long he wanted, which was more or less always — plus Jerry Garcia Band and even Bobby and the Midnites gigs.
Clearly a head to the deepest core, MIKEL provides thoughtful commentary on the developing Dead world in a way that Relix rarely offered. "This Thanksgiving finds MIKEL torn apart," he noted in the 7th issue, under the headline "Should I Stay or Should I Go?" The Dead were set to go to Jamaica for the three-day Jamaica World Music Festival. "100 for 3 nights of music [about $265 in 2019 dollars] might be nothing to snort at for many Americans," he wrote, "but it does exclude virtually all Jamaicans." He skipped the shows.
Linah doesn't often use his platform for journaling, but his four-page dispatch from spring '83 captures the pre-cellphone serendipities of Dead tour, like a spontaneous party breaking out with "100 flower children out of time" in the parking lot of Boulder Dam en route to Las Vegas. In Sin City, "there were some heavy scenes," Linah writes, "particularly when a DEADHEAD won a jackpot and they wouldn't pay it out because of lack of ID." On an off day, Linah checks out Prince at the Universal Amphitheater. "Catch him if you get a chance," he suggests.
There are many ways for Deadologists to comb the 29 issues and supplements — for data, for anecdotes, for clues and connections. In some issues, Linah simply writes down the names of other Deadheads on tour, where they got on, when they went home, maybe where they were from. (I recognized one name I know: Tom Reid, source of cherished field recording of frogs and crickets that I still employ frequently.) (Hi, Tom.)
One can see how setlist annotation evolved, or even the language itself. Segue marks (the all-important arrows to denote segues) weren't commonplace yet, nor was referring to the second set freakout now recognized as "space." Dead cover bands are sometimes called "copy" bands. Mythology lurches outwards. The spring '84 tour issue includes a paste-up of an early telling of Doc Ellis's LSD no-hitter story, and one can imagine the meme radiating outwards from Hampton Coliseum, the Niagara Falls Convention Center, and the Dead's other stops that season.
Of particular note–and relevant to the continued popularity of the Grateful Dead in the 21st century, is the 1983 year-end survey–which includes an age chart of respondents. Surely Linah's distribution list provides some sort of unidentified biases, but 21-year-olds score disproportionately high, twice as many as any other age, with the respondents as a whole skewing from 17 to 26. While there's no sample size listed, it's clear that in 1983–18 years into the Grateful Dead's career–the band's fanbase continued to draw in young listeners. This would remain true all the way into the '80s and '90s, when sociologist Rebecca Adams conducted more formal studies, and seemingly beyond. The Dead's audience weren't (and aren't) just '60s or even '70s longhairs reliving their youth, but actual new youth.
The scattered pages of MIKEL also document the changes in the wind as the band's relatively cozy scene started to grow. There are the first worrying indications of massive drug busts on Dead tour, which would reach an apex later in the decade. In 1985, MIKEL includes the first listings that featured the mailing addresses of incarcerated Deadheads. With this pile of MIKEL, one can read 1984 as a pivot in the band's career, despite the offstage (and onstage) issues plaguing the musicians.

Linah raves about the arrival of the Dead's mail order ticketing system, which debuted that year. He notes the arrivals of CompuServe's Dead message board, as well as the first issue of The Golden Road, the new courtside Dead zine from the Bay Area (and corrects a few of their setlists). In the letters section that year, too, one can find the Amherst PO Box for Dead Beat, the precursor to Dupree's Diamond News. Both The Golden Road and Dupree's Diamond News–featured alongside MIKEL in the GDSets collection–would carve their own influential voices in the Dead scene and shape the critical discourse inside and outside the Dead community, eventually reaching newsstands nationwide.
And there in the fall '84 pages of MIKEL, too, is the arrival of the band's infamous officially sanctioned tapers' section, and a surprisingly philosophical note of discontent from the editor. "At first glance, it would seem appropriate to reserve areas & define conduct appropriate to them," he observes in part. "But what are we talking about here — a controlled DEAD concert?" For Linah, the Grateful Dead shows represented a fully open territory, and the idea of proscribing spaces was anathema to the trusting freedom and authentic anarchy the Dead were supposed to be about, at least in Linah's mind.

At least in its original form, MIKEL wouldn't survive to document the enormous changes that exploded across the Dead scene starting with Jerry Garcia's 1986 coma and miraculous recovery. Just below Linah's questioning note about taping is a slightly harsher update. "We Will Survive," it reads, quoting the band's yet-unreleased hit, "Touch of Grey." "MIKEL's been sick recently," it reports. "Hospitalized during the East Coast tour, too weak to make the Berkeley shows (sigh!)" Two more issues came out, the last in early 1985. The next update came in the fall, reporting that Michael Linah had succumbed to cancer.
Linah's friends continued the zine for a few years under the banner St. Mikel, and the MIKEL archive made its way to UC Santa Cruz. But 30 years later, issues of the original MIKEL are an info-rich dive for Deadhead time travelers. As the Dead's official archival releases continue to drill into the '60s and '70s, it leaves the strategic '80s reserve mostly untapped, a wild and wooly wonderland of harsh moments and total freedom. But even as the Dead could be musically inconsistent in the heart of the Reagan years, their shows remained an island of counterculture, and a friendly portal to any number of outside worlds. MIKEL isn't a map at all, but the territory at actual scale, no bus needed.
Jesse Jarnow is the author of Heads: A Biography of Psychedelic America (Da Capo, 2016), Wasn't That a Time: The Weavers, the Blacklist, and the Battle for the Soul of America (Da Capo, 2018), and Big Day Coming: Yo La Tengo and the Rise of Indie Rock (Gotham, 2012). He hosts The Frow Show on WFMU.
Hey now. You can help support independent media. Aquarium Drunkard has launched a Patreon page, which allows readers and listeners to directly support our online magazine. Patronage includes bonus audio, podcasts, printed ephemera, and vinyl records.