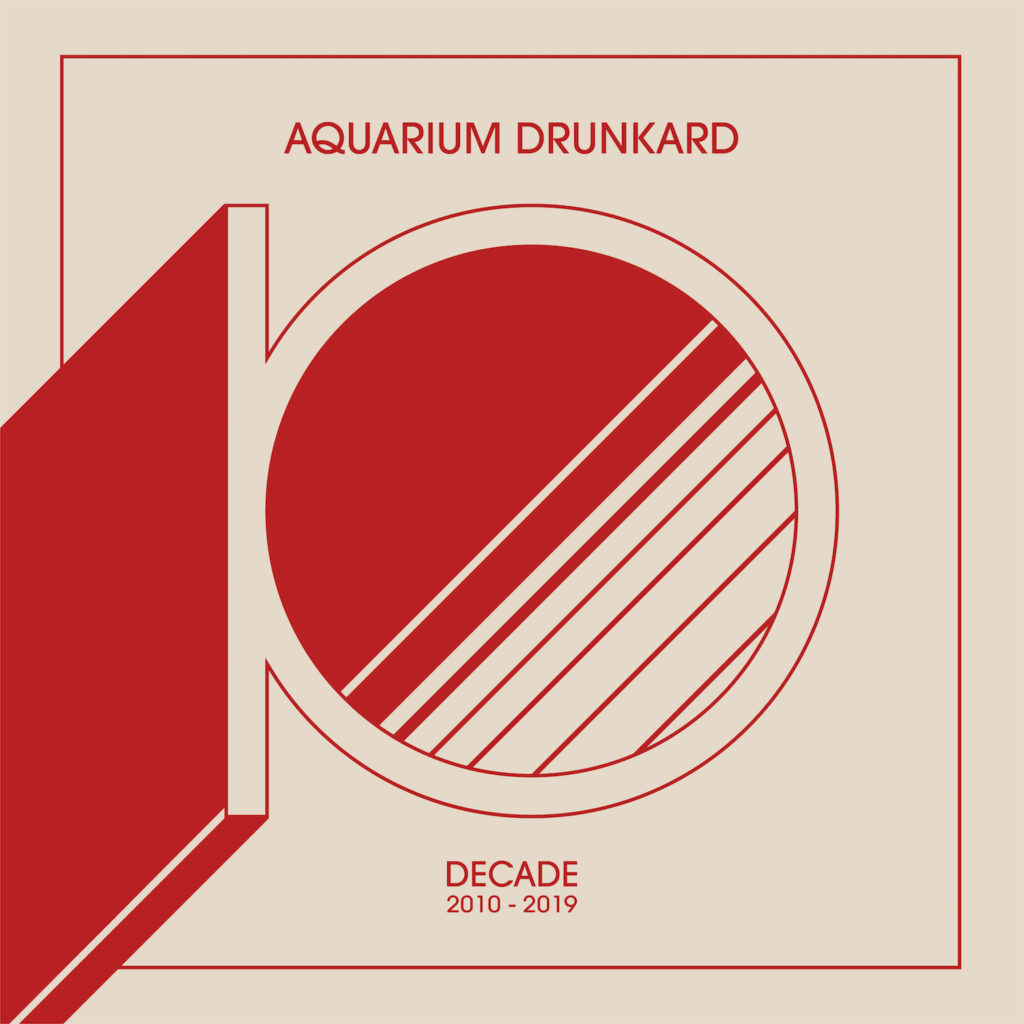 Well, that was fast. Decade is just about over, and as it draws to a close, its highs look awfully high in the rearview. Presented here, an unranked sprawl of 100 records that stuck with us, managing to break through the noise of an increasingly distracting age, and stick around in our heads. We've limited the list to one album per artist, in the interest of covering as much ground, but rest assured most here have other classics from the decade.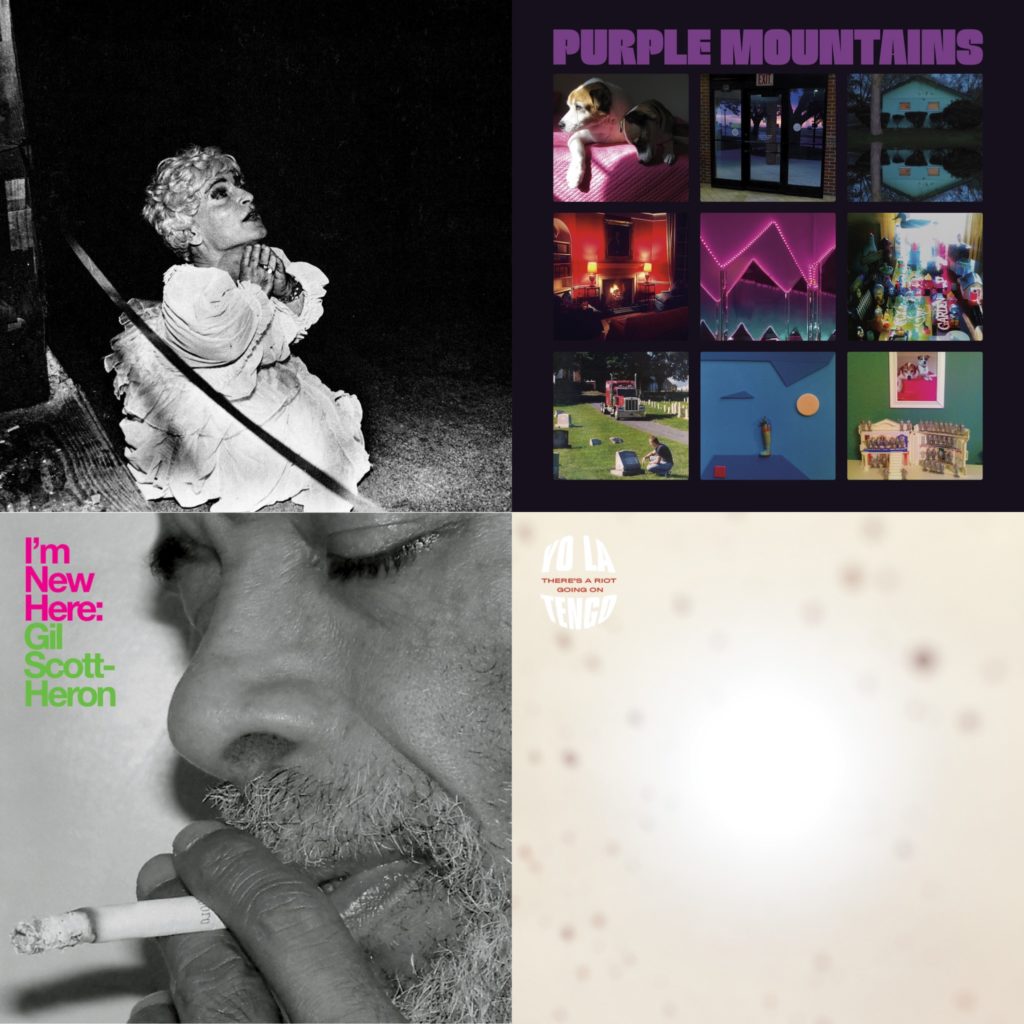 Released nine years into their career, Deerhunter's fifth album is their opus. Eleven tracks in 46 minutes, Halcyon Digest is the sound of aesthetic coalescence. A tempered transmutation of gauzy ambience, the record ebbs and flows as a fluid piece, buoyed by a subconscious undercurrent of emotional intensity. It's sonic collage of shimmering pop/rock, repetition, delay, noise, electronics, and folk, touching on myriad muses Cox and co. had chased via previous output. With Halcyon, the call was heard. And answered.
Purple Mountains :: Purple Mountains
It's hard to know where to begin in talking about the heartbreak of losing David Berman—it's a tragedy from so many different angles it's frankly overwhelming. But one thing in particular bears repeating: the lone Purple Mountains record is truly, objectively just a fantastic piece of music. Lyrically and musically a knockout in equal measure, Berman came back with ten songs that were beyond worth the wait—and that's really saying something for someone who made us wait ten years for them. Knowing what we know now—that he was struggling severely, that he was pouring his damn heart into this thing, that he was collapsing within the darkness and cold that surrounded him—completely restages what was already a landmark album before the context of it changed completely. As a return, it was a celebration. As a farewell, it's almost too much to bear.
Gil Scott-Heron :: I'm New Here
I'm New Here is quintessential Gil Scott-Heron: daring, reflective, clear-headed, clear-worded. It was to be the capstone to one of the greatest voices and writers of the American canon. Scott-Heron was, for the written word in the 20th century, a generational talent—in with the likes of Angelou, Elliot, Ginsberg, and Plath. But from Small Talk at 125th Street to I'm New Here, Scott-Heron never stopped creating musical works worthy of our rapt attention. He is nearly unparalleled, and severely unheralded, as one of the defining influences for music in the latter 20th century—and the second decade of the 21st. His entire oeuvre demands reverence and reexamination.
Yo La Tengo :: There's a Riot Going On
On their 15th studio album, Yo La Tengo turned the volume down, sending the listener into a landscape populated by spacious/spacey layers, tumbling looped rhythms and flickering balladry. But as its title hints, Riot is not placid. Even in its loveliest moments, there's a restless tension lurking beneath every note here, a perfect reflection of our restlessly tense times.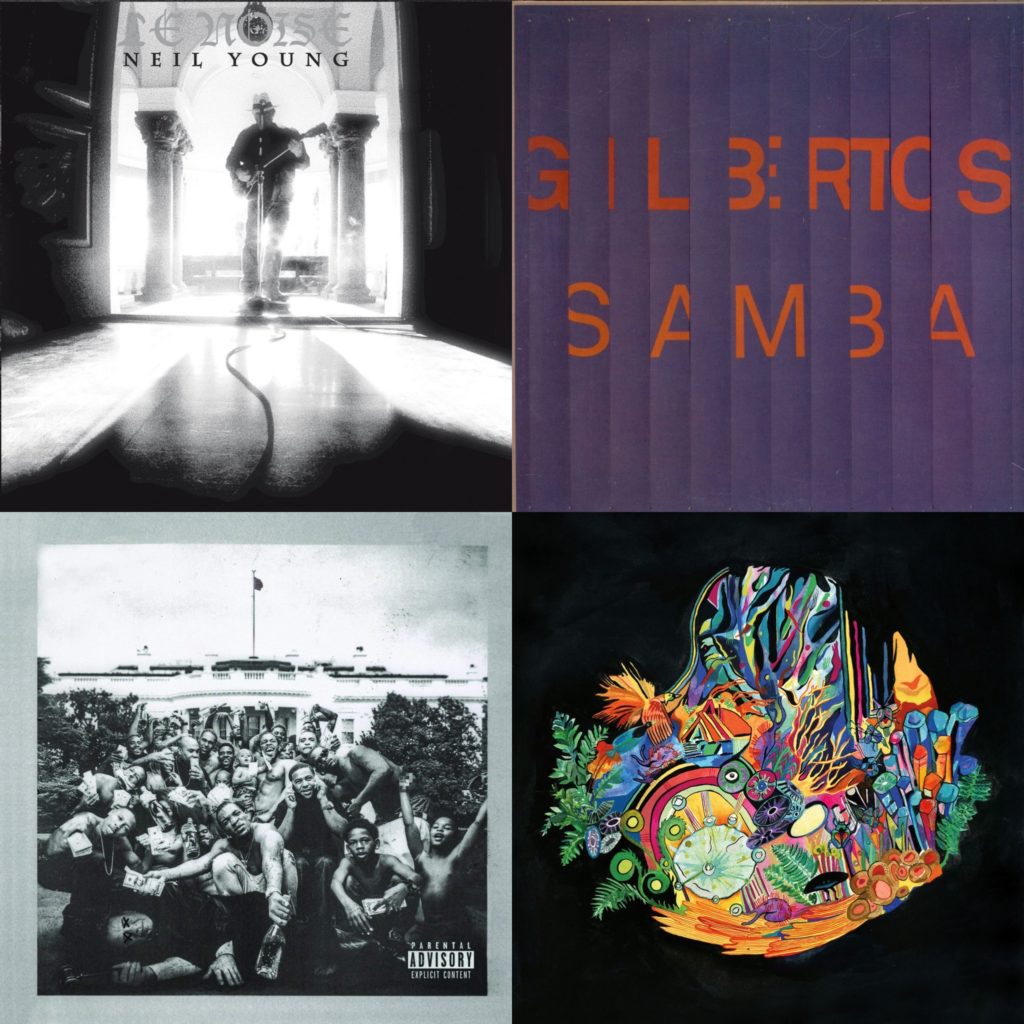 Recorded at Daniel Lanois' Silverlake home and studio, Le Noise was originally intended as an acoustic album. Instead it's one of Young's loudest—which is truly saying something. His Gretsch White Falcon roaring from two Fender Deluxe amplifiers, Young sings into what feels like an endless echo chamber. Lanois works the controls like Lee "Scratch" Perry, liberally applying effects and dubby layers. Listening to a record like Le Noise, you can hear while Young has remained so passionate about sonic fidelity in the streaming era: it's more than noise to him. He remains in love with the physicality of sound.
Gilberto Gil :: Gilberto's Samba
In 1981, when Gilberto Gil, Caetano Veloso, and Maria Bethânia were already established legends, they joined with the titanic João Gilberto for Brasil, where they covered sambas by Ary Barroso and Dorival Caymmi. In 2014, Gil repaid the favor, enlisting Domenico Lancellotti, Moreno Veloso, Pedro Sá, and more for an album of (mostly) João Gilberto covers. Gilberto's Sambas highlights Gil's incredible guitar playing—imagine Willie Nelson on a stutter-step beat—with subtle washes of synth and cymbal. An understated, off-the-cuff masterpiece.
Kendrick Lamar :: To Pimp a Butterfly
A sprawling meditation on money, race, power (and the lack of it), depression, anxiety, and transcendence, Compton's Kendrick Lamar delivers his parables with chaotic grace. Incorporating players from the modern jazz vanguard and G-funk legends, Butterfly provides a souped-up vehicle for Lamar's many voices, the trunk rattling underneath his extraterrestrial cadence, street preacher tone, torn garments and gnashed teeth howl. K-Dot's scope is wide but his focus is tight—he calls out the unjustness he sees in the world, but locates it within himself too. "Loving you is complicated," he heaves, speaking of his world, his God, and himself. Love is complicated work and it takes a lifetime to do its work. Lamar promises us—and himself—"I'ma do it 'til I get it right."
With her compositional background and trademark Buchla at her side, EARS marked the true arrival of an enormous talent that rightly deserves to be mentioned alongside her mentor (and collaborator) Suzanne Ciani. A dizzying and stunning combination of the organic and synthesized—human music music filtered through the computer age. Eleven-minute closer "Existence In The Unfurling" is the album's microcosm—processed vocals drift alongside the Buchla's ever-changing coloring while woodwinds (courtesy of Bitchin Bajas' Rob Frye) punctuate the air. Expansive and maximal, it envelops without overwhelming.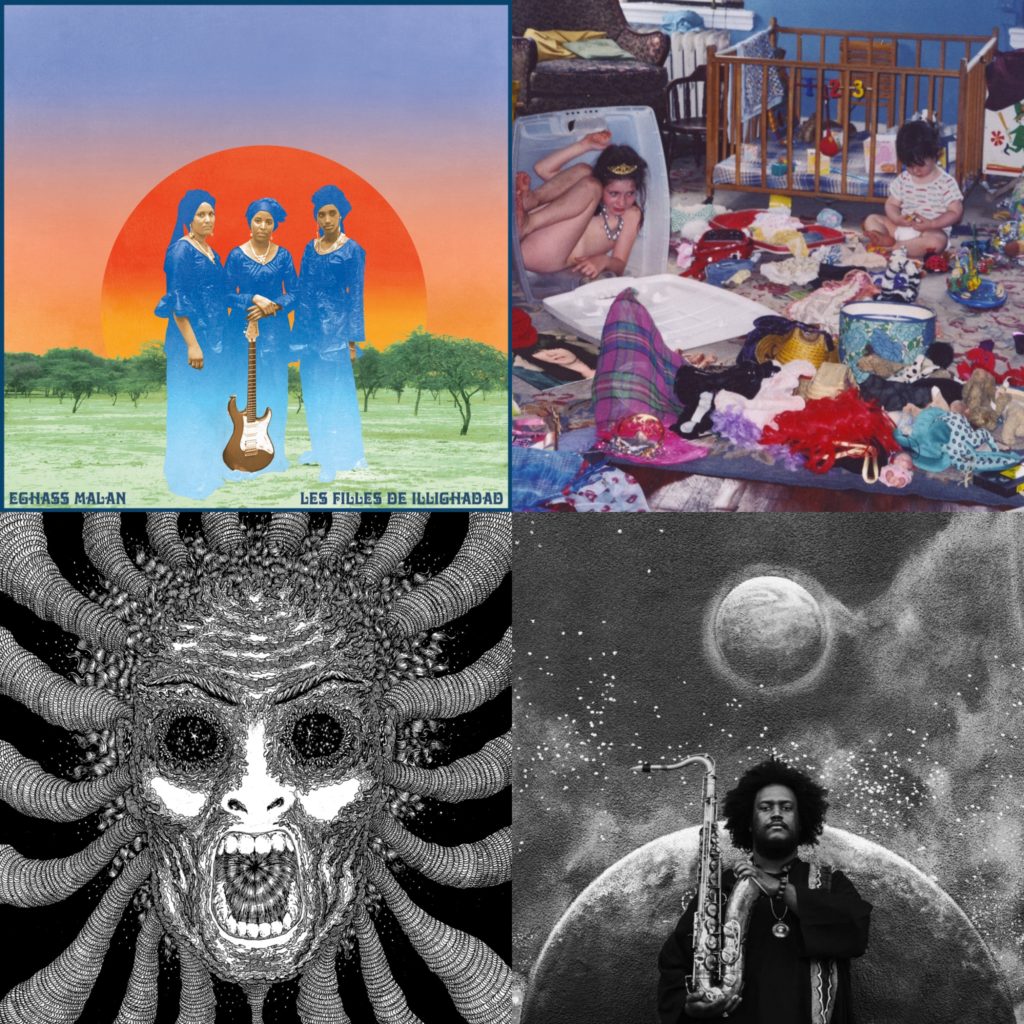 Les Filles de Illighadad :: Eghass Malan
Led by Alamnou Akrouni and Fatou Seidi Ghali, one of a very few female Tuareg guitar slingers, Les Filles de Illighadad weave a profoundly hypnotic and ethereal tapestry of tende and are bright stars in the Saharan sky.
Sharon Van Etten :: Remind Me Tomorrow
Remind Me Tomorrow is the one of the best encapsulations of the late 2010s that has been put to record. It's an album that walks in a hinterland between a murky and calmly aggressive indie world and a much more beat-forward pop one. When Van Etten sings "Sitting at the bar/I told you everything/'Holy shit,' you said/You almost died" on opener "I Told You Everything," you realize you're on a personal and engrossing trip with one of indie's newly canonical songwriters. In the ten years since her debut, Van Etten seems to be finding her most compelling voice yet; there's no better way to close out a decade.
Ty Segall Band :: Slaughterhouse
Ty Segall had his hands all over the confounding, shapeshifting last ten years of rock, consistently putting out excellent albums, with several of them, like Twins, Manipulator, or Ty Segall, being worthy of any decade-end list. But perhaps no other Segall release was better—or cut more to the core of his being—than Slaughterhouse, a joint product written with his workhorse of a touring band, just as they were establishing themselves as the hard-rock act to see in the early 2010s. Ruthless and invigorating, it's forty of the heaviest riffs and gnarliest screams put to tape during the 2010s—and with tracks like "Tell Me What's Inside Your Heart," it's also home to some of the catchiest.
This was a decade of increasingly meaningless adjectives, but The Epic more than lives up to its titular billing. While the album understandably positioned Kamasi and his band as heirs apparent to the spiritual jazz of the 1970s, they treat the 1938 classic "Cherokee" with the casual reverence you reserve for best friends you don't see often enough. Even when he lays into supreme overblowing à la Pharoah Sanders, Washington exudes a gentleness and warmth that turn this album's scope from a challenge into an asset.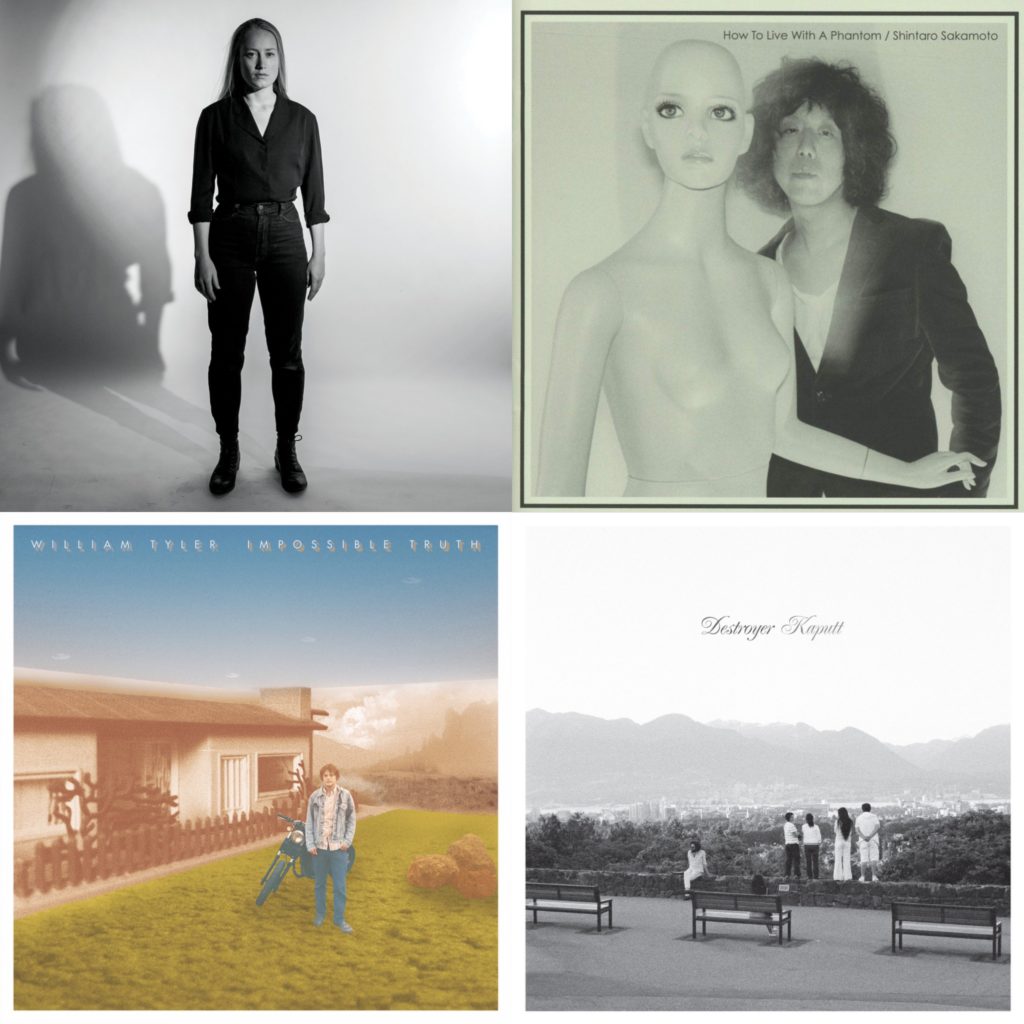 The Weather Station :: The Weather Station
Tamara Lindeman self-titled fourth lp is her boldest, most declarative yet, a rock record, she professes, in spirit if not sound. Addressing climate change and ambiguities both personal and political her folk songs articulate way it seemed old systems sputtered and failed everywhere. While many of her peers have retreated into escapism, Lindeman is motivated by the urgency of the moment. Here, she raises her voice even while whispering.
Shintaro Sakamoto :: How To Live With A Phantom
The album that keeps on giving—Shintaro Sakamoto's 2011 debut, How To Live With A Phantom. Following two decades fronting Japanese psych-rockers Yura Yura Teikoku, Sakamoto eased into second gear with Phantom, assembling a heady sonic quilt—one patched with nods to Euro-lounge, exotica, '70s crystalline pop, and funk. Masterful in both synthesis and execution, the record plays as (cliché be damned) timeless and out-of-time. Incredibly malleable, its 47-minute runtime works as well on the dancefloor as it does off. High praise, indeed.
William Tyler :: Impossible Truth
There aren't any lyrics on guitarist William Tyler's records, but that doesn't mean he isn't telling stories. The ones he tells on his Merge Records debut Impossible Truth center on the West Coast, inspired by two books (Barney Hoskyn's Hotel California and Mike Davis' The Ecology of Fear: Los Angeles and the Imagination of Disaster) he read while on tour. The American imagination—and the role the west plays in it—offers Tyler a wide landscape to roam, suiting the the tremolo-soaked "The Geography of Nowhere" and playful "Country of Illusion," while the overwhelming "Cadillac Desert" finds him reaching ecstatic heights. On the acoustic "The World Set Free," he evokes the balmy quality of classic Windham Hill records, beautiful, ornate, and baroque, before a quiet chorus of horns, drums, and electric guitar rises to join him.
On the carefully crafted Kaputt, Dan Bejar takes us on a tour of his seedy downtown haunts after last call. Dan Bejar's voice, as ever, is the linchpin, intoxicating and ever so slightly mad as far-off nowhere horns and street-wet synths pull the landscape in around his words. His Steely sheen and cryptic lyrics brighten dark corners, sending "a message in a bottle to the press," reading "Don't be ashamed or disgusted with yourselves." Even more impressive…this album pre-dates the current wave of neo-indie soft rock—and it's certainly the standard-bearer.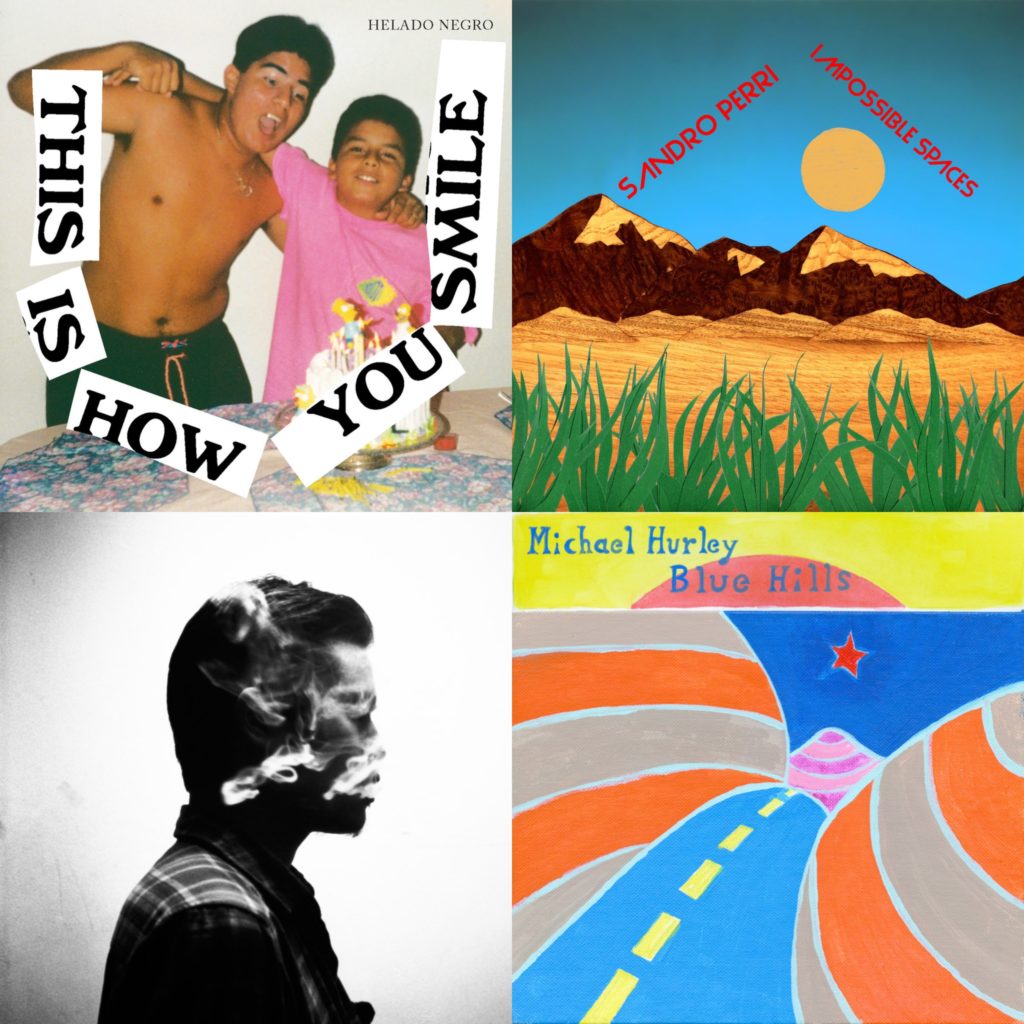 Helado Negro :: This Is How You Smile
Helado Negro's instant classic album This Is How You Smile was inspired by Jamaica Kincaid's short story "Girl," a complex tale about stereotypes and societal restrictions. The album seamlessly mixes psych-pop and Latin folk, bouncing between English and Spanish. A true expression of his background and art's ability to blur lines and constructs. Roberto Carlos Lange is proud of the way he looks and what informs his approach.
Sandro Perri :: Impossible Spaces
Sandro Perri entered the new decade on an elevated plane of sound and vision. Impossible Spaces marked a massive departure from the languid, lo-fi, dusty folk of his previous records, lightspeed jumping into astral jazz-pop. With songs exceeding the ten-minute mark and often changing keys, tempos, and melodies without warning, Perri hasn't stopped experimenting with and deconstructing his songwriting craft since.
Screeching and scratching through a dim tunnel of primitive no-wave, greaser ballideering, and post-punk rage, Alex Zhang Hungtai's fourth album under the Dirty Beaches banner revealed a flair for Lynchian noir and haunted romance, rumbling down the backstreets like Suicide, floating by on Françoise Hardy pianos, and bolstered by the promise of young love, it also indicated Hungtai's restless fluidity and shape-shifting nature.
Essential late period Snocko, released fifty-five years after his debut but every bit as casually magic as the best of his vast discography. Six sparse and unhurried songs, split between pump and electric organ, and his homespun Jimmie Rogers guitar playing. Rambling back to where it all began, "Tea" collapses times and breathes new life (with a new, old voice) into a First Songs classic, while highlight "The Corridor" shows off some new moves—a staggering seven-minute pump organ dirge that epitomizes Hurley's beautifully refracted folk music.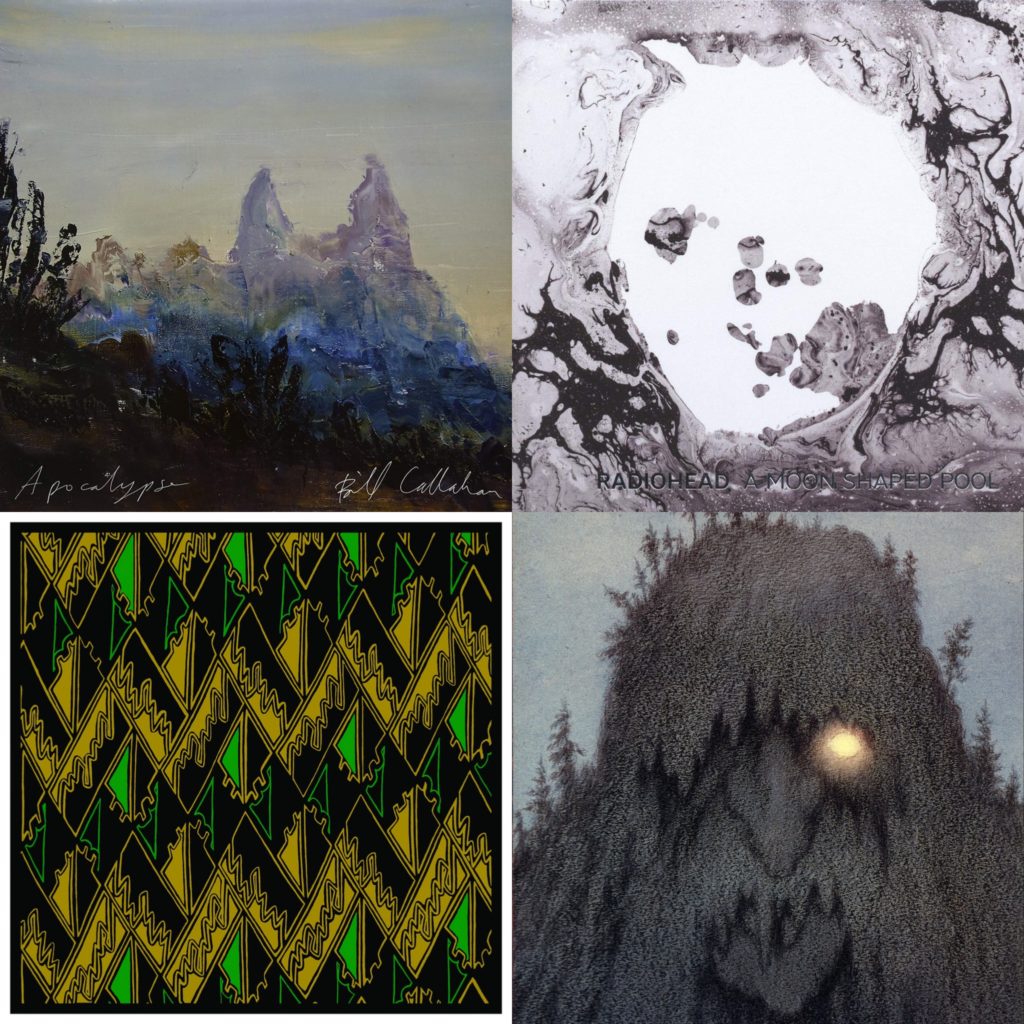 At its root, the word apocalypse doesn't signify a climactic ending so much as an uncovering or revealing. For Bill Callahan, those revelations play out in both wide open spaces and quiet moments. He paints monuments to both on Apocalypse, and in the details, he tugs at the concerts of our age. His loping "Drover"—the strong, silent type—winks at the deep shadows of this "wild wild country" as he passes through, and songs like "America" and "Riding for the Feeling" slyly forecast the nightmarish malaise that is always so close at hand in 2019. "Everyone's allowed a past/They don't care to mention," he sings. Are they?
Radiohead :: A Moon Shaped Pool
However reasonable or unreasonable it was (hint: it was very unreasonable), it seemed that expectations were a little more tempered for the future of Radiohead after The King of Limbs failed to change the world the way that In Rainbows did. But when A Moon Shaped Pool arrived, on Mother's Day in 2016, it was immediately back to business as usual: Radiohead will save the Earth. Both a showcase of the band at its most restrained ("Daydreaming") and in full Super Saiyan mode ("Ful Stop"), it's one of the most stunning collections the band has ever put to tape, capturing everything about them that's special while also pushing them somewhere new as well. No alarms and no surprises.
Joshua Abrams and Natural Information Society :: Simultonality
A totally absorbing trip that brings to mind many great spiritual jazz masterpieces from the past, without feeling remotely like an exercise in nostalgia. Joshua Abrams and his Natural Information Society have been Chicago underground jazz fixtures for years now—and this 2017 LP was the perfect place to hop on board, with hypnotic rhythms, transportive vibes and deeper-than-deep interplay.
"My vibe is severe — and my intentions are unclear!" Endless Boogie frontman Paul Major exclaims on his band's radical 2013 LP Long Island, which is likely this decade's most purely satisfying rock 'n' roll listening experience. The first part of Major's line is very true. But Endless Boogie's intentions couldn't be clearer — it's all there in the name. This is a record that demands to be cranked up as high as your volume knob will allow.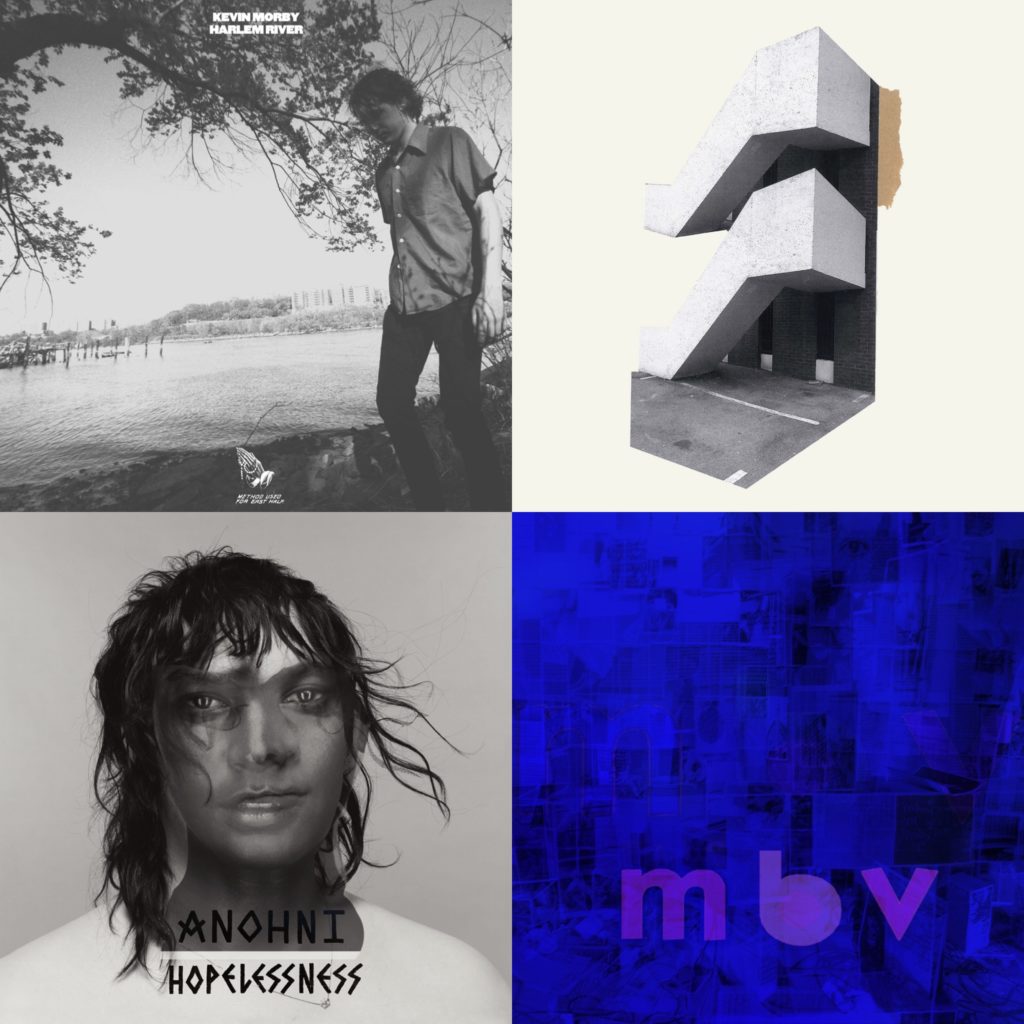 In the late autumn of 2013, Kevin Morby quietly released his solo debut, Harlem River. Comprised of material that had been gestating over the years while handling bass duties for Woods (and co-founded the Babies), the record scans as a love letter to wanderlust, youthful ambition, and a host of Morby's musical heroes. While subsequent records have witnessed Morby's continued growth and maturity as a songwriter and performer, his debut remains singular—one imbued and infused with the ineffable of magic of the unknown. As a debut, it acts as both a concise statement, and artistic blueprint of things to come…
Damien Jurado :: The Horizon Just Laughed
Damien Jurado spent the decade in fruitful partnership with producer Richard Swift, conjuring up a series of albums that took Jurado's street-wise folk songs into spacier and psychedelic realms. The Horizon Just Laughed, released after the tragic passing of Swift and produced by Jurado himself, leaves behind the UFOs and mystery figures of his Swift quadrilogy behind, but not those records' dream logic. Weaving together tales of Peanuts creator Charles Schulz in conversation with his own creation, the ravings of deranged gunmen taking to the airwaves, and departing the Pacific Northwest for Los Angeles, The Horizon Just Laughed aches and generously gives—it's Jurado at his most distilled, heading out for new territory.
Poetry of the Anthropcean. How does one begin to reckon with the profound violence of drone warfare, environmental collapse, and worldwide torture? Perhaps like this, with music so heightened and overwhelmingly beautiful that it forces all attention toward it, rendering the listener unable to turn away. ANOHNI has always sung about the immensity of human experience, here she builds monumental epics to the idea of life itself being snuffed out. Over the blissful electronic swelling of the album's final song, "Marrow," she sings, she envisions humanity itself as a cancer afflicting the Earth. "We are, we are, all Americans now," she intones, a quiet and terrifying admission of guilt and unfettered consumption.
1991's Loveless established a romantically smeared template for shoegaze to adhere to in its wake, while its architect Kevin Shield and My Bloody Valentine largely retreated from view. Built on initial sessions from 1997 and expanded on before the band's triumphant return to live stages in 2007, M B V largely sidesteps the conversation about whether or not Shields and company could "top" Loveless. Instead it simply offers nine lovely new drenched in fuzz and romance, woozy, vital, and lingering.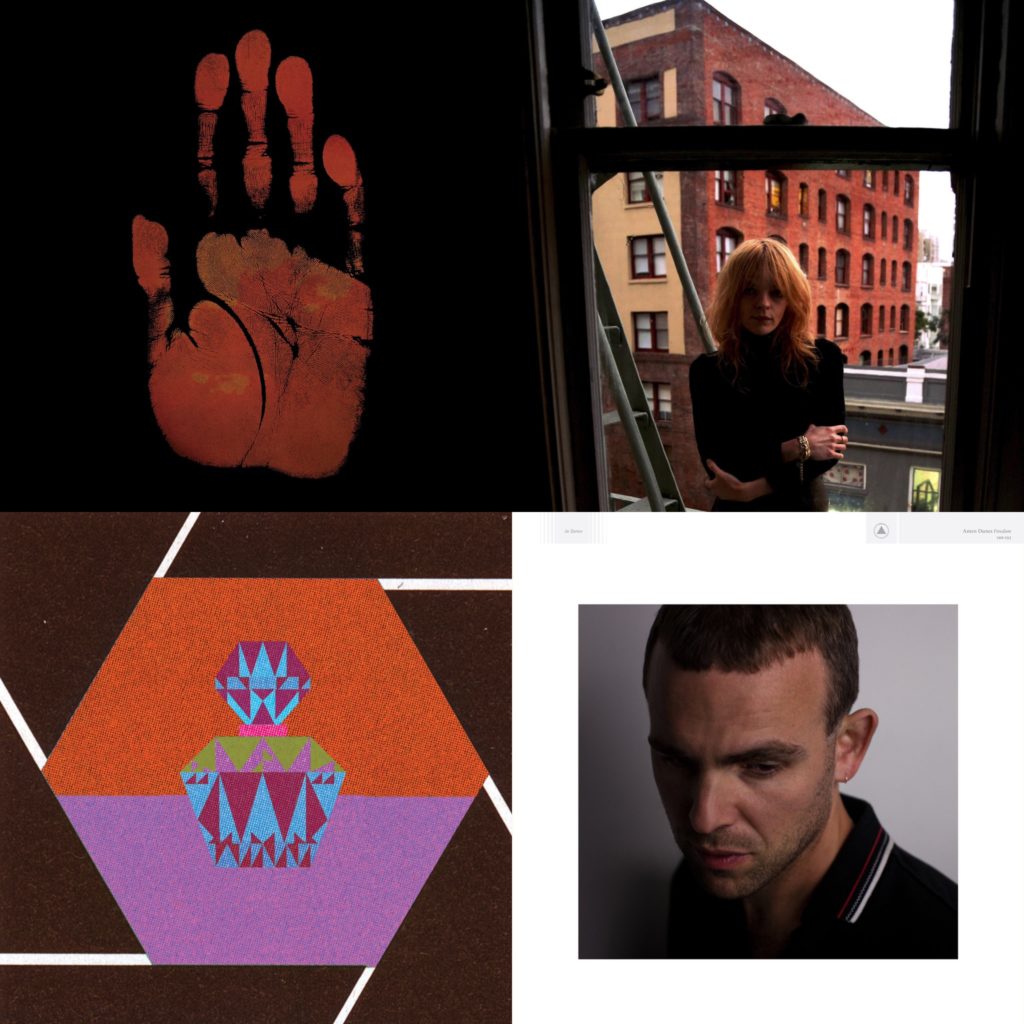 Hiss Golden Messenger :: Bad Debt
Though Hiss leader MC Taylor would go on to lead the group to ecstatic fusions of country rock, folk, and swampy funk, Bad Debt presents his songs in the most naked light. Recorded to cassette while his newborn slept, most of the album's songs would be adapted with a wider cast on subsequent records Poor Moon and Haw. Those versions cook too, but there's something about the personal space on this one that echoes deepest. Facing down fears, pondering his place in the universe, and sketching out Southern Gothic epics in miniature, Taylor sounds over and over again like a man whose path has been revealed. He's still on it.
Jessica Pratt :: On Your Own Love Again
Jessica Pratt casts such a bewitching spell that it's easy to lose touch of how simply arranged her songs really are: For the most part, her music is just her and a guitar (and maybe a little fairydust). That approach didn't exactly represent any kind of trend in the 2010s; her success and acclaim is rooted purely in the strength of her songwriting, and the pure charm of her performances, which feel like being right there in the room with her, Tascam rolling on a desk next to the bed. Of her three albums, On Your Own Love Again in particular feels the most like magic—or the closest thing you can come to capturing magic, anyway, from the cements depths of a Los Angeles apartment.
Originally released in two installments, Family Perfume could be easily be described as the most ambitious project Tim Presley has ever undertaken as White Fence—and likely ever will. At over 80 minutes in length, everything swimming around in Presley's paisley-wallpapered brain is represented here: spastic electric freakouts, gentle acoustic romps, smatterings of warbling tape hiss. But more important than its length, however, is its quality. Taken together, this collection represents some of the finest White Fence material to date—not to mention some of the finest DIY music this side of Dan Treacy's unpaid bar tab. "Want a good sleep?" Presley sings on "A Good Night." "Then wear these shoes." Don't be a fool; listen to the man.
Damon McMahon's psych-folk project Amen Dunes has outlined a gospel of weird over the past decade. With Freedom, he offered up his tightest collection of grooving musings on life—aspects good, dark, and everywhere in between. The melodies here float in the cut and prove hard to shake. It's a rare lp—equally listenable during a late-night comedown or with your Sunday morning coffee.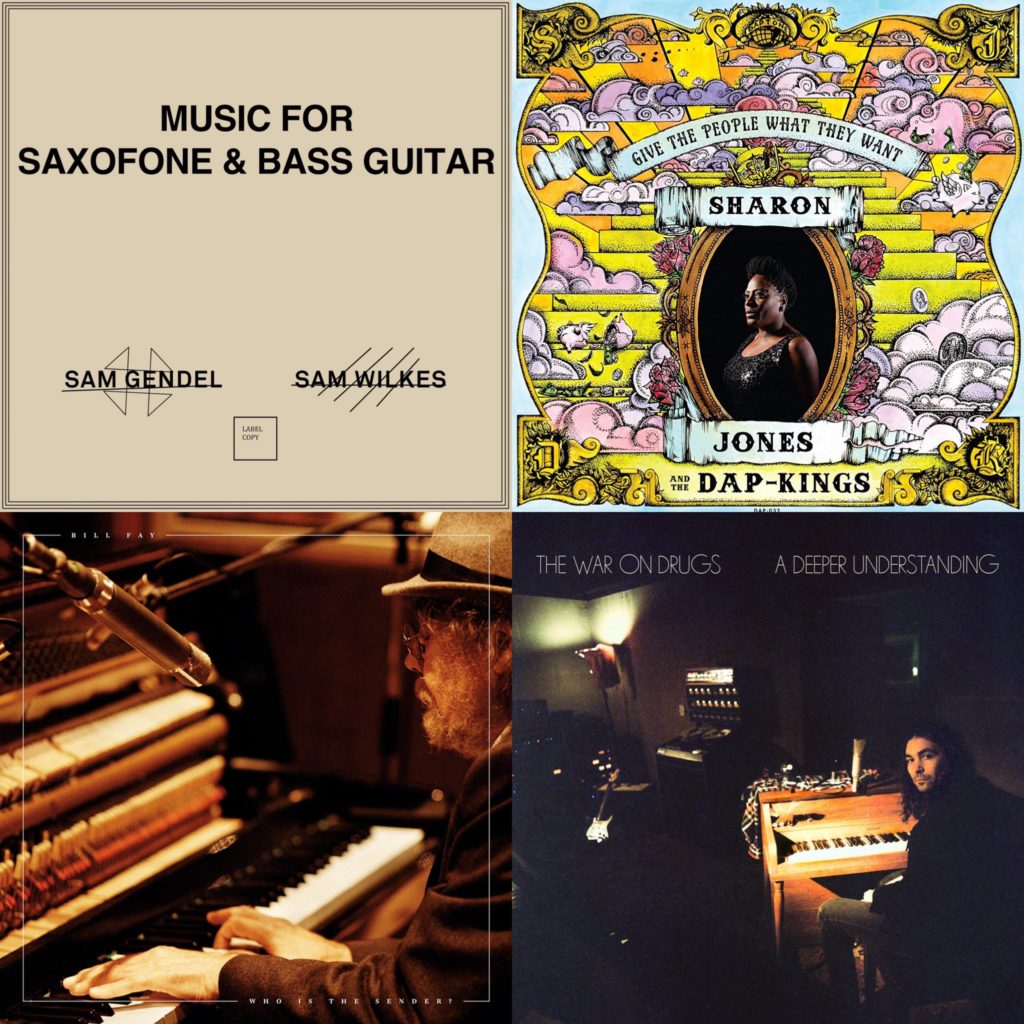 Sam Gendel & Sam Wilkes—Music for Saxophone and Bass Guitar
Forerunners of a new LA jazz scene, both Gendel and Wilkes have made brilliant records in their own right, it's this joint effort that strikes the most singular and forward-looking tone. In what feels like an off-the-cuff jam session/honey-slide hang, Gendel and Wilkes cast foggy microclimates of jazz, hip-hop, and ambient sound that feel like they were accidentally transmitted from the future.
Sharon Jones :: Give the People What They Want
The Daptone crew brought old school soul music back to life in the 21st century, but Sharon Jones voice gave the sound its spirit. Music aside, her career is extraordinary: she released her first record at age 40, and through the power of her performance she became a mainstay on the touring circuit, festival stages, and independent charts. Give the People What They Want dropped after she had won a round against pancreatic cancer. Indefatigable, Jones was quick to return to the stage, more incendiary than ever. Although the cancer would return and take her in 2016, we can remember her clearly in the triumphant grooves that open this record: "Retreat!"

Bill Fay :: Who Is the Sender?
In the 1970s, Bill Fay expected the apocalypse. Forty years later, with life on earth persisting despite the apocalypse's best efforts, he released a pair of gentle folk records—2012's Life is People and this one—that are no less concerned for the future of the planet. Unlike any number of Christian prophets before him, Fay knows that in order to understand the horror that comes with the loss of everything, you also have to understand the value of everything in the first place. Who is the Sender? is a gorgeous drift through a world as enchanted as the one imagined by Gerard Manley Hopkins, and no less in danger than the one Fay prophesied on Time of the Last Persecution. Now, though, we're in charge of our own undoing.
War on Drugs :: A Deeper Understanding
"I want to find what can't be found," Adam Granduciel confesses early on War on Drug's fourth album. Here, he continues his quest to play the studio like an instrument, layering guitars, pianos, horns, and synths over his driving heartland rock, but his search isn't purely sonic. Granduciel's after mystical truth, and he's enough of a romantic to understand that that the beauty is in the getting there. He's out on the same highway Neil Young, Springsteen, Petty, and Mark Hollis rolled down, chasing the same hopes. "Love is like a ghost in the distance…travel through the night because there is no fear."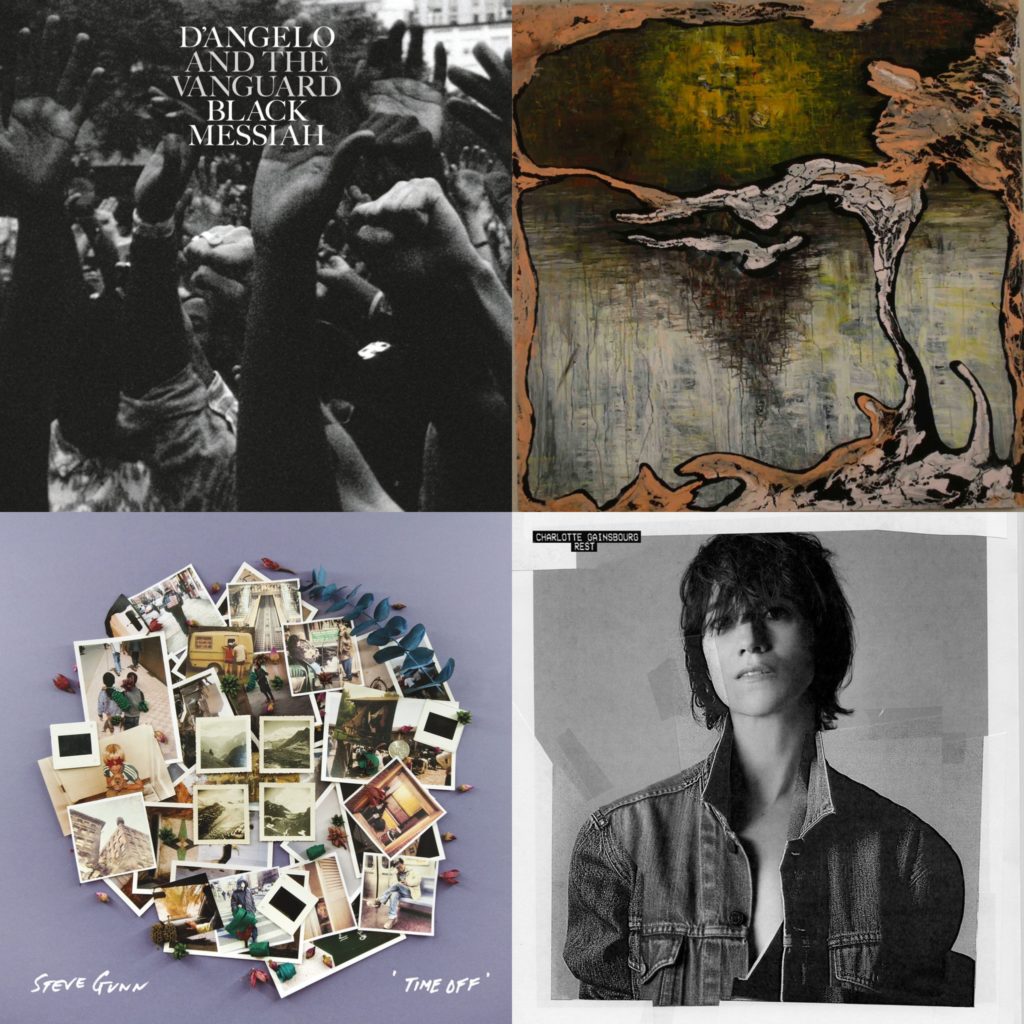 This is no Chinese Democracy. D'Angelo's followup to Voodoo took 14 whole years, but even more surprising than how relevant each song felt when it dropped with little warning in late 2014 is how loose and spontaneous the album felt. From punk-paced acid rock ("1000 Deaths) to NoLa strut ("Sugah Daddy) to Huff and Gamble lushness ("Another Life"), Black Messiah presented D'Angelo as a returning hero with nothing to prove.
Over the past ten years Julian Lynch has quietly released some of our favorite records, notably the consecutive punch of 2010's Mare and its follow-up, Terra. With a PhD in ethnomusicology Lynch has long pulled from various strains of textured sound. Recombinant, his DIY albums play as seamless amalgamations of swirling ragas and folk drones, with nods to the early ECM output of Jan Garbarek, Collin Walcott, Ralph Towner, and beyond. And yet there is something undeniably American in his work, sonically recalling the vibrant visual expressionism of American folk and outsider art.
Though his collaborations with—with Mike Cooper, Hiss Golden Messenger, Kurt Vile, Mike Gangloff, the Black Twig Pickers, and his guitar/drum duo with John Truscinksi—have all been masterful in their own right, guitarist Steve Gunn most impressively emerged this decade as a singer/songwriter. His rolling melodies, owing equally to jammy American rock and English folk, drift over understated boogies and strolls—his voice, husky and full of heart, echoes out like JJ Cale at his spaciest.
Sung mostly in her native French, and penning the majority of the album's lyrics, Rest finds Charlotte Gainsbourg in top form throughout. While the album's lyrical context and content are shadowed by the tragic 2013 death of her sister, they are coupled with the lush production of French producer/dj SebastiAn. Her fourth album in twenty years, Rest marks the multi-disciplinary artist's best work to date.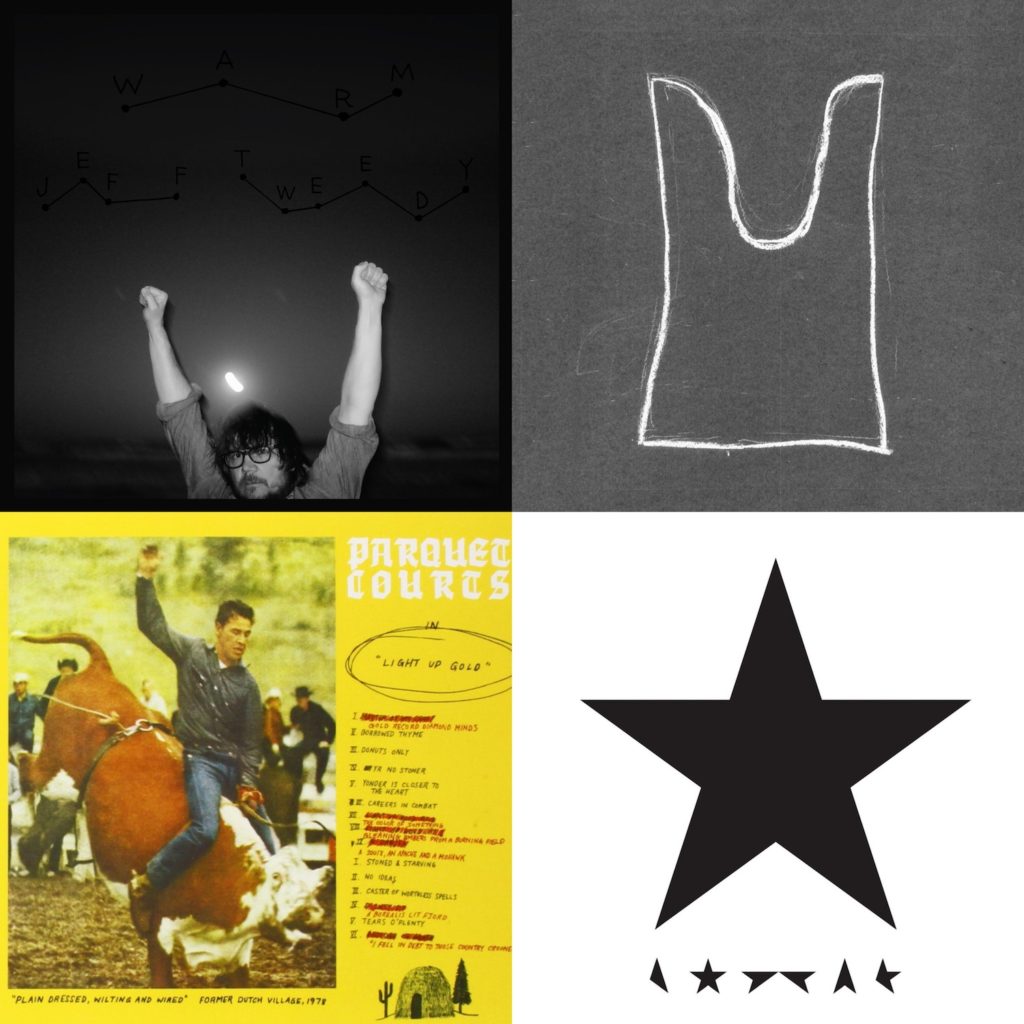 Opening up has proved good for Jeff Tweedy. Writing an autobiography put the Wilco leader in the position of having to truly examine himself, and the emotional work he put into the project shows on not only Wilco's records—the group's Ode to Joy is perhaps their best since A Ghost is Born—but in Tweedy, his side project with his son Spencer, and his first ever solo record, WARM. Like the steadying hand of a friend on your shoulder, it's a generous and giving record. When Tweedy sings "I know what's it's like," it's clear he does.
As one third of Dirty Three and on performances with Cat Power, Bill Callahan and countless others, Jim White has long been known as one of the most distinctive drummers on the scene. But he outdid himself on Xylouris White's sophomore lp, a master class in percussive brilliance and imagination. White's partner George Xylouris is no slouch either, delivering shattering lines on his eight-string laouto, and singing in the voice of an angry, old god. On Black Peak, this inimitable duo invented a new musical language.
Parquet Courts :: Light Up Gold
Before it was an everyday thing to talk about how relentlessly capitalism and technology were mangling our minds—before Twitter was big, in other words—Andrew Savage, Austin Brown, Sean Yeaton, and Max Savage threw together a knotty declaration of exhaustion and anxiety. Dense as a grad thesis and wiry as Stephen Malkmus' guitar tone, Light Up Gold established Savage and Brown as the sneaky-best songwriters of their generation. What, you thought "Stoned and Starving" was about weed?
Released two days before David Bowie's death in 2016, Blackstar is the final record by a musical icon who wore many faces, and it sounds like the accumulation of all of his rambunctious personae. The record—like his passing—seemed to come from nowhere, because for half a century, Bowie, naturally, mysteriously, was always there on the scene. Like some particle accelerator racing with love, life, death, and resurrection, Blackstar catapulted our Starman from this world into the celestial infinitude from which he came…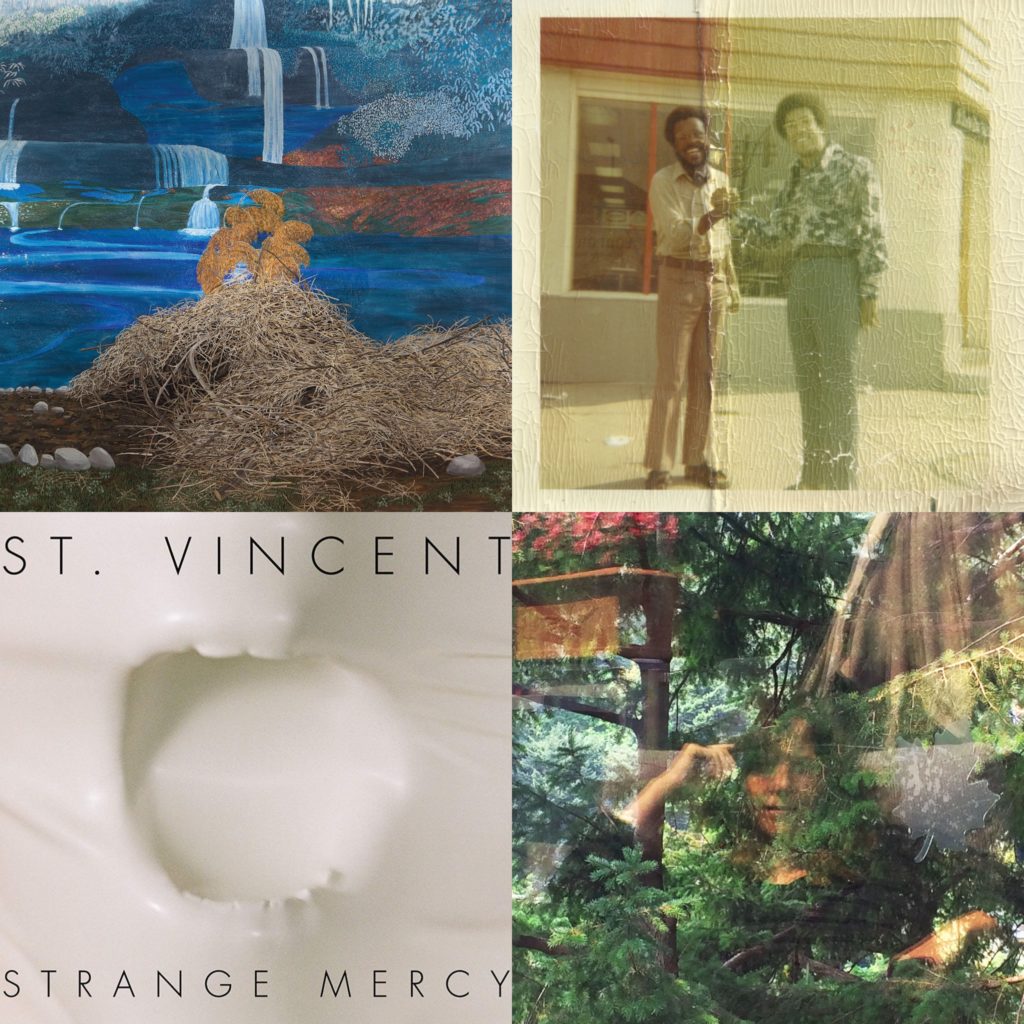 The definitive solo statement from the harp explorer who's already collaborated with a ridiculous list of musicians (Kurt Vile, Meg Baird, Thurston Moore). A loping travelogue from Joshua Tree to Hoover Dam, on the open highways of memory and solitude. Her circular harp (along with effects and embellishments) is equal parts soothing and haunting. Lattimore's work has continued along a path of soulful growth, but this is her best so far: elegiac, searching, a work of profound voice.
One of the more forward-looking labels to emerge from this decade is Chicago's International Anthem. Jeff Parker, a backbone member of both Tortoise and the improvisational Chicago jazz scene at large, provides something like label's thesis in his record, The New Breed. Originally conceived around a collection of old vinyl sampling sketches, Parker and his band positively ooze cool in a fluid and understated form, fusing styles and substances that are as mysterious and brooding as they are vibrant and urbane.
Annie Clark's ascendancy to pop's upper chambers has been impressive and deserved. A Bowie-esque figure, routinely challenging structure and mode, she's reinvented her presentation for each release—few artists reach the mainstream and continue to push ever further into more adventurous territory. Strange Mercy is replete with sweeping, metaphorical lyricism and bang-up instrumentation. Strange Mercy feels like the tipping point, solidifying Clark as a provocateur and bona-fide badass.
Jennifer Castle :: Angels of Death
Jennifer Castle's most remarkably potent and poetic work to date, Angels of Death finds the Canadian songwriter staring down mortality with a country-soul grace both elegiac and celebratory. Her songs mourn and rejoice, embracing the transformation of time, the eternal constellation of growth and decay and growth again. Castle channels the lunar radiance of Emmylou Harris and the heartfelt barroom blues of Jimmie Dale Gilmore, quietly gleaming with a rustic beauty and a deep, patient understanding of the mystic.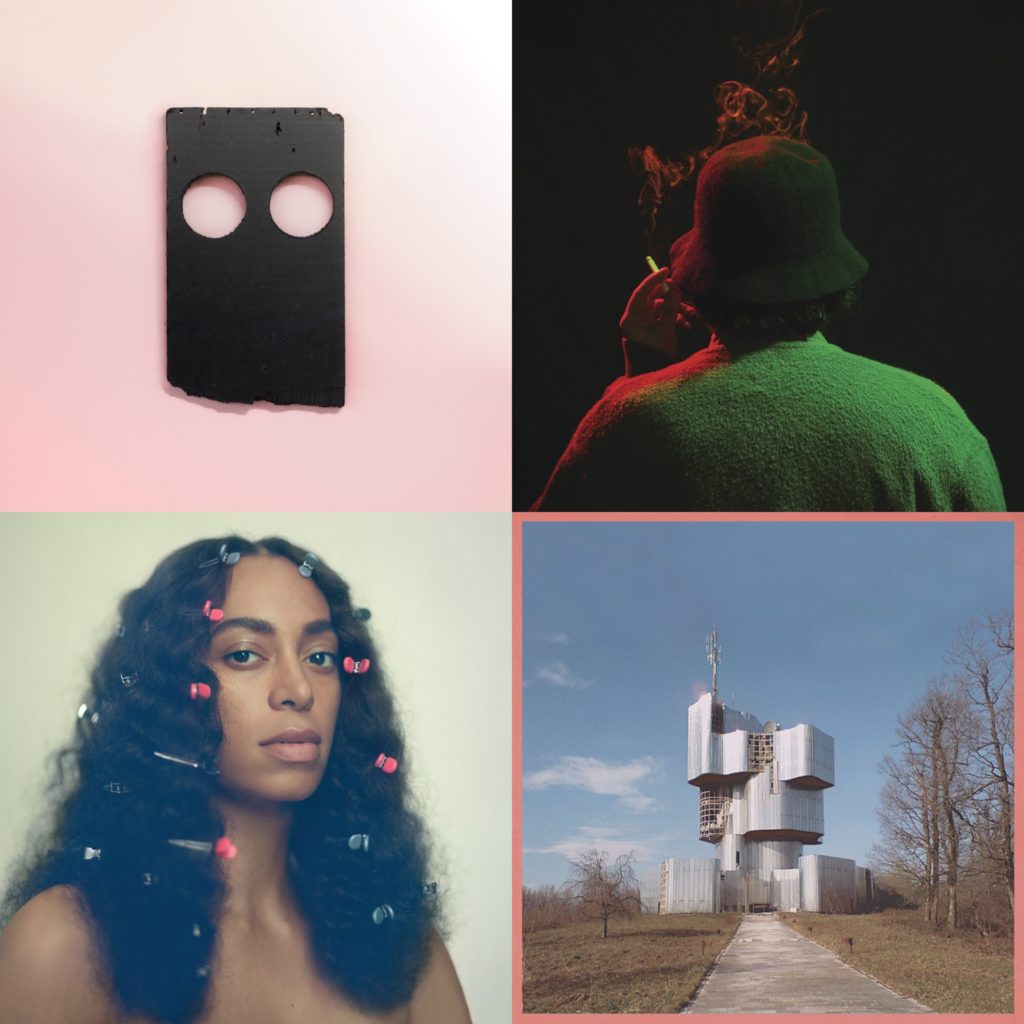 Alan and Mimi Sparhawk have always sung about cracks in the facade, about the secret truths we only whisper. It made them fitting voices for Our Present Moment, in which all pretense of order was blown up, and ugly, unavoidable truths demanded to be stared down. Recorded at Bon Iver's April Base compound in Wisconsin, the album found the trio—who've spent the last two and a half decades maturing from masters of slowcore grace to an ascension as one of the most important rock bands of their blanketing gorgeous melodies in hiss and clipped soundwaves. The distortion underscored the point: when civility and decorum dissolve, you're going to need to uncover something real if you want to stay standing.
The life and work of Jim O'Rourke has proven to be difficult to wrap your head around—and that's likely by design, given that he's rejected almost every traditional approach to having a career in music. (He's gotta be the only post-'80s member of Sonic Youth who could likely stroll through a record store undetected.) Rourke has spent the last decade releasing a staggering number of dense experimental releases, but the appeal of Simple Songs is, well, simple. All candy-sweet melodies and impeccably engineered guitar squalls, it's a breeze to listen to. But then he sings, "I'm hard figure out," on "Friends With Benefits," and we're back where we started.

Solange :: A Seat at the Table
A powerfully charged vision of black identity and the black experience in America, the inventive grooves of A Seat at the Table, convey a wide swath of emotions, from frustration to joy, from ebullience to rage. Leveraging a maverick array of collaborators to help bring her vision to life, Solange emerged as a singular talent and voice with this album. "Don't let anybody steal your magic," she sings, but it's clear no one beside her could cast this particular spell.
Unknown Mortal Orchestra :: UMO
Has any other band this decade arrived so fully-formed and without warning as Unknown Mortal Orchestra did on their 2011 self-titled debut? The band has grown leaps and bounds in the years since, but way back then, they captured imaginations with a wholly unique sound and aesthetic, a cryptic, subterranean juggernaut of bedroom garage-funk and psychedelic-soul that seemed to hail from someplace beyond.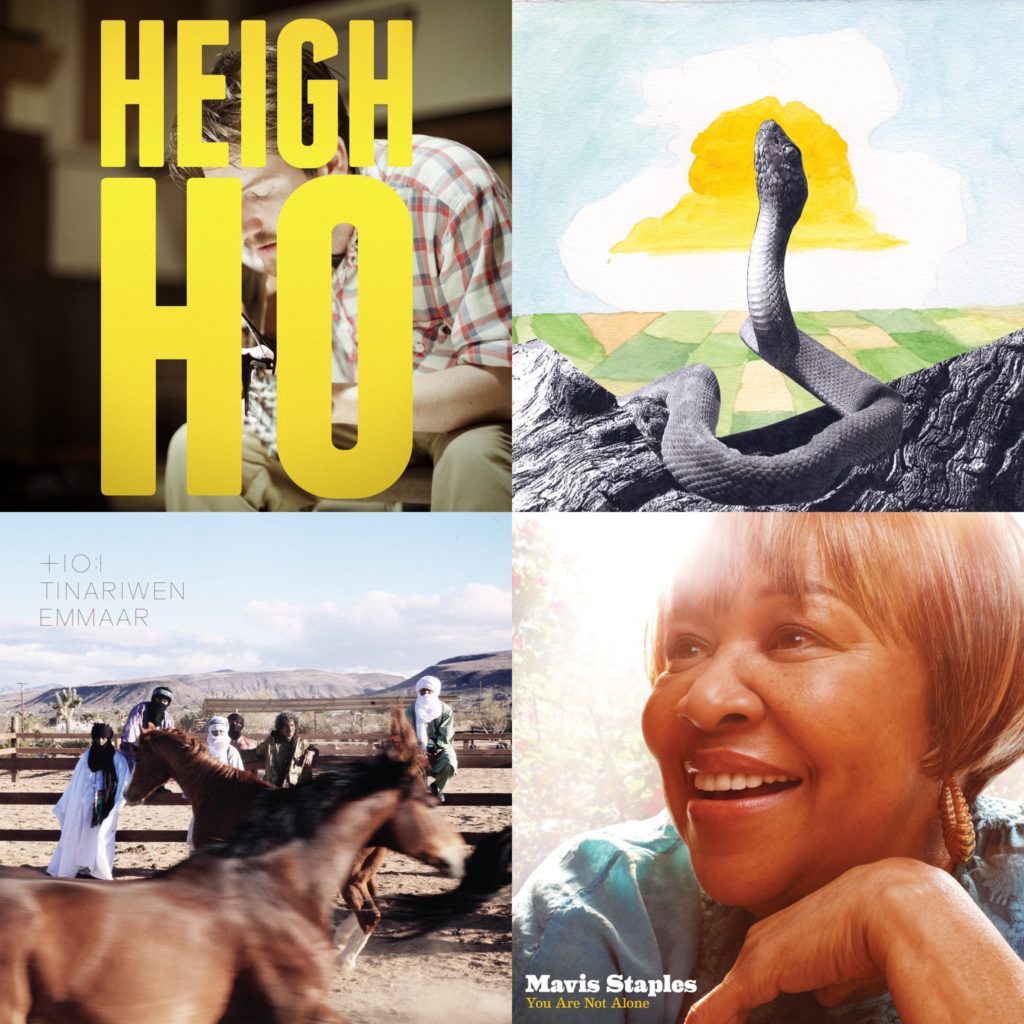 Blake Mills' second album pairs strings with dissonant feedback, slow-paced acoustic guitar meditations, and electric folk blues. His songwriting is classic and warm, and his voice possesses bittersweet humor, equally generous and caustic. Though he made his mark primarily as a producer in the 2010s—working with names like John Legend, Fiona Apple, and the Alabama Shakes—his songwriting hinges on palatable vulnerability. He opens the record questioning his own worth, and the record's highlight, "Don't Tell Our Friends About Me," accepts a level of brokenness rarely seen this side of Randy Newman and Warren Zevon.
Woods (Jeremy Earl and Jarvis Taveniere) produce music at a rapid clip. While their lo-fi, sunshine psych is instantly recognizable and largely quite accessible, their body of work can be daunting for the novice. Bend Beyond provides the perfect place to start. Here, you'll find a tight 12-song set of vernal, canyon rock drenched with polished melodies and wavy rhythms, while Earl's falsetto sends it all home.
Tuareg guitar music—the "desert blues"—is a tradition that was forged in exile and out of conflict. In 2019, Tinariwen will have been a band for 40 years, an intergenerational affair anchored by singer and guitarist Ibrahim Ag Alhabib's peace poetry. It seems important, then, to pay special attention to Emmaar, Tinariwen's first album made outside Africa due to the extreme and violent political instability across the Sahara at the time. Instead, the band recorded in another desert—in the high desert of Joshua Tree—and summoned fiercely impassioned songs for their home half a world away.
Mavis Staples :: You Are Not Alone
When Mavis Staples says you're not alone, it's hard not to believe her. This has been true for decades, obviously, but her 2010s run of records with Jeff Tweedy introduced her to a new audience and allowed Tweedy to indulge in the kind of secular-gospel borderplay that he'd always had to sneak in to Wilco records. That's part of what makes You Are Not Alone so palatable, but the main thing is Mavis herself: always charming, always sincere, embodying a love so bright it could light up the deepest reaches of the void.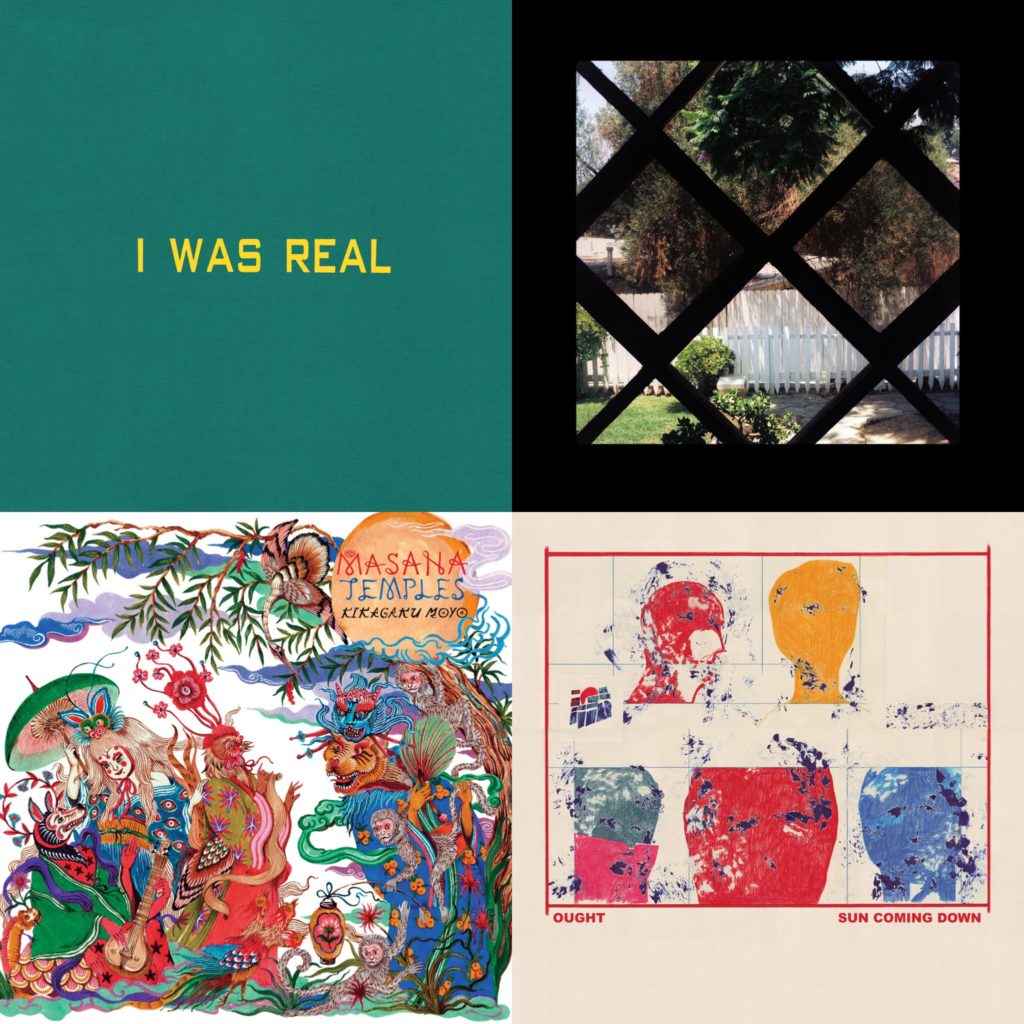 You could easily pick any of 75 Dollar Bill's LPs for inclusion on a list such as this. But 2019's I Was Real might be Rick Brown and Che Chen's greatest work yet. The duo brings together a kaleidoscopic range of approaches, from expansively tranced out jams (the side-long title track) to explosive stripped down workouts (the unbelievably locked-in "WZN #4"). This album sprawls, but never meanders—its 70 minutes fly by.
Psychic Temple :: Psychic Temple III
Combining fusion-era Miles Davis, the folkiest modes of Led Zeppelin, ECM austerity, unhinged rock & roll, and sunshiny West Coast pop, Chris Schlarb's Psychic Temple plays like a brief history of the last sixty or so years of recorded music. With side people like Nedelle Torrisi, Mike Watt, David Hood, and Spooner Oldham in tow, Psychic Temple III saw Schlarb's vision blooming into a genuine collective, hopscotching from bluegrass trills one second to high concept prog rock the next.
Kikagaku Moyo :: Masana Temples
With 2018's Masana Temples, Japanese collective Kikagaku Moyo delivered masterful set of psychedelia with all the vintage thrills of yesteryear without ever resorting to the genre's clichés. Thanks to tireless touring in the past few years, this is a band that has reached an elevated level of musical interplay, able to switch moods and vibes at the drop of a hat but keeping things cohesive and focused at all times. Freeform jams into post-rock grooves into hushed folk into funktastic workouts? No problem whatsoever.
Ought split ways last year, but not before leaving behind a small treasure trove of sound, namely its raw, kinetic and utterly consuming sophomore record, Sun Coming Down. With vox like the second coming of Mark E. Smith, the band brought a fierce urgency to the configuration of guitar/bass/drums. And they did so with style. An unmoored, yet controlled, display of the zeitgeist's underlying atmosphere—one of ennui, frustration, and uncertainty—Sun Coming Down eschews logos for pathos. As vocalist Tim Darcy exclaims on the title track, "just like that it changes!," and as stream of consciousness missives go, album highlight "Big Beautiful Blue Sky," may encapsulate the latter half of the decade's waning mood more than any other: "'I'm no longer afraid to dance tonight /Cause that is all that I have left." Yes.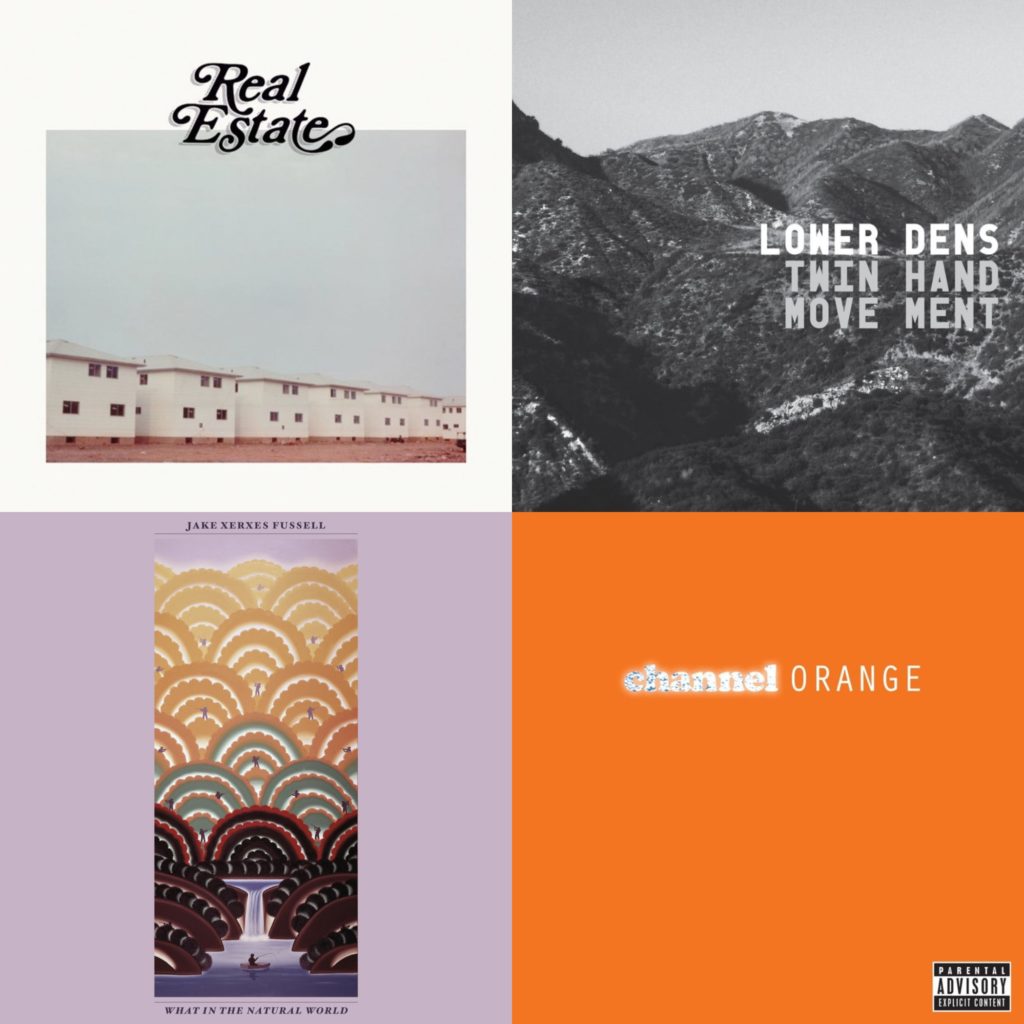 There's a reason Real Estate have dominated the open-air festival circuit over the years: their music sounds and—more importantly—feels good under the sun's embrace. Drifting melodies are driven by calm balm guitar play and Martin Courtney's vocals sit on top in such a gentle and crystalline way, it's easy to get lost and wrapped up in it all. Add in their penchant for tales of youthful, suburban mishap, wonder, and love and it all adds up to familiar good time vibing. This is an album to keep at close at hand when you're smiling wide or simply want to.
Lower Dens :: Twin-Hand Movement
Before evolving to the forefront of the vanguard of cold-wave electro-pop, Jana Hunter's Lower Dens emerged with a pure guitar record—gauzy and dazzled. Expanding from the lo-fi folk of Hunter's early solo work, Twin Hand Movement instinctively veers from loud to quiet, suggesting the songs have a life of their own, showcasing Hunter's ability to inhabit songs with life.
Jake Xerxes Fussell :: What In The Natural World
Nine stunning and vibrant folk blues reimaginings from one of the South's most exciting new voices. With his deceptively emotive voice and deeply instinctive playing, Fussell treats his wide-ranging source material with the deftest of touches—whether it be the surreal (the incredible "Have You Ever Seen Peaches Growing On A Sweet Potato Vine?") or the heartrending ("Furniture Man"). Inviting, intoxicating, and endlessly listenable.
In many ways, Frank Ocean's breakaway 2012 album set the vibe for the decade's party: introspective soul music for digital natives. He perfected the genre-blurred but lyrically intimate and musically tight sound pervasive in modern R&B, but got there before anyone had time to think too hard about the feel. "Thinkin Bout You" is wildfire that will live forever on playlists, but the entire record is packed with hits—"Sweet Life," "Super Rich Kids"—that outline a generation's tenuous psyche and lived experience.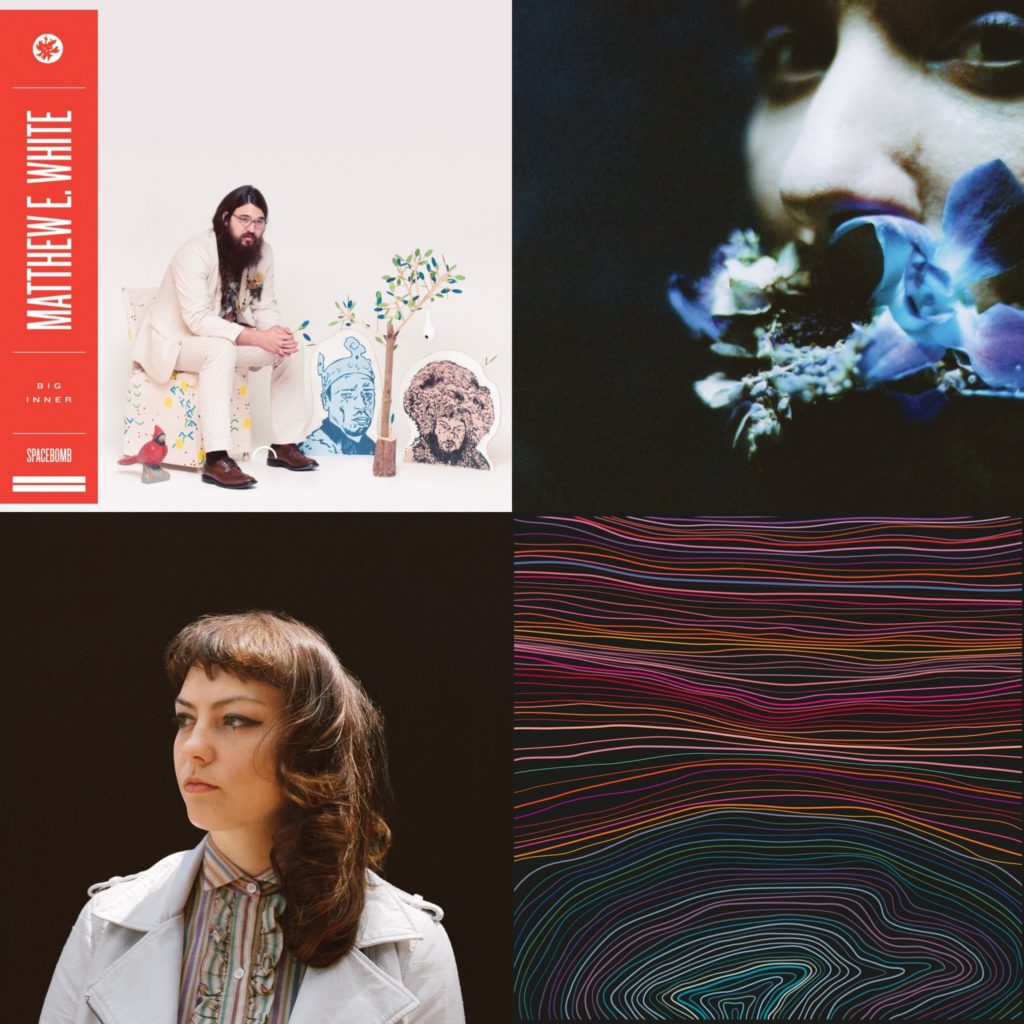 The story goes that Matt White wanted to show off what his Spacebomb studio was capable of, so he wrote an album as a business card. White would be the first to say that Big Inner isn't the work of a master songwriter (say that title out loud), but it does prove his incredible studio acumen and ear for orchestration, something "Brazos" makes clear as it sweeps from a migrant border parable to an ecstatic gospel groove that nicks from Jorge Ben. Elsewhere, White quotes Jimmy Cliff and Martin Luther King, Jr., but make no mistake: Big Inner is indisputably the work of an original.
Circuit des Yeux :: Reaching For Indigo
Haley Fohr's Circuit des Yeux has been one of the most consistently fascinating musical projects of the past decade. You could compare her to an array of iconoclasts – Scott Walker, Yoko Ono, Diamanda Galas. But in the end, she's firmly ensconced in her own universe. On Reaching For Indigo, Fohr painted her masterpiece, introducing a cinematic scope without sacrificing one ounce of intensity. Where she goes next is anyone's guess, but this one's mysteries will keep listeners busy for some time.
"Everyone I know has got their own ideal/I was just wanna be alive, make something real," Angel Olsen sings at the start of her third lp, her voice drifting over glimmering synth soundscapes (which foretold future directions) . From there, she commands scrappy girl group melodies, garage rock, sashaying soul folk, country and western, and lone piano pop. In a decade that found us baffled and uncertain, Olsen's voice echoed like a sympathetic and understanding confidant: "Doesn't matter who you are or what you do/Something in the world will make a fool of you."
Swedish export Dungen first made their name stateside in the mid '00s with the nuanced immediacy of their third lp, Ta det lugn. A psych-rock triumph, critics took note as the quartet injected fresh ideas into an increasingly staid sub-genre. Did it pull from the past? Indeed, but this was clearly music for the now. Fast forward to 2015: after five years off, the group returned with Allas Sak, subverting both expectations and played out tropes. In doing so they manifested something altogether stranger/better, while boasting the best flute solo of the decade. Need we say more?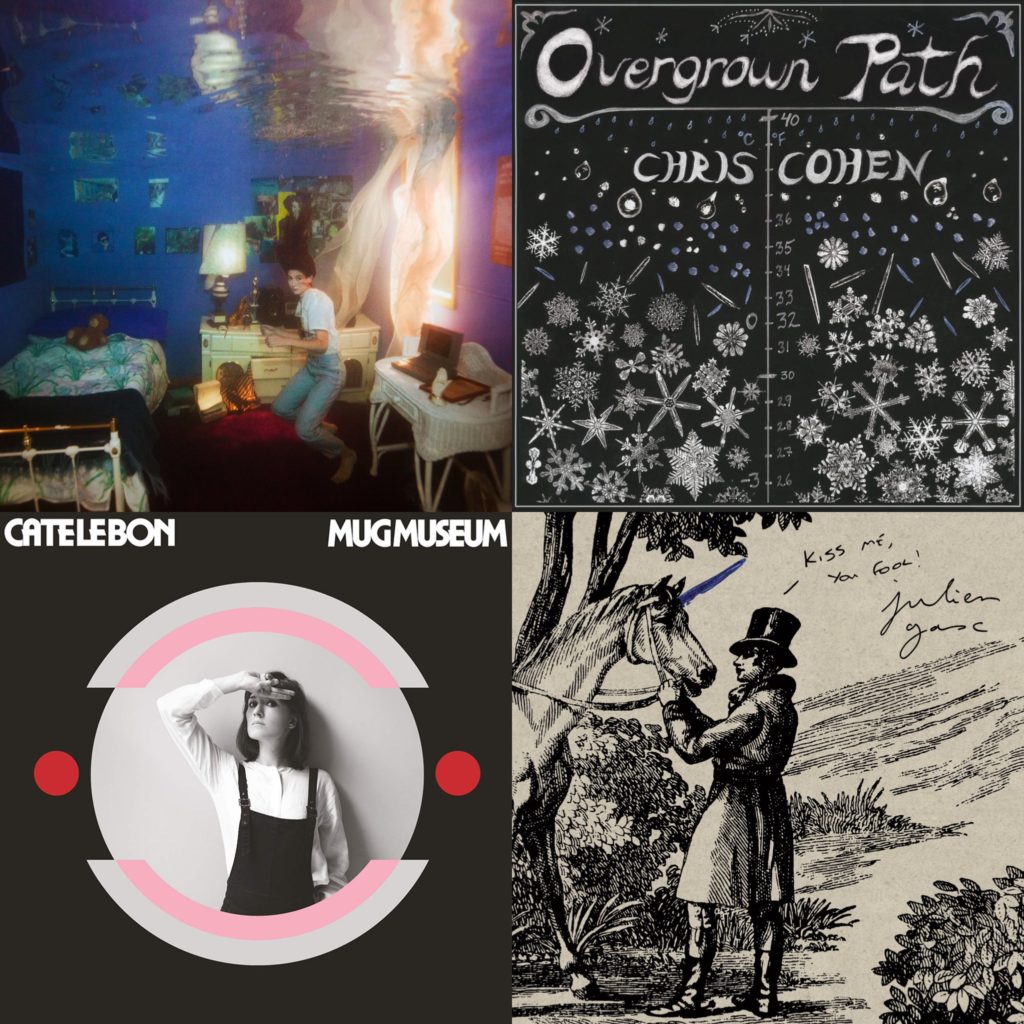 Natalie Mering's washed soundscapes speak to the way—for a certain set of people in the 2010s—the 1970s evoke a feeling of timelessness. But the themes of Titanic Rising couldn't feel more immediate (and hopefully conquerable). Through the lens of climate change, she narrates a bleak future and also ruminates on the virtual connections and interchanges that lead us to love in the digital age. It's a graceful and cinematic listen sonically, but pull back the curtains and you hear a lyrical decree that things ain't looking right.
The beguiling solo debut of the Los Angeles musical polymath. At its best ("Rollercoaster Rider," "Optimist High") the record unfolds like a familiar map that nonetheless leads to someplace unexpected. There are shades of Emitt Rhodes, the Kinks, and Mayo Thompson at his most straightforward, but Chris Cohen (here, and on his subsequent two albums) sounds wholly like just himself. Intricate, playful, and continually revealing upon successive listens.
When Wales' Cate Le Bon first arrived onto the scene, fresh with an endorsement from one of her country's biggest musical stars, Gruff Rhys, it wasn't yet clear just how weird she actually was. Over time, though, her music—and the persona attached to it—developed quickly into something extraordinary, with high-concept makeup and outfits, and choreographically unchoreographed dance moves building into a unique vision of what an artist in the modern era can be. 2013's Mug Museum felt like the first time Le Bon really found the voice that she had been working toward—and with tracks like the sharp, stunning "Are You With Me Now?," it's her most essential slab of wonderful weirdness so far.
Julien Gasc :: Kiss Me You Fool!
Largely known outside of Europe through his involvement with Stereolab and Aquaserge, Toulouse troubadour Julien Gasc released a savvy pair of solo records mid-decade via the Paris based Born Bad Records. The second of these, Kiss Me You Fool!, expands on the venn diagram of influences outlined on his debut, ably juxtaposing orchestral pop, folk and subtle flourishes of psychedelia. It's a rakish affair elegantly flanked by guests Laëtitia Sadier, John Linger and Cathy Lucas. Nous sommes excités pour plus!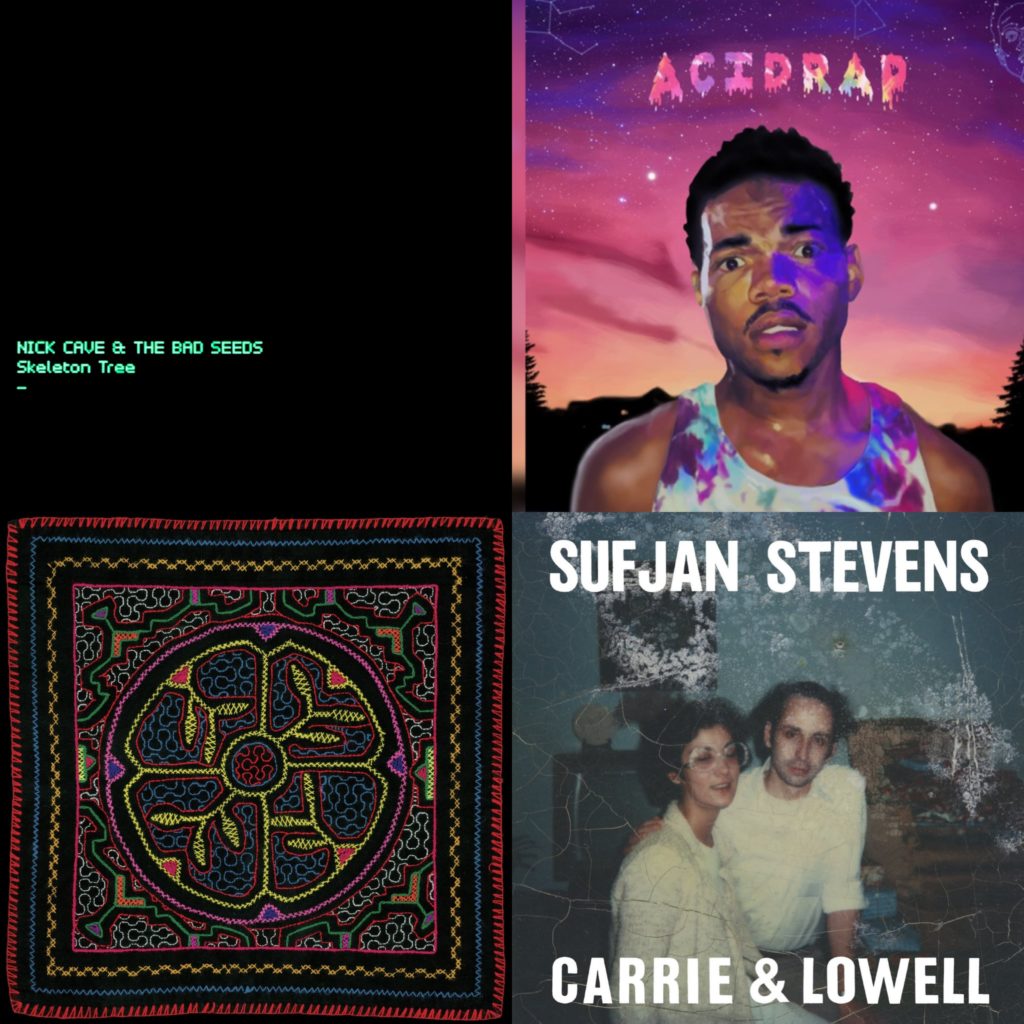 Nick Cave & the Bad Seeds :: Skeleton Tree
By now we all know that Ghosteen is the document of mourning Skeleton Tree seemed to be. But the 16th album from Nick Cave and the Bad Seeds still feels like the fevered, cyclical first days of extreme and sudden mourning. That's owing in part to Cave's smeared-image lyrics and always devastating delivery, but equal credit goes to the Bad Seeds, who flatten their horny rumble into a long, sustained howl.

All one need know about Acid Rap is revealed in its opening fifty seconds. "Good Ass Intro" swirls with a chorus and Chance's unique timbre and cadence. There's no beat in sight, only a few piano plucks. But it bops, swings, it makes you cheer on what's coming. Chance the Rapper then runs a gamut: pill popping, disappointing his mother, crafting club bangers, making room for a cadre of "featuring" artists who lay down some of their own best-of-the-decade verses. He carries Acid Rap like few artists can an lp One sees why his rise has been all but unrivaled this decade.
Is it possible to be a minimalist jam band? Whatever – Bitchin Bajas embrace the contradiction, tossing Terry Riley, classic kosmische and Sun Ra (and plenty more) into a celestial blender, mixing up a consistently delicious concoction. On Bajas Fresh, the Chicago-based band stretched out over the course of four spellbinding LP sides, finding a host of new tones and zones to get lost in.
Sufjan Stevens :: Carrie & Lowell
For all its ornate eccentricity and grandiosity, Sufjan Stevens' songs have always focused on humanity. Following the loss of his estranged mother, he shed the digital complexity of Age of Adz in favor of heartbreaking and exposed folk. Guiding the listener on road trips and inviting them into the hospital room, the album confronts loss bravely—registering both faithful and faithless responses to the pain of losing someone whose life elemental to your own being. In the album's deep pockets of his despair, he locates a space both relatable and true.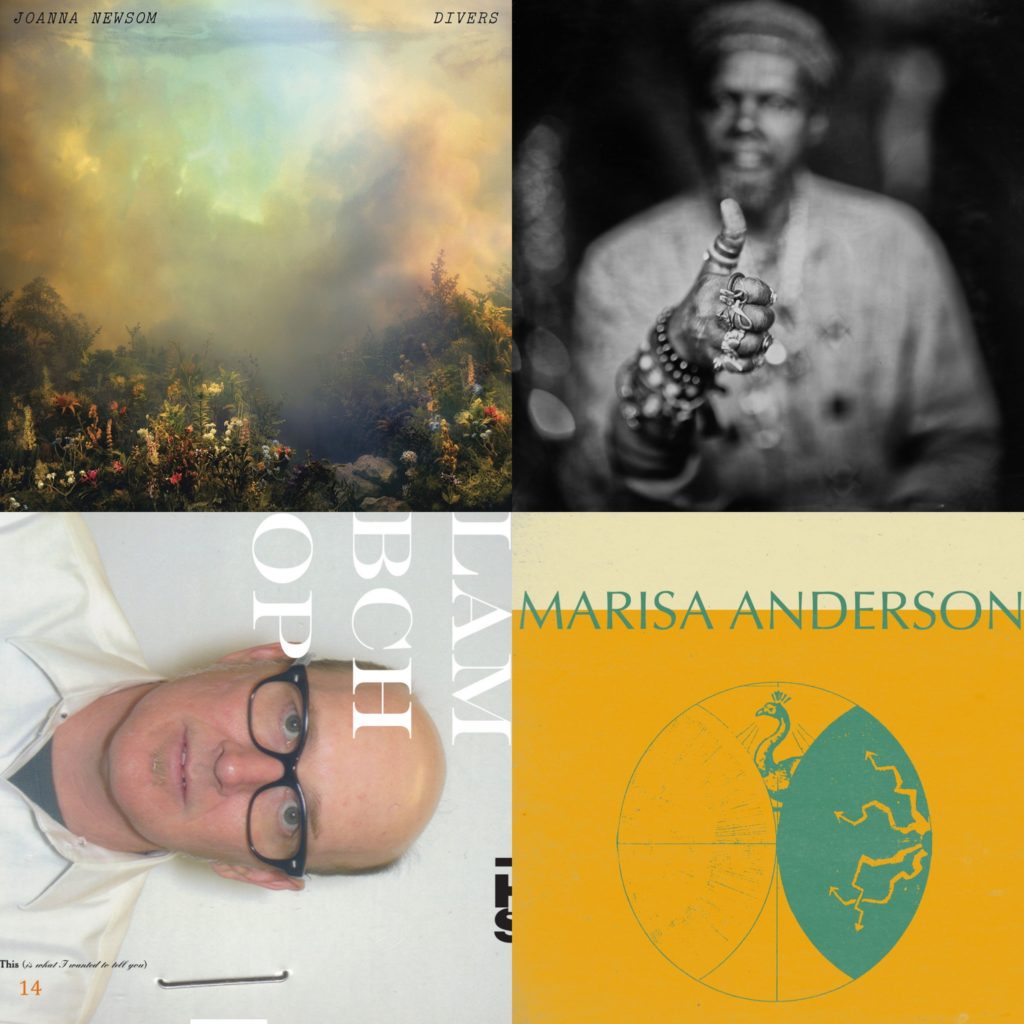 Joanna Newsom's fourth lp was part maritime opera, part science fiction exploration of inner universe, and wholly engrossing. Newsom's conceptual framework has always been expansive, but here she aims to cover it all—the pain of birth and death, the present, the past, and the future. Accompanying her harp and distinctive voice with synths, keyboards, and tilting rhythms, Divers isn't Newsom's most orchestral work, but it's her heaviest and most soulful. "How do you choose your form?" she asks as she manifests. "How do you choose your life?"
Holley has a long-running practice as a visual artist, conjuring sculpture from found objects and bric-a-brac; his musical practice, also, plays with this impulse to pull the sublime—art—out from everything else in the world. Holley's music sounds prayer-like, heartfelt vocal meditations over a shimmering cloud of keyboards, and Mith is his clearest, most powerful sonic monument to date, ringing with mythic incantations that sound like the antidote to our profane times.
Lambchop :: This (Is What I Wanted to Tell You)
This (Is What I Wanted to Tell You) found Lambchop in some ways merely fine-tuning the sound that they had spent the back half of the 2010s creating, but the end result was one of the best albums of the band's 25 year career. Kurt Wagner's voice harmonized with itself over top of a pulsing and more synthetic sound than previous iterations of the band had been used to producing created something intensely warm and personal despite its colder surroundings.
Guitarist Marisa Anderson's 2013 lp Mercury was thick with raw, gospel/blues vibes. It's her tone that drew you in, with a light dusting of tremolo (a la Pops Staples) and hot-to-the-touch distortion. Unlike a lot of her more expansive peers, Anderson worked in miniature form here, with songs that clocked in at around two minutes. But not a moment is wasted—each tune was packed with economic, intricate and frequently dazzling playing.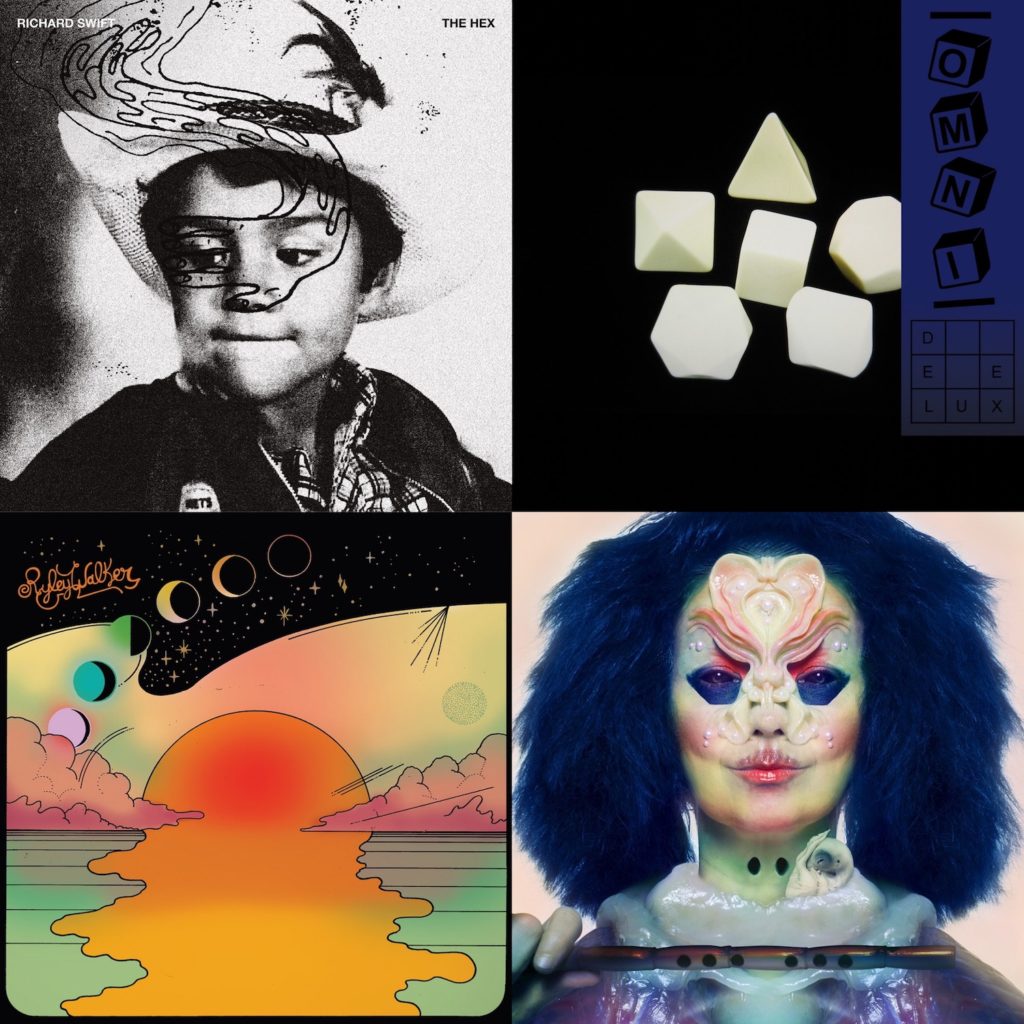 Dickie's final goodbye. Richard Swift spent much of the decade alongside the Black Keys, the Shins, and producing hits for Nathaniel Rateliff & the Night Sweats, Kevin Morby, and Damien Jurado, but his final solo album, released the same year he passed away, was pure Swift—winsome melodies, heartbreaking wisecrack, and raw, exposed heart and soul. From haunted sock hop groovers ("Broken Finger Blues") to nutty avant-funk ("Kensington!," "Babylon") and Nilsson-esque pomp ("Dirty Jim"), The Hex offered a fitting testament to Swift's ability to synthesize grief and sonic joy. Its final track, "Sept20," plays like a seance. Echoing the spooky lilt of his debut album as Swift, 2005's The Novelist, the song ends with a ghostly echo and a whistle into the dark.
Deluxe: a modern day paragon of the infinite possibilities, and rewards, of the post-punk form. Far from a genre exercise, the Atlanta based trio's 2016 debut long-player deftly encapsulates the best of late '70s/early '80s angular post-punk—all without muddying the waters with unnecessary pastiche. Comprised of former members of Carnivores and Deerhunter, the debut is a terse, tense, gloaming and anxious listen. And a highly enjoyable one at that.
Ryley Walker :: Golden Sings That Have Been Sung
Injecting his Bert Jansch and John Martyn-inspired folk with Chicago post-rock textures and tasteful nods toward progressive rock, Ryley Walker makes space for hometown rave ups ("The Roundabout"), spiritual bliss ("Age Old Tale"), and amplified bombast ("Sullen Mind"). Walker's third record finds him leaving the orbit of his influences, presting the songwriter as his own creation—weird, wild, and woolly.
A utopian future requires the imagination to conjure it into being. Over swelling bass drops, plucked harp strings, and skittering beats, Björk looks forward over and over on Utopia, finding new visions in love, intimacy, and her body. She doesn't shy away from travails, but rather reckons with them. With producer Arca assisting her to build massive sonic structures, she celebrates the joy of creation. "Your past is on loop—turn it off," she commands. "See this possible future and be in it."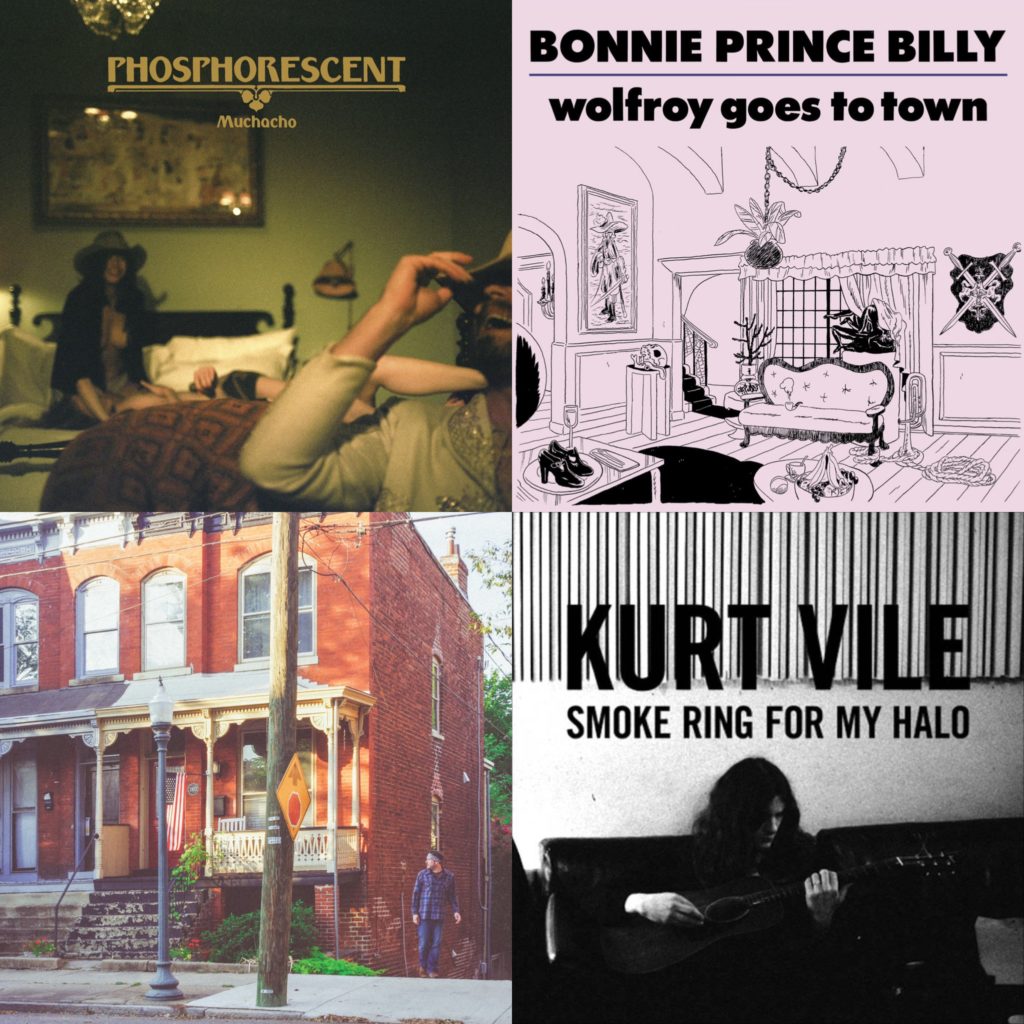 When "Song for Zula" dropped as the first single off Muchacho, it was immediately clear we weren't in Athens anymore. Coming off the pedal-steel drenched country sheen of Here's to Taking It Easy (another one of the best records of the decade), Matthew Houck swung a left turn towards atmosphere and Autotune. Muchacho not only marked the arrival of a new sound for the band, it struck the optimal balance between Houck's shit-kicker gusto and his dazed mysticism.
Bonnie "Prince" Billy :: Wolfroy Goes To Town
"Age may be an age for you/But it's no match for me," Bonnie "Prince" Billy sings, accompanying singer Angel Olsen slinking around his familiar warble. In a decade that saw Billy teaming with singer Dawn McCarthy for an album of Every Brothers songs, Bitchin Bajas for a record of cosmic sprawl, and Bryce Dessner and Eighth Blackbird for a conceptual epic, the sparse, desolate Wolfroy suggested that he was nowhere near exhausting his long-hailed power to evoke the weirdness of Old America.
Gathering a tight knit crew of collaborators—including guitarists Nathan Salsburg and James Elkington and the legendary rhythm section of Glenn Kotche and Darin Gray—songwriter James Jackson Toth offers another stunning record in a discography with more than its fair share of them. The languid strums of "School's Out" shimmer; "Mallow T'ward the River" churns with Britfolk charm; and "One Can Only Love" swells with Popol Vuh-like grandeur.
Kurt Vile :: Smoke Ring For My Halo
The perfect synthesis of the Philadelphia phenom's earlier, loose and more experimental albums, and his later, nestled-in-the-groove singer-songwriter fare. A heady mix of gorgeous finger-picked melodies and ragged Crazy Horse stompers. The drum machine, the Violators, and his gloriously quixotic songwriting—it's all on full display here on KV's midpoint best.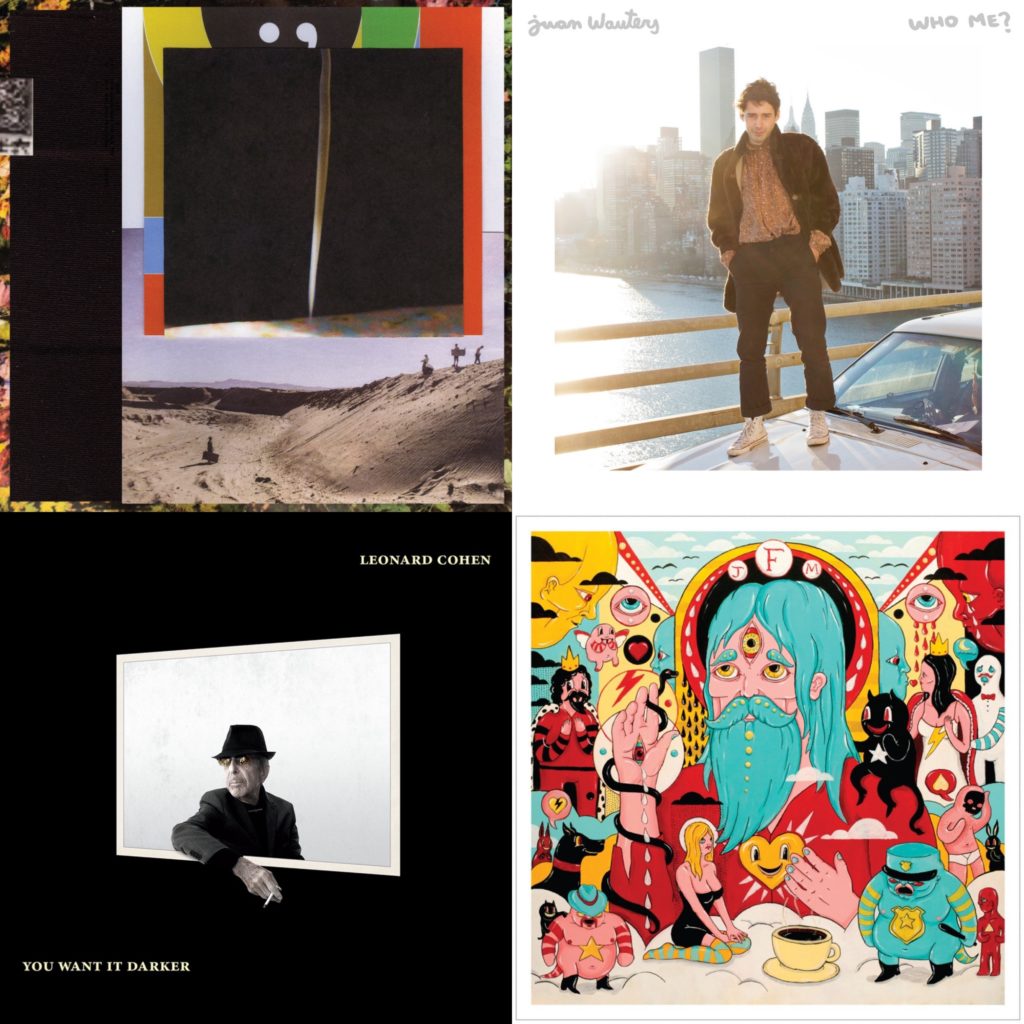 It's been a long journey since 2008's For Emma, Forever Ago, the album that made a star of Justin Vernon, a sad bro folkie with a killer falsetto and a busted heart. Everything that make that record hit like a jolt is present on his fourth, i,i, but so is the layered pop of 2011's self-titled and the experimental push of 2016's 22, A Million. Working with a wide cast that includes Wye Oak's Jenn Wasner, Moses Sumney, Bruce Hornsby, James Blake, and dozens more, Vernon embraces big tent pop, nodding to his extensive work in the hip-hop field, dabbling in jazz rock, mutant electronica, and joyful soul music, while addressing toxic masculinity, climate change, and the power of openness. For Emma presented Vernon as a solitary force on his own; i,i finds power in the idea that many voices sound better than just one.
Somewhere in between the worlds of Skip Spence and Jonathan Richman exists Juan Wauters, a flamenco-guitar-armed poet of the slightly deranged. His work, like his personality, is unpredictable. But since his more wild rock and roll years playing in the Beets, he's started to refine his musical vision, during which time he reached a high watermark in 2015 with Who Me?, a record that was unfairly maligned at its release. Goofy and adorable and just plain fun, it's a beyond-charming collection, filled with English that's sometimes harder to understand than the Spanish that he also sings in. It doesn't matter: Wauters sings it all with his heart.
Leonard Cohen :: You Want It Darker
Imagine knowing that you're at the end of your life and writing a song like "Treaty," in which you tell God you're sorry things didn't work out between the two of you. Despite his reputation, Leonard Cohen never really lacked for good cheer, and while it was received as one last sigh (telling The New Yorker you're ready to die will do that), what sticks out now is how lightly Cohen wears some of the heaviest songs of his career. That's a way to say goodbye.
By turns funny, poignant, pointed and philosophical, Josh Tillman released one of the most enjoyable records of the decade in Fear Fun. Before His Mistiness transcended the planes of popism; before he jumped off the Top 100 lists and into the realm of pawnable award hardware, there were twelve impeccably delicious tracks—stories of bravado and boredom, loves left and longed for—crafted so precisely there's hardly room for winks or nods. Fear Fun's greatest assets are its unbridled ambition and presented confidence. Ego, in its many forms—pompous, earned, yet to be, or a lack thereof—flows in spades.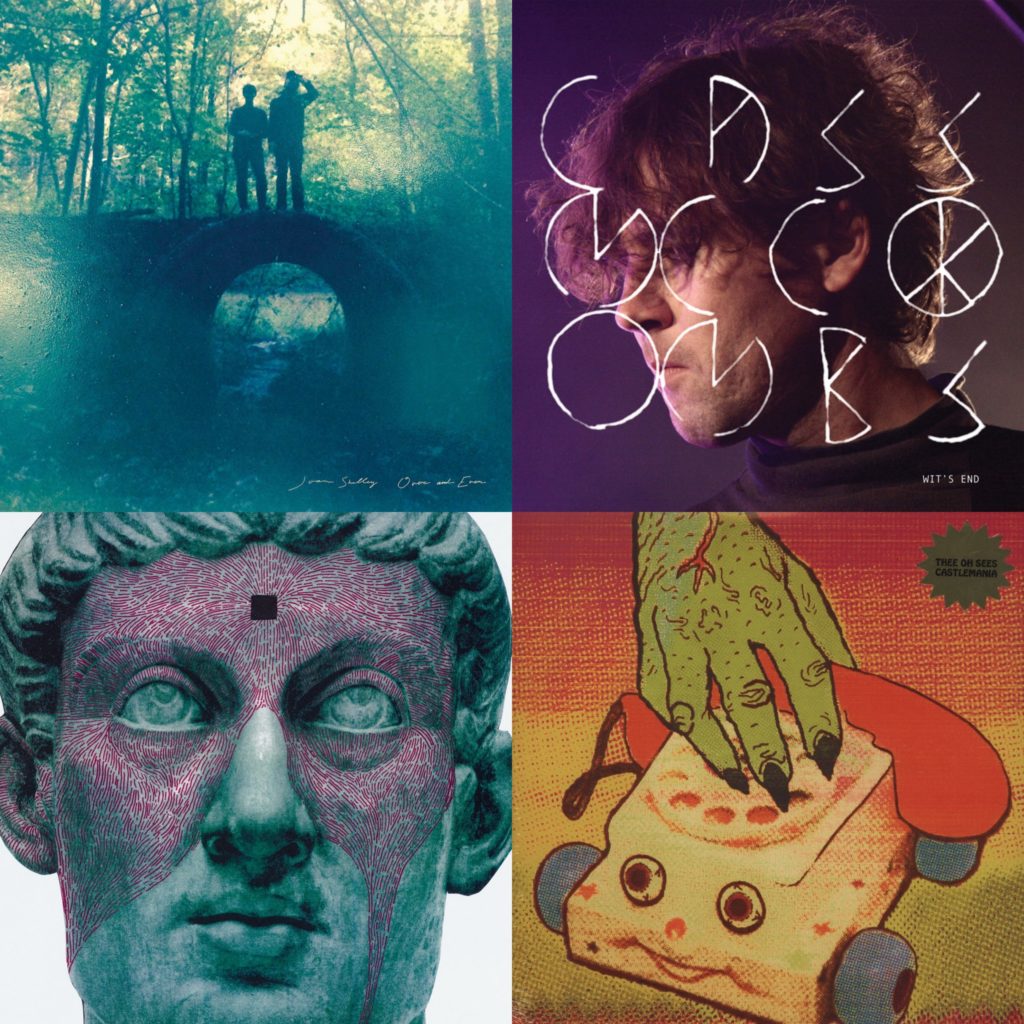 Over the course of the last several years, Joan Shelley has emerged as one of our greatest songwriters, as she expertly explored love, loss and the unnamable regions in between. On Over and Even, she's as good at detailed, heartrending narratives (see "Jenny Come In" with Will Oldham guesting on backing vocals) as she is at more ethereal vibes (the mystical title track and "Lure & Line"). Shelley can break your heart and put it back together all within the space of a single verse.

The first of two stellar Cass McCombs contributions in 2011, Wit's End is a subdued, contemplative and self-aware thing of Cohen-esque beauty. Like a music box wheeling inside an empty apartment, the record is rich with velveteen sound, but intimately spare. It feels alone, but not necessarily wanting company–and certainly not sympathy.
Protomartyr :: The Agent Intellect
What turns men into demons? How many feverish nightmares has the internet inspired in people's minds? Who do we become when we forget who we are? Detroit's Protomartyr go dark places on its third lp, led by singer/poet Joe Casey, who articulates half-remembered visits by the pope and the follies the comforts of the neighborhood bar over spiky post-punk. Though he's usually got his eyes drained on the dimmest scenarios, Casey knows how to recognize a miracle when he sees one; "Ellen," an imaginative song about his mother which wonders at the idea of love that goes on even after we're gone, fuses tenderness with grinding chords and a marital beat. There's beauty to glimpse once the scales fall from our eyes.
John Dwyer's Thee Oh Sees released a torrent of music—as Thee Oh Sees, OCS, and Oh Sees—throughout the last decade, traveling wherever his muse took him. Castlemania nods to the band's roots as wily garage rockers (see "I Need Seed," alongside covers of songs by the Creation and West Coast Pop Art Experimental Band) but quickly heads in skronky, lysergic directions, layering echoing flutes, freaky washes of noise, and bent acoustic strummers. It's not the band's heaviest record of the decade, but it's perhaps its most revelatory, an indication of the cosmic heights they had in mind to reach.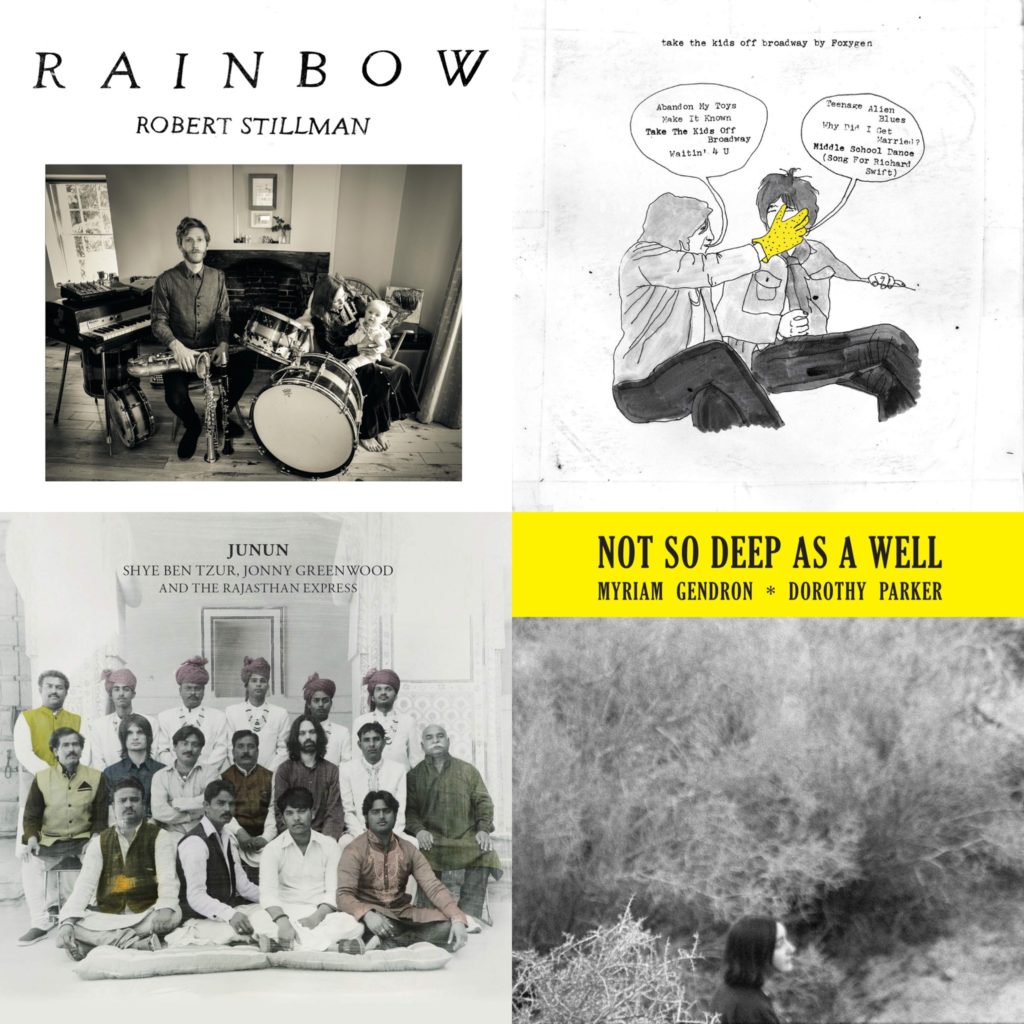 Inspired by the tragic passing of his daughter Ruth and the living that goes on after unimaginable loss, expat composer Robert Stillman's Rainbow is a record of beauty. Melding chamber music to spiritual jazz, it feels planted deep in the earth, Stillman's one-man-band approach on drums, horns, reeds, and piano's affording the record a singular intimacy but never stuffiness. A gorgeous document of hope.

Foxygen :: Take The Kids Off Broadway
Take The Kids Off Broadway is a LEGO set with the instructions missing. Foxygen didn't build a neat, Scandinavian city, all uniform, with green-plastic-trees splayed in the medians of forever-stopped traffic. No, they just dumped out all the bricks and started building. When its blistering seven-tracks are through, Foxygen holds their speckled, bricked creation long enough to say, "see?" before quickly breaking it apart, to be repurposed and reimagined. Jonathan Rado displayed his early talents at arrangement and orchestration; Sam France showed his singular impression of a Rat Pack member getting dosed in the Las Vegas desert.
Shye Ben-Tzur, Jonny Greenwood, & Rajasthan Express :: Junun
It's not often that Jonny Greenwood fades into the background, but Junun is a record like no other. The Radiohead guitarist tapped Israeli composer Shye Ben-Tzur and together they assembled a clutch of Indian musicians they nicknamed Rajasthan Express to play this collection of songs that combines elements of devotional music from Sufi and Roma Muslims, over-the-top Bollywood brass, and the pulse of electronic music in an ecstatic — and expertly executed — swirl of sound. While that may all scream of well-intentioned orientalism, Greenwood, Ben-Tzur, and Nigel Godrich's naturalist production ensures Junun is too raw, thumping, and loud to be heard as a staid exercise in do-gooder musical multiculturalism.
Myriam Gendron :: Not So Deep As A Well
An incredible debut—and sadly, we're still waiting for a follow-up. But oh well. Not So Deep As A Well is like Leonard Cohen filtered through K Records, with the ghost of Dorothy Parker overseeing the proceedings. Beautiful fingerpicked guitar, melancholy vocals, heartbroken/heartbreaking (though sometimes darkly humorous) lyrics. And as the cover's co-billing suggests, Gendron set Ms. Parker's poetry to music, coming up with a surprisingly perfect combo of words and sound. A stunner through and through.
Contributors: a spoto/n rogers/j neas/j gage/t wilcox/b kramer/j crosby/j woodbury/c depasquale/m garner/t hale/k evans
Help keep the wheels of independent media spinning for another ten years. Aquarium Drunkard has launched a Patreon page, which allows readers and listeners to directly support our online magazine. Patronage includes bonus audio, podcasts, printed ephemera, and vinyl records.