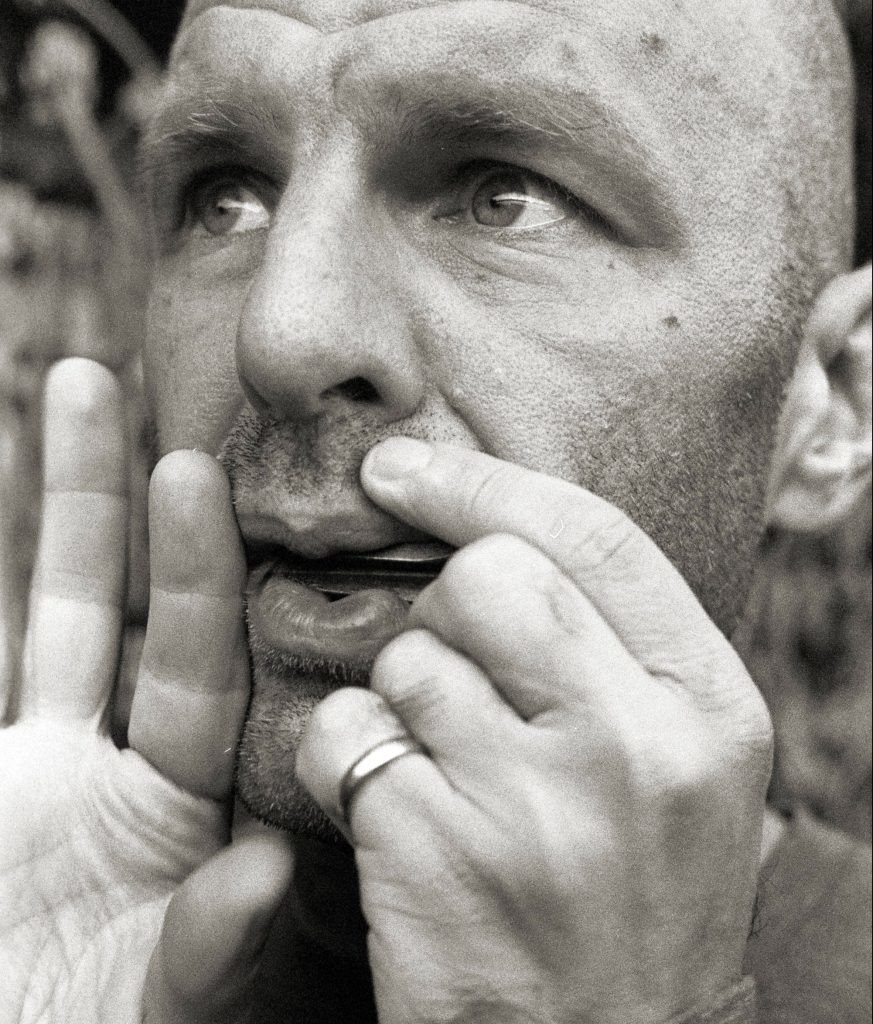 For the past decade, Darcy Spidle has operated from the remote East Coast outpost of West Chezzetcook, Nova Scotia. Since his days as the founder of experimental label Divorce Records and OBEY Convention festival, he has transitioned into screenwriting, penning the acclaimed sci-fi/horror films LOWLIFE, The Crescent, and the upcoming Tin Can. However, Spidle's most tireless pursuit is the improvised music he makes with a jaw harp as chik white. Alongside the boings and springs of this ancient instrument, he incorporates field recordings, various preparations, and the pained strains of his mouth, throat, and lungs. The result is simultaneously natural and unnatural, alien and intimate, beautiful and sickening in all of its gobbing glory.
In a 2018 cover story for Musicworks Magazine, Spidle explained how his painful pursuit could have supernatural qualities. "…that stabbing tone, both uncomfortable and commanding, has for thousands of years been touted as a way to conjure spirits, communicate with animals, heal the ill, and cast spells. Perhaps such claims are nonsense, but when I'm lost with a harp, when time has yielded to that metallic voice reverberating inside my skull, I fully believe in the jaw harp's exceptional powers."
Following Stranger Calls To Land, a collection of highlights from his grip-or-they're-gone cassettes compiled as an lp by Feeding Tube Records, this year has seen Spidle issue a pair of inspired collaborations. The first is a team-up with Toronto multi-disciplinary artist Xuan Ye for his latest release from Portland's Notice Recordings. While her work may seem radically futuristic in comparison to Spidle's, they are both fascinated by the sound of the mouth and how it can transmit powerful feelings without a single word spoken. Interlacing sparse percussion and fried found sounds with her strangled cries, it occasionally sounds like a frightened feline sinking into a swamp while merging with a primordial bog beast.
Spidle's second team-up of 2019 is with Philadelphia's Bill Nace. Possibly best known as one half of Body/Head with Kim Gordon or as the subject of some of Inzane Johnny's most in-joke memes, the guitar mangler is a beloved force in the American underground. The duo's Eel (all parts) 7", released in a limited run of 150 copies from Nace's Open Mouth Records, may strangely be the most accessible introduction to the jaw harpist yet. While recorded over long distances, it sounds as if Nace and Spidle are sitting right next to each other, whether jamming out lulling amplified acoustic rhythms or hazy, buzzing drones with faint burbles. They make an excellent combo, and have hinted at a full-length follow-up coming next year. words / j locke photo/Heather Rappard
Aquarium Drunkard has launched a Patreon page, which allows readers and listeners to directly support our online magazine as it expands its scope while receiving access to our secret stash, including bonus audio, exclusive podcasts, printed ephemera, and vinyl records. Your support will help keep an independent cultural resource alive and healthy in 2019 and beyond.