"This is not a social record in the sense that it be played at a gathering," composer Ernest Hood writes in the original liner notes to 1975's Neighborhoods, his self-released proto-ambient masterpiece. It is a social record, he goes on to clarify, in that the album is about the connections of community, about shared experience, shared hours spent on shared streets.
To step into the world of Neighborhoods is to be beamed down to a mythic and idyllic 20th-century scene: the smell of beans drifts over from a nearby window; schoolboys play; a voice from a radio speaks, crickets chirp, a train whistle blows. By offering a snapshot of a particular time in Portland, Oregon, the record illustrates the relationship between the specific and the universal. Its quiet washes of zither and synthesizer, combined with field recordings Hood began collecting decades prior to assembling the varied tapestry that comprises the album, fold the listener into an environment of sound. Hood serves as part field guide, part gracious host. He welcomes you in and shows you around.
Ernest Hood spent his youth playing in Portland's jazz scene, performing in big bands. He played guitar before a bout with polio necessitated a year in an iron lung and crutches, leg braces, and a wheelchair to aid mobility from there on in his life, which ended in 1991, when he became a de facto spokesperson for the Death With Dignity Act. Unable to play guitar, he took up the zither, which sat in his lap, and took up studying recording technology. He became more and more interested in collecting the sounds that surrounded him and informed the character of his Portland neighborhood—from bird calls to playing children and passing motorists. But he didn't want to keep what he'd gathered for himself: in the late '60s he co-founded the community radio station KBOO, and began to consider how he might further share his sounds.
Neighborhoods adheres to a simple concept, combining the everyday sounds of a sleepy block with the gentle, sonically pleasant accompaniment of synths and strummed zither. Though it's easy to hear sonic connections to the modern classical sphere or hear the album as presaging Brian Eno's ambient experiments later in the decade, Pete Swanson of Freedom to Spend, which lovingly reissued Neighborhoods this fall, doesn't think Hood "was really thinking about other music too much" when he created and DIY pressed up a couple hundred copies of the album. To Swanson's ears, the album has as much in common with automatic writing and the radio plays Hood created for the radio station.
"You have all of these proto-ambient records that work with ideas around democratizing sound and coloring spaces," Swanson says, citing the "furniture music" of Erik Satie and Morton Feldman's "indeterminate music" idea—conceptions of music concerned with "democratizing sound and coloring spaces." Eno's popular definition of ambient music—music designed for both passive and active listening—would come later, but "Neighborhoods is a sort of missing link in that tradition."
"It's a really hard album to categorize, which is one of the things that makes it such so unique in the first place," says Joe Bindeman, Swanson's Freedom to Spend partner. "I used to find copies of Neighborhoods all the time when I first moved to Portland in 2006," he says. "It was one of those records that was a staple of the thrift stores and cheap bins of record shops, presumably because the cover made it look like an olde timey folk record, which is what I thought I was buying when I picked it up on a whim at a Goodwill bins outlet store around that time."
In its own way, Neighborhoods is a kind of folk record, a document that presents the ambient sound of an environment—bike spokes whirring, dogs barking, children playing, birds chirping—as people live their lives, with Hood offering little editorialization save for the sweet, jazz and pop-inflected melodies that swirl and pool around these found sounds. Like an old Polaroid in a photo album or rediscovering a childhood toy, the feeling it inspires is gentle but deep. In the corporatized reboot culture of the present, nostalgia may not count for much, but Neighborhoods is a record about the feeling's heaviest qualities, its inherent longing.
"Ern was close to being a professional nostalgia merchant," says Tom Hood, Ernest's son, who would often accompany his dad on recording trips and remembers Ernest documenting family vacations in similar ways. "He had a knack for pointing out sweet reminiscent affection for places and long-gone times. Even smells. His observations would make one slow down and take notice of the most minute details of life."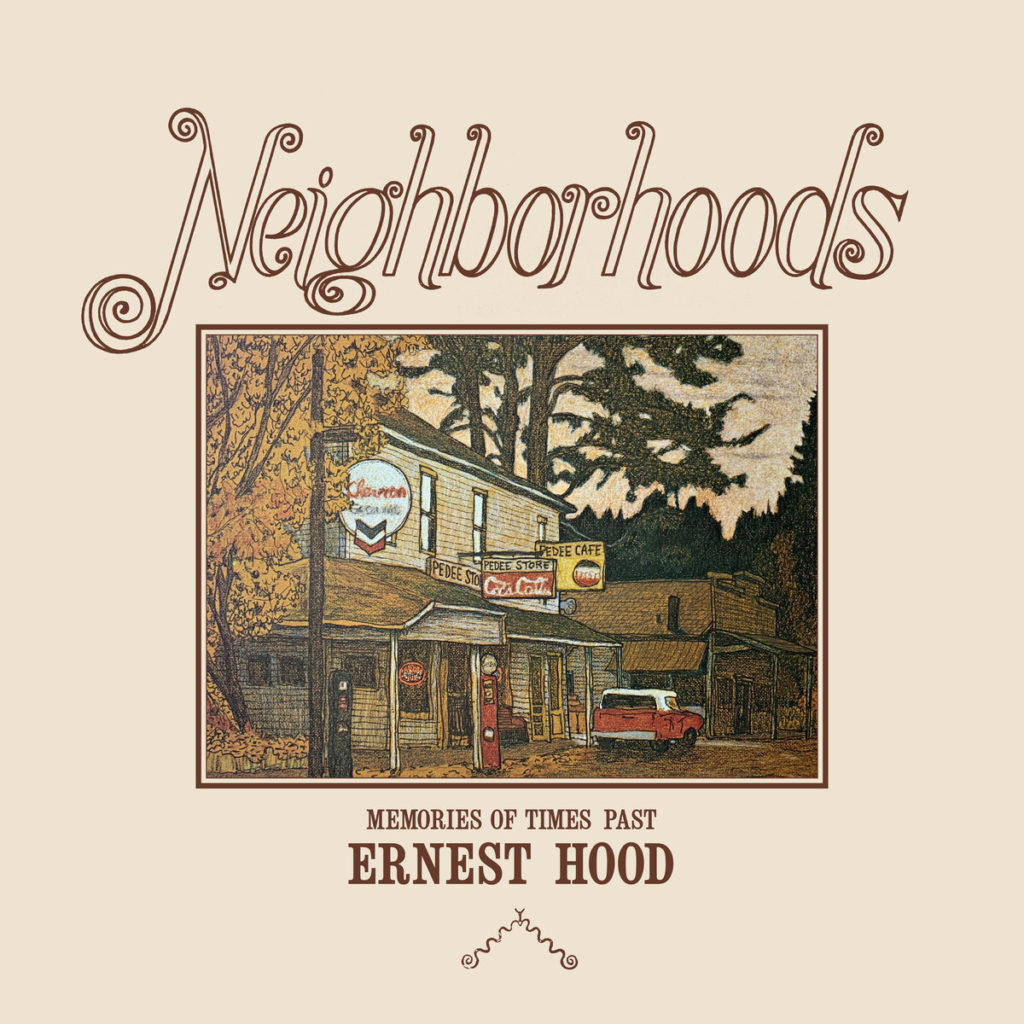 In a time when everything seems to be getting louder, our neighborhoods not excepted, Hood's vision can feel far away, like a relic of a distant past. But inspiring such serenity requires working to create the conditions for it—and when Hood set about to work on Neighborhoods, his whole household worked with him to create ideal conditions.
"We had worked out a quiet mode for recording," Tom Hood says. "We turned off the refrigerator and unplugged the phone so there would be no extraneous noises or interruptions. Sometimes he would use a parabolic reflector microphone to record birds in the woods behind the house when he could find a peaceful moment. Tuning the zithers required real quietude." It's easy to imagine, as a child, the frustration of stifling your playful noise, but Tom notes that it "was quite pleasant during quiet mode," and that "this is reflected in the feel of the album."
Neighborhoods is a small monument to what happens when quiet allows the chance to really listen—to the people you share a home with, to the kids down the street, to the sounds of nature at gloaming time. 44 years after he released it, handing off vinyl copies to friends with seemingly no mind for the business side of the music business, Ernest Hood's vision of a moment of time feels more than a little revolutionary. "My purpose in creating this album is to pay a debt to some beautiful and loving people," Hood writes in his liner notes. More Fred Rogers than Brian Eno in intent, Hood's record feels like a gift decades later, even to those who knew him best.
"It takes me back to the moment I was looking through our front screen door at our front yard," Tom Hood says, reflecting on the song "At The Store," in which he can be heard remarking on the appearance of a canine outside. "Dad had hit the record button on his trusty Webster–Chicago Wire Recorder. When I hear it, my mind fills in the blanks, and I can still see the screen door mesh. That was more than 60 years ago. Neighborhoods, to me, seems like a time capsule. Here, time stands still." words/ j woodbury
Ahoy there. Aquarium Drunkard has launched a Patreon page, which allows readers and listeners to directly support our online magazine. Patronage includes bonus audio, podcasts, printed ephemera, and vinyl records.