In May, post-punk legends The Raincoats announced a handful of shows across the UK and a performance at Le Guess Who? to celebrate the 40th anniversary of their seminal self-titled debut album. A couple of hours after hearing the news, I began looking at flights– and on November 10th, I attended the 40th anniversary celebration of The Raincoats at EartH Hackney in East London, the only gig in their hometown. Fresh from the plane, I experienced the show in the altered state of jet lag, which seemed to only further induce the dreamy, other-worldliness of the evening. Founding members Ana da Silva and Gina Birch were joined by the indomitable Vice Cooler on drums and the electric Anne Wood on violin, guitar, and background vocals. Lora Logic's surprise appearances on "Black and White" and "Lola" were stand-out moments as the band rollicked through The Raincoats, top to bottom; followed by surprise sets from fellow Rough Trade post-punk comrades, Scritti Politti, and an acoustic set from London's Big Joanie. The room was buzzing from the first note of "Fairytale in the Supermarket," but these surprise guests kept the energy going into the night.
After Big Joanie's beautiful, stripped-down performance, The Raincoats returned to the stage for a second set which had the audience dancing to songs from later albums like "No One's Little Girl" and "Shouting Out Loud." Birch and da Silva were self-effacing and charming, waving hello to their friends in the front row; starting a song or two over when it wasn't ready for takeoff; and bickering with open, disarming candor. The Raincoats epitomize, to me, the joy of creating within community– a wild kind of joy that hinges on vulnerability and grit. You hear it in their records, and it's enveloping in their performances.
We caught up with da Silva and Birch, post-tour, to ask them more about the occasion. With humor and warmth, they individually reflect on the shows and the making of the record as well as discussing their unique, timeless approach to their work. Each of the women also discuss their solo art careers and look ahead to the future, including their first show of 2020 at Centre Pompidou Paris. words / l turner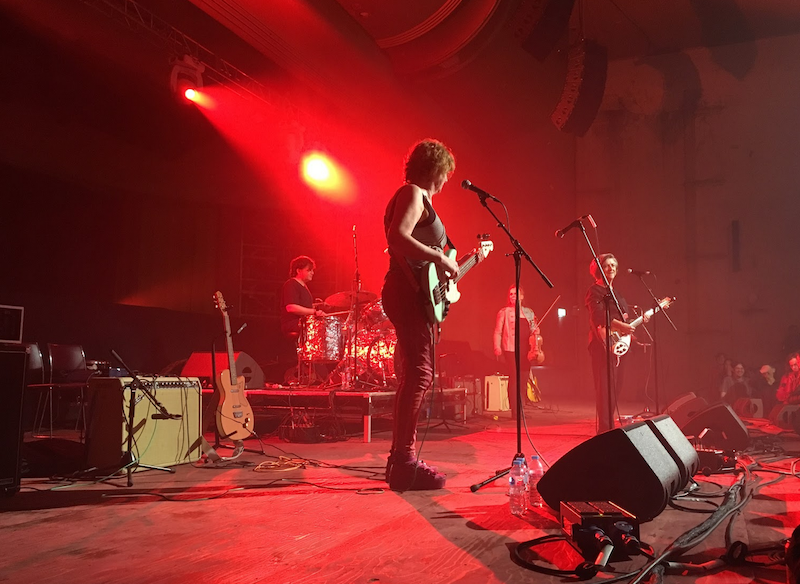 Aquarium Drunkard: Happy 40th anniversary of The Raincoats! How have you felt upon entering this season of celebration and touring? Are there any particular shows you were most excited about?
Ana da Silva: 40th anniversary. Who would have guessed in 1979 that we'd be celebrating it? We never thought much about the future anyway. It was all about the present.
Life brings its surprises all the time, and I was excited about all our performances for different reasons. In the end, they all had something extraordinary. The one at EartH, London was special because we managed to get Lora Logic to play on"Black and White" (she recorded this song with us on the album). Also we had Green and Rhodri of Scritti Politti playing a few of their early songs and Big Joanie doing a lovely acoustic set. It all felt cozy, warm and exciting.
Gina Birch: London is always very special. It's where we live and have been living since before [beginning] the Raincoats. EartH is a great venue and so many of our friends were coming. We wanted to have a special place for [them] to sit at the front- but when I looked up, I was a bit shocked to see quite so many familiar faces! Duh… I had arranged it, but it still surprised me!
AD: Your first record remains the favorite of many, and continues to win over new fans of younger generations. Are you energized by the support and collaboration of folks like Jenn Pelly (author of the 33 ⅓ book about the record) and Angel Olsen (whom you performed with in 2016 for Rough Trade's 40th anniversary)?
Gina Birch: Of course, Jenn's book has been such an amazing thing for us. The way she writes is very astute and also personal. She seems to have such a great way to describe her feelings and reflect back to us things that we didn't always articulate ourselves.
Working with Angel Olsen was such a brilliant thing, unexpected and extraordinary to work with someone, in a way so different, much younger and with different reference points. We, as a group, worked with her group and that was fantastic. Sometimes we had two bass guitars, sometimes many electric guitars, lots of voices. We performed half of her songs and half of ours and we made lovely contributions to each other's work. Also we did a version of "Because the Night.' We slowed it down and then we made the chorus (which in the original [Patti Smith recording] is sung out in a raucous way), gentle and sung very softly and tenderly by all of us, accompanied by a weaving, undulating violin line. It was beautiful.
Ana da Silva: From the mid-eighties to mid-nineties, our records weren't available and they never even came out in the USA, so we were completely oblivious of the interest there was in what we had done, and also that we were inspiring people. Having met Bikini Kill and having had Kurt Cobain inviting us to tour with Nirvana, in the nineties, energized us enough to get back together after ten years of having stopped The Raincoats. And this interest has continued, and given us the most beautiful book we could have hoped to have been written about our first record and about us. Jenn Pelly's book is so comprehensive and insightful. It's about an inquisitive soul and a warm heart trying to understand five other souls and figure out how they put together this record of what was going on in their lives and minds and why this affected her so much. She looks at us as characters in our own cultural, geographical and political lives.

The collaboration with Angel Olsen was another beautiful thing that happened to us. It was amazing to have her add her voice and guitar to some of our songs, and also so great to be able to play on her songs. It was one of my favourite moments ever. Nina Hervé at Rough Trade invited us- an original Rough Trade band to collaborate for their 40th anniversary with a current artist on an independent label. It was Shirley [O'Loughlin, manager and collaborator of The Raincoats]'s idea to collaborate with Angel, and she managed all the curation and organization of the event.
AD: Following the release of "Fairytale in the Supermarket" in the summer before the LP came out in November '79, you toured with Swiss punk band Kleenex/Lilliput. What was that experience like, being a new band and touring with such a singular, all-female band?
Ana da Silva: That was our first tour. I always love playing and that was pleasurable most of the time, but it was also hard. We knew Palmolive and Regula (Kleenex) would be leaving at the end of the tour. Spizz Energi were also on the tour and the twelve members of the three bands were traveling in a van with no room to spare, up and down the country, sometimes for many hours. We were young, but generally found it hard. I took the bad with the good and accepted it. But we never did such a long tour again. In the end, the practice of playing live allowed us to have all those songs ready to record and mix in three weeks. So, it seems it all worked out for the best.
Gina Birch: I was still very young and very shy, and Kleenex probably were too, so we didn't speak much. Everything was new to me. I hadn't traveled much, and I wasn't hugely close to anyone in the band yet. Ana was older and had studied languages so she was more centred, and better equipped to be friends with them. It was a lonely time for me as we all seemed to be fragmenting. I knitted a lot, sang along to my cassettes, and tried my best to stay on track as we played 28 dates in about as many days.
AD: Throughout your work, there's such a communal sound. There are group vocals and harmonies, few conventional "solo"s— everyone is all in, all the time. You each write songs and take turns leading. To me, this is sort of radical, and sets you apart from other bands that you've been grouped with historically (The Slits, The Clash, etc.). How do you maintain this democratic approach?
Ana da Silva: Since the very beginning in 1977, I felt it was important the band to be democratic, but I was also inspired musically by The Beatles, who had different voices and never had one person in the middle of their photos. When we formed the band, I started writing songs and encouraged Gina to write, as well. Then, when Palmolive joined, she brought "Adventures Close to Home" with her, and we encouraged Vicky to write, too.

Gina Birch: It was always important to us to each have a voice… We are all opinionated but try hard to listen to and accept each other as we are. We realize there is value in our differences and that it makes for something richer.
AD: I love your third record, Moving (1984). The balaphone, layered percussion, and harmonies all call back to the production of Odyshape (1981), but here the production feels like it's own instrument— the song "Dance of Hopping Mad" is especially wild and wonderful. Looking back on those middle records, what stands out to you?

Gina Birch: In the band, we had fantastic times together, experiencing exciting and lovely things, but it was often fraught with difficulties– young women on the verge of life, with different strengths and qualities which make the band so special but we were often fragmenting… Poetic, political, childlike, adventurous, experimental, stubborn… all these qualities bubbled and boiled and often clashed… and oh, blimey… this was a hard period when we had perhaps forgotten some of the listening-to-each-other qualities. We each produced the songs we initiated and that was our way of coming [to terms] with our internal difficulties at the time. We were all stretching in different ways, discovering new ways of playing, testing out new things, and not necessarily integrating them into the group.
Ana da Silva: I feel everything we did was an exploration, an adventure, going into the unknown. And, as much as most of the songs sound like they come from us, they also have their own identities, not just because there are several writers, but because we approached each song in a different way. We used different instruments too, keeping the doors open.
AD: In a recent Instagram post, Gina shared a photo of her pants striped with paint. Over the years, you've seen painting your clothing as a subversive act— can you tell me about how that began?
Gina Birch: At that time we wanted to make something interesting about our cheap charity shop clothes. Painting, stencilling, splashing paint, also appliquéing phrases and letters. I had an old very hardy sewing machine which could withstand a lot of difficult fabrics. I have more recently made a series of painted naked dresses which were made initially for our performance with the Neo Naturists at the ICA. The most recent, my pink and orange striped trousers for the show at EartH, were made to recreate a pair of trousers I wore when we played in Poland in 1977.

Ana da Silva: The first item I painted was a pink tie for my friend António on his birthday, I think, in 1976. I made trousers and did some machine sewing on them to evoke scars. It all comes from a need to create something and not just follow.
AD: What were some of the records and shows that inspired you in the early days?

Ana da Silva: I came to London at the end of 1974, and it was the live punk bands that made me feel I could maybe be in a band, especially the ones that had women in them. I never thought that women couldn't do anything they wanted to, I just didn't know if I could. But you only know if you try, and we did. I was listening to Patti Smith, Velvet Underground, Television, Talking Heads, and going to a lot of gigs.

Gina Birch: I loved so many things… but particularly ATV, Lou Reed, Toots and the Maytals, Bob Marley, Lee Perry, Can, George 'Bongo Joe' Coleman, Melanie, [and] Carole King.
AD: What records inspire you now?
Gina Birch: Mike, my husband, has a record deck in the kitchen and plays lots of stuff and I'm always saying, "what's this?" Some nights we get out all the old 45s and dance madly 'round the kitchen, stopping to put a new record on every 3 or 4 minutes. Singles from punk, reggae, etc. I like music that gets inside your head, you know, every single note, and breath and nuance… [when] you know the record so well.

Ana da Silva: In the last few years I've been interested in synthesiser sounds and have made a record with the Japanese musician Phew called Island. I've listened to all of her stuff more than anybody else's. I like her music because I can hear emotion- there are some harsh, some beautiful sounds, and nothing feels safe or easy, and there is plenty of joy, too.
AD: Are there new projects in store for The Raincoats following this tour?
Ana da Silva: We're going to play at the Centre Pompidou Paris on 15 February 2020.
AD: Ana, what's your favorite song of Gina's to play?
Ana da Silva: Difficult question! But if you really push me, I'll choose "No One's Little Girl," not because I prefer this song to others (I don't), but because l really like playing what I play [on it].
AD: Your solo record (The Lighthouse, 2005) and last year's collaboration with Phew are both wonderful departures from the post-punk world The Raincoats inhabits. When and how did you begin experimenting with electronics as part of your writing process?
Ana da Silva: For a long time, I've been enjoying synthesiser sounds, but didn't know how to go about it to use them. I bought a small digital synth, sequencer with lots of sounds, Yamaha QY70, to use as a composing device. In the end I liked what I had done and just added vocals onto a recording machine and released it as The Lighthouse on the Chicks on Speed label.
Eventually, I discovered there was a modular system called Eurorack, invented by Dieter Doepfer in Germany, which was a more affordable modular system than others like the Moog ones. Many people build Eurorack modules all over the world, and so the choice is almost endless. So, with the help of the internet, I started figuring out how it all works and what I wanted to get to be able to make music.
There was this idea that Phew and I should do something together. She sent me some CDs of her work, which I loved but, for a while, didn't know how to go about it. I started buying a few modules, and when Phew played in London we met and I said I would like to do something with her. She then sent me some files; I worked on them and that's how we did the album: one of us would send a few files and the other would finish the song. I really enjoyed doing Island. Although we were far from each other, we discussed things about our lives, politics and also about what we were doing, all by email. This is the beauty of the internet – we could work so well together on totally opposite sides of the world.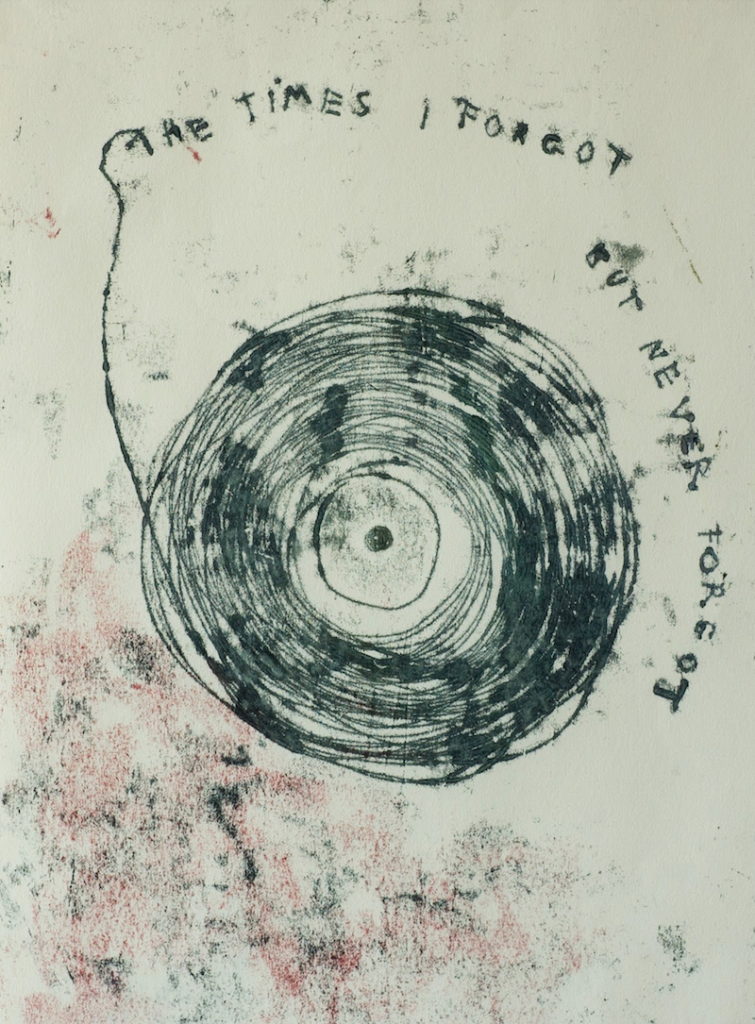 AD: I finally picked up a copy of your book Love, Oh Love at the EartH show, and I really love it. Are you interested in publishing more drawings and writing in the future?
Ana da Silva: I am interested in publishing more – I love making them. I make several of the same theme, so each is similar but unique. I can make them more affordable this way, which has always been something I've felt strongly about.
AD: Gina, What's your favorite song of Ana's to play?
Gina Birch: I love playing many of The Raincoats songs that Ana originated and sings — "Shouting Out Loud," for example.  I love playing "Only Loved at Night."
AD: You're currently showing some work in an exhibition called Freeze-Frame, Fast-Forward at The Koppel Project in London, along with Miranda July and many others! Tell me about what you're showing.
Gina Birch: [At the Koppel Project] I am showing paintings that I have recently made. My paintings in this show are to do with becoming or not becoming a mother. It is quite personal work: one on a large scale called Too Many Cots in the Shed; a small one called Heartbeat; and a third, an older painting about young girls waiting to receive the body of Christ, called Tongues. Currently I am working on 10 large paintings, 40 foot women.

I am coming to the US in April, to LA in fact, for a group show at Durden Ray– an artist-run space, [which I learned about] when we went to Stockholm to participate in an amazing event of artist-run spaces from around the world, to get to know each other and initiate new collaborations and projects.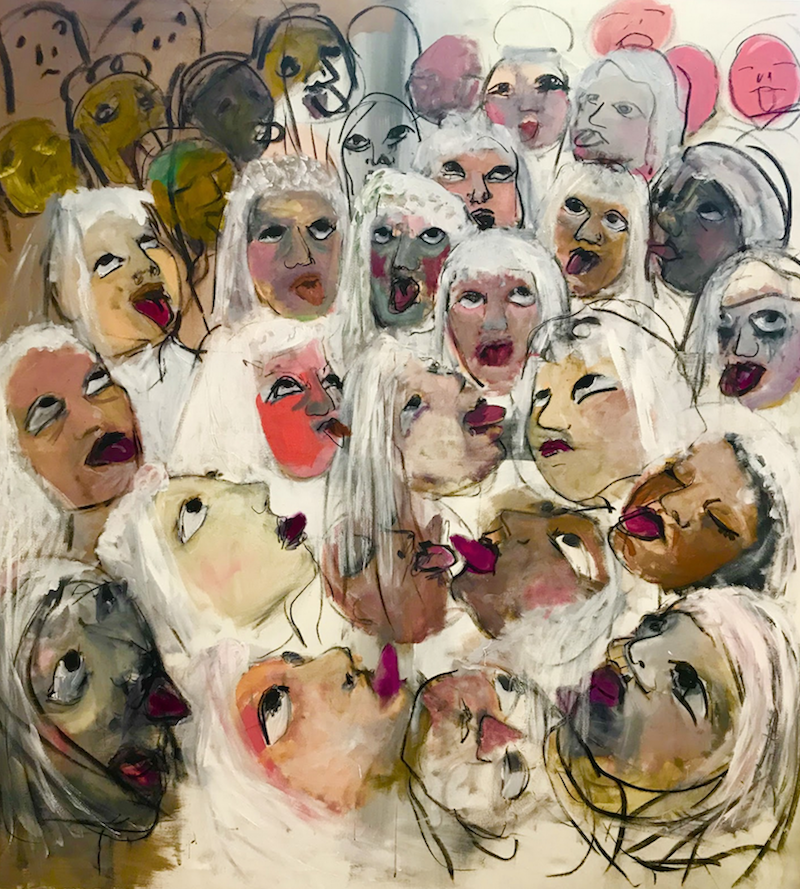 'Tis the season! Help directly support Aquarium Drunkard via our Patreon page. As we're not backed by any corporate goblins, your support will help keep an independent cultural resource alive and healthy in 2020 and beyond.