Of the many improvisers to regularly share a stage with Jerry Garcia, almost none were women. A new archival release from 1973 brings attention to one of Garcia's least known collaborators, Sarah Fulcher, who was far more than a back-up vocalist during her roughly half-year with Garcia and Merl Saunders's unnamed club band. By turns mysterious, confusing, and divisive among Grateful Dead tape collectors, Fulcher was a jamming member of a jamming band. And while recordings don't always capture her voice sympathetically, listened to with more modern ears, Sarah Fulcher is a fearless improviser, inventing lines and verses to match the band's wanderings.
I wrote liner notes for the new GarciaLive Volume 12: January 23rd, 1973 The Boarding House, one of her earliest shows with the group. While writing the essay, I was able to speak with Sarah. The album notes could only accommodate a tiny window into her fascinating story, which is worth more than a few sentences.
Besides being a fascinating musician, Sarah Fulcher is the missing link between Jerry Garcia and the '70s Memphis scene, as well as Texas rockabilly hero Roy Head (cc: @ThoughtsOnGD). In 1972, she released her solo debut on the excellently named TMI Records, a subsidiary of Columbia, under the not-very-well-named "Sarah and Friends." Included is her version of Dan Penn and Don Nix's "Like A Road Leading Home," which Jerry Garcia would learn from her. Produced by Booker T. and the MGs guitarist (and famed Stax session musician) Steve Cropper, Sarah Fulcher's last name does not appear on the album packaging. No wonder she was so elusive.
"It was like a string of meant-to-be kind of things," she says from her native Texas. "I've never been a planner. I don't have any big ambitions. The only thing I ever wanted to do was make an album or two; my grandmother was a singer and there was never anything I could hear, and I thought that was something I needed to do."
The Garcia/Saunders band Sarah joined in early 1973 had been playing regularly for the three years previous, beginning as an all-jam outfit with keyboardist Howard Wales. In many ways, she would have fit better with that earlier band's more freewheeling approach. But that's not how it happened. Sarah Fulcher's career unfolded with the tangled illogic of professional music, a blessing to some, a curse to others, and–to Sarah Fulcher–like a road leading home.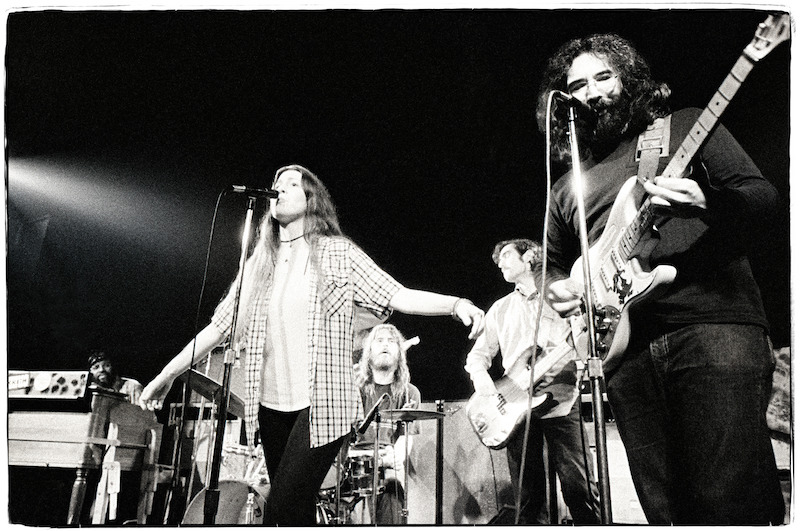 How did you go from singing with Roy Head in Texas to singing with Jerry Garcia in the Bay Area?
It's quite a long story. After I left Roy Head, I was pretty young. I went to San Antonio and started singing jazz at night and working the during the day for the airline. And then I got an offer to do a nightclub gig, and I put a band together and it was extremely successful. In the meantime, personal things came up and I left Texas with a football player from the Jets, and we went to New York, and that's when I saw the Grateful Dead. The first time was in Philadelphia.

I had never seen them before, and I didn't get it at first. But after about five minutes, I got it, you know? I felt it, and I knew it. And it was awesome. I couldn't put my finger on what it was, except that it was exactly what I would do [musically], just fly by the seat of my pants. When I started out singing, I was still in high school, the bands I played with never knew any of the material that I l knew, and I had to learn to improvise and make up words and lead lines and all that. It's what I do. I'm a jam singer. I'd say 'well, just do a blues in G' or whatever, and the words would just come out rhyming.

It's not as difficult for the keyboard or the guitar or the drums and the bass to keep improvising, but if you're a singer, and you don't know anything they're doing, you still have to sing. I don't know what we're doing, but I'm going to figure out. I will make up a lead line. I will make up words. They will rhyme, I promise, and they will be out of heaven. They will come from the source… I can't say that it was a "me" thing [when I was singing]. I really think it was spiritual.
I put a band together in New York. I played in Harlem. I did some things with Sam and Dave's band, but they wound up being drug addicts, so I went back to Texas, played in a club, and–lo and behold–a bunch of guys came through, they were putting a band together and going to Jackson, so they asked if I wanted to go, and I said sure. So, I was in Jackson and the club owner wanted to be my manager. He made a [demo] recording of my voice with Jim Dickinson, and took it to Memphis. Jim Dickinson is the guy who got me to Memphis. I had the choice between recording with Steve Cropper, or somebody else famous. I was the only woman he ever recorded.
Then Columbia Records sent me to Marin [County] to put a band together, and [Garcia/Saunders drummer] Bill Vitt was the drummer in the band I built. That was how I met Jerry Garcia.
How did you come to sing with them?
Bill Vitt invited me, and said they were jamming, and I thought "that's what I do," you know? And I went to Keystone Berkeley and walked in the back room, and had my New York clothes and everything, big hair, and looked pretty good, and I said "which one of you is Jerry Garcia?" And he looked at me, like "what the eff?"
I knew the Grateful Dead but I was ignorant of [the Garcia/Saunders group], I'd never heard anything like it before. God, I wanted to be in that band! It was all just kind of a jam thing. Except for the songs that I knew and they knew ["Georgia On My Mind" and "Honey Chile"], and we did those well, and they were great. Other than that, I never knew whether to go out there and sing or just stand back in the corner.
What do you remember about the gigs?
When I started singing with Jerry, the crowds weren't all that much. But once I started singing with them, and we started getting gigs, we'd turn over the room. I remember we turned over three crowds in one night at the Boarding House. Three shows. I knew it was something they had that people weren't used to, and I hope I added a little something to that.
I remember one night Bear was there. He came up on the stage and had a bird wing hanging off his necklace, a real bird bing. I mean it was a bird wing. And around that time I had gone store and gotten a little ball and put it on a leather chain, and I had my black ball on. And I said, "nice bird wing" and he said "nice black ball," and that's all we ever said to each other.

Doug Sahm sat in with the band one night, I think we were at Keystone, I'm not sure. I knew him from San Antonio. Well, I didn't know him, but I knew of him. And I stood back there talking to him and missed my cue on "Honey Chile" talking to ol' Doug Sahm. It was a real loose scene. Real loose and real good. It was fabulous.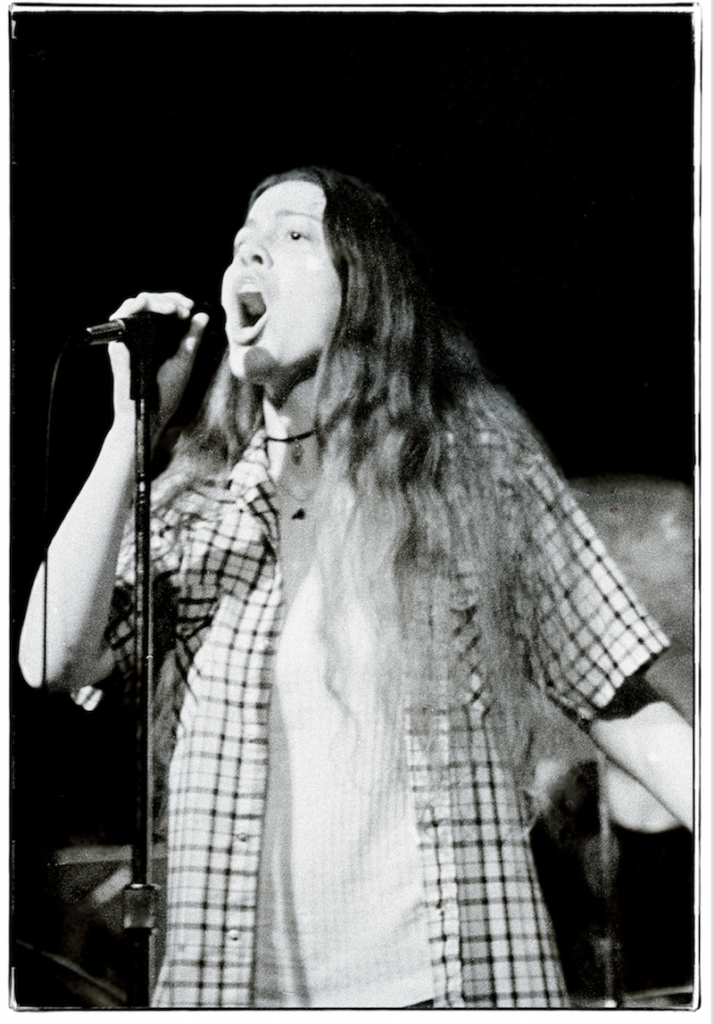 How did the band end up playing "Go Climb A Mountain"?
I wrote a bunch of stuff at home, and I would bring them to gigs, and we'd go over it while they set up, with me playing piano. There was never any soundcheck.
It was basically a song about "I'll see you on the other side." I don't know where it came from. But after we got the chords down, it was mostly improvised, because they didn't really remember the chord changes. It actually had a bridge and everything. But we didn't have any rehearsal. A lot of it I made up as I went. It wasn't bad. I mean, it was outrageously good in some form.
It was one of the hardest things I've ever done. But I was born for a thing like this, because I grew up having to improvise. When I recorded with Steve, the studio wasn't finished, so they had me in a closet downstairs, and they had all these famous people writing music. And they would just give me a piece of paper with words, and then I was supposed to make lead lines. And I did! We made two albums in two weeks, and only one of them got put out. It was a #1 in Cincinnati, I was told!
Had you heard recordings of yourself with Jerry and Merl before?
I never really thought anything would ever come of the things that I did with Jerry. I'd heard some of them and I was appalled at my singing because I had to overcompensate so much. They didn't have the mains turned up, and it was really loud. It wasn't perfect for a chick singer. But I did the best I could under pretty much the worst circumstances in the universe. I'd been used to at least having a soundman until then. Someone sent me some of the recordings of the gigs and I couldn't even listen to them. But I really did have a good voice.
Betty Cantor and I got to overdub a version of "Honey Chile" at the Grateful Dead studio, with a live track from a gig. And it was extraordinary. It was Jerry at his best, and me at my best. Betty was a friend of mine, and she helped me a lot. And I think she really wanted me to succeed with them.
Did you do much studio work with the band?
We recorded a lot of stuff a guitar place, where they made guitars, called Alembic. Phil Lesh came in and was getting his bass all fixed up. We recorded a whole bunch of stuff there, too, and it's all in the archives.
Also at Alembic, me and Merl and John and Bill Vitt did some recording with another guy playing guitar, and he sounded just like Garcia. Well, as much as anyone can. [My esteemed colleague Corry Arnold suggests this guitarist might be Jerry Hahn, house guitarist for Fantasy Records.]
I really wanted to play with Jerry. John Kahn was an excellent bass player. Merl Saunders was just like every B3 player I ever met, just always smiling, great guy. And Bill Vitt was one of my best friends.
Did you hang out much outside the gigs with the band?
I never really got a chance to visit with Jerry all that much. I knew he really liked me as a person. I felt like maybe sometimes I was in the way, but I tried to stay out of the way. I was very respectful of him and the guys. Although I felt like their equal sometimes, I wasn't. I didn't really hang out with anybody. I left the gigs and I went home, because I was a professional, and didn't have time too much time for partying at that time. I just wanted to be the best I could be.
I think I talked to Jerry a few times after I got back to Texas and I remember him saying, "Well, sometimes you have to bend the edges…" I think he was real sweet. I didn't know him well enough to get to know him. I'm sure he had all kinds of family and girlfriends, and I was just a music person, and that's all I wanted to be. I wanted to get to know him because I thought Garcia was extremely smart, and the way he talked made me think he really knew some stuff. I like everybody, but I just loved him. I told CBS Records, "No, I don't want to play with Graham Central Station, I've played with Jerry Garcia."
And then how did you go from playing with Jerry and Merl to playing with [all-female Memphis proto-punk band] The Klitz?
My dad died, and I went back to Texas for a few weeks, then went back to Memphis. I came back and put a band together called The Eyes, a lot of original music, and the greatest little band. I played bass in it. And I had a partner, we both wrote music, but the band broke up, and I started playing with the Klitz. That was just about the most magical thing, the energy in that group of girls. We weren't punk, but we played a lot of rock and roll really fast.
Alex Chilton was their supporter and I guess that's what he saw in the Klitz that made him want to be a part of it. [Chilton would produce the Klitz' sole EP.] His era was just before me. I wasn't around when he was doing his thing. The Klitz were my friends and they just asked if I want to play and I said yeah. We all worked in a health food store. We just all knew each other, and they were just the greatest girls. I mean, really! *photos courtesy of Jim Needham
Jesse Jarnow is the author of Heads: A Biography of Psychedelic America (Da Capo, 2016), Wasn't That a Time: The Weavers, the Blacklist, and the Battle for the Soul of America (Da Capo, 2018), and Big Day Coming: Yo La Tengo and the Rise of Indie Rock (Gotham, 2012). He hosts The Frow Show on WFMU.
'Tis the season. You can help support independent media. Aquarium Drunkard has launched a Patreon page, which allows readers and listeners to directly support our online magazine. Patronage includes bonus audio, podcasts, printed ephemera, and vinyl records.