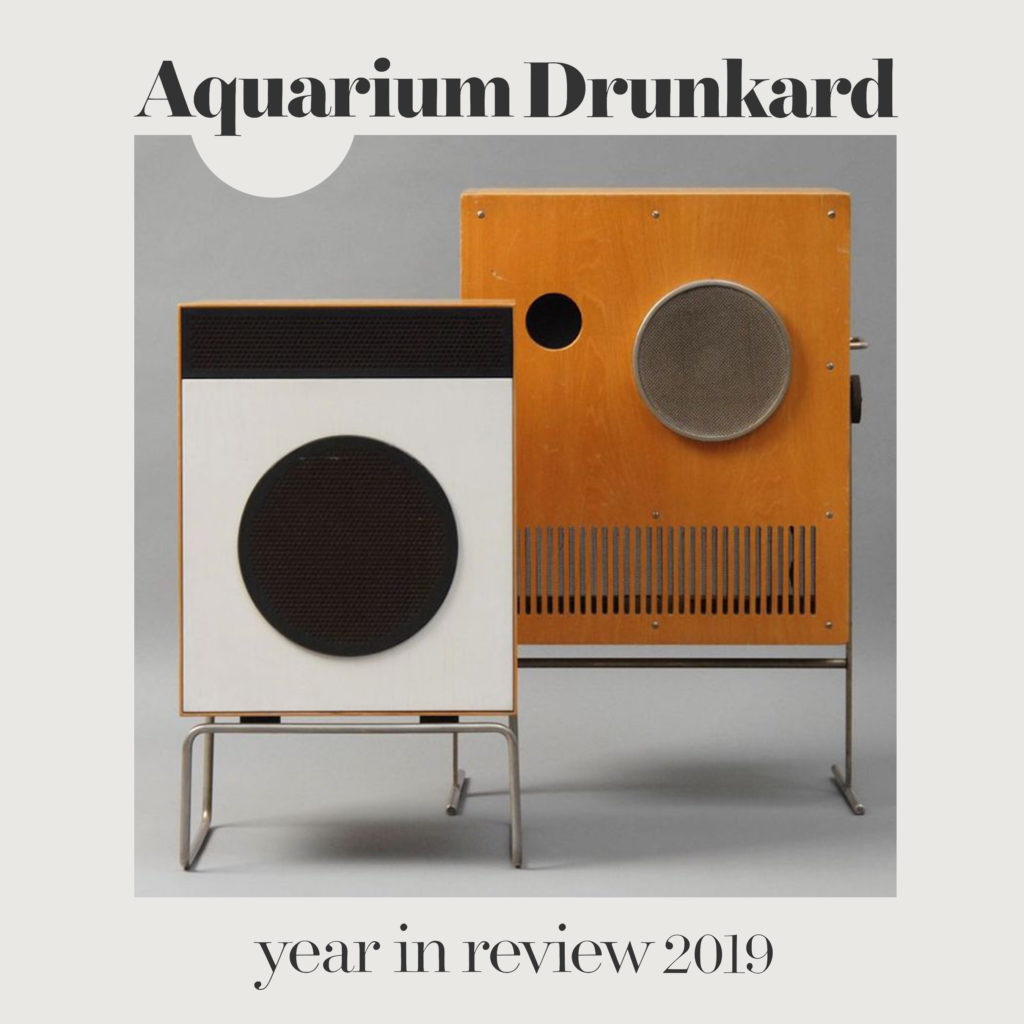 Once again, our obligatory year-end review. The following is an unranked list of albums that caught, and kept, our attention in 2019. Onward. – AD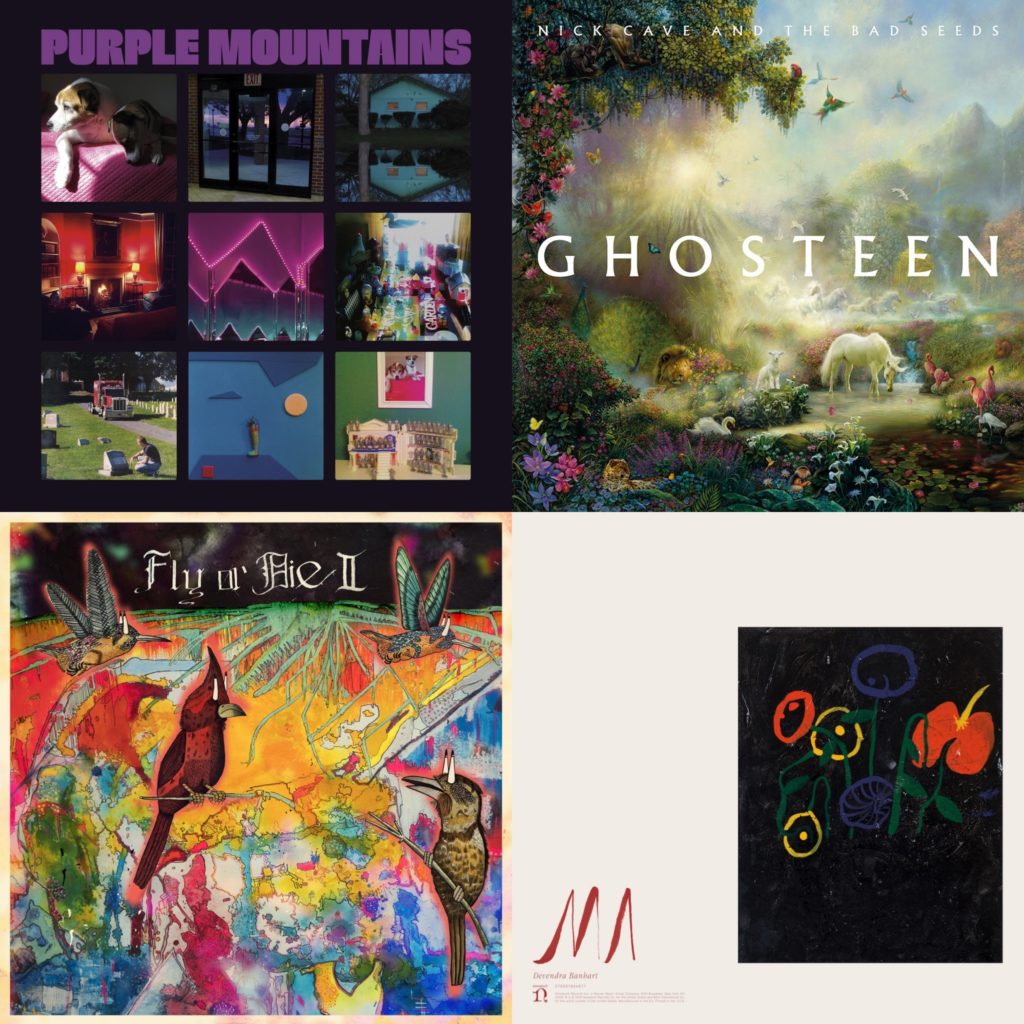 Purple Mountains :: Purple Mountains
After a decade of silence from the Silver Jew, Purple Mountains stands as both comeback and farewell for David Berman. The majesty is mislaid, but the album is replete with Berman's wily and unmistakable voice, singing clear about the impossible tension between the human soul and end-capitalist rancor. Laced with "ceaseless feasts of schadenfreude," songs like these are why Berman's cult is such a devout one. May David rest in peace, power, and poetry. (buy)
Nick Cave :: Ghosteen
This is an absolutely stunning interpretation of grief and loss from one of our greatest living artists. Alongside Warren Ellis and the Bad Seeds, Nick Cave paints a vibrant, dreamlike atmosphere, haunting and uplifting. Cave's trademark bravado is replaced by a father's honest strength, his soul laid completely bare. Ghosteen is a powerful and serene incantation in the face of unspeakable tragedy. Few have ever come this close to capturing what it really feels like to lose a loved one unexpectedly. There is always a presence and a distance. The lost floating in and out of the frame. "I am here beside you / And look for me / In the sun…" (buy)
Jaimie Branch :: Fly or Die II: Bird Dogs of Paradise
Fly Or Die II: Bird Dogs of Paradise delivers challenge and experiment in the context of irresistible swing; Jaimie Branch even sings on a couple of tracks. Reconvening most of the band from her 2017 breakout, Fly or Die, the album's potenty is immediate and further proof of a master bandleader in the making. (buy)
Devendra Banhart :: Ma
Devendra Banhart's latest, Ma, eschews much of the artist's trademark stylistic hopping around. Instead, it finds the polymath relaxed and natural. Alongside guests—like Cate Le Bon and Banhart's mentor and friend Vashti Bunyan—he settles into an easy stroll, singing in English, Portuguese, and Spanish, referencing Carole King and Haruomi Hosono, and focusing on maternal love and beauty. It's one of Banhart's finest works to date. (buy)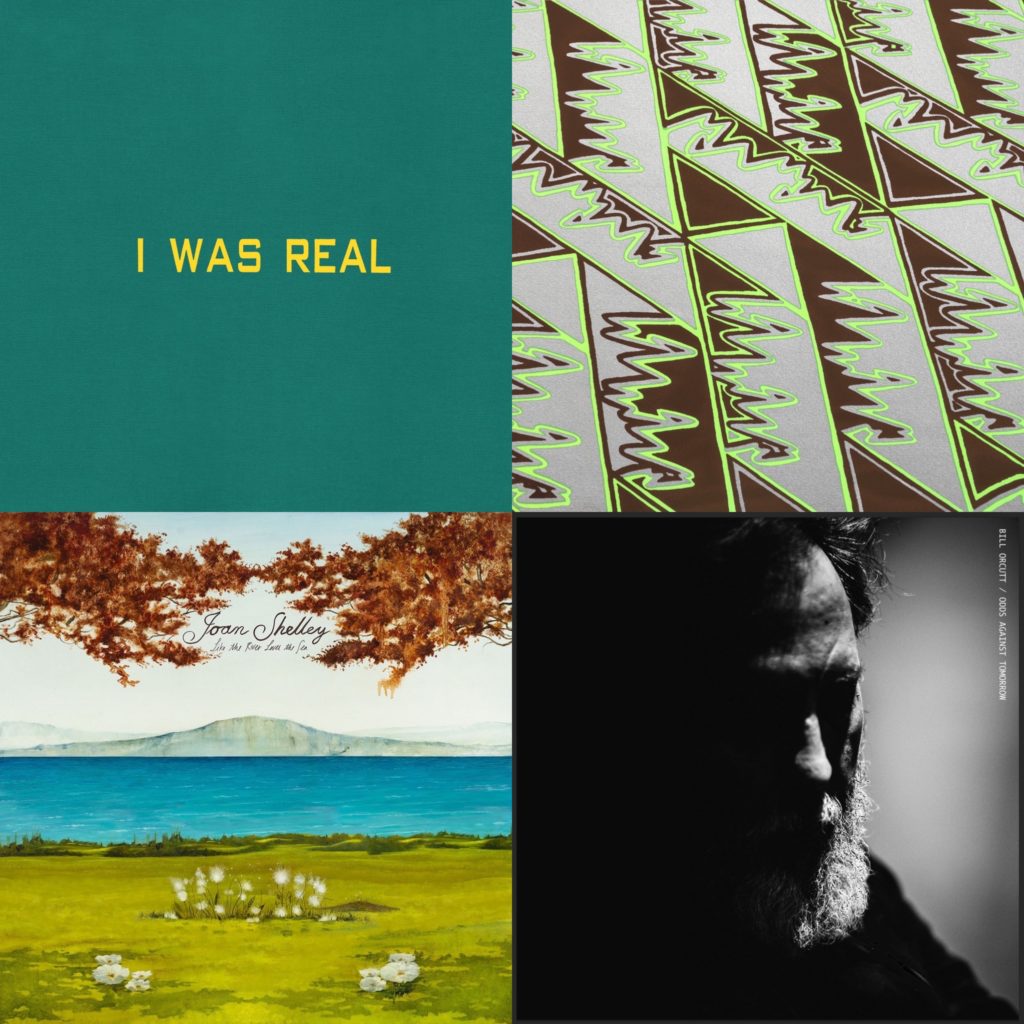 75 Dollar Bill :: I Was Real
After a pretty much flawless decade, I Was Real might be 75 Dollar Bill's most satisfying work yet, bringing together a kaleidoscopic range of approaches, from expansively tranced-out jams (the side-long title track) to blazing, stripped-down duo workouts (the unbelievably locked-in "WZN #4"). This thing sprawls, but never meanders—its 70 minutes fly by. Wherever Che Chen and Rick Brown take the listener, they do it with a pure sense of adventure, riding the current fearlessly. (buy)
Joshua Abrams & Natural Information Society :: Mandatory Reality
An incredible slab of real-time trips into the slipstream with Joshua Abrams and his Natural Information Society. Recorded live at Steve Albini's Electrical Audio studio in Chicago, Mandatory Reality's Zen-like extended compositions blend formal minimalist approaches with spiritual jazz, German kosmiche textures with Gnawa trance music. One of the year's most enveloping and immersive listening experiences. (buy)
Joan Shelley :: Like The River Loves the Sea
"No one taught you to pull in close/ When danger was near / Oh your tender heart's exposed/ Out there in the clear." As always, folk singer Joan Shelley stands open in the field, singing her open-hearted songs, rooted in ancient British and Appalachian traditions, but fully capable of articulating the concerns of our confusing modern moment. (buy)
Bill Orcutt :: Odds Against Tomorrow
Bill Orcutt doesn't need more than a five-string Telecaster and Fender Twin to create something enduring. Though his discography often presents him conjuring up unholy and profound noise, he plays with traditions here, reshaping blues and folk idioms. The resulting sounds, chiming, occasionally violent, often lovely, are moving. Check out the majestic "The Sun And Its Horizon"—part Sonny Sharrock, part Jimi Hendrix—for a primer, then dive all the way in. (buy)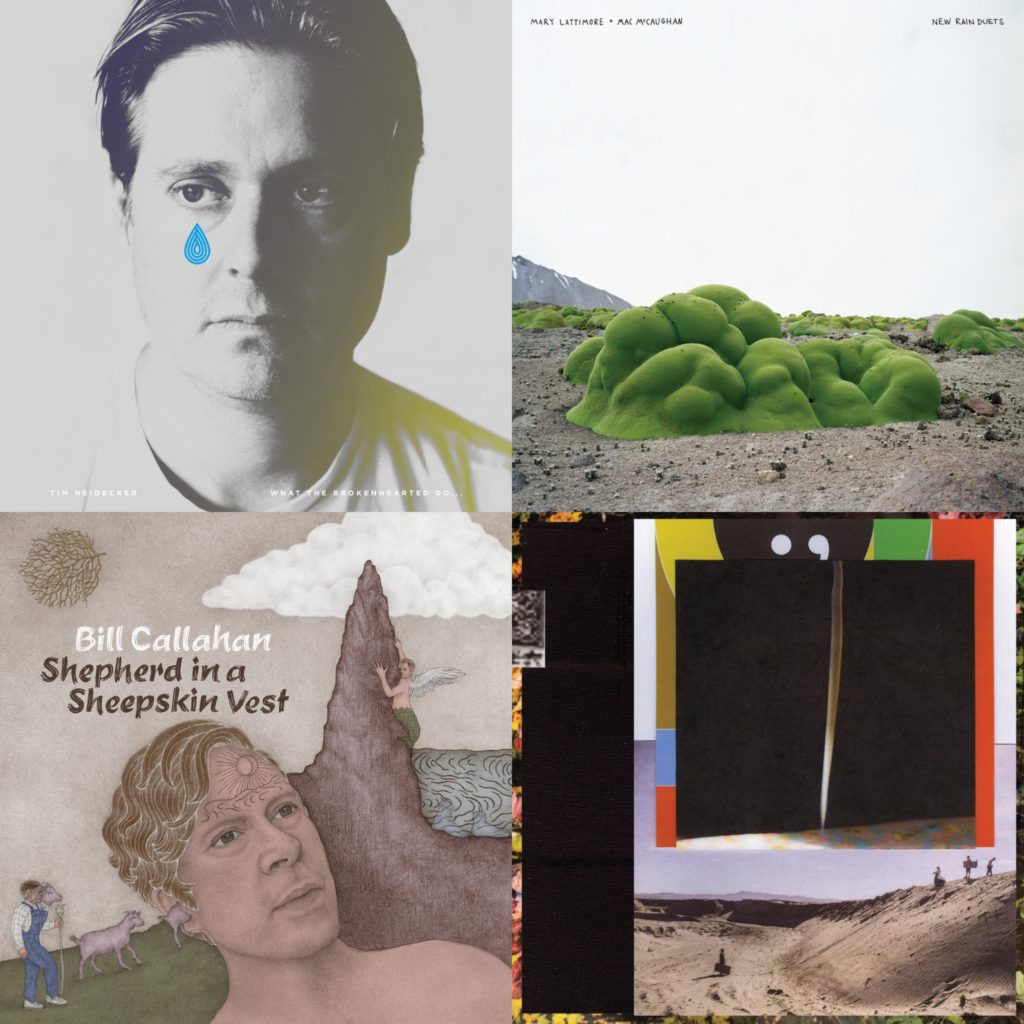 Tim Heidecker :: What the Broken Hearted Do
As a master of the musical pastiche, Tim Heidecker's fake divorce album written in reaction to rumors that his wife Marilyn Porayko had left him remains a real-life emotional gut-punch. With plush production from Foxygen's Jonathan Rado, this '70s styled bummer mixtape cycles through country-rock, glam, and lost Kinks klassics. His lyrics may not be rooted in reality, but ever the polymath, Heidecker runs with the ball to assemble another affecting collection of songs. (buy)
Mary Lattimore and Mac McCaughan :: New Rain Duets 
Mac McCaughan—cosmic synth master?! Those aren't words you'd expect to read about the Superchunk/Portastatic frontman in 2019, but here we are. New Rain Duets, his collab LP with Mary Lattimore, shows off Mac's adventurous synthesizer textures alongside the cascading shimmers of Lattimore's effects-laden harp. The end result is kinda like a dream team-up of Terry Riley and Alice Coltrane. (buy)
Bill Callahan :: Shepherd in a Sheepskin Vest
The patron saint of sad bastard baritones returned this year as a domesticated indie-rock elder statesman. On his first album since 2013's Dream River, Callahan conjures vividly painted characters (many of them stand-ins for the new husband and father) with economic poetic flair. He sings as a shepherd, fisherman, or someone who shares a tailor with the Incredible Hulk. At age 53, the real-life Bill has recharged himself with Big Dad Energy, sharing more personal details than ever before through sincere interviews, his snarky Twitter account, and this sneakily brilliant 20-song set. (buy)
Bon Iver :: i,i
When Bon Iver broke through to the mainstream or whatever substrata we classify as the mainstream now, it was as a vehicle for the solitary voice of Justin Vernon. Since 2008, the project has steadily expanded, incorporating avant-garde, electronic, progressive rock, AOR, and hip-hop textures, expanding its thematic scope, and following Vernon's quixotic muse wherever it may lead. With i,i, the band's fourth album, inspired by the Rastafarian concept of interpersonal unification, Vernon's voice (or voices—like his compatriot on the vanguard Kendrick Lamar, he utilizing a varied set of tones and cadences to choir-like effect) is one among many. The project is all the better for it: "All along we I can hear me." (buy)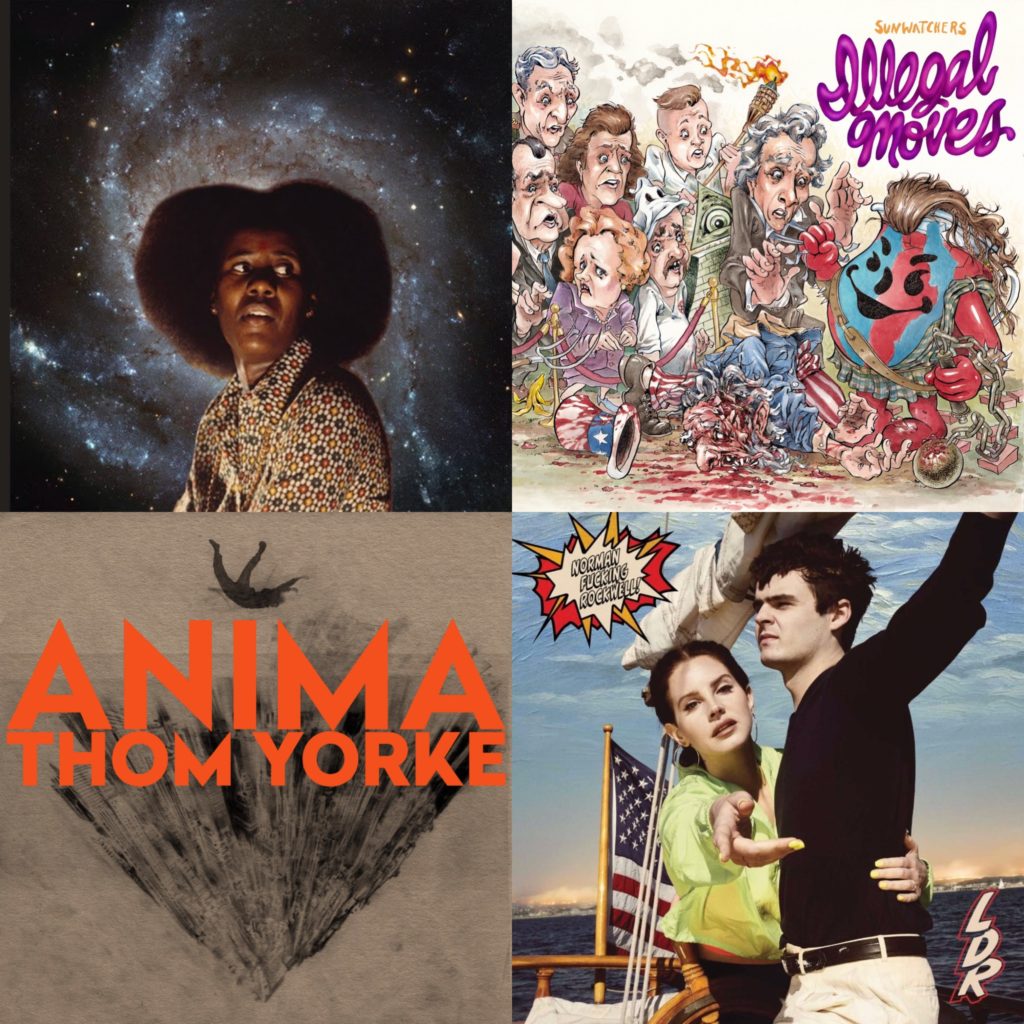 Alice Coltrane :: Berkley, 1972
However you hear this recently uncovered bootleg, you gotta hear it (perhaps over on YouTube?). A major addition to the Alice Coltrane canon, it features the pioneering musician and her incredible band (Charlie Haden on bass, Ben Riley on drums, Aashish Khan on sarod, Pranesh Khan on tabla and Bobby W. on tamboura and percussion) journeying fearlessly across the astral plane. Beautiful, scary and transcendent…a total fucking trip, to say the least. (listen)
Sunwatchers :: Illegal Moves
New York's Sunwatchers conjure their subversive call to arms with nightmarish Mad Magazine-inspired cover art. Kool-Aid Man, dressed like Braveheart, bludgeons Uncle Sam into a pulp as the world's evil forces (Richard Spencer, Margaret Thatcher, Ted Nugent, Fred Durst, Dilbert) look on in dismay. Yet that's nothing compared to the music contained within, as this barn-burning instrumental quartet somersault through psych, jazz, and fuzz-rock freak-outs. By including a cover of Alice Coltrane's "Ptah, The El Daoud", Sunwatchers align themselves with their spiritual predecessors by gleefully breaking the rules. (buy)
Thom Yorke :: ANIMA
Thom Yorke's brand of paranoia is equal parts soothsayer and soapbox madman. For decades, he's been—accurately(?)—telling us excess and governments would haunt and infringe on our daily lives. There's some of that throughout ANIMA but he also turns to a pronounced restless anxiety that keeps him up and wandering. The electronic-leaning productions he and co-producer Nigel Godrich concocted are vibrant and challenging but at the halfway point the heady fog lifts and opens up to "Dawn Chorus." A simple synth chord-driven stunner that ranks as some of Yorke's most beautiful and emotional work. An additional note, if you have the chance to see this tour—run don't walk. The threesome setup of Yorke, Godrich and visual artist Tarik Barri will leave your jaw on the floor (and it's Barri who steals the show). (buy)
Lana Del Rey :: Norman Fucking Rockwell!
Lana Del Rey's laissez-faire, stoner-y songwriting has never been more crystal clear: America is fucked up and she is too. NFR! is a voyeuristic cocktail of apathy, sex, and drugs…with prose that'll make you weak in the knees. This album is a grand statement—she was swinging for the fences and absolutely knocked it out of the park. Piano ballads abound, steeped with drips of California golden psychedelia and her slow roll vocal delivery suits it well. (buy)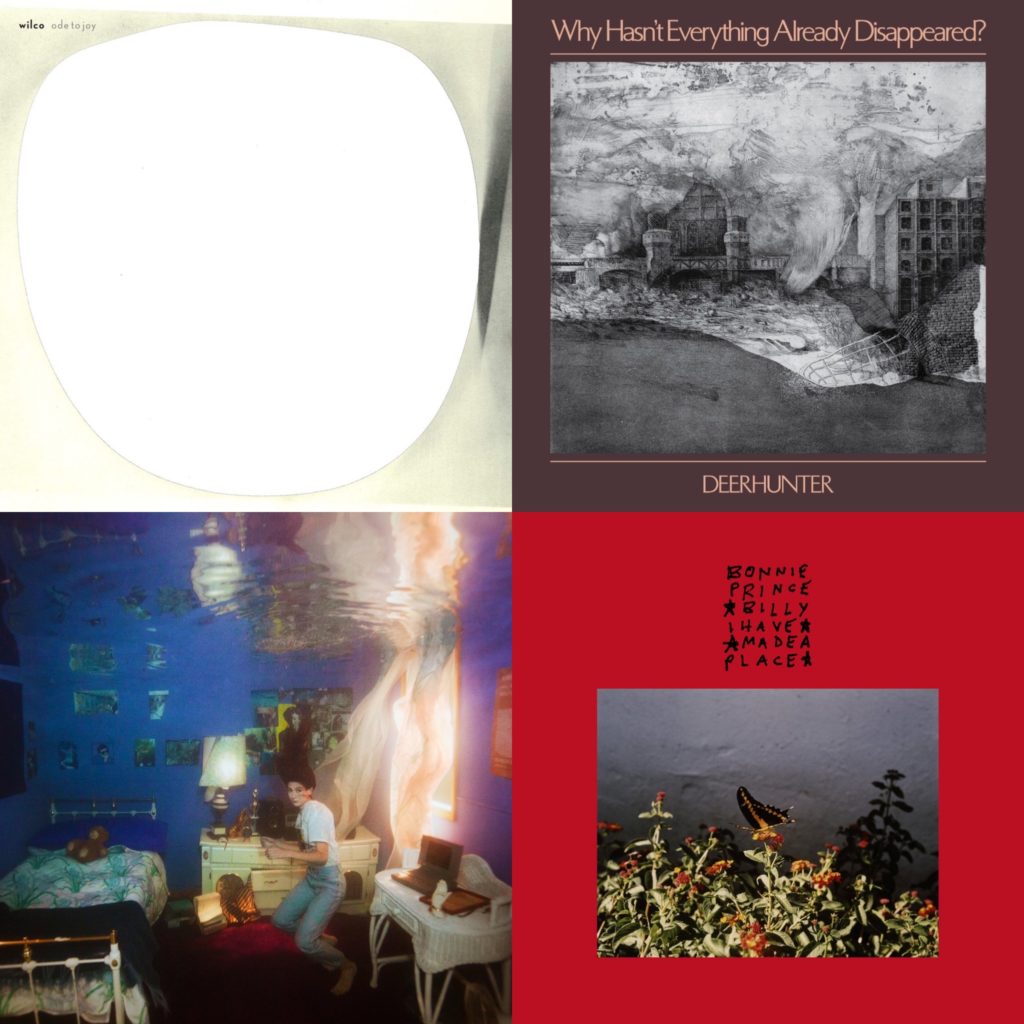 Wilco :: Ode to Joy
Wilco's quiet, understated Ode to Joy is a true winner. Stubbornly subtle—it refuses to ever boil, just simmer—it's the band's best since Sky Blue Sky. Quietly, as is its primary mode, it's a protest record, about not letting go of all the things you love even as the skies grow dark. "Remember," Tweedy sings. "It can't be denied, everyone hides." But the trick is that the record is about why they are worth finding. (buy)
Deerhunter :: Why Hasn't Everything Already Disappeared?
A self-proclaimed "science fiction album about the present," Why Hasn't Everything Already Disappeared? finds Deerhunter at the mesa of their dream-pop playground, shouting from the heights with some of its boldest, richest, and most experimental compositional structures to date. The heavily synth-laden record recalls the band's more euphoric moments, and the added presence of Cate Le Bon helps connect to more outsider pop sensibilities: futurist folk songs and cosmic pastorals. (buy)
Weyes Blood :: Titanic Rising
Titanic Rising's understated yet lush production provides the perfect canvas for Natalie Mering's (latest) breakthrough, and the backing on which her voice shines. Mering has a voice you want to hear sing anything, anytime. The album's chart success and to-be enduring brilliance, owes much to Mering's unique ability to create melodies. (buy)
Bonnie "Prince" Billy :: I Made a Place
Singing about death, sex, love, sadness, and weirdness with his trademark wit and tunefulness, Will Oldham has made his best album in years with I Made a Place. Funny, lovely, and always genuine, it's a reminder that we are lucky to have spiritual detective Oldham on the case. (buy)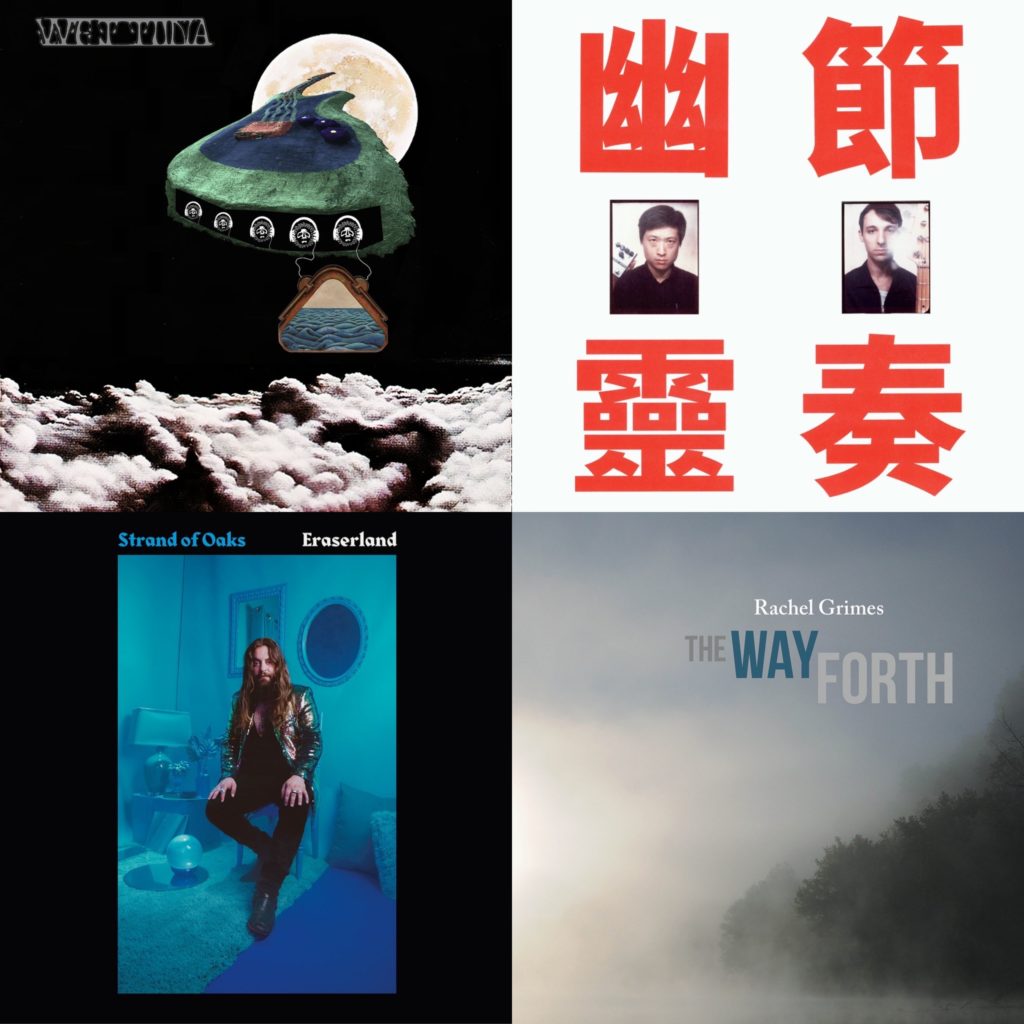 Wet Tuna :: Water Weird
Matt Valentine and Pat Gubler (AKA PG Six) return with another serving of deep-fried psychedelic hijinks—six messily brilliant jams that sprawl, skronk and choogle their way to heady heaven. These guys have been playing together for decades now, and the interplay is free-flowing, whether they're sauntering dangerously down Shakedown Street on "Disco Bev" or rambling acoustically on the appropriately titled "Roam," which drifts along smoke-ring-like for almost 10 minutes. (buy)
Gong Gong Gong :: Phantom Rhythm
On their debut album, cross-continental guitar and bass duo Gong Gong Gong 工工工 draw on the buzzy rock 'n' roll bedrock of Bo Diddley and mesmerizing solos of West African desert blues. As Tom Ng sings in Cantonese, they twist up American musical traditions and set them ablaze like Bill Orcutt, Henry Flynt, or 75 Dollar Bill. Pulsing beats appear in the spaces left inside the duo's drumless sound, expanding into vast and enveloping territories that sound like a desert rave after sundown. (buy)
Strand of Oaks :: Eraserland
Timothy Showalter's Eraserland lp, featuring directly anthemic songs and bolstered by powerful contributions from members of My Morning Jacket, found him exploring what it's like to find yourself at the end of edge of where you ever imagined you could end up, channeling elements of heartland rock, shoegaze, country music, and psychedelia. As a bonus, his Aquarium Drunkard Lagniappe Session hit streaming services too, featuring his soulful and expansive takes on Primal Scream's "Damaged," Phish's "Dirt," and the Stone Roses' "Made of Stone." (buy)
Rachel Grimes :: The Way Forth
A Southern folk opera about the South—part investigative fiction, part family memoir, part historical record—Rachel Grimes' The Way Forth asks difficult questions about our national identity and what voices are too often written out of history. Alongside guests including folk singer and songwriter Joan Shelley, guitarist and Alan Lomax archivist Nathan Salsburg, harpist and Jack White collaborator Timbre Cierpke, filmmaker Catharine Axley, and many more, Grimes has created a multi-media presentation, encompassing varied musical formats and miles wide in scope. (buy)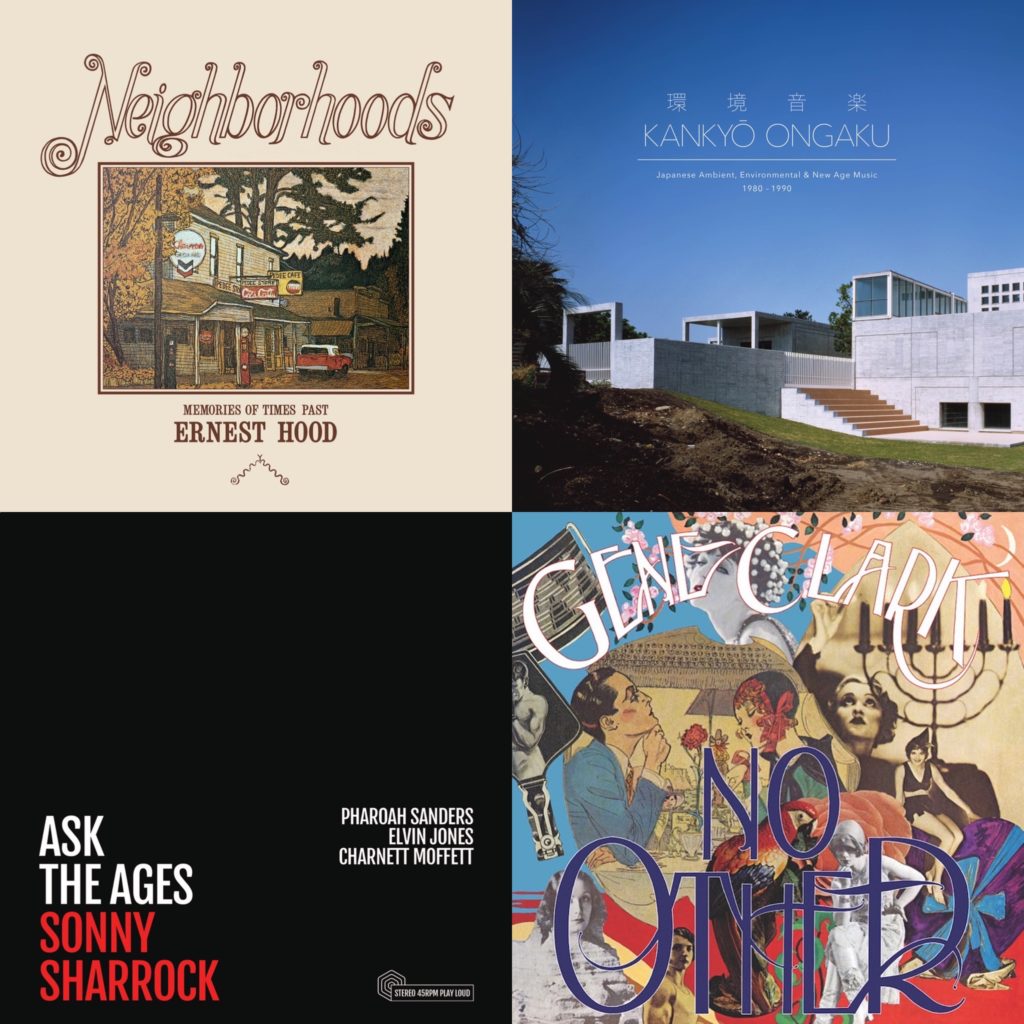 Ernest Hood :: Neighborhoods
In 1975, Portland's Ernest Hood had no intentions beyond sharing the sounds of his neighborhoods. After polio forced the jazz musician into a wheelchair, Hood switched his instrumental focus to the zither. Combining Pleasantville-esque field recordings—children playing, crickets chirping, cars sputtering by—with understated electronic pop, the result is one of the most relaxing listens ever laid to tape. While it could be considered proto-ambient experimentation, Neighborhoods is closer in spirit to Folkways' Sound of the Junk Yard. Nonetheless, fans of Woo, Plantasia, or the KLF's Chill Out will find a new favorite on these serene streets. (buy)
Kankyō Ongaku: Japanese, Ambient, Environmental and New Age Music
Visible Cloaks' Spencer Doran is the mastermind behind this stunning collection of Kankyō Ongaku released in Japan from 1980-1990. As he explains in his liner notes, a generation of artists followed in the soft footsteps of Erik Satie's "furniture music"—"made to intermingle with the sounds and environment of everyday life." Ryuichi Sakamoto and Haruomi Hosono of Yellow Magic Orchestra appear next to names that may be less familiar in the west. While originally intended as in-store music, a promo lp for an air conditioner, or an ad for a wristwatch, these sounds sweeten any space like sonic perfume. (buy)
Sonny Sharrock :: Ask the Ages
Finally issued on vinyl, this 1991 classic paired the fiery guitarist and producer Bill Laswell with saxophonist Pharoah Sanders, drummer Elvin Jones, and bassist Charnett Moffett. The resulting recordings make up one of—if not the most—of Sharrock's essential albums, veering violently from cooking grooves ("Promising Kept") to swooning romance ("Who Does She Hope To Be?") to careening free bliss ("Many Mansions"). The last lp issued in Sharrock's tragically short lifetime, it's as good as it gets. (buy)
Gene Clark :: No Other
Released in 1974 to barely any promotion by label Asylum Records, Gene Clark's No Other was restored to proper glory this year by 4AD. The deluxe edition of the album pares illuminating alternate takes with a remastered version of the original release, full of mystical lyrics and a progressive fusion of gospel, rock, country, folk, and R&B, and electric jazz. The tendency to label all reissued works shoulda been classics must be resisted, but it's hard to deny in this case—there's a parallel timeline where the title track is that world's "Fly Like An Eagle." (buy)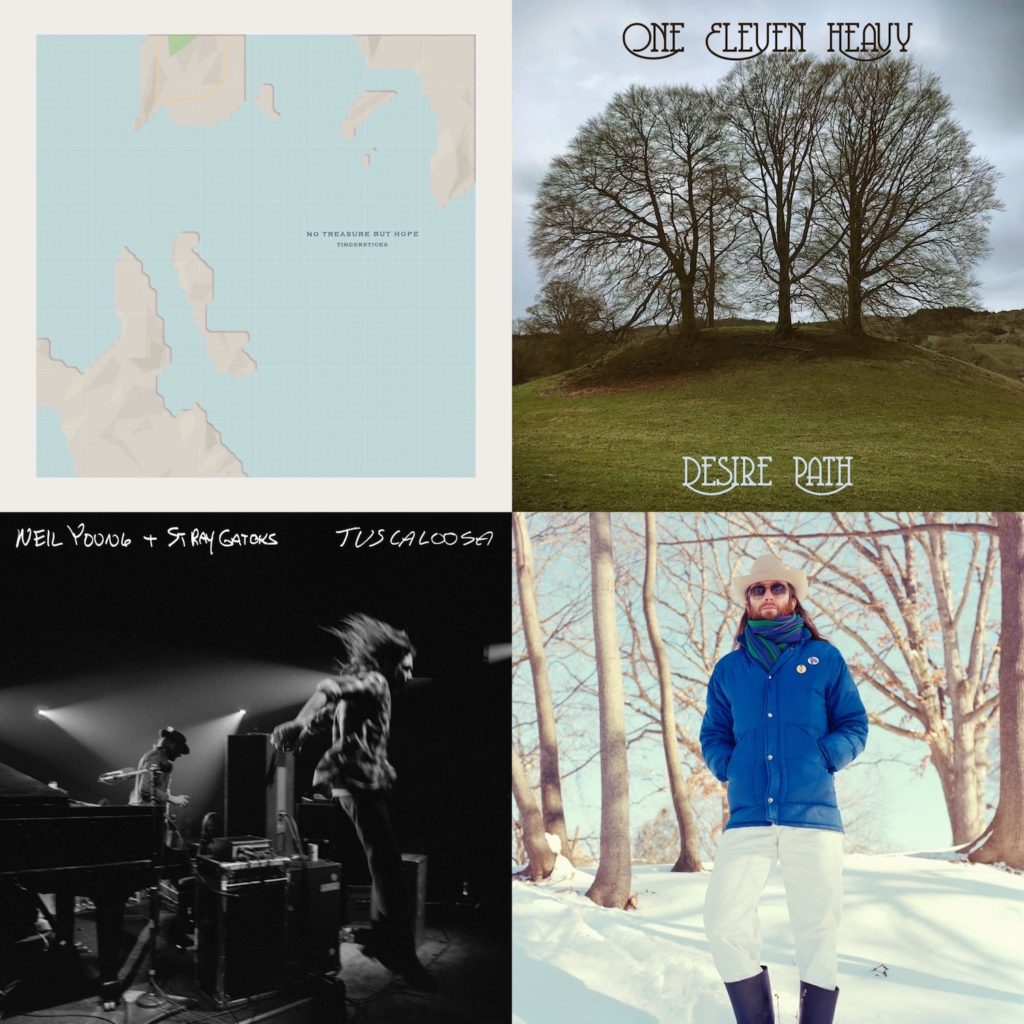 Tindersticks :: No Treasure But Hope
Full of conviction with an unyielding reverence for his art, Stuart Staples simply refuses to look back. Whether with Tindersticks or his solo work, he hasn't stopped creating in nearly thirty years. "We are the amputees, cut off at our knees," Staples sings on "The Amputees," the first single from No Treasure but Hope. It's a song that carries immense weight, one that sets a tone for the album as a whole. While many of the compositions are soft, enveloping soundscapes, much of No Treasure floats in a dim vastness, reveling in the existentialism and singularity of being human. (buy)
One Eleven Heavy :: Desire Path
Everyone's favorite transatlantic jam quartet returns for another kickass set of boogies and rave-ups. An all-star cast assembled (Nick Mitchell and James Jackson Toth on guitars and vocals, Dan Brown on bass and vocals, Hans Chew on piano and drums), the goal here is bliss, the kind classic rockers like the Allmans, the Dead, and Hendrix delivered. If you appreciate a good choogle, shit-eating grins are guaranteed. (buy)
Neil Young :: Tuscaloosa
Recorded way down in Alabama in early 1973, Tuscaloosa, the eleventh release in Neil Young's ongoing archival Performance Series, is a sparkling showcase for the short-lived Stray Gators. Made up of pedal steel/slide guitar maestro Ben Keith, pianist Jack Nitzsche, drummer Kenny Buttrey, and bassist Tim Drummond, the group was one of Young's subtlest, most sensitive combos, blending session-player expertise with a stoney looseness. Think of Tuscaloosa as Time Fades Away's kinder, gentler cousin. But it's still got plenty of bite. (buy)
Matthew "Doc" Dunn :: Upper Canada Blues
Toronto's Matthew "Doc" Dunn continues his hot streak with a third solo album in 12 months, not to mention his work with U.S. Girls and the Cosmic Range psych-funk wrecking crew. The multi-instrumental wrangler handles this platter's scorching solos, drums, vibes, bass, and keys, while choosing slide guitar as his lead instrument in the vein of Lowell George or Jesse Ed Davis. Dunn's lovelorn tales of reckless relationships may feel frozen under ice, but he thaws hearts by floating into a bright blue yonder. (buy)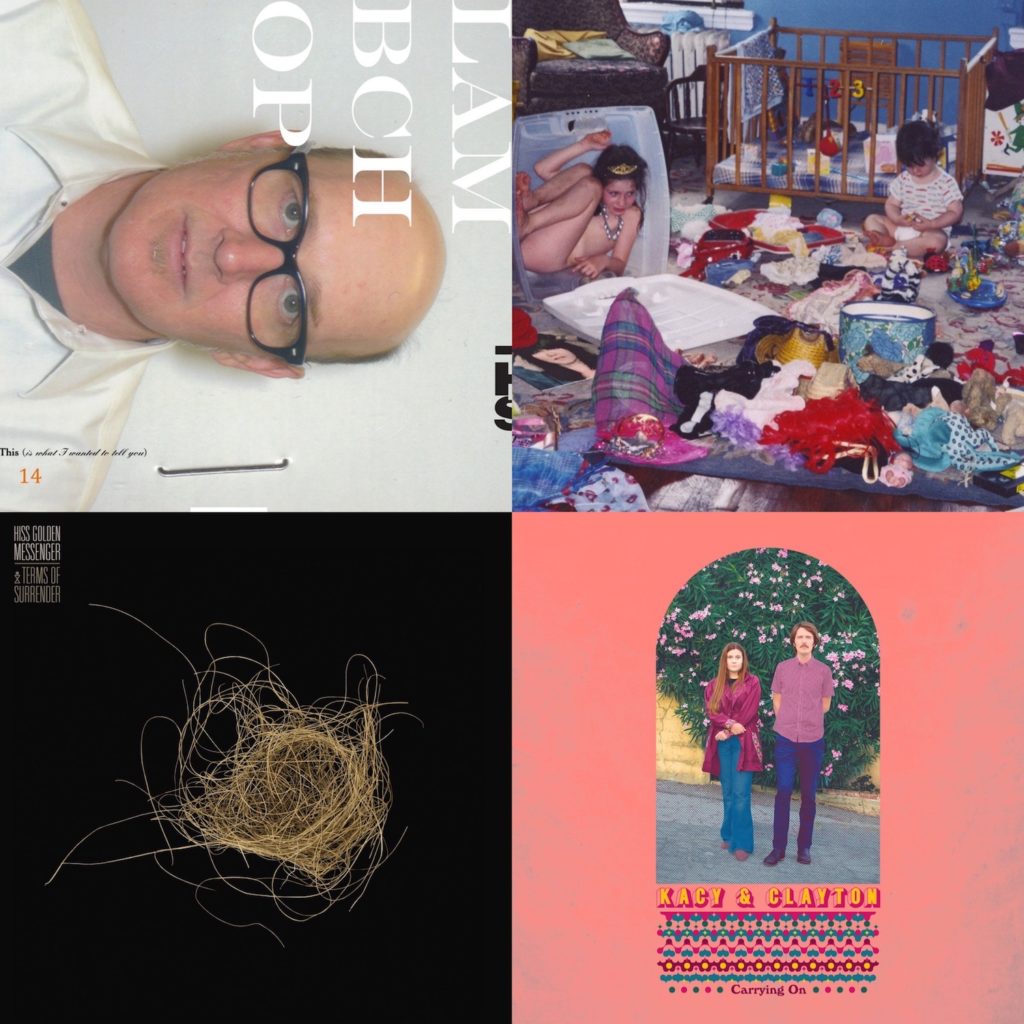 Lambchop :: This (Is What I Wanted To Tell You)
At the close of a decade that has been very, very good for Lambchop, it makes sense that they go out on possibly their best album of that span of time. No band sounds like one helmed by Kurt Wagner, though, and the ever-evolving sound of Lambchop – along with Wagner's lyrics that always find some narrow thread between quotidian and revelatory—found the best expression of a sound first explored on 2016's FLOTUS. It's an album that feels lived in, warm and conversational even in its most specific moments; it's a trait Lambchop continues to express time and again. (buy)
Sharon Van Etten :: Remind Me Tomorrow
If Remind Me Tomorrow is pop-music, sign us up. Sharon Van Etten has been on the great song crafters of the decade, and part of that power was the pent-up, held-back feeling that all-but-burst on her first four lps. Her latest, and the confidence and composure that makes it so magical, shines all-the-brighter live, where Van Ettan's Patti-Smith-with-a-dash-of-Danzig panache has brought her to the wider audience she deserves. (buy)
Hiss Golden Messenger :: Terms Of Surrender
A decade and ten albums removed from Bad Debt's kitchen table confessions launched MC Taylor on his righteous path, Hiss Golden Messenger continues to evolve, challenge, and thrill. The well-worn roots-rock sheen of the last few albums here gives way to the most adventurous production in the Hiss discography—an often dubby luster that surrounds patiently unfolding songs of family, struggle, work, and the love it takes to keep going. Not unlike the finest gospel music or the poetry of Wendell Berry that Taylor holds dear, Terms Of Surrender is vulnerable, searching, and elegiac—another immaculate entry in the Hiss canon. (buy)
Kacy & Clayton :: Carrying On
Carrying On is the sound of the Saskatchewan cousins (along with their sensitive band and producer Jeff Tweedy) in full gallop, moving beyond the influences more apparent on their earlier work and arriving at their own Wood Mountain sound. Kacy's singular voice has never sounded better and more self-assured, and Clayton's playing remains gorgeously restrained and awe-inspiring. It's all there on "That Sweet Orchestra Sound," a swinging celebration of their rural communities and the dance bands that bring them together. The finest electric effort yet from these bright northern lights, one that stands as tall as the conceptual masterpieces cited as references (My Griffin Is Gone, The Delta Sweete). (buy)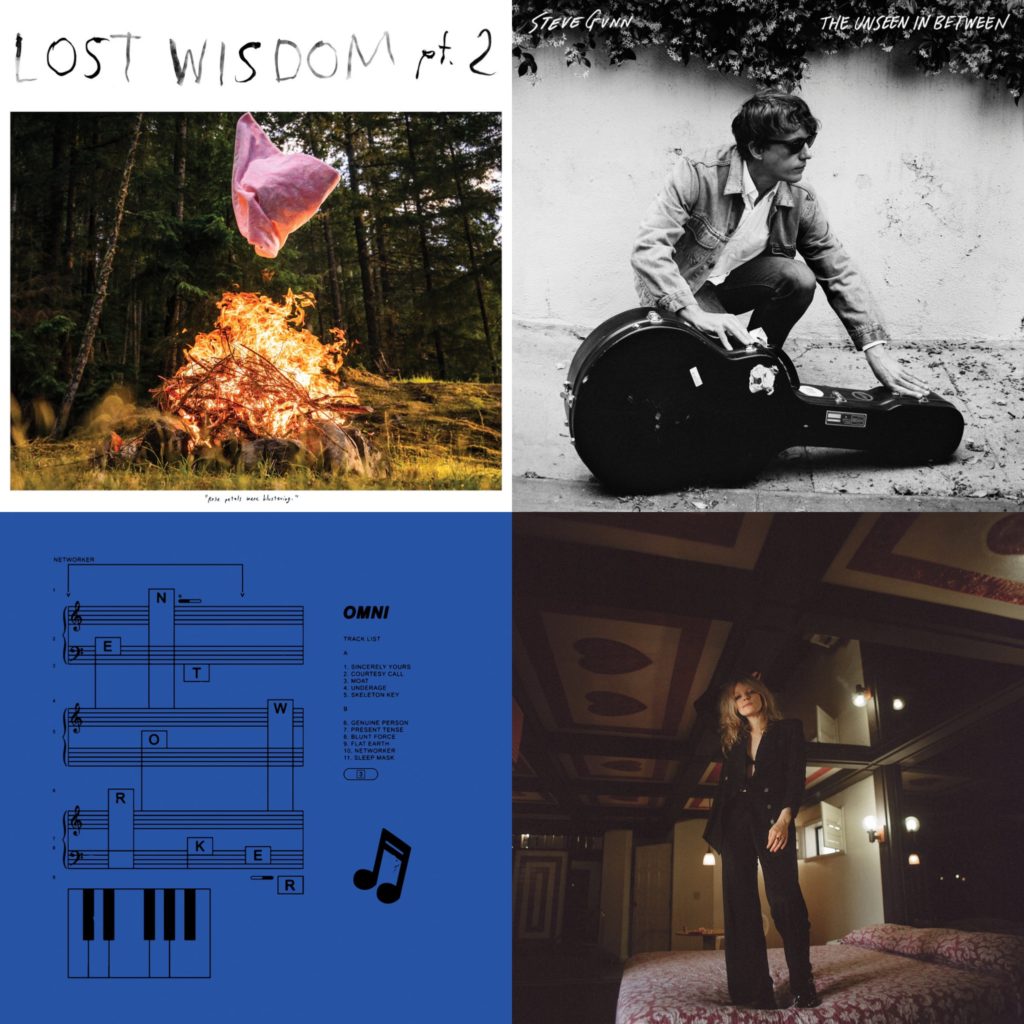 Mount Eerie and Julie Doirion :: Lost Wisdom pt 2
Lost Wisdom is a tough act to follow. The 2008 album by Phil Elverum, Julie Doiron, and Fred Squire is a cult favorite among fans of all three musicians. In the decade since, Elverum has experienced every hardship you can imagine with the death of his wife Geneviève Castréeand subsequent divorce from Michelle Williams. His reunion with the Eric's Trip singer reflects that pain, yet hearing their voices together again is a soothing balm for the spirit. This hauntingly poetic autobiographical sequel easily lives up to its name. (buy)
Steve Gunn :: The Unseen In Between
Steve Gunn's music has the penchant to take you to wide-open places. His technical guitar work drifts and circulates in unique patterns, while his humble voice keeps you on the trail. With Unseen, there's still room to roam but his songwriting on this album is tight and direct. An emotional (he lost his father along the way during the creation of this album) and thoughtful listen that stays true to his style musically while progressing his own craft as a storyteller. (buy)
Omni :: Networker
Omni's third album in some ways continues in the vein of their first two, but there's a clarity to Networker that lets the band's influences ring more sharply while also honing them in a modern context. The empty space that surrounds the thin guitar work is a perfect example of the notes not being played doing a lot of the work. For a band from Atlanta, Georgia, it makes sense that the outfit has the angular bounce of the B-52's, though buoyed by the detached analysis of fellow post-punkers Wire. This kind of studied sound doesn't often come with this level of genuine fun, and Networker is all the better for it. (buy)
Jessica Pratt :: Quiet Signs
The quietly devotional third album (and first recorded in a proper, albeit sympathetic, studio setting) from the supernatural Los Angeles songwriter. Unwinding and intangible, and always enlivened by her anomalous voice with its curious phrasing and melodies. At its very best ("Fare Thee Well," "This Time Around"), her fingerpicked apparitions are joined by new phantoms—a distant piano part, the slightest organ or synthesizer, a searching flute. Vulnerable yet incredibly self-assured, and absolutely timeless. (buy)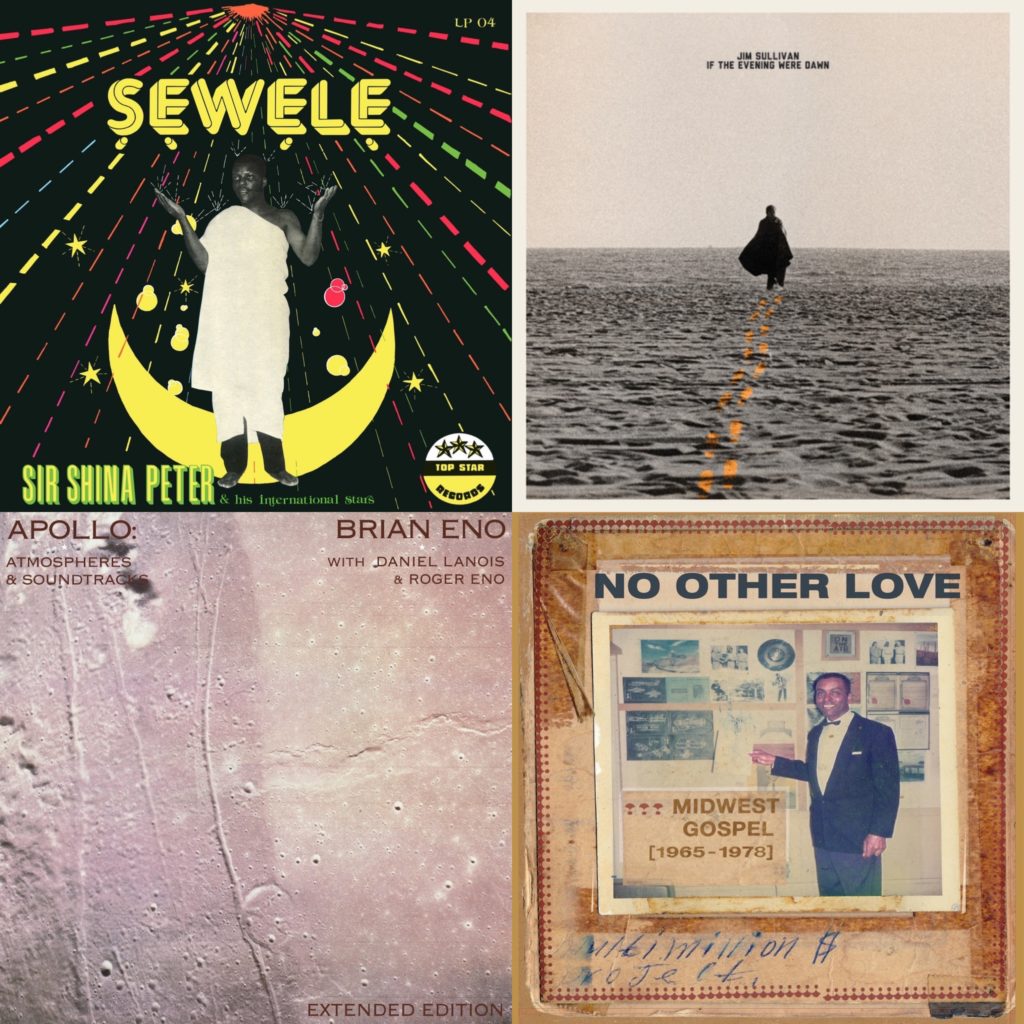 Sir Shina Peter :: Sewele
Sir Shina Peters' deeply rare 1986 album was reissued this year by the mighty Strut Record. On the lp, Peters and His International Stars lean into languid astral funk, a slowly brewed groove billowing outward into four works that cast an ecstatic juju Afrobeat. The record has a kind of strange outsider art beauty about it that's welcoming and inviting in its eccentricity. Big buoyant rhythms humming about streaks of strange nocturnal neon splendor. The Stars' spaced-out soul mingling casually with their earnest and lo-fi approach to highlife garage rock. (buy)
Jim Sullivan :: Jim Sullivan/If The Evening Were Dawn
The story of Jim Sullivan's mysterious disappearance and recorded legacy is foundational stuff here at Aquarium Drunkard. This year, Light in the Attic released two follow-ups to the label's reissue of the mythic UFO: a collection of solo acoustic performances titled If The Evening Were Dawn, and a reissue of Sullivan's self-titled 1972 lp, originally released by Playboy Records. The Playboy record presents Sullivan's husky swamp rock in all its gilded glory, the demos showcase his gregarious spirit, and both, when collected with UFO, speak to Sullivan's folky charm and mystical yearn. Where did Jim go? We may never know, but these records tell us where he'd been. (buy)
Brian Eno :: Atmospheres & Soundtracks (Expanded Edition)
The final frontier is rarely depicted as forebodingly as it is on Apollo: Atmospheres and Soundtracks, the 1983 lp by Brian Eno with Roger Eno and Daniel Lanois. Reissued this year, alongside a new album on the same theme from the same cast (For All Mankind), the record also presents the exploration of space as daunting, brave, and playful—its immensity is what keeps it from ever feeling like just one thing. Like the documentary it soundtracks, Apollo is about the inexhaustible potential of the cosmos, the lure of the endless things it could teach us. Even as the need to focus on our planet grows as it's increasingly imperiled, the vastness of space reminds us that our imaginations are more vast than we realize, that new possibilities are always out there for the questing. (buy)
No Other Love: Midwest Gospel (1965-78)
There's a song on this collection of regional, lo-fi gospel music entitled "Christmas in Heaven," which embodies the haunting and luminous spirit embedded in old gospel. The static-y reverb, the shaking tambourines low in the mix, the almost audible dust sprinkling off the guitar strings. It's purely transcendent stuff and Tompkins Square has done beautiful work in cultivating work which could have been forever lost and now can be forever heard. The rhapsodic choruses, the downtempo swirl of keys; the music is an extremely intimate world unto itself and one that's a sacred privilege to spend time in. (buy)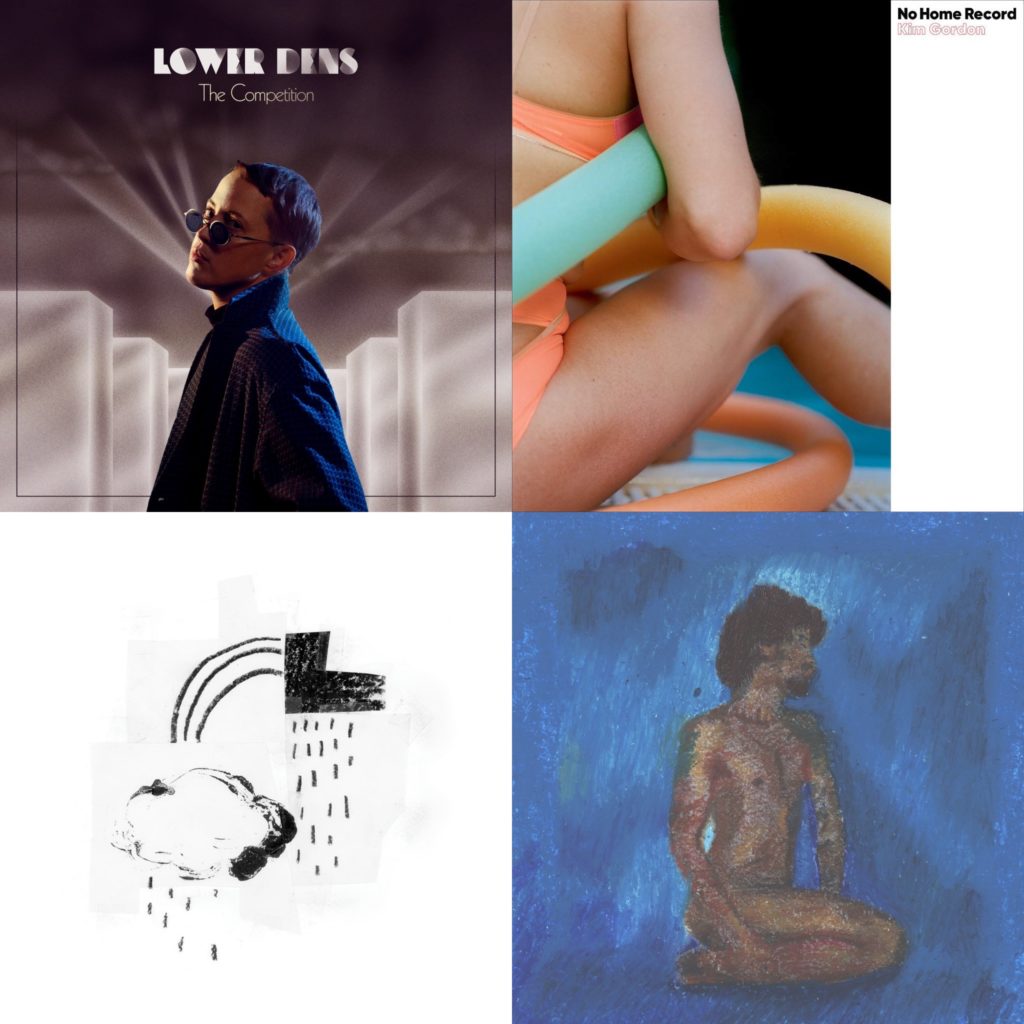 Lower Dens :: The Competition
Sonically working a similar vein as its 2015 predecessor, Escape From Evil, the synth-laden The Competition feels miles from the guitar-oriented debut that introduced the project at the dawn of the decade. No matter the modality, Jana Hunter and co. continue to intrigue. (buy)
Kim Gordon :: No Home Record
No Home Record, Kim Gordon's first proper solo album in her near 40 years of making music, scratches an itch like a phantom limb. While the pas de deux that was Body/Head felt somewhat familiar, this new thing feels just that: like a new thing. Dig it. (buy)
Damien Jurado :: In the Shape of a Storm
Following his incredible set of albums with the magical, departed wizard Richard Swift and a self-produced instant classic, songwriter Damien Jurado strips back the layers of Technicolor gloss for a spare collection of songs that cuts straight to the heart of his mystic vision. "There is nothing to hide," he sings, his openness apparent and sustained throughout the record's wooing runtime. (buy)
Yves Jarvis :: The Same But By Different Means
This lo-fi production floated underneath the radar, which is a shame, because it is as good as any record that came out in 2019. Jarvis concocts a gauzy vibe, employing tricks like double-tracked vocals, ephemeral interstitials, and grainy looped synths. But it's the organic elements; a loose drum groove; a big, dry piano sound; warm bass or a fingerpicked guitar, not to mention his natural singing voice, that leave this one sticking to your bones. The hooks help, too. They are sometimes brief, but they are plenty. (buy)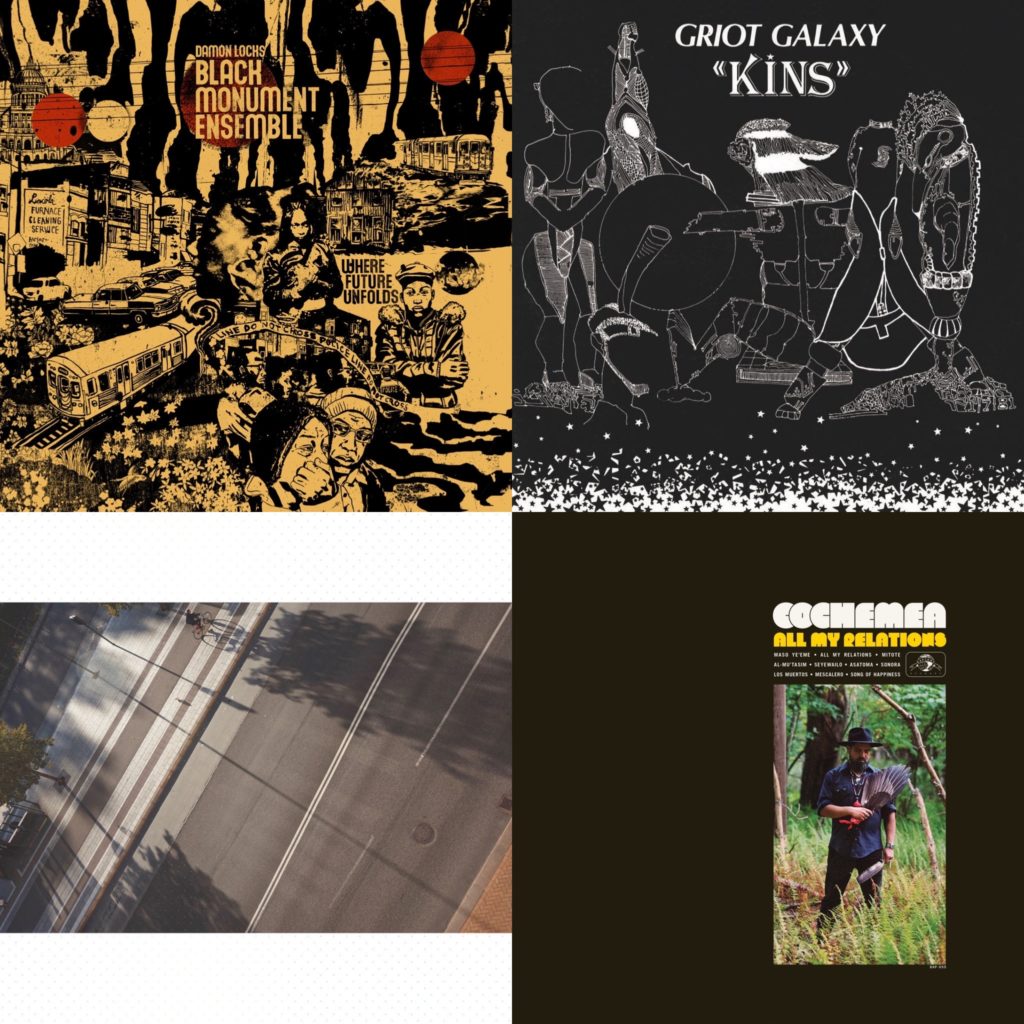 Damon Locks/Black Ensemble :: Where the Future Unfolds
Another essential release via International Anthem, this time from Damon Locks and the Black Monument Ensemble. Recorded live at the Garfield Park Botanical Conservatory on the West Side of Chicago, Where Future Unfolds stitches together beautiful singing and skilled musicianship with gritty electronic samples and powerful recordings from the Civil Rights Era. Locks and his spiritual ensemble's thoughtful meditation on systemic oppression and inequality presents a resiliently optimistic vision for tomorrow. Featuring Angel Bat David, whose 2019 record is also can't-miss. (buy)
Griot Galaxy :: Kins
This 1982 private press lp from Detroit space-jazz combo Griot Galaxy could have been lost forever after all but 200 copies of its original run were destroyed in a basement flood. Thankfully, the wax excavators at Third Man Records have given it a loving reissue with fantastic new liner notes by AD contributor Ana Gavrilovska. Known for their outlandish onstage performances in silver face paint and naming a song for a Coneheads character from Saturday Night Live, Griot Galaxy send listeners on a tuneful skronk-funk odyssey to the outer limits. (buy)
Robert Stillman :: Reality
Beauty is the focus on expat composer Robert Stillman's Reality. Beauty, he suggests, is all around us. The cosmos are beautiful. The dirt is beautiful. Stillman invents a little universe here, out of piano vamps, reeds, and spiritual jazz, one where all are welcomed. It is not an escapist adventure, but rather one that reminds us that even in 2019, a bad year in so many clear and obvious ways, there are things worth cherishing and celebrating. (buy)
Cochemea :: All My Relations
Saxophonist Cochemea Gastelum's second lp is his Daptone debut (though he's long been part of the Daptone crew, supporting Sharon Jones and others). But you'd be forgiven for assuming he's been making this kind of music—a heady blend of Latin jazz, funk, and Moroccan Gnawa—for a long time. Like, a very long time. That's because Gastelum is mining ancient concepts here, digging into a sense, one cultivated through imagination and meditation, that he can connect to a kind of ancestral memory. One listen to the shimmering "Seyewailo" and it's clear—the spirits Gastelum's speaking with are gifted conversationalists. (buy)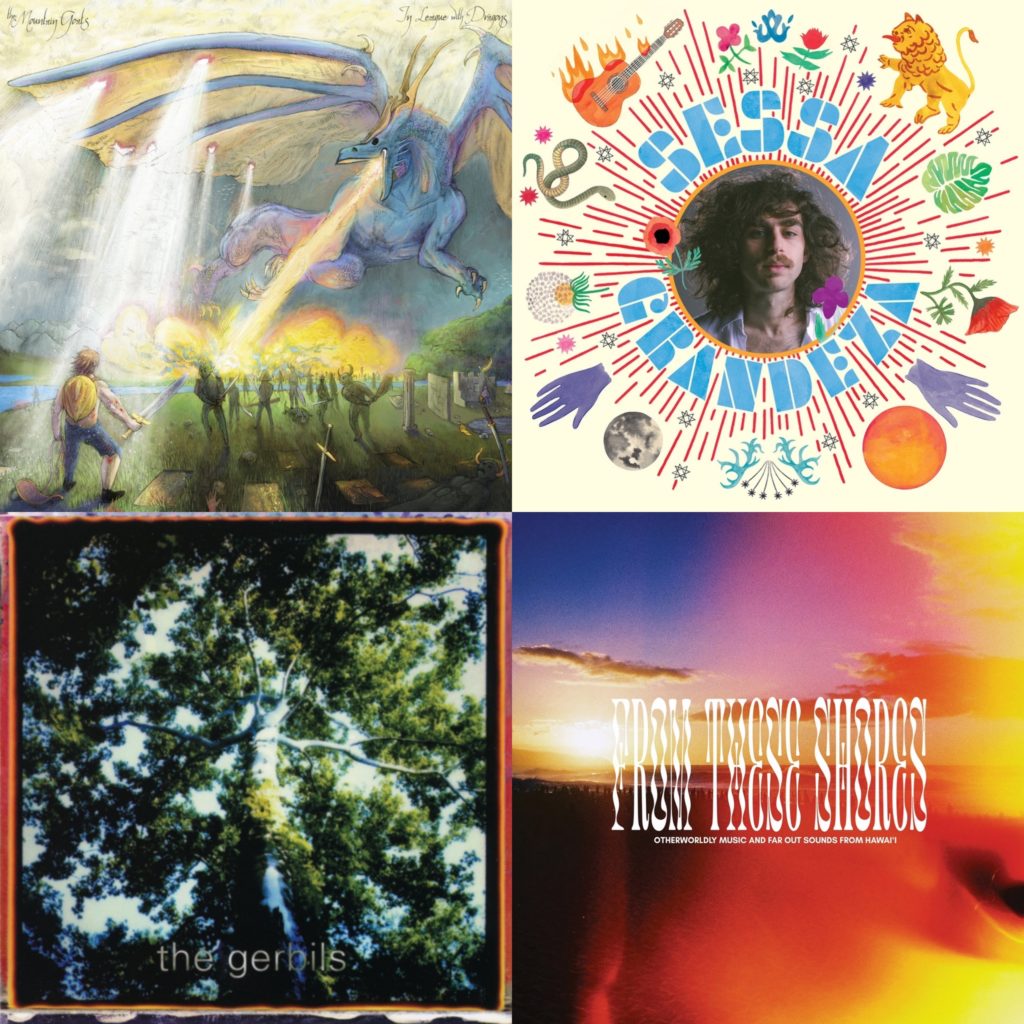 Mountain Goats :: In League with Dragons
The cover art suggests high fantasy, but despite one ode to an errant wizard king, most of the yarns spun on John Darnielle's latest are more earthbound. At various points in these lush songs—some of the Goats' lushest, courtesy producer Owen Pallett—he sings from the POV of Mets pitcher "Doc" Gooden, Ozzy Osbourne, and an aging D&D enthusiast. Best of all, a scavenging possum. "All you parasites climb aboard/ All you vagabonds, praise the Lord!" he testifies; as is always in Mountain Goats songs, none are too lowly to be touched by grace. (buy)
Sessa :: Grandeza
On Grandeza, the debut album from Sao Paolo–born artist Sessa, the eponymous lead track swings casually into the frame with lightly strummed nylon-stringed guitar and sparse hand percussion. Sessa's deadpan tenor nonchalantly weaves in and out of the accompaniment of his heavenly, all-female chorus; setting the stage for the mesmerizing vocal interplay that highlights the set throughout. The latter half of the record takes a slightly freer turn, with reeds, shakers and assorted bric-a-brac, yet Sessa and company never drop the rudder. (buy)
Gerbils :: Are You Sleepy
The long shadow of the late '90s Elephant 6 collective continues to reverberate two decades out. This year saw both the release of the documentary A Future History Of: The Elephant 6 Recording Co. and a proper reissue of 1998's Are You Sleepy—the Gerbils' debut full-length. Superfuzzed, lo-fi power-pop led by Neutral Milk Hotel's Scott Spillane, Are You Sleepy is both a high watermark of the collective and a reminder of why we paid so much attention to the burgeoning Athens scene to begin with. (buy)
From These Shores: Otherwordly Music and Far Out Sounds from Hawaii
In 2016, Strut Records released Aloha Got Soul—a two LP compilation chronicling the smooth emanating from the islands during the 1970s. This year saw its follow up, From These Shores. In addition to the soul, disco and AOR of its predecessor, true to its sub-title, this new collection dips into reggae, electronic, instrumental lounge-psych, and beyond. (buy)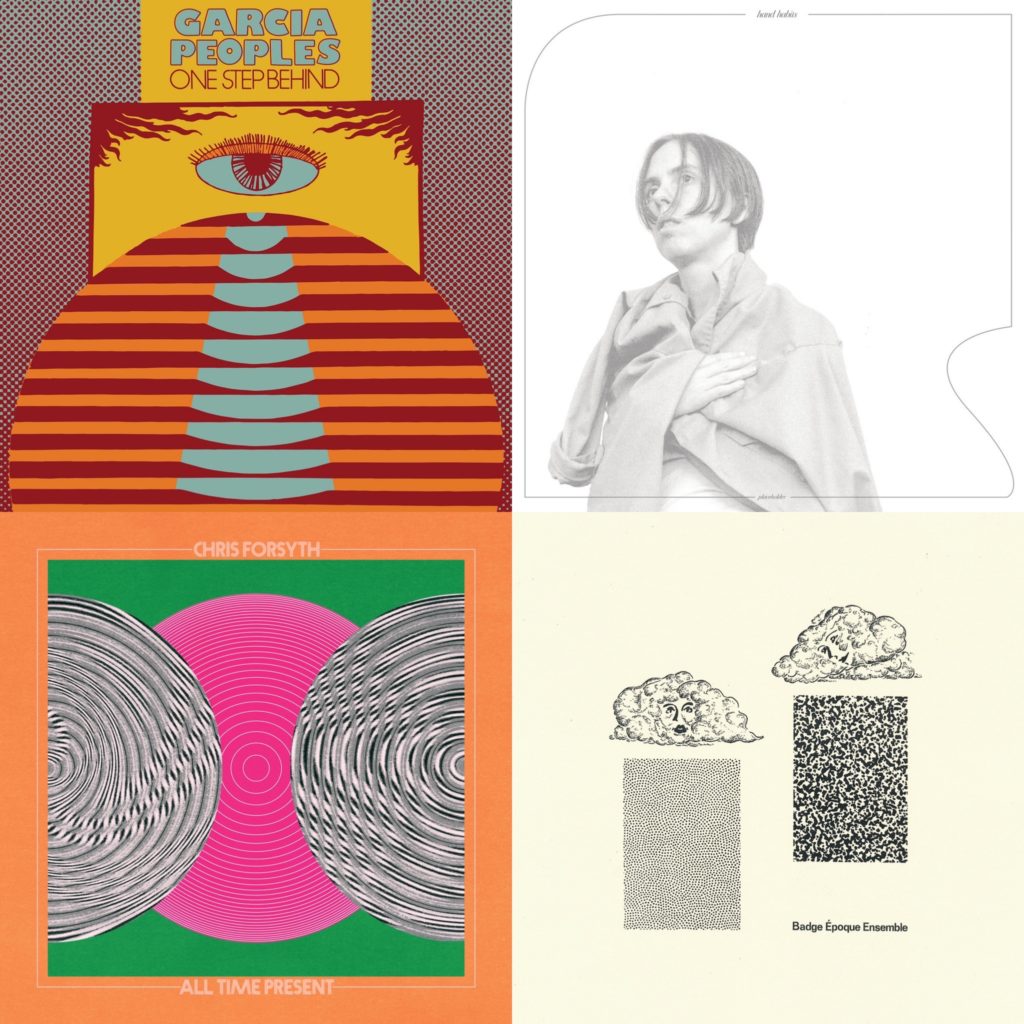 Garcia Peoples :: One Step Behind
No disrespect to "Heart and Soul," the second track on One Step Behind—it rules. But it can't help but seem just a little unnecessary—not unwelcome, just unnecessary—after the side-long epic title track, which blooms from a sax echo trance and minimalist loop into a psychedelic barnburner and then, most satisfyingly, into a prime choogle, a boogie of truly pleasing vintage. These guys are on a tear, maturing and evolving with each release. "One Step Behind?" It's their first classic. And you don't get the sense it'll be the last. (buy)
Hand Habits :: Placeholder
"The book on how to change wasn't written in one day," Meg Duffy sings. And Placeholder is the guitarist and vocalist's ode to that kind of personal patience. It's a record that takes its sweet time, bolstered by Duffy's sterling voice and inventive guitar playing. When the perfectly positioned sax solo hits, you know what you're hearing—a record full of dream-pop that's as substantive as it is pleasurable. (buy)
Chris Forsyth :: All Time Present
This double LP may well be Philly guitarist Chris Forsyth's most accessible —but still extremely adventurous—work thus far. The soaring, concise opener "Tomorrow May As Well Be Today" deserves to be a radio hit. "Dream Song" is another highlight, with Rosali's haunting vocals drifting in like a mist over a brooding jam. Best of all is the closer "Techno Top," which grooves like Remain In Light-era Talking Heads at their most ecstatic. It's nearly 20 minutes, but you'll wish it was 20 minutes longer. (buy)
Badge Époque Ensemble :: Badge Époque Ensemble
Badge Époque's first of two releases in 2019 reintroduced the madcap mind of Toronto's Maximilian Turnbull (f.k.a. Slim Twig). On the instrumental group's debut LP, they drift through dusted funk moves drawing inspiration from library music records, electric Miles, and the spaced-out hip-hop productions of Madlib, Dilla, and Edan. Flautist Alia O'Brien of witchy folk-metal group Blood Ceremony adds signature trills to the grooves laid down by Turnbull on clavinet and Rhodes, while the rest of the group struts in step. (buy)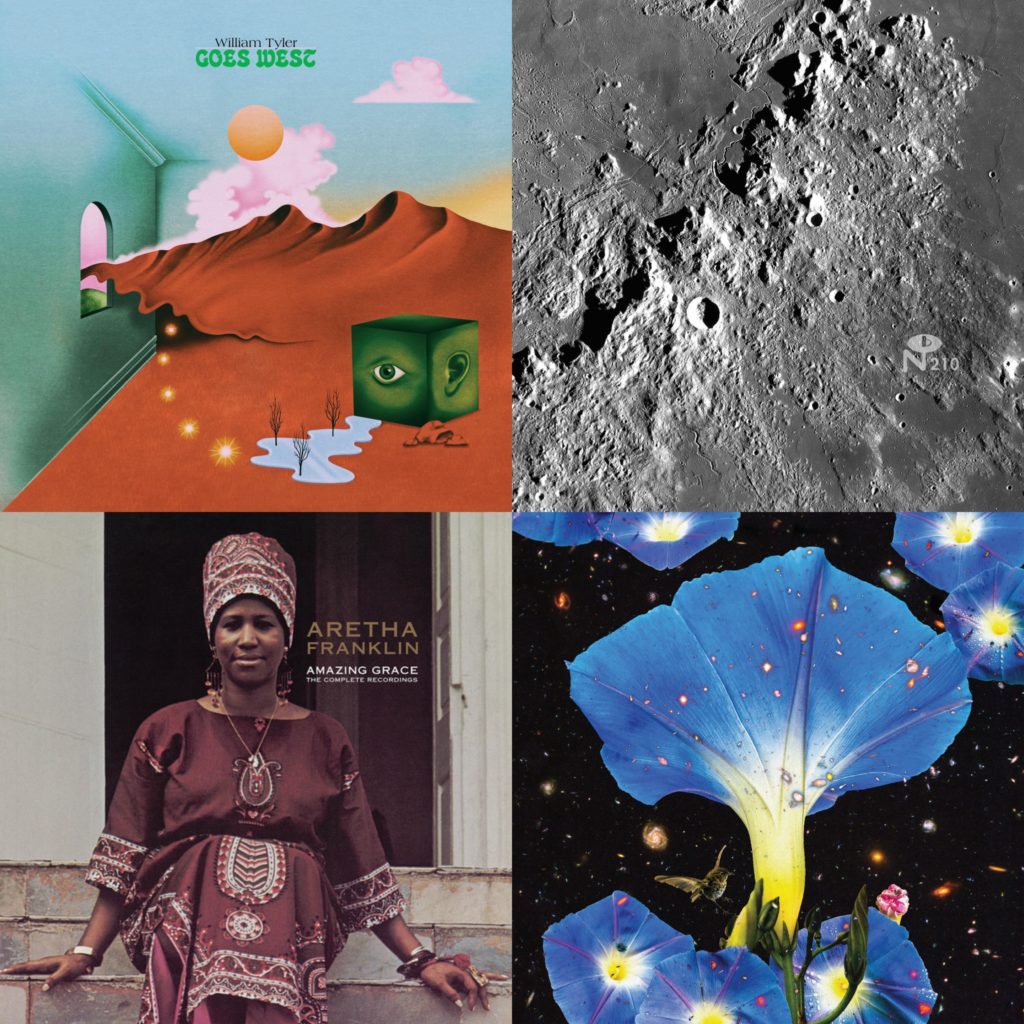 William Tyler :: Goes West
Few artists with the talent level that William Tyler exhibits ever channel their skills into something as beautiful and selfless as Goes West. For sure, Tyler's chops shine, but it never feels for his own benefit—there is a larger whole, a grander vision to his compositions than just the beautiful speckles plucked from his guitars. These are not songs, they are movements. Goes West amounts to one of the strongest limbs on what could be called new American classical music—a genre uniquely folk in quality and yet deserving the rapturous attention given to orchestras. (buy)
Duster :: Capsule Losing Contact/Duster
Not only did we see a complete retrospective of bedroom slowcore masters Duster's complete discography from the fine folks at Numero Group this year, but also a whole new album. While the latter embraces a (slightly) more hi-fi presentation, it nonetheless hangs on the peculiar mix of sadness and ramshackle glory that centers Capsule Losing Contact. (buy)
Aretha Franklin :: Amazing Grace
Let's turn to Reverend C.L. Franklin, whose rap about seeing his daughter performer is included in Rhino's Amazing Grace: The Complete Recordings: "I saw you crying, and I saw you responding, but I was just about to bust wide open. You talk about being moved…I say, with pride, Aretha is not only my daughter. Aretha is just a stone singer." (buy)
Sarah Louise :: Nighttime Birds and Morning Stars
Sarah Louise followed up last year's hypnotic solo guitar work, Deeper Woods, with a deeper excursion into atmospheric and exploratory Appalachian minimalism. Nighttime Birds and Morning Stars finds her warping her choral-like vocals and 12-string guitar through digital manipulations, creating an effect that feels somewhere between guitar soli and fourth world spirituals. In tune with like-minded contemporaries Daniel Bachman and Marisa Anderson, Louise continues to be one of the most exciting guitarists and composers working today, as she continues to push the boundaries beyond genre and instrument, and into pure willful imagination. (buy)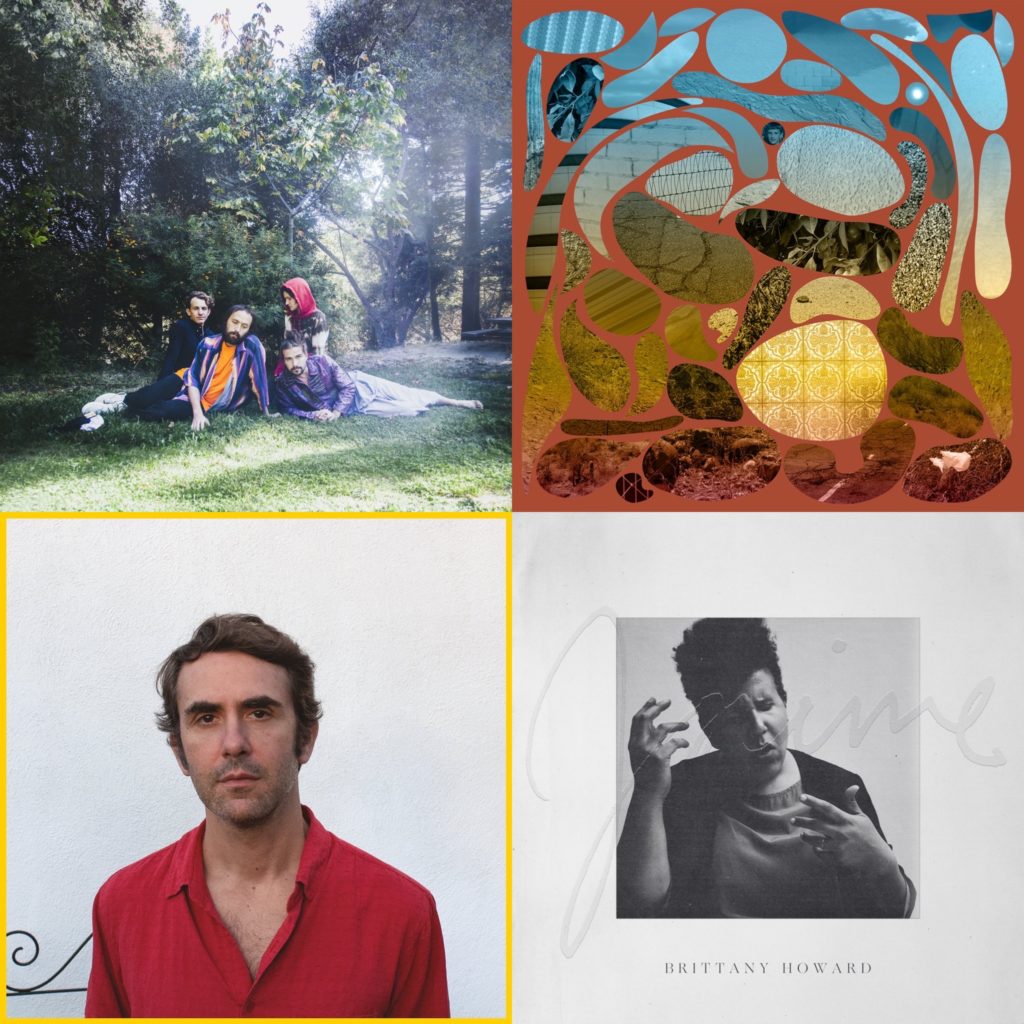 Big Thief :: U.F.O.F./Two Hands
Big Thief had an ambitious 2019. Two albums, one year, quite a lot of touring. For me, I'm usually not a fan of the multi-album year – I think it confuses the potential greatness of the works and asks a lot of the audience. But, Big Thief made me look the fool. U.F.O.F. (their first LP of 2019) was recorded in a woodsy secluded corner of Washington; and they squeezed everything out of their environs to bring to life a modern-day folk classic. Adrianne Lenker's writing is intimate and inviting—you're brought in—but more so, affecting and haunting. There are aliens and rivers and striking euphemisms for love. It's a new chapter in the American folk anthology. As for Two Hands, apparently after wrapping up shop in WA, they bottled their creative connection and rolled tape in El Paso, Texas. A looser recording that has a ground-level sensibility and sepia-toned quality, is equally essential. In fact, the song "Not" might be their benchmark work to date, let alone the best song of the year. Lenker's voice strains and quivers with such emotion and ferocity that her delivery will give you goosebumps. (buy)
Pedro the Lion :: Phoenix
Songwriter David Bazan's string of albums through the late 2000s and 2010s under this own name furthered the legacy he began with his indie-rock project Pedro the Lion (alongside works by Overseas and Lo Tom, his dual indie rock supergroups with members of Bedhead and Centro-matic, and Starflyer 59 and His Name Is Alive, respectively). But this year, he resurrected his classic project's name for Phoenix, an album centered on his Arizona roots and self-acceptance. Forgiving and questing in equal measure. (buy)
Chris Cohen :: Chris Cohen
Via a string of low-key instant classics, Chris Cohen spent the last decade achieving the status of guitar pop Zen master. His self-titled lp shakes none of that hooky joy, but explores rougher terrain lyrically, reflecting on Cohen's fraught familial relationships. At once clear-eyed and overwhelmingly empathetic, the record matches its musical grace with emotional kindness. (buy)
Brittany Howard :: Jaimie
Sans Shakes, Brittany Howard conjured a deeply personal solo debut borne out of an archetypal cross-country road trip self-reflection and the following sonic introspections. Dedicated to her late sister, Jaime is an intimate and visceral elision of the personal and political, jammed over a funky melange of crinkly boom bap, riffy future rock, and Howard's powerhouse vocal abilities. (buy)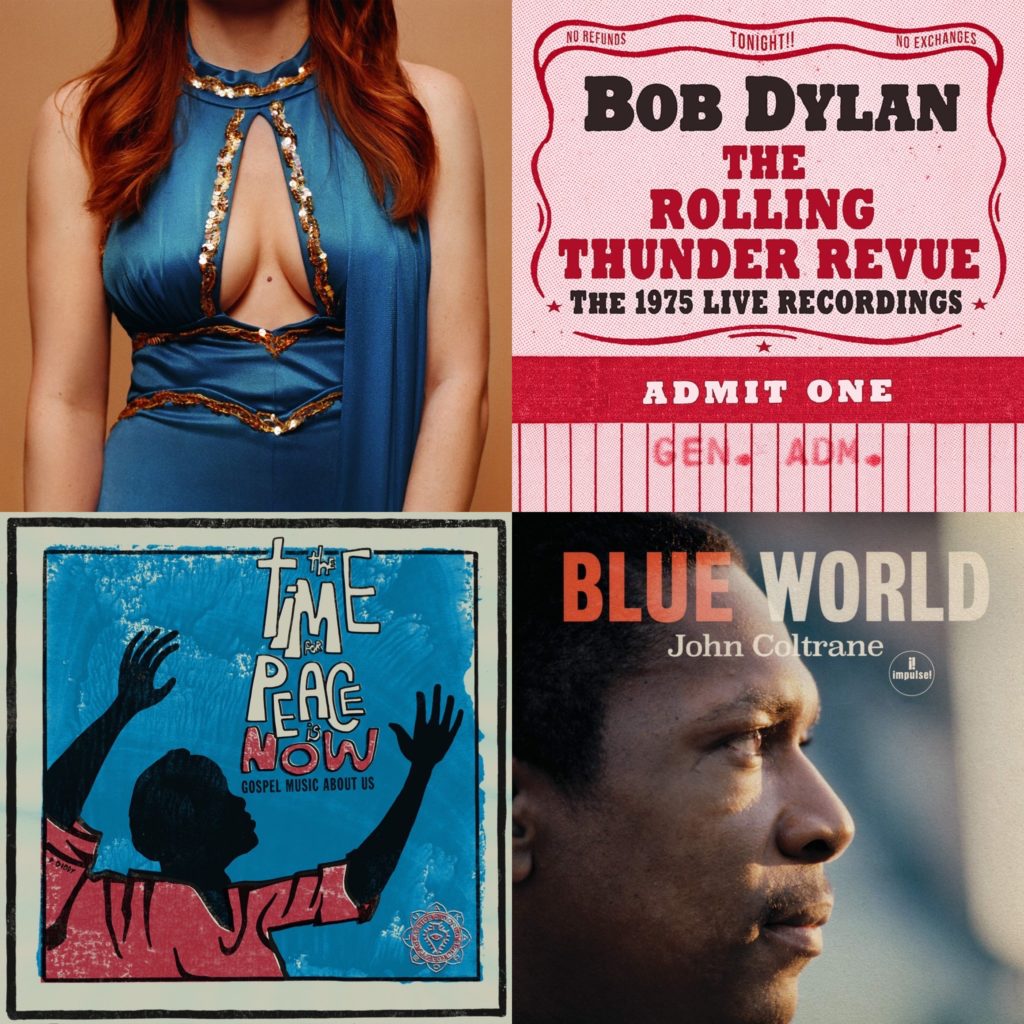 Jenny Lewis :: On the Line
Jenny Lewis returned in 2019 with a warm and big rock album produced by the in-demand Shawn Everett with a little extra grease from Beck. Oh ya, the players she recruited are also notable: Benmont Tench, Jim Keltner, Don Was, the aforementioned Beck and some peace and love tossed in by Ringo Starr. Impressive on paper to say the least but the album itself is career-defining. What she sings about here is important and exposed, and her signature wit is sharp as ever. Heartache, love, addiction and other colorful anecdotes pepper her storytelling. For someone who has pretty much always been in the spotlight, she's found a way to shine even brighter. (buy)
Bob Dylan :: Travelin' Thru/Rolling Thunder Recordings
Dylanologists got a lot to chew on in 2019. This spring, there was the one-two punch of the Martin Scorsese Rolling Thunder Revue documentary/mockumentary and its 14-disc 1975 Live Recordings companion. Then came the relatively manageable Travelin' Thru Bootleg Series release, offering three discs of late '60s/early '70s Nashville sessions. The short version? We're still far from scraping the bottom of the barrel when it comes to archival Dylan. Yodel one more time for us, Bob! (buy)
World Spirituality Classics Vol 2 :: The Time for Peace Is Now
Luaka Bop dropped a killer gospel compilation this year in the form of World Spirituality Classics 2: The Time for Peace Is Now: Gospel Music About Us. A slow-burning collecting of deeply spiritual '70s soul, its opening pseudo-title track from Fantastic Shadows, strikes a singularly earthy tone; restrained in sound but glorious in conviction. A lo-fi, bass-driven cut of country gospel, vocalist Althea Davis' reedy incantations swell up from a downbeat sizzle to a full-bodied chorus of swirling synth and glory hallelujah. A welcome tonic for these turbulent times. (buy)
John Coltrane :: Coltrane '58: The Prestige Recordings/Blue World
Writing for Aquarium Drunkard, Marty Sartini Garner said it best: Coltrane '58: The Prestige Recordings, which compiles every song Coltrane cut as a bandleader in that pivotal year, captures him at a crucial stage in his journey, his first true attempt to will his sax into new territory. When taken together, the set's 37 tracks—the first sessions recorded in the second week of January, the final the day after Christmas—portray him as a modest man of virtually unbelievable talent, a musician too humble to record more than a handful of his own compositions but able to startle his bandmates into losing focus with the ferocity of his soloing." Following 2018's dive into the Coltrane vaults, Both Directions at Once, Blue World presents another "lost album" by Coltrane and co. Recorded in 1964 as the soundtrack for the French film Le chat dans le sac without his label's knowledge, most of the music ended up shelved by the film's director Gilles Groulx. In 2019, the music sounds as vital and alive as ever—bridging his early songcraft with his later cosmically seeking explorations. (buy)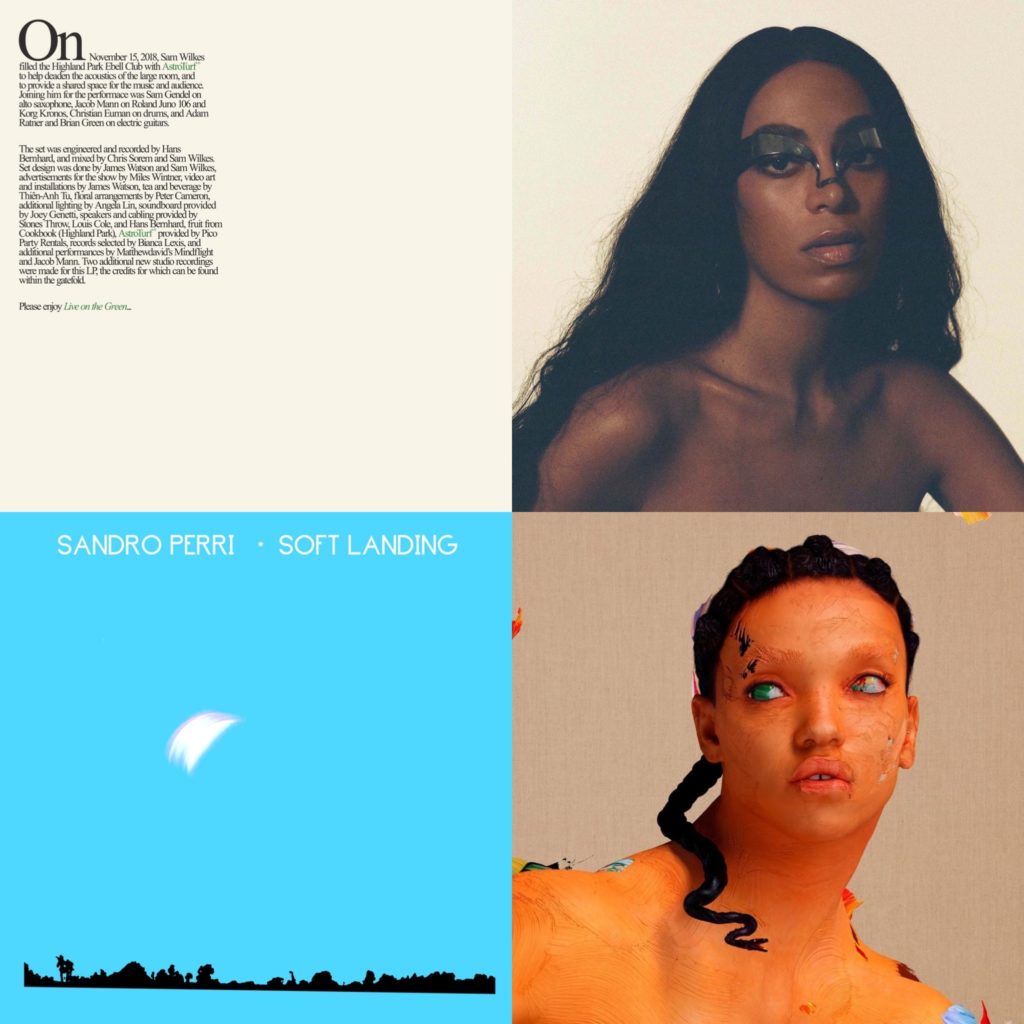 Sam Wilkes :: Live on the Green
With ceremonial AstroTurf in place, Sam Wilkes Live on the Green was recorded in Los Angeles during the fall of 2018 at Highland Park's Ebell Club shortly after the release of his self-titled debut as a bandleader. Much of the resulting album came together in the studio after that November show, with Wilkes taking a note from Makaya McCraven, deconstructing and heavily editing the recordings after the fact. A testament to Wilkes deft production, the highly modified document of that evening's show feels like an organic creation, that of the combined work of a group of musicians operating on a shared level, and one that carries the emotional valence of a long, meaningful hug. (buy)
Solange :: When I Get Home
Mining Sun Ra futurism, New Age, Miles' electric jazz, and slomo Texan hip-hop with Prince-like ambition, Solange's When I Get Home splices interludes with majestic future pop. "Things I Imagined" bubbled with spiritual joy, "Down With the Clique" saunters on a barely-there beat, and closer "I'm a Witness" recalls Stevie Wonder's most devotional material. (buy)
Sandro Perri :: Soft Landing
Arguably more concise than its predecessor, Soft Landing feels like a culmination of Perri's work from the past decade, and beyond, extending to some of the more lo-fi hushed folk of his earlier work. His sauntering electric guitar, dawn-stroked orchestration, and languid, falsetto soul infiltrate the grooves, as do more pensive, acoustic moments such as on "Back on Love," where he sings: "You can turn your back on giving / You might turn on taking too / You burn your back just living / You'll take it on." (buy)
FKA Twigs :: Magdalene
"I've never seen a hero like me in a sci-fi," Tahliah Debrett Barnett, better known as FKA Twigs, sings on her second album. With Magdalene, she creates her own SF vision—wounded, hymnal, and breathtaking. Inspired by a period of heartbreak and health concerns, the record blends industrial soundscapes with symphonic soul, finding comfort in sonic extremity and juxtaposing it against delicate, mournful melodies. (buy)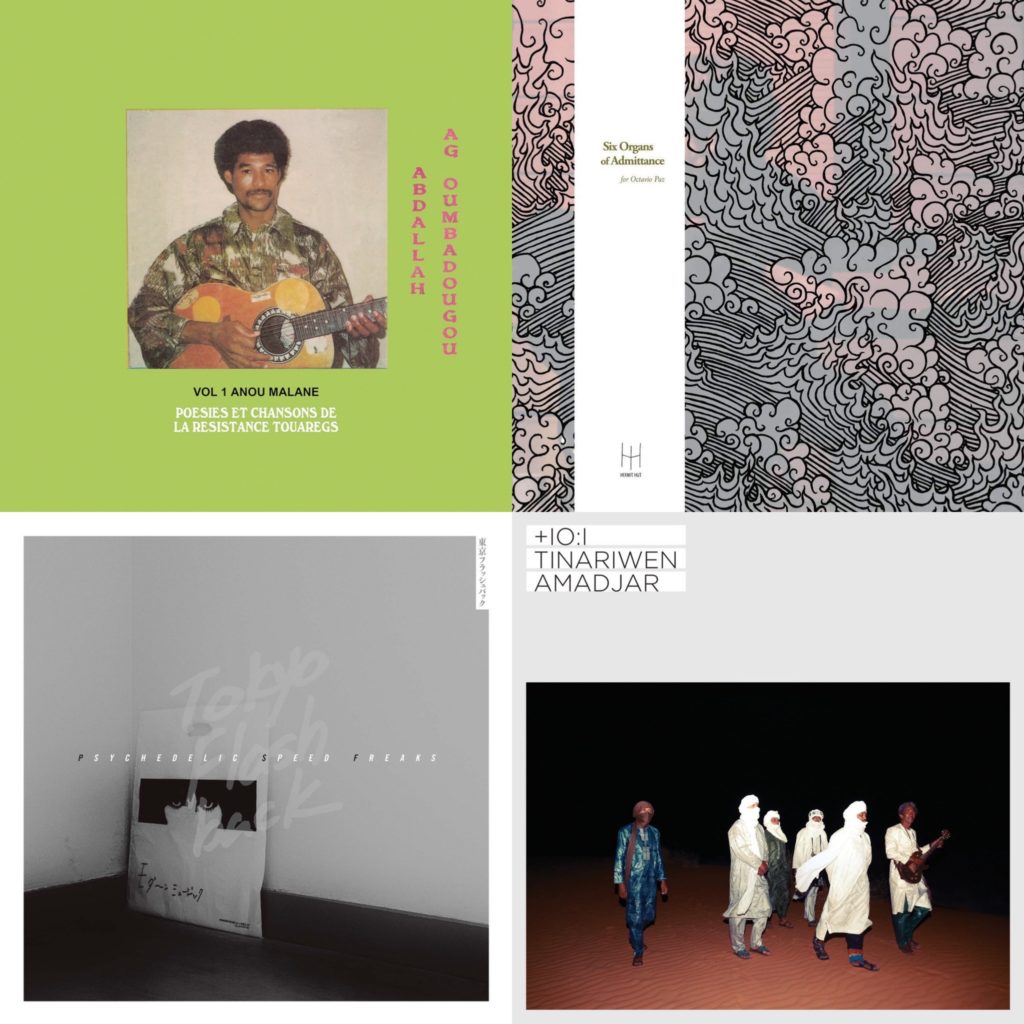 Abdallag Ag Oumbadougou :: Anou Malane
A very early example of the modern electrified Tuareg guitar tradition, freshly reissued by (who else?) the fantastic Sahel Sounds label. Recorded in the mid-1990s, Anou Malane is dated to the time period by its synths and drum machines—but in a good way. Highlighted by Abdallah Ag Oumbadougou's lyrical fretwork and soaring vocals, this is a pure dose of desert sunshine (and necessary listening for anyone who has fallen in love with Mdou Moctar recently). (buy)
Six Organs of Admittance :: For Octavio Paz
One of the great 21st-century guitar records—reborn! For Octavio Paz is a captivating collection of intimately spectral six-string (nylon and steel) enigmas. This year, Six Organs main man Ben Chasny went back to his four-track cassette tapes for a much-needed vinyl reissue of the record on his own Hermit Hut label. The results are absolutely wonderful, bringing out a richer, warmer sound, without losing any of the original's mysterious magic. (buy)
Tokyo Flashback :: Psychedelic Speed Freaks
For about a quarter-century, P.S.F. Records was an amazingly reliable source for Japan's wildest underground sounds. The label's founder, Hideo Ikeezumi, passed away in 2017, but he's paid fitting tribute to on Black Editions' new volume in the supremely heady Tokyo Flashback series, Psychedelic Speed Freaks. A lavishly packaged four-LP set made up entirely of previously unreleased material, it illustrates the awesome breadth of the P.S.F. discography, ranging from Fillmore East-ready jams to hair-raising free jazz. (buy)
Tinariwen :: Amadjar
Constructed as the Tuareg rebel musicians caravanned from Morocco to Nouakchott, recorded in RVs, tents, and around campfires, Tinariwen's eighth lp simmers with restrained tension. Flickering guitars dart over steady drones, and Western guests, including Cass McCombs, Warren Ellis of the Bad Seeds, and Stephen O'Malley, find their way into their coiled grooves. (buy)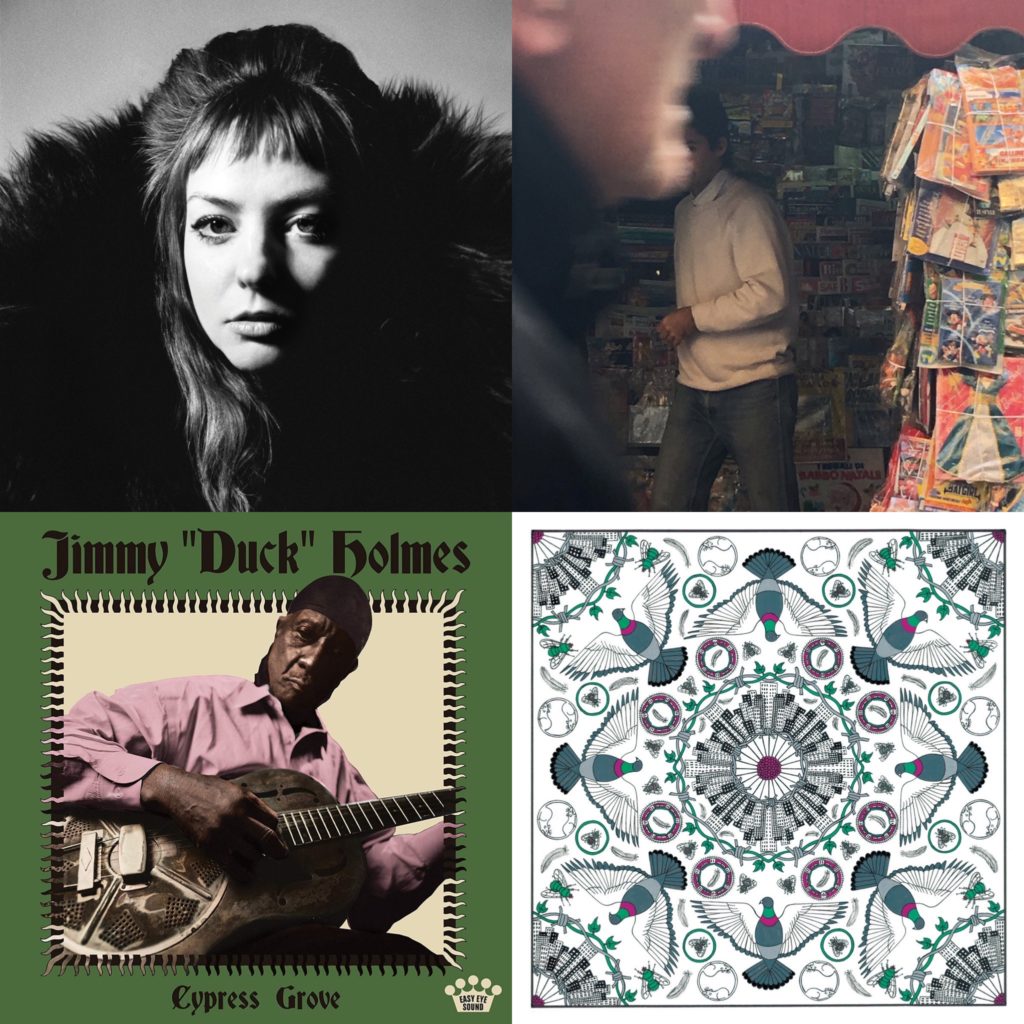 Angel Olsen :: All Mirrors
Even surrounded by massive orchestral swells, padding synths, and buzzing electronic treatments, Angel Olsen's voice cuts through on her fourth album. Like David Bowie, whose influence on these songs is clear, Olsen shapeshifts into something new, vibrant, and shocking. (buy)
Juan Waters :: La Onda de Juan Pablo/Introducing Juan Pablo
Two 2019 albums exhibit Juan Waters gentle pop spirit: La Onda de Juan Pablo, an album he made as he traveled through Latin America, and Introducing Juan Pablo, a set of songs recorded in 2015 and 2016. From gentle Beatles strummers to Jonathan Richman-like sing-alongs, these would be definitive "bops" in a just world—sweet, hooky, and full of love. (buy)
Jimmy Duck Holmes :: Cypress Groove
Jimmy Duck Holmes is a legendary bluesman from Bentonia, Mississippi, where he owns and operates a juke joint called the Blue Front Cafe. His latest record, Cypress Grove, was produced by Dan Auerbach, who thankfully gives Duck enough space to do his more traditional thing, while also adding a bit of studio magic at times. Such as on "Catfish Blues," which finds the standard spruced up with polyrhythms and thick bass groove. As Holmes growls the refrain on "All Night Long," it's clear that he has no plans to stop anytime soon. (buy)
Modern Nature :: How To Live
Modern Nature is a new act featuring Jack Cooper (formerly of Ultimate Painting), Will Young of Beak>, Aaron Neveu of Woods, and Jeff Tobias of Sunwatchers (formerly of Dark Meat and Nutritional Peace). The group's full-length debut is a beautifully constructed album that draws from various elements of krautrock. It's at times driving, folky, ambient and experimental. Even in the record's wilder moments, with Tobias playing freely, there is a stillness that tethers Modern Nature to a peaceful place. (buy)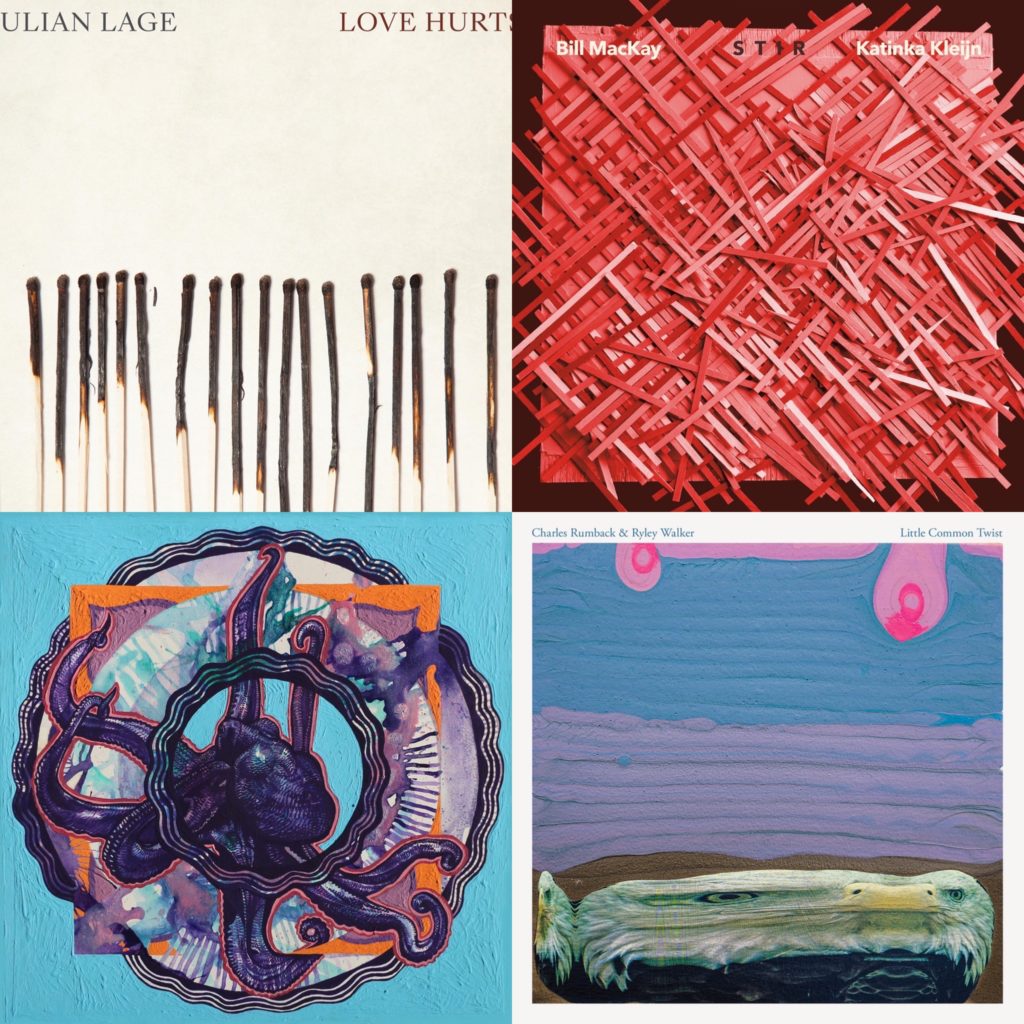 Julian Lage :: Love Hurts
Cut at the Wilco Loft, with drummer Dave King (of the Bad Plus) and bassist Jorge Roeder, guitarist Julian Lage's sixth lp as band leader rings with joyful warmth. From the classic Americana of Roy Orbison's "Crying" to exceptional takes on Ornette Coleman's "Tomorrow Is the Question" and Keith Jarrett's "The Windup," the set speaks to Lage's inventiveness as a player, as does the left-field inclusion of Peter Ivers' spooky "In Heaven," imbued with a delicious spookiness befitting its roots as the theme of David Lynch's absurdist classic Eraserhead. (buy)
Bill MacKay :: Fountain Fire/Bill MacKay and Katinka Kleijn :: STIR
This year, two albums found Chicago guitarist Bill MacKay and cellist Katinka Kleijn pushing themselves into striking new territory. On his own, MacKay's Fountain Fire offered up sterling Britfolk ("Birds of May"), ambling American Primitive ("Pre-California"), and startling, broken-up electric guitar ecstasy ("Arcadia"). Those elements are there for his team up with Kleijn as well, but her remarkable accompaniment—at once foundational droning and melodically adventures—pushes things into even farther out territory. (buy)
Elkhorn :: Sun Cycle/Elk Jam
On these simultaneously recorded / individually released lps, the instrumental duo Elkhorn recruited two ringers: the enigmatic guitar slinger Willie Lane and the freakishly talented percussionist Ryan Jewell. The mind-meld between the musicians is incredible, as Sheppard's ringing 12-string and Jewell's always alert playing anchor the masterful weaving of Gardner and Lane's electric lead work. Sun Cycle's opener, "Altun Ha," is a slow, smoky wonder, like Crazy Horse taking a Journey in Satchidananda. (buy)
Charles Rumback and Ryley Walker :: Little Common Twist
Ryley Walker's second collab with Chicago drummer Charles Rumback kicks off in a beautiful pastoral mode, acoustic guitar rambling over a mellow groove. But it doesn't stay there. Walker and Rumback dial in and space out on glitchy cut-up jams, slow-build soundscapes, and abstract drifts. It's all pretty fabulous, highlighting the impressive/expressive rapport these musicians share. (buy)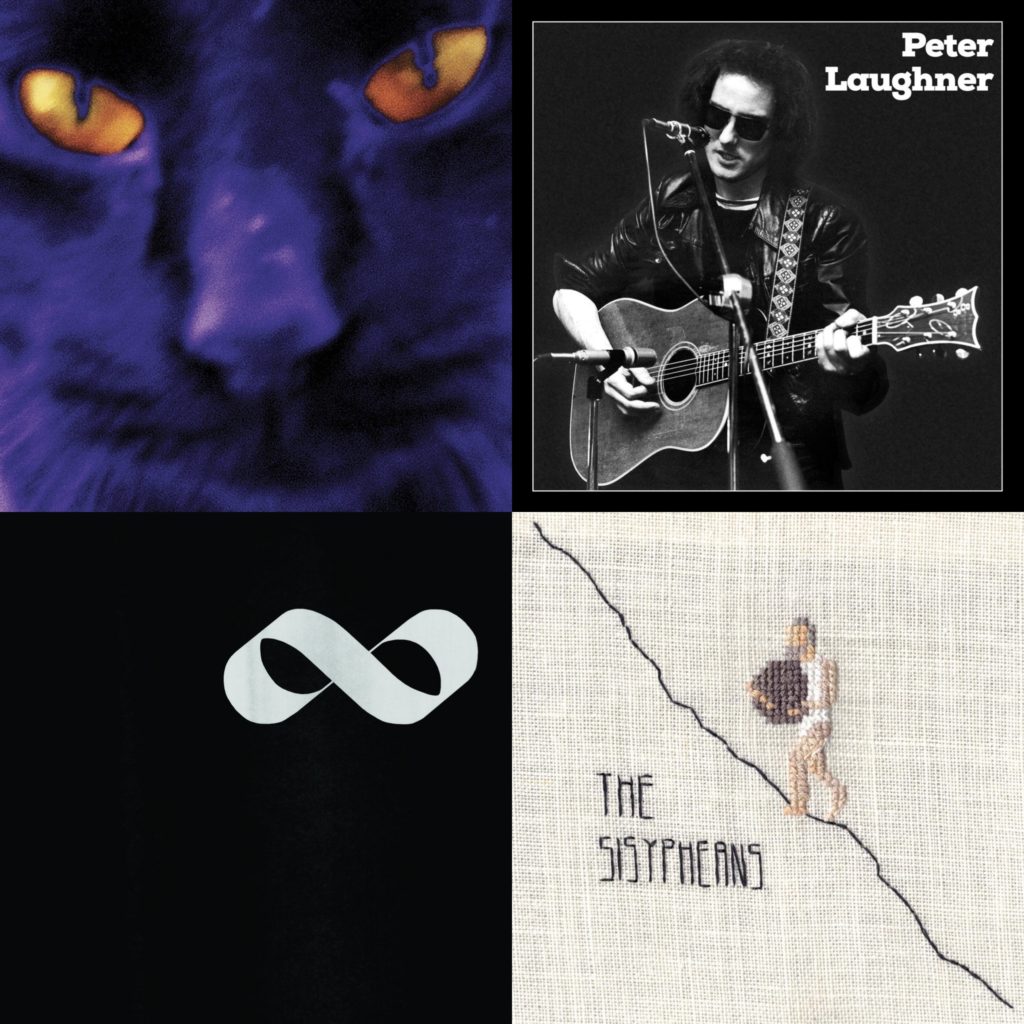 David Kilgour :: Bobbie's a girl
Forty years into his career, a new David Kilgour album (whether with The Clean or the Heavy Eights) still feels like a gift. Bobbie's a girl is another exquisite offering from the New Zealand guitarist-singer-songwriter—one that seems a bit modest at first but reveals its immense charms the deeper you dive. It's one of David's mellowest efforts, with brushed drums and elegant acoustic guitar blending beautifully with whispered vocals and gentle keyboards. (buy)
Peter Laughner :: Peter Laughner
Gone in his early 20s, Cleveland underground rock legend Peter Laughner (best-known for co-founding Rocket From The Tombs and Pere Ubu) packed an unbelievable amount of musical activity into that brief span of time. Finally in 2019, we got a definitive portrait of the man via a long-in-the-works five-disc collection from Smog Veil Records. It was worth the wait. The 50+ songs here constitute a kaleidoscopic trip: re-imagined folk-blues classics, Stooges-worthy stompers, avant-garde excursions a la Eno-era Roxy Music, mystic laments that wouldn't be out of place on Astral Weeks … By the end of the whole thing, you'll be convinced that there was very little that Laughner couldn't do. (buy)
Endless Boogie :: Vol I & II
Primal Boogie! This necessary collection brings together the first two (extremely out of print) Endless Boogie albums: four sides, six glorious jams, recorded on two mics straight into a cassette deck. Taking Lou Reed's famous maxim—"One chord is fine. Two chords is pushing it. Three chords and you're into jazz."—to its logical extreme, Endless Boogie consistently spin the simplest ingredients into pure gold. (buy)
Xylouris White :: The Sisypheans
The superhuman duo of drummer Jim White and Cretan lutist/vocalist George Xylouris return with another superb collection. The Sisypheans sees the pair getting more spacious and serene at times – only to burst into breakneck bouts of instrumental athleticism. Whatever they're doing, it's working. The sound White and Xylouris make together is unlike anything else. (buy)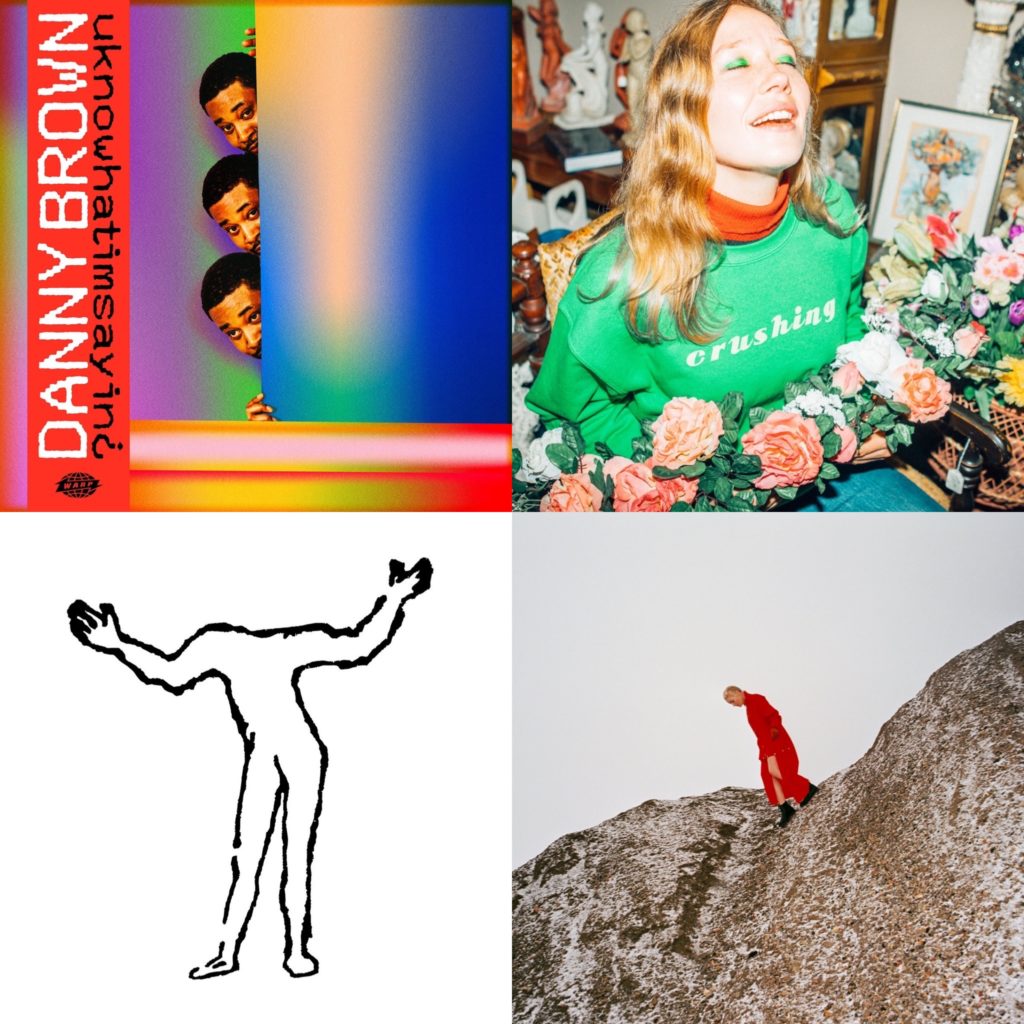 Danny Brown :: uknowwhatimsayin
It wasn't that long ago that Detroit rapper Danny Brown's missives felt nihilistic and fatalistic. And while he still occasionally embodies that vibe on uknowhatimsayin, his left field team-up with Q-Tip most often feels buoyant. On "Best Life," he raps about living in the moment, because it's the only one any of us are promised. (buy)
Julia Jacklin :: Crushing
Crushing tells tales of relationships, with others, with yourself, with the things that hurt worse than any physical sensation. It's the sheer weight of all it takes to give all you've got to everyone but yourself. Jacklin in becoming a generational lyricist. On the opener, "Body," she shows why. Its specificity in pain and hope of redemption is upended by a single question, one unique to her experience and yet painfully relatable to so many. The albums' forty-minutes can fly-by or dominate a week of your life without much effort but with massive effect. (buy)
A.A. Bondy :: Enderness
"Slip a twenty from your purse / I do the family curse," seems like a pretty specific line, but "Fentanyl Freddy" and the entirety of A.A. Bondy's Enderness is an amazingly precise broad-strokes painting of the year-of-our-lord 2019. It's the kind of album that feels like Bondy had been releasing albums all along instead of the eight-year hiatus since his last one, and it plays like a tone poem of the Trump-era, a record that barely escaped destruction in the California wildfires, and as something that taps into a lyrical vein of culture, commodity, love and a hope for redemption. There's nothing explicitly political here, just the sound of an age boiled down to something crystalline and mesmerizing. (buy)
Cate Le Bon :: Reward
The Welsh polymath's spacious fifth album, which folds the more straightforward singer-songwriter fare of Mug Museum, the crooked pop of her Drinks collaboration with Tim Presley, and her picaresque production work (as heard this year on Deerhunter's underrated Why Hasn't Everything Already Disappeared?). Sparse and sprightly, obtuse and elliptical, and nothing without a place or purpose—a surreal and introspective journey from one of the generation's most exciting voices. (buy)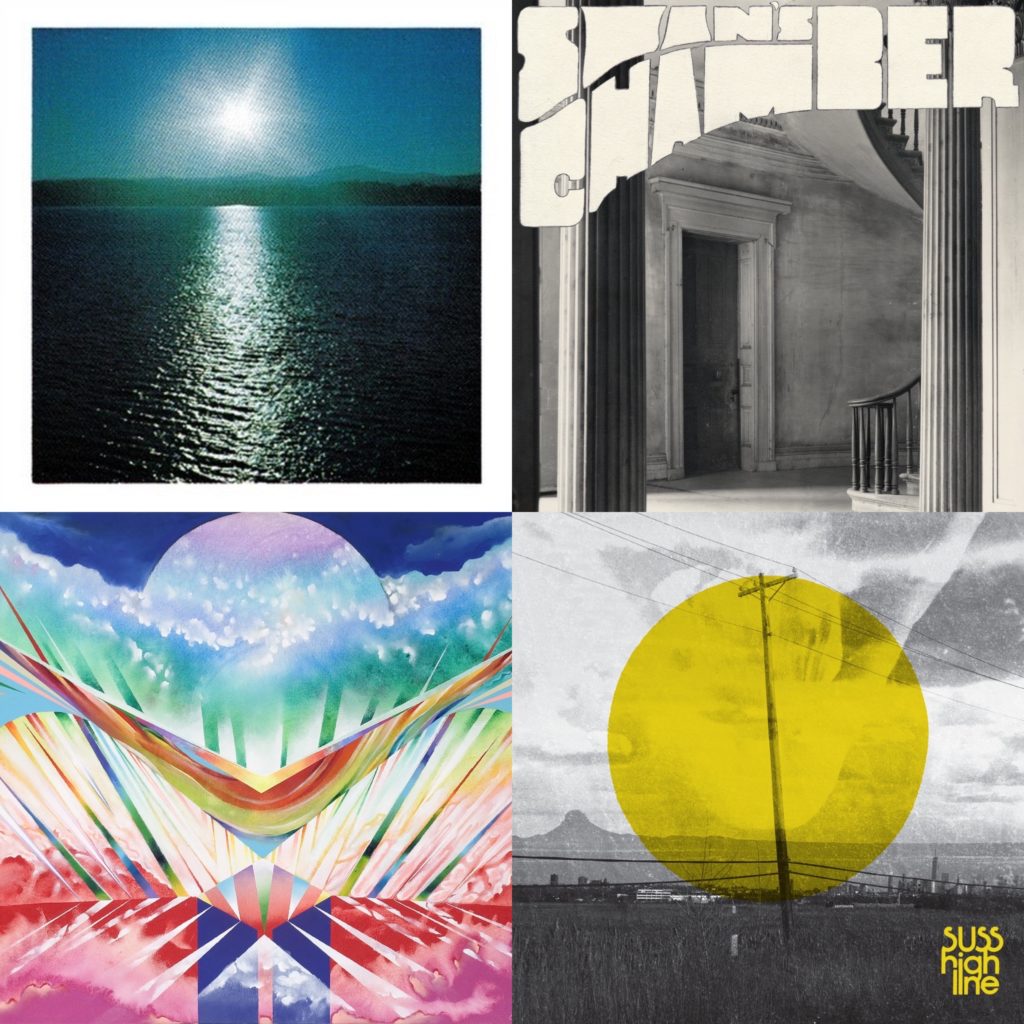 Joanna Brouk :: The Space Between
Following 2016's career-spanning Hearing Music, Numero Group returns to Joanna Brouk's catalog to give her sophomore album the reissue treatment. The side-long title track (performed by Brouk's Mills College instructor Bill Maraldo) shines alongside the brightest stars in the new age or minimalism galaxies, while the album's other three works orbit the theme in new directions with an array of Moog, saron, bells, and electric piano. Meditative, cosmic, and deeply affecting. (buy)
Swan's Chamber :: Swan's Chamber
The self-titled debut from Swan's Chamber, the new project from Georgia based multi-instrumentalist & songwriter Taylor Ross, is a four-song suite that is something of its own space-age cosmic pastoral. Released via the Leaving Records imprint, Swan's Chamber is a solo work for guitar, recorder, and piano, employing a classical romanticism and playful pop humor that both artfully belies, and subtly projects its unfolding dramas. (buy)
Beverly Glenn-Copeland :: Primal Prayer
Beverly Glenn-Copeland's reissues have been the stuff of magic, from 1986's minimalist electronic masterpiece, Keyboard Fantasies, to this year's repressing of his little known, self-released 2004 long-player, Primal Prayer, originally released under the moniker Phynix. It's a dramatic and heady work, one of pure musical fusion and life-affirming imagination. Opening track "La Vita" (Italian for "the life") is otherworldly: something like Johnnie Frierson's fiery gospel fused with The Fifth Element's diva Plavalaguna. A breathtaking performance that continues to retroactively solidify Glenn's singular talent and vision. (buy)
Suss :: High Line
New York City's SUSS takes a lavishly languid page out of the Lanois playbook for their latest lp, High Line, an ambient country travelogue led by Jonathan Gregg's liquid-honeyed pedal steel. Desert vistas and moonlit skies rise and fall across the album's twelve tracks, as they emerge in and out of mirages of bowed strings and synthesizer. Interchangeably tranquil and menacing, but always dazzling, the record is a mysterious and fully immersive soundscape that welcomes you to come get lost for a while. (buy)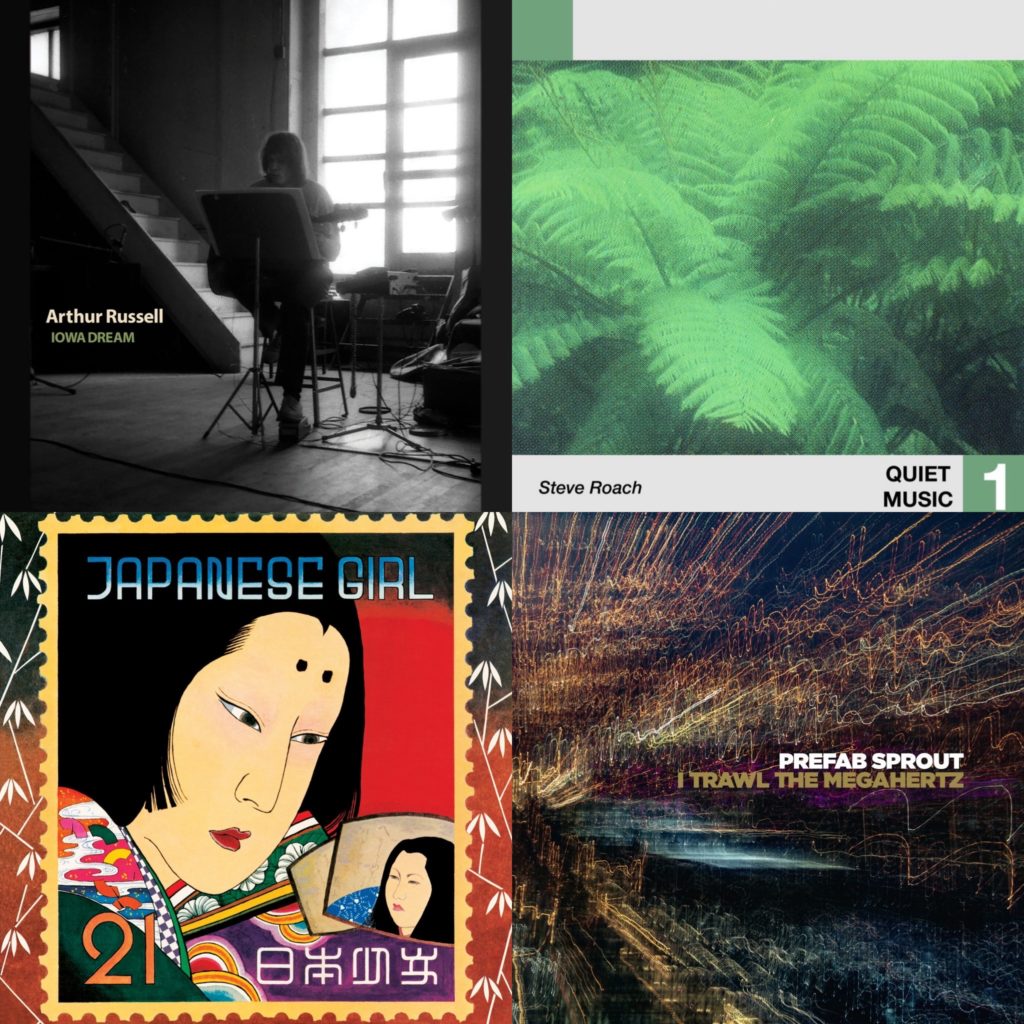 Arthur Russell :: Iowa Dream
Assembled from Russell's unfathomably deep archive, Iowa Dream collects nineteen tracks of freewheeling Buddhist bubblegum that affirm the singer-songwriter-composer's multi-varied talents and singular voice. It's all here: cornfield country crooning, downtown minimalism, heart-on-sleeve new wave, and aspirational mysticism. As such, Iowa Dream is one of the most consistently thrilling and possibly most holistic of Russell's posthumous releases organized by his partner Tom Lee and Steve Knutson of Audika Records, the label dedicated to Russel's legacy. (buy)
Steve Roach :: Quiet Music Vol 1-3
New Age stargazer Steve Roach began his Quiet Music series as a soundtrack commissioned for a meditation video featuring lush green flora. Its sequel was inspired by time spent in the deserts near Roach's Los Angeles home, before the trilogy was completed with a nocturnal exploration of his personal healing practices. Since its release in 1986 as a triple cassette, Quiet Music 1-3 has now been reissued on vinyl for the first time, spanning nearly three hours of tranquil tone-floats speckled with flute, electric piano, and echoes of the natural world. (buy)
Akiko Yano :: Japanese Girl
Whether producing Little Feat, or behind the boards sidewinding down Shakedown Street, Lowell George had a sound. And as sonic mojos go, no matter the project, his touch felt instinctual, immediate and, of course, funky. In 1976 George and the band hooked up with Akiko Yano to record her debut full-length, Japanese Girl, on the west coast at Hollywood Sound Studios. The flipside was laid down back in Tokyo with Haruomi Hosono, Tatsuo Hayashi, and Moonriders' Keiichi Suzuki. Damn. (buy)
Prefab Sprout :: I Trawl the Megahertz
I Trawl The Megahertz was first released to little fanfare in 2003 as a solo album by Prefab Sprout singer Paddy McAloon. While suffering from Meniere's disease, tinnitus, and temporary blindness, he was bedridden without screens. This led to the creation of an outlier project with the voice of stockbroker Yvonne Connors drifting through sublime waves of symphonic ambiance. It sounds closer to Robert Ashley's Private Parts with more flugelhorn than the sophisti-pop Prefab Sprout is known for, but by reclaiming it with his band's name, this gorgeously sprawling trawl has received overdue appreciation. (buy)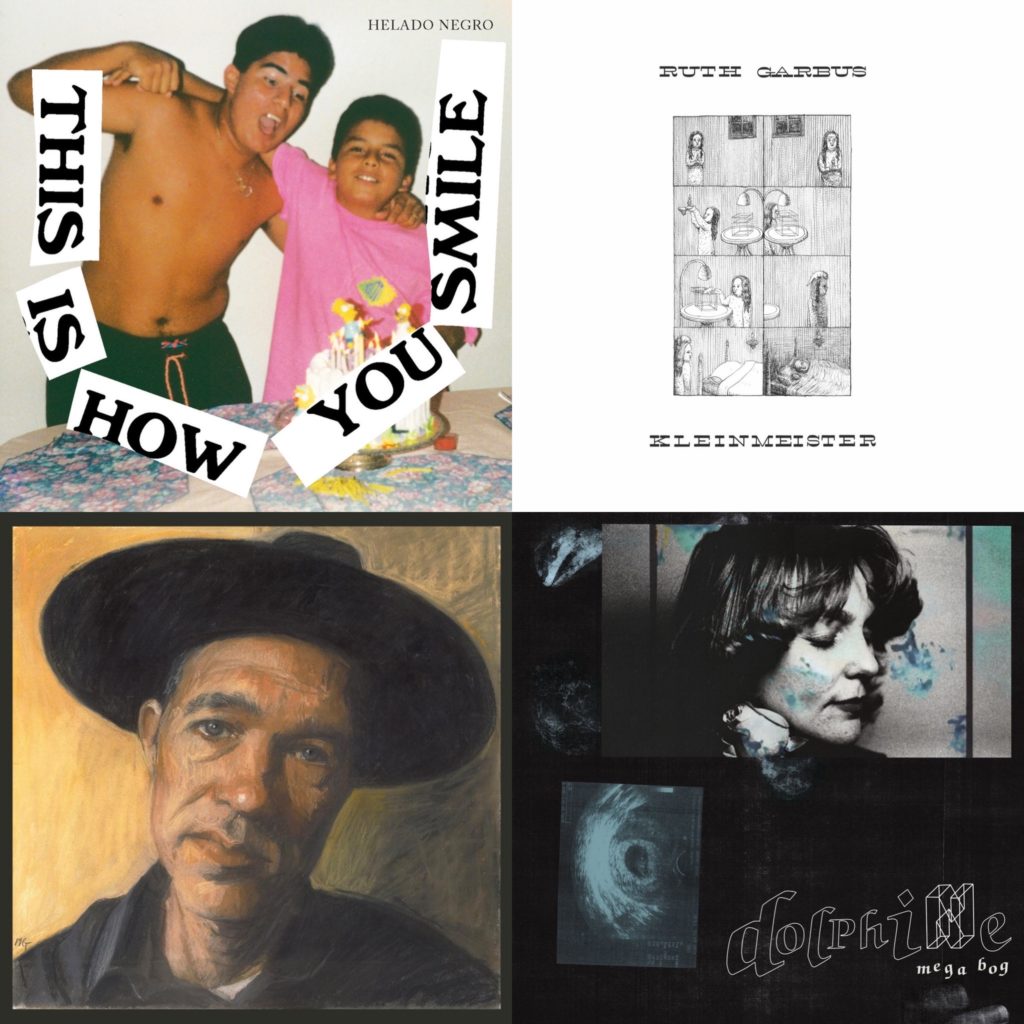 Helado Negro :: This Is How You Smile
This Is How You Smile unfolds "with a patient grace and an absolutely sublime beauty; his cooing vocals floating gently across electronic atmospheres, radiantly beaming about Latin pride, family, friendship, and love." (buy)
Ruth Garbus :: Kleinmeister
A folk-rock epic alternately intimate, bracing, sensual, and unnerving, Ruth Garbus transmutes indie rock aesthetics into something operatic on Kleinmeister. Alien and perfectly relatable. (buy)
Simon Joyner :: Pocket Moon
World-weary but never jaded, Pocket Moon is packed with tunes that no one but Simon Joyner could've come up with, each one a weird and beautiful gem. Check out "Yellow Jacket Blues," an unassuming-at-first Basement Tapes-ish ramble that crams more profundity, humor and absurdity into four minutes than most novels manage in hundreds of pages. Joyner can write a perfect simple song, too: "Morning Sun, Slow Down" is a hymn that both celebrates and mourns the inevitable passage of time. (buy)
Mega Bog :: Dolphine
Erin Elizabeth Birgy's Mega Bog had a breakout year with Dolphine, her fifth long-player and first on her new label home of Paradise of Bachelors. Rooted in guitar-driven post-punk and sashaying art rock, the record flourishes with synths, squeaks, and feedback, sending inverted ballads outward into the wilderness and back again. (buy)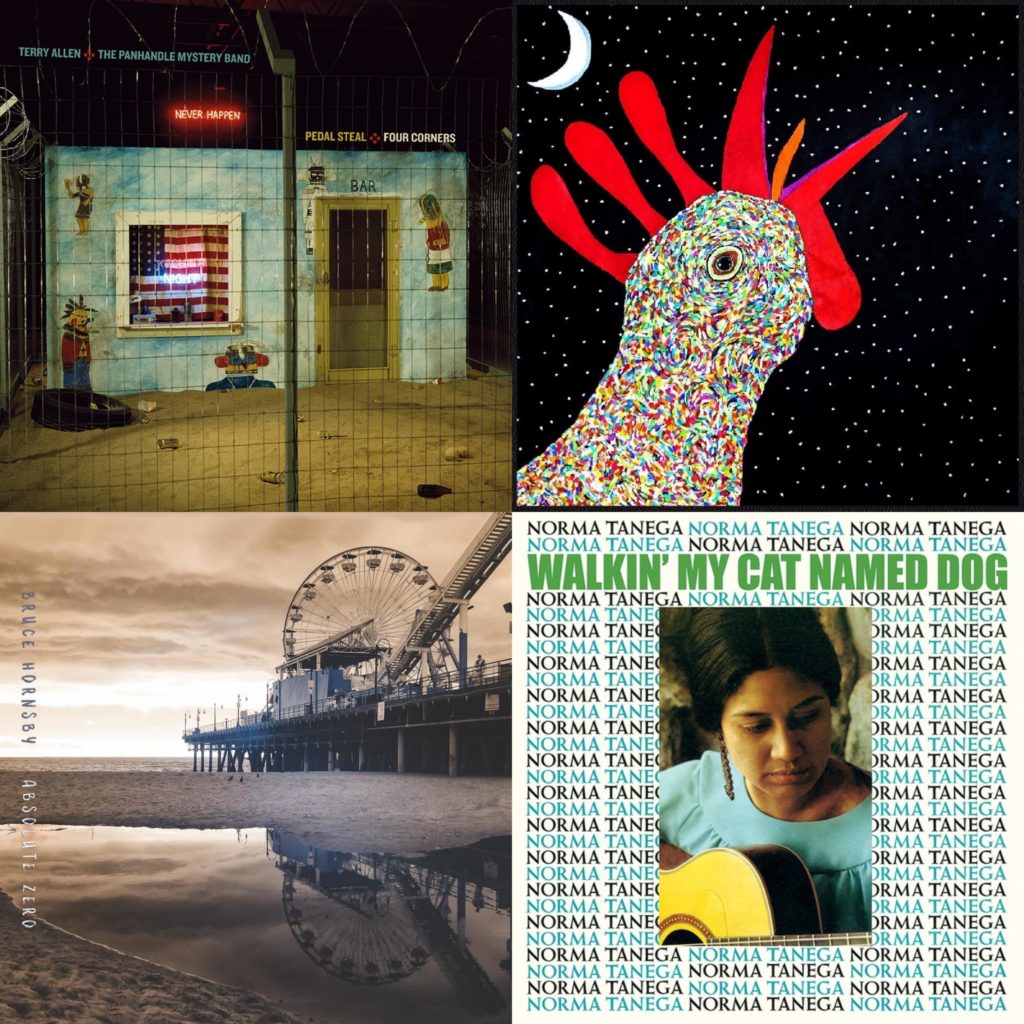 Terry Allen & The Panhandle Mystery Band :: Pedal Steal + Four Corners
Paradise of Bachelors continues the resurrection and reappraisal of a true American visionary with a lavish package (one LP, three CDs, and an exhaustive Grammy-nominated booklet) dedicated to Allen's long-form narrative audio works. Not to discount the enthralling Four Corners suite of radio plays, but Pedal Steal is the main attraction here—an impressionistic "country-concrète sound collage" that splits the difference between Allen's violent travelogue, Juarez, and his hometown dissection, Lubbock (On Everything). A staggering cartography of the Southwest, country music, and conceptual art that's unlike almost anything else in recorded American music. (buy)
Daniel Norgren :: Wooh Dang
A mystical current flows through this record, which finds Swedish songwriter Daniel Norgren seamlessly shuffling the dial between heartfelt piano ballads ("The Flow"), bluesy romps ("Let Love the Run the Game"), and tender tributes ("When I Hold You in My Arms.) How long before everyone knows about this guy? (buy)
Bruce Hornsby :: Absolute Zero
Bruce Hornsby's mind is on the birth of the universe and whatever is going on down the block. That's the way his songs work, the way they swing majestically from the widescreen to the snapshot. Musically fitful—find us another '80s hitmaker teaming up with Justin Vernon of Bon Iver, Hiss Golden Messenger's Brad Cook, ECM veteran Jack DeJohnette, guitarist Blake Mills, and chamber music group yMusic—Hornsby sounds as passionate as he did on his very first record. "Dream the original dream, like we used to do," he sings on "Take You There (Misty)," a co-write with the late Grateful Dead lyricist Robert Hunter. Hornsby is still dreaming that singular dream of his. (buy)
Norma Tanega :: Walkin' My Cat Named Dog
Reissued by Real Gone Music and given a boost by the use of "You're Dead" in the brilliant 2014 New Zealand mockumentary, What We Do In the Shadows, this 1966 gem blends folk and blues traditions with unusual vocal touches and time signatures. Unconventional but driven by its heartfelt expression, its return has been more than welcome. (buy)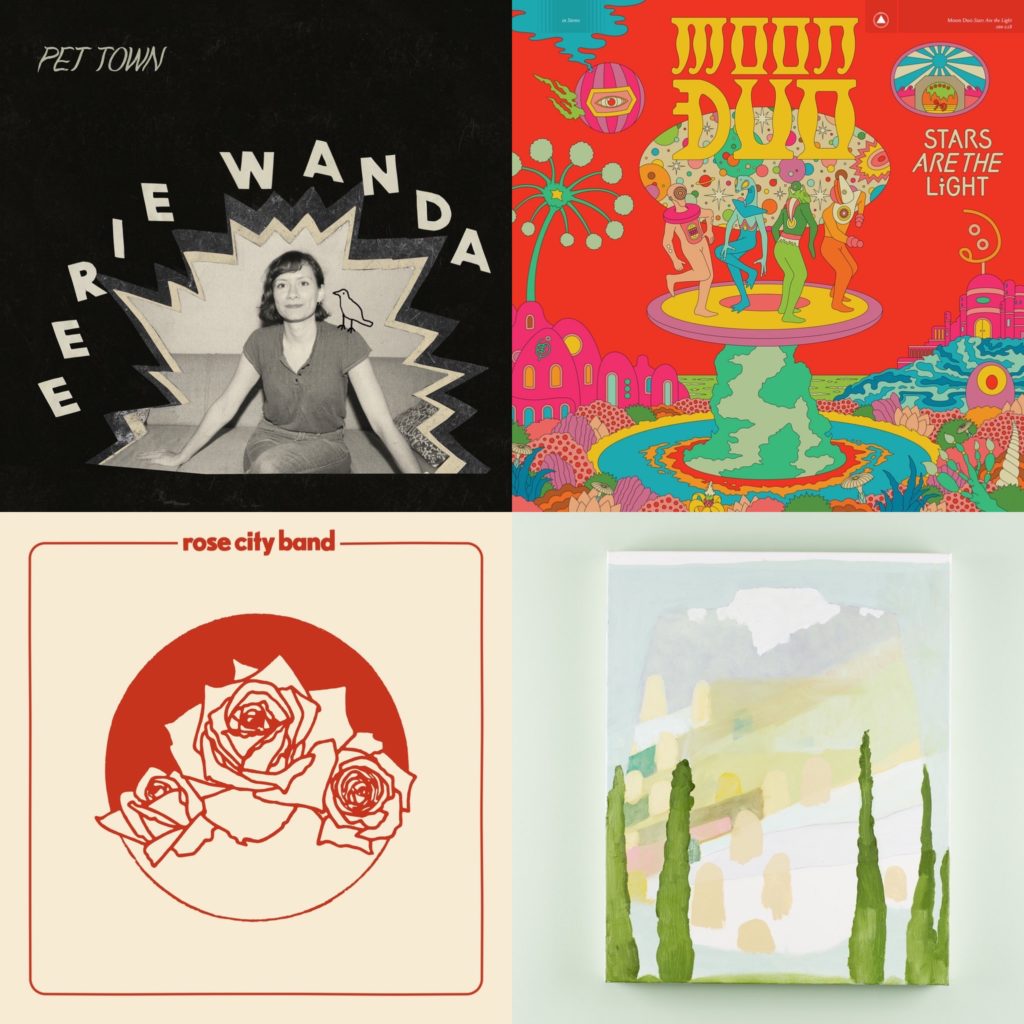 Eerie Wanda :: Pet Town
The latest from Holland's Marina Tadic is modern-day telling of escapism; a kind of bewitching, dusty cedar folk not unlike the Sandwitches or a Hope Sandoval-fronted Opal. Having fled a war-torn Croatia at the age of six, it isn't strange that Tadic sounds as she is, truly all alone. She and her bandmates chose to record their parts separately, and that eerie isolation drifts across Pet Town as a dark joy for Tadic. From the cover art – in which Tadic sits in Eraserhead style sunken stardom, an imaginative bird on her placid shoulder—to the flamenco sway of "Magnetic Woman," we too sink into this oddly, but charmingly, off-kilter pop. Deceptively sweet, sugary gloom. (buy)
Moon Duo :: Stars are the Light
Over the course of the past decade, San Francisco's Moon Duo has drifted among the clouds, emitting bursts of spacey shoegaze and mellow psych. The duo's latest, Stars Are the Light, finds guitarist Ripley Johnson and keyboardist Sanae Yamada headed toward an icy disco party somewhere further out than previously traveled. The title track (which is easily the band's funkiest jam to date), finds Yamada's vocals more present than ever, grooving in some lost snow globe, with guitarist Johnson fading in and out like a dance partner sheathed in strobe light and desire. (buy)
Rose City Band :: Rose City Band
While the personnel of Rose City Band remains something a mystery, the band's self-titled debut is very much imbued with the sonic fingerprints of its producer, Moon Duo's Ripley Johnson. And where that band dove headfirst into Ethio-jazz-inspired blizzard boogies on its latest, this new outfit remains firmly on the route of ragged, road-weary psychedelia. Hazy shoegaze and rambling electric jams reign supreme. Rip City, indeed. (buy)
Twain :: New Miami Sound
On Twain's New Miami Sound, a lean, seven-song release, Matt Davidson's musical project shows leaps and bounds in his songwriting, embracing piano-driven rhapsodies found in the unlikeliest of places; nostalgia-tinted folk for long casted shadows just beginning to fade. Branching off some strange lineage of Ramblin' Jack Elliott and Harry Nilsson, his warbly, rustic vocals and subtly profound prose seem to sneak up on you. Often, it feels as though you might turn around to find it gone. (buy)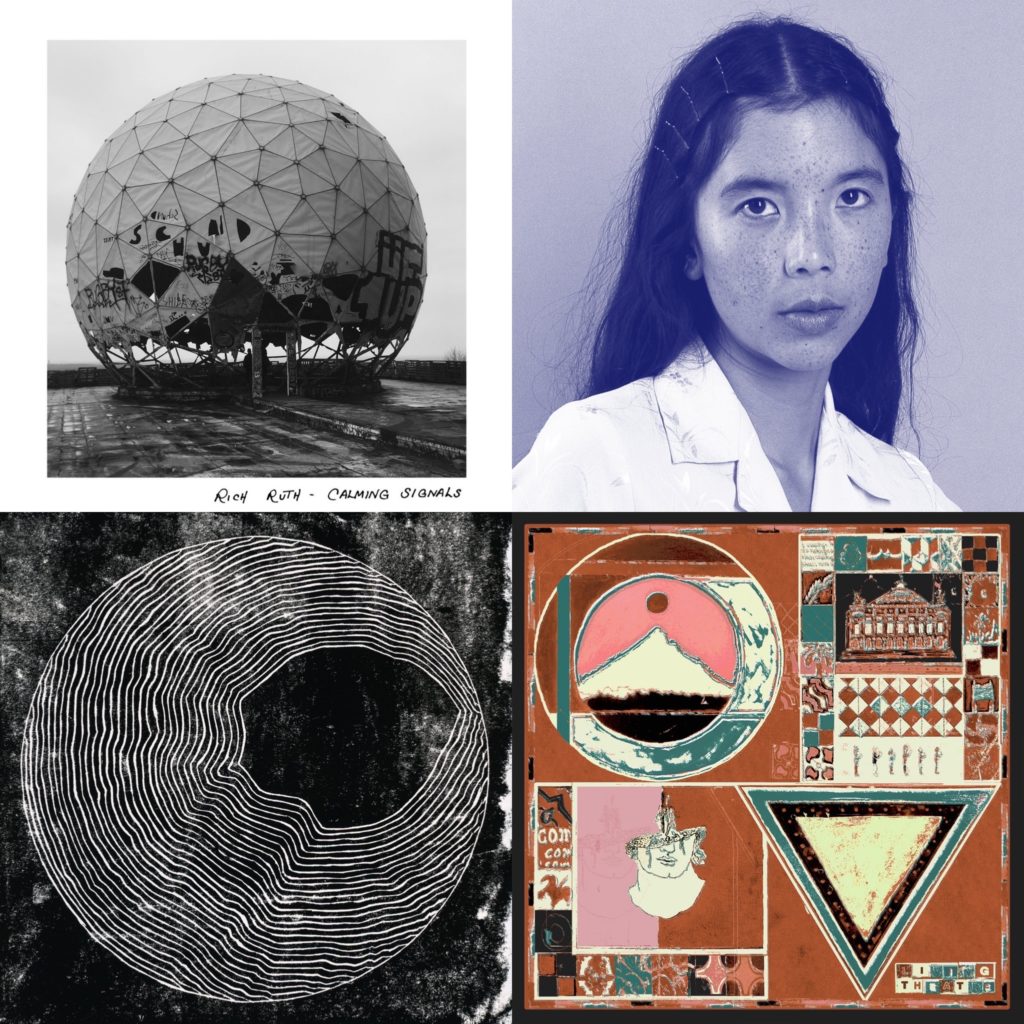 Rich Ruth :: Calming Signals
Calming Signals is not the sort of LP that most would expect from Nashville, TN. You don't often hear massive swells of droning synthesizers and improvised woodwinds wafting out of the Music City. Rich Ruth's latest is as refreshing as it is surprising; a soul-cleansing take on Komische Musik and spiritual jazz. (buy)
Ana Roxanne :: ~ ~ ~
Anna Roxanne's debut EP is a beautiful and serene piece of music that would work well as the soundtrack for a silent short film. The most effective moments find Roxanne's ethereal vocals floating above droning synthesizers like low hanging clouds shrouding a glassy lake and whatever swims underneath. Though there is more to this record than that. Hopefully a full-length is around the corner. (buy)
Michael Nau :: Less Ready to Go
"I think about you in every major key," Michael Nau sings at the start of "Hoops," the opener to this charming, surprise release. Recorded in Joshua Tree, the record's woozy feel takes on a dubby feel as Nau and his collaborators layer squiggly synths, slippery guitars, and clattering percussion overtop. Nau's proved a steady and dependable force for the whole decade; Less Ready to Go is no exception to the rule. (buy)
Olden Yolk :: Living Theatre
There are so many ideas going on inside of Living Theatre. It's an album that feels like a bibliography in the best sense—the kind of rabbit hole album that will send you chasing influences musical and lyrical. At a deft 34 minutes, the album reaches its sonic height in the noisy "Grand Palais" before flowing into the gorgeous "Distant Episode." The pair serve as a lodestone for the album's core, a triumphant filtering of Goethe's oft-quoted line that those who cannot draw on 3,000 years are living hand to mouth. (buy)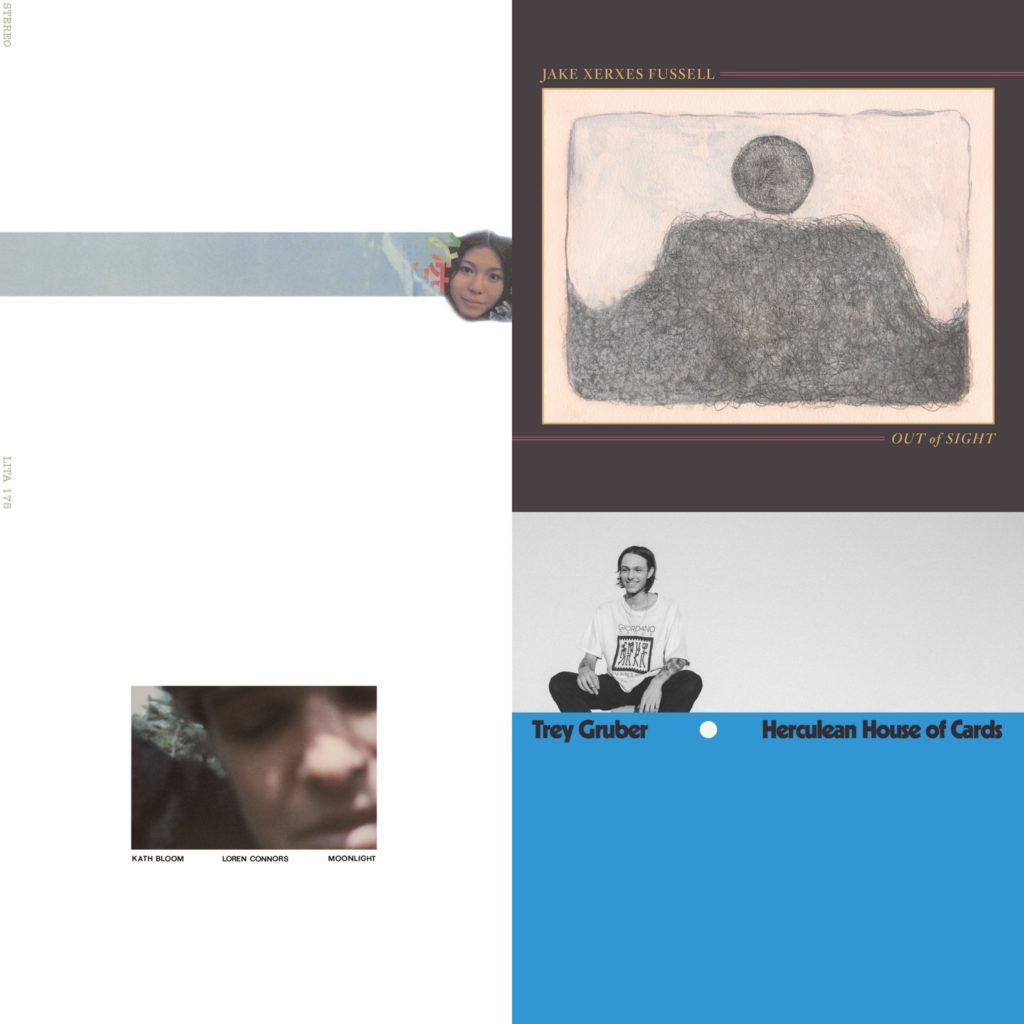 Sachiko Kanenobu :: Misora
The intoxicating debut of "Japan's first female songwriter," originally released in 1972 on URC. A borderless (Laurel Canyon-cum-Osaka) folk masterpiece that oscillates Kanenobu's solitary fingerpicking and lithe vocals with full-bodied arrangements (dig the crystalline Stray Gators-era Neil Young production, courtesy of the inimitable Haruomi Hosono). Another revelatory entry in Light In The Attic's Japan Archival Series and another jubilant career renaissance. (buy)
Jake Xerxes Fussell :: Out of Sight
Building upon an excellent earlier pair of rousing folk-blues albums, Out Of Sight finds the North Carolina musician continuing to arrange and perform songs that both honor and defy their traditional origins. Richer than its predecessors (thanks to a tasteful full band treatment), Fussell still treats his source material with a deft touch—whether it be a fishmonger's cry, a cotton mill tune, or an Irish tragicomedy. Sensitive, celebratory, transformative, and endlessly replayable. Another masterstroke from the vernacular torchbearer. (buy)
Kath Bloom & Loren Conners :: Sand in My Show/Moonlight
Chapter Music continues its vinyl reissue series of the remarkable albums the Connecticut duo of otherworldly folk singer Kath Bloom and summoner Loren Conners recorded between 1981 and 1984 with an essential pair of releases. Conner's masterful guitar as expressive as Bloom's extraordinary voice, the pair's collaborations yielded some of the most fragile folk and blues music released in the second half of the century. Achingly beautiful and evocative, with moments of utter transcendence. (buy)
Trey Gruber :: Herculean House of Cards
Lovingly compiled by his friends and family, Herculean House Of Cards is an astonishing posthumous collection of demos and live recordings from the Chicago songwriter who tragically lost his battle with addiction in 2017 at the age of 26. From the loner folk moves of "Last July," to the John Lennon/Plastic Ono Band rawness of "In Between," to the devastating confessional "Hammer Out The Edges"—a bittersweet testament to a complicated and immense talent gone far too soon. (buy)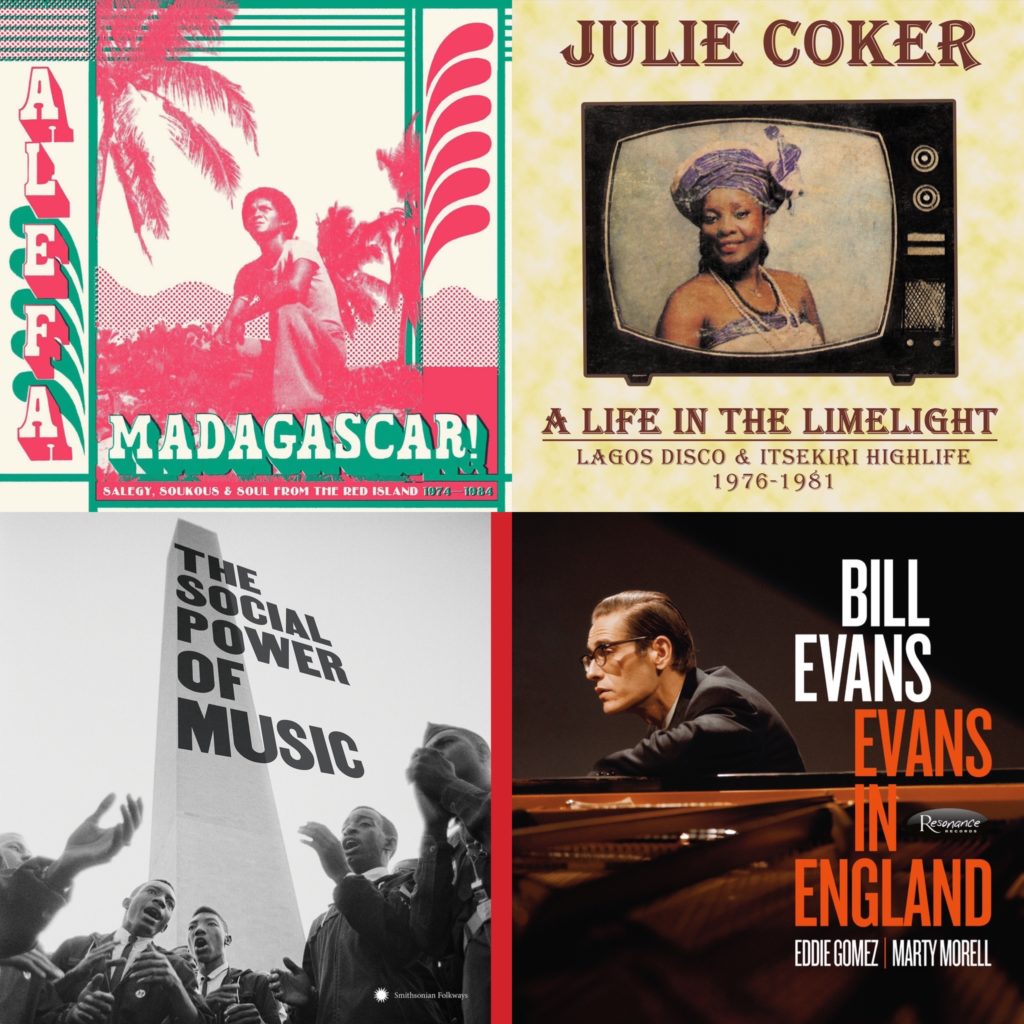 Alefa Madagascar: Salegy, Soukous & Soul From the Red Island
Documenting the synth boogies and call-and-response folk rhythms that grew out of Madagascar's cultural cross-pollination, this set via Strut Records is an enlightening scan of a sound that's remained largely undocumented. Mahaleo's 1972 protest song "Izahay Mpamita" particularly stands out for its outlier quiet groove. The song's spindling guitar line subtly unfolds into some strange prog-jazz, braced with a proper padding of flute. (buy)
Julie Coker :: A Life in the Limelight: Lagos Disco & Itsekirir Highlight, 76-81
Sinewy synths, call-and-response vocals, and propulsive polyrhythms are the name of the game here. Julie Coker was known for many things in Nigeria: she was Miss Western Nigeria in 1957, the country's first-ever female television presenter, and a popular national radio host. But here, on this compilation of her foray into the highlife scene, we see Coker take just as naturally to dance-floor boogies and psychedelic folk. A born star. (buy)
The Social Power of Music
Divided into four sections—"Songs of Struggle," "Sacred Sounds," "Social Songs and Gatherings" and "Global Movements"—this essential Folkways collection finds the past in conversation with the present, as feminists, border people, workers, and civil rights workers of years gone by comment with eerie precision on our present struggles. And as they are united in marching toward progress, so are they united in celebration, of both the devotional variety, and in the case of Clifton Chenier's "Party Down at the Blue Angel Club," the unrestrained. (buy)
Bill Evans :: Evans in England
This previously unreleased double-disc collection captures Bill Evans with his longtime rhythm section of bassist Eddie Gomez and drummer Marty Morell at Ronnie Scott's in London at the tail end of 1969. Evans, unlike his peers at the time, wasn't interested in modernizing his sound. Instead he sticks to the straight-ahead acoustic piano trio approach and standards-heavy repertoire that was his bread and butter. But it'd be a mistake to call the music on Evans In England "conservative;" masterful is more like it. (buy)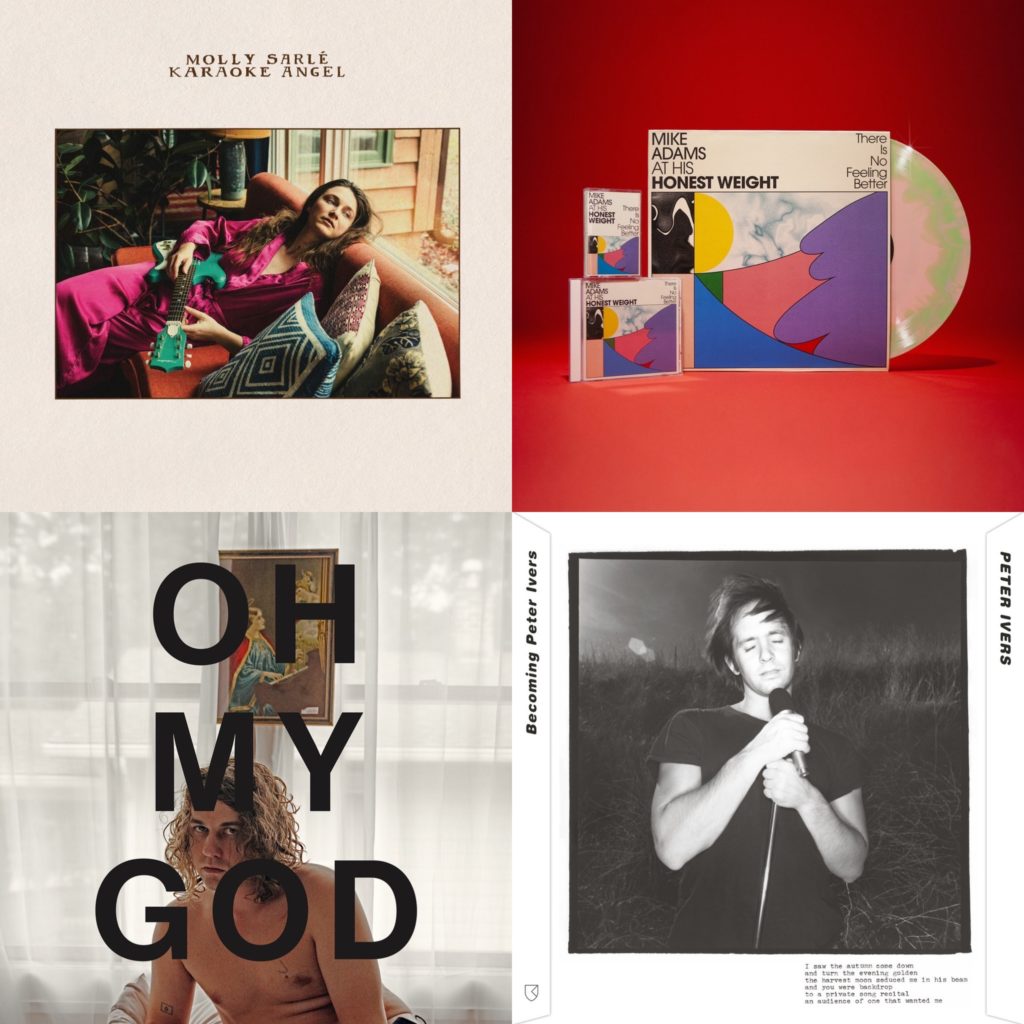 Molly Sarle :: Karaoke Angel
Best known for Mountain Man, her a cappella trio with Alexandra Sauser-Monnig and Amelia Meath, Molly Sarlé strikes out on her own with Karaoke Angel, a disarming collection of indie rock-tinged art-pop and folk. Frank and hazily romantic, her songs charm, thick with lived experience and good humor. Even when her subject matter gets weighty—as it does, often—her voice offers a buoying lilt. (buy)
Mike Adams at His Honest Weight :: There Is No Feeling Better
More pitch-perfect, guileless pop music from the master, Indiana's Mike Adams. These songs are good buddies, confidantes with your best interests always in mind. The shades of ELO's symphonic pomp, '70s power pop, and singer/songwriter fare, and '90s space rock might be what strike you at first, but it's Adams warmth that keeps you coming back for more. (buy)
Kevin Morby :: Oh My God
Flannery O'Connor once wrote, "Faith is what someone knows to be true, whether they believe it or not." Her words come to mind examining Kevin Morby's fifth album, the double-album Oh My God. A "secular religious record," it fixates more on doubt than devotion, but it's animated by the big questions that course in the subtext each time we talk about God or love or death or eternity. From its ethereal gospel touches to its hard-nosed VU blasts, it's Morby at his most expansive, holding "truth" up to the light to get a better look at whatever it might reveal itself to be. (buy)
Peter Ivers :: Becoming Peter Ivers
The music of Peter Ivers runs like a frontage road alongside the highway of the last half of the 20th century's popular music. Before his tragic and mysterious death, Ivers at various points: counted Muddy Waters, Van Dyke Parks, and the frantic John Belushi as associates; wrote songs for Diana Ross, the Pointer Sisters; penned "In Heaven (The Lady In the Radiator Song)" from David Lynch's 1977 art house masterpiece Eraserhead; hosted a public access show New Wave Theatre, which was broadcast as part of Nite Flight on the USA Network; and shared states with John Cale, the New York Dolls, and Fleetwood Mac. Tellingly, these recordings, gathered by RVNG Intl., serve as a kind of greatest unheard hits collection, their skewed logic both delightful and odd. (buy)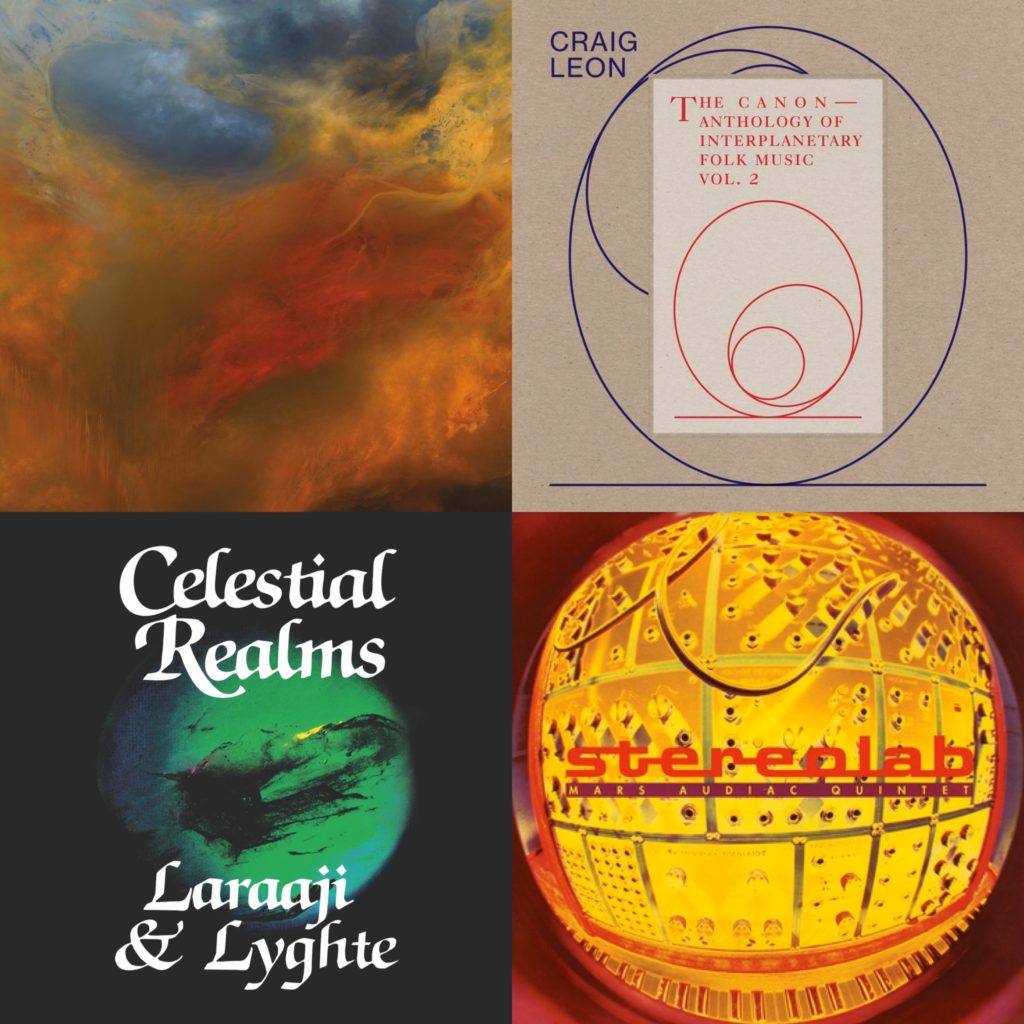 Sunn O))) :: Life Metal/Pyroclasts
Awesome music by the word's deepest definition, the one about a certain mix of overwhelming power and maybe a little fear. Inside the swelling drones of Life Metal and Pyroclasts, two albums cut during the same summer sessions with Steve Albini, Greg Anderson, Stephen O'Malley and guests churn up terrifying noises, Old Testament and profane, but undeniably beautiful too. (buy)
Craig Leon :: Anthology of Interplanetary Folk Music Vol. 2: The Canon
As a producer, Craig Leon helped to usher in the punk age, working with pioneering groups like the Ramones, Blondie, Suicide, and Talking Heads. But on his own, his explored even more arcane spaces. In 1980, he released Nommos, followed by 1982's Visiting, which began his science/speculative fiction conceptual art project, serving as the first volume of his Anthology of Interplanetary Folk Music. Decades later, he and his partner Cassell Webb returned to that SF saga, creating seven new works that continue Leon's unfolding extraterrestrial story via seven new minimalist/New Age/electronic-folk compositions. (buy)
Laraaji & Lyghte :: Celestial Realms
Typically garbed in bright orange, it's easy to picture New Age composer Laraaji donning dark purple or green for this 1986 team up with synthesist and guitarist Jonathan Goldman (Lygthe). With its zither glissandos drifting over churning drones, heavy bass frequencies, and the occasional last of fusion-y electric guitar, Celestial Realms is an uncharacteristically shadowy gem in the Laraaji canon. (buy)
Stereolab :: Transient Random Noise-Bursts With Announcements/Mars Audiac Quintet/Emperor Tomato Ketchup/Dots and Loops/Cobra and Phases Group Play Voltage in the Milky Night/Sound-Dust/Margerine Eclipse
The 'Lab discography, finally back in print and accessible—as their revolutionary ethos would demand. Stretching "over two decades of constant experimentation," the band's body of work proved an entry point to wider worlds for a whole generation of record nerds, blending plush pop with Krautrock, minimalism, noise, and leftist agitprop. (buy)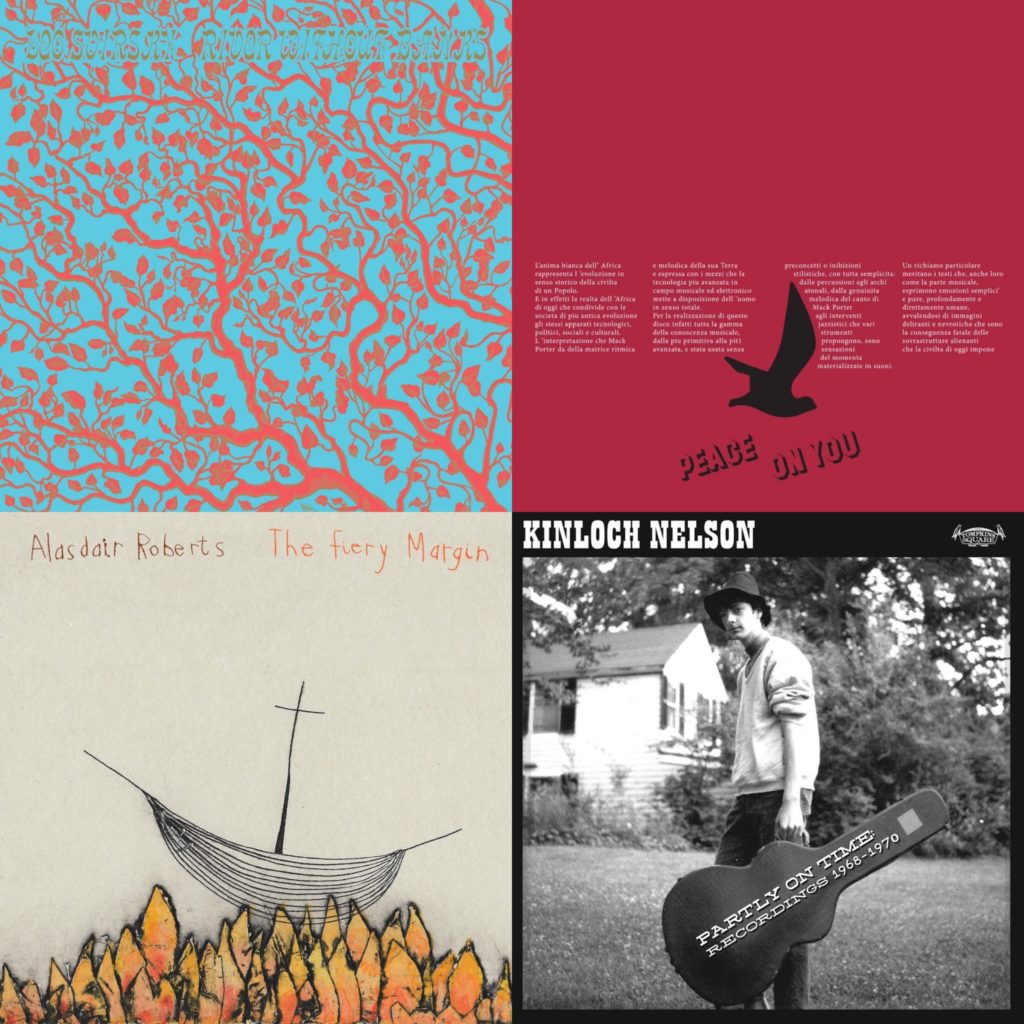 Leo Svirsky :: Rivers Without Banks
Spellbinding stuff from composer Leo Svirsky, with dual pianos, strings and subtle electronics coalescing into something utterly sublime. Rivers Without Banks is in the minimalist idiom, but at times it feels absolutely wide-open, a rich panoramic sonic landscape. An album to get lost in, as light as a breeze, as heavy as distant thunder. (buy)
Mack Porter :: Peace on You
Sheathed in obscurity following its 1972 release in Italy, Peace on You—the sole long-player from Ghana's Mack Porter—is a true outlier gem of blues, soul, and psychedelic rock. With its dramatic David Axelrod-esque arrangements and Porter's blurry, mirage-like lines between Hendrix soul and doomy Sabbath riffs, the record exists on a plane of rarity entirely its own. (buy)
Alasdair Roberts :: The Fiery Margin
Writing for Aquarium Drunkard, Alan Lomax archivist and guitarist Nathan Salsburg called veteran guitarist Alasdair Roberts' 2019 album "…a jeremiad against the all-too-familiar 'mocking whine of demagogues…. quick to mock and slow to bless,' hollered from amid the revelry of the changing year and among the small comforts of home." (buy)
Kinlock Nelson :: Partly On Time
Just when you think that there can't possibly be any more guitar soli masters from the past left to discover, another one shows up. Unsurprisingly, Kinloch Nelson's terrific Partly on Time comes to us via the ever-reliable Tompkins Square label, which has been digging up gems like this for close to 15 years now. Rescued from age-old tapes, the slightly lo-fi sound here is deliciously warm, the perfect setting for Nelson's laid-back instrumental compositions. (buy)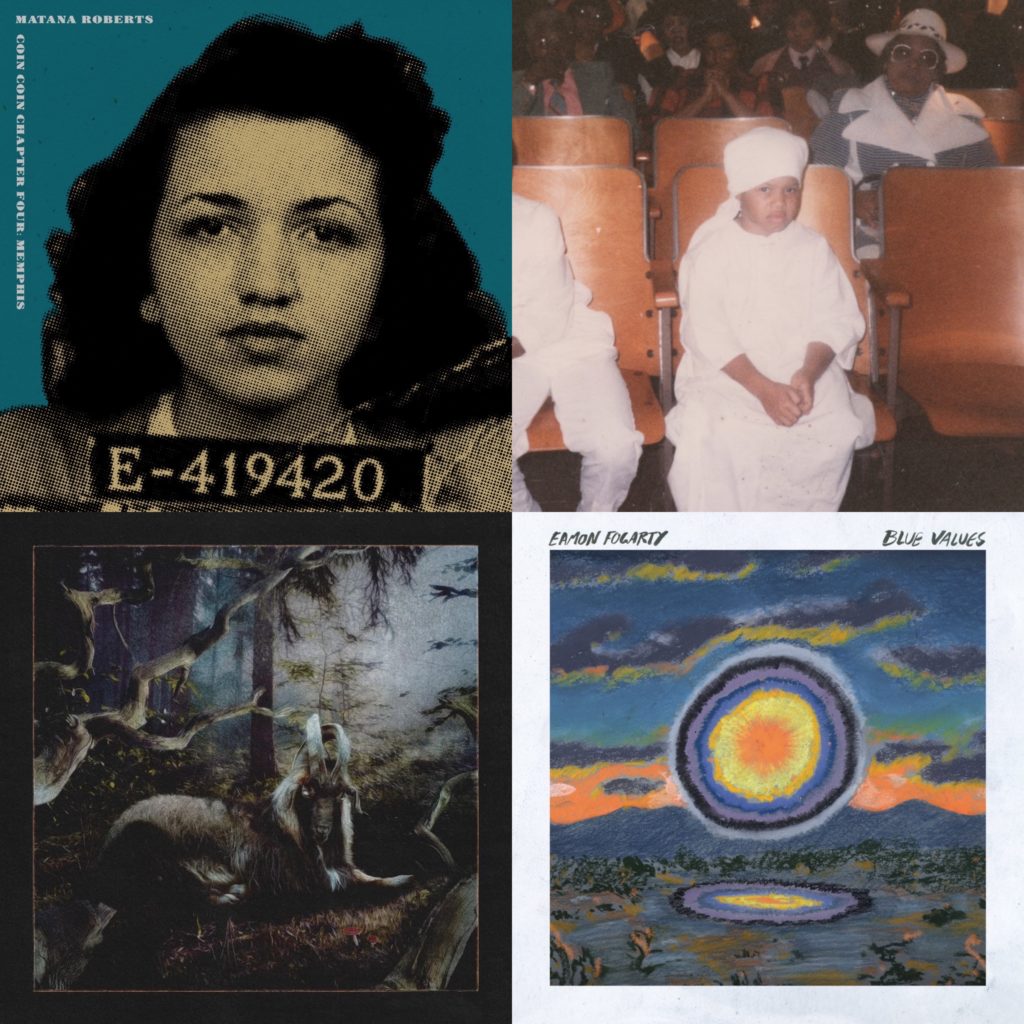 Matana Roberts :: Coin Coin Chapter Four
For most of the last decade, the Chicago-raised Matana Roberts has patiently laid out her Coin Coin saga, a multi-chapter set of recordings concerning history. Rooted in the avant-garde and fierce jazz, the fourth chapter deepens Robert's aim, when she reads "Memory is the most unusual thing," she's speaking about how our perception of the past remains in flux, open to new investigation and interrogation. (buy)
Angel Bat Dawid :: The Oracle
A record born out of Angel Bat Dawid's communion with the form of "spiritual jazz," her arcing devotionals summon a transcendental state while directly confronting the concrete, material challenges of living in black skin. Live, Dawid utilizes her clarinet and piano become her priestess' implements, incanting along with a similarly visioned group from Chicago's deep-rooted scene of improvising musicians. (buy)
Earl Sweatshirt :: Feet of Clay
There Kgositsile's latest clocks in at just about 15 minutes—you could call it an ep if the distinction between that format and a full album hadn't disappeared sometime over the last decade. But Sweatshirt doesn't need time to warm up, and over the course of seven brief, faded tracks, he pulls from the Book of Daniel, excavates familial and romantic grief, and pontificates about the warm of a good Pendleton. Soul samples disintegration looping beneath him, he opens himself wide but hangs on to what he needs to stay upright: "Protect your neck and don't forget the heart." (buy)
Eamon Fogarty :: Blue Values
Blue Values opens with the sound of reeds and churning drums and ends with a free jazz exploration of Chris Bell's power pop ballad "I Am the Cosmos." In between these two magnetic poles? A set of experimental pop and folk songs that connect Scott Walker, Mark Hollis, and Tim Buckley, offering jazz-rock and improvisatory asides about destruction, exalted bodies, and celestial mysteries. (buy)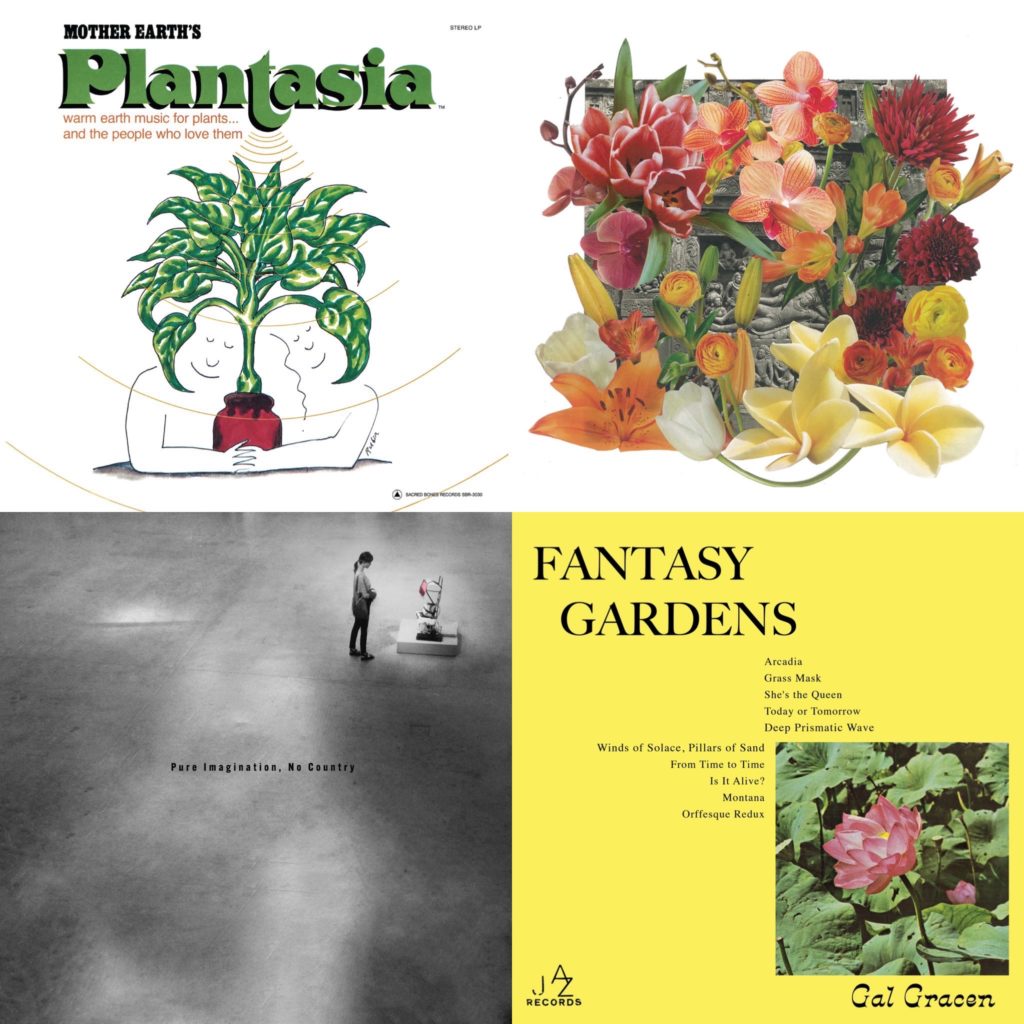 Mort Garson :: Plantasia
Sacred Bones has reissued Plantasia, a charming gebrauchsmusik for flora arranged for Moog synthesizer. Garson got his start penning pop songs ("Our Day Will Come") and later conceived all sorts of retrofuturist woo-woo, including a 12 album cycle for the 12 Zodiac signs. Plantasia was originally released in 1976 as a promotional item for an LA plant store, and the album's extreme novelty/obscurity generated a cult-like obsession in the Internet age. But Plantasia is scarce no longer; we've even heard reports of it soundtracking yoga classes in Brooklyn! (buy)
Mike Baggetta :: Wall of Flowers
What a trio! Guitarist Mike Baggetta, legendary bassist Mike Watt, and journeyman drummer Jim Keltner, who's played with three Beatles, Bob Dylan, the Traveling Wilburys, Ry Cooder, Jerry Lee Lewis, and countless others. The jams range from surf jazz to skeletal noirs and psychedelic rockers, all played with a level of simpatico grace only three players this well-traveled could conjure up. (buy)
Dave Harrington Group :: Pure Imagination/No Country
For years, the guitarist, bassist, and electronics whiz Dave Harrington and his improvisational ensembles have been mainstays at experimental NYC venues such as NuBlu, h0l0, and Trans-Pecos. Starting from a place akin to Naked City-era Zorn, Harrington's music explodes into the contemporary, awash in digital nebulae and skronk. He's been tweaking his blissful rendition of "Pure Imagination" for years, and to hear it as this lp's capstone is a delight. (buy)
Gal Gracen :: Fantasy Gardens
Vancouver's Gal Gracen latest release, FANTASY GARDENS, is a work brimming with empyreal bedroom pop and kaleidoscopic fantasia. Recorded in Vancouver, Ho Chi Minh City and on Malaysia's Mount Kinabalu, this record would have fit in neatly with Underwater Peoples' mean streak of lo-fi releases in the late '00s. Self-described as a collection of "elysian pop ballads dressed in a new age aesthetic," there's a wholly imaginative sonic world to get lost in here—one equal parts exotica and art-rock. (buy)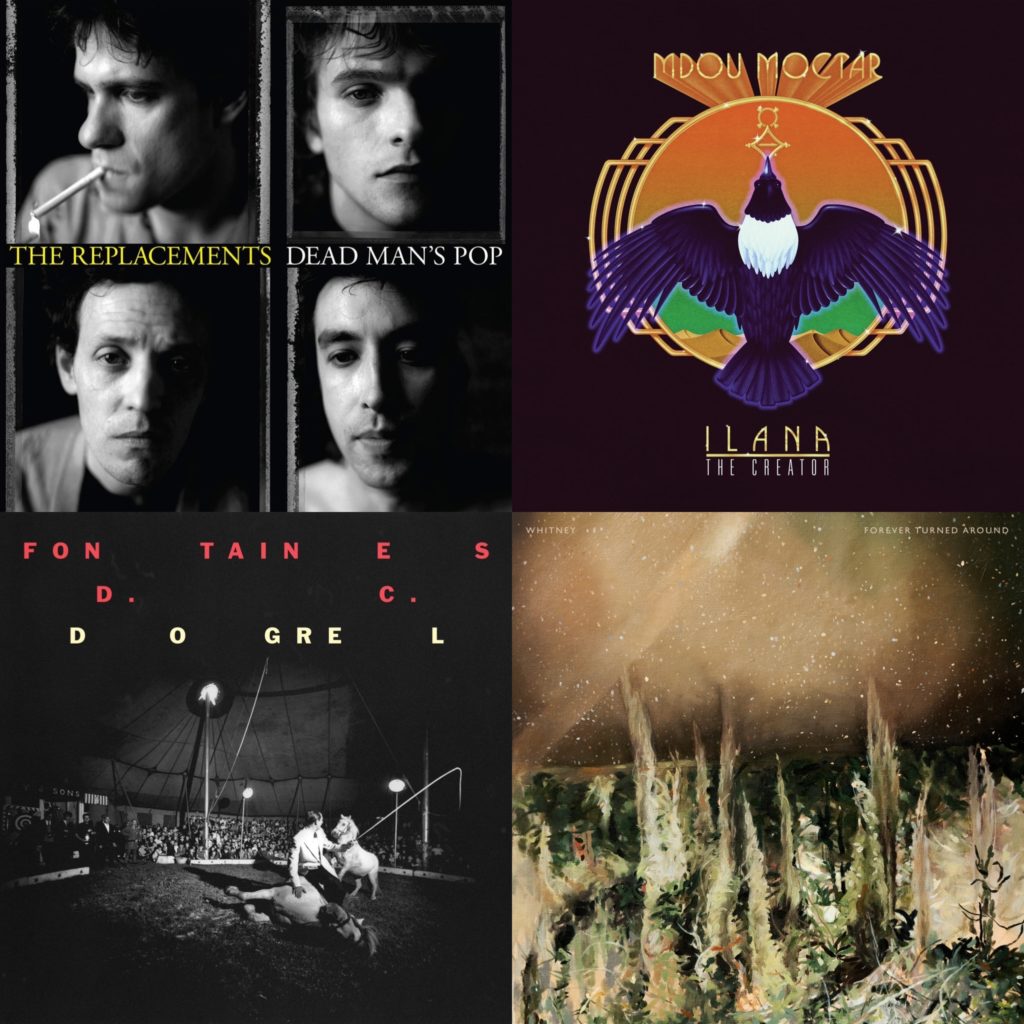 Replacements :: Dead Man's Pop
The kind of box set that the deep fans of any band dream about: a completely re-worked version of a classically divisive album, long hinted at existing, but never really being put out. The results are almost like a completely new album from a band that will most likely never release new material again. The album gives Don't Tell a Soul its proper day in the sun, but the double live album included also gives the proper due to the Slim Dunlap-era of the band and shows just how fantastic they were at the time. Here's hoping the rest of the Replacements catalog gets this same level of archival thoroughness and reverence. (buy)
Mdou Moctar :: Illana, the Creator
In an age where the type of guitar heroics Moctar is capable of don't emerge as much in rock music, his exploration of the instrument becomes as emotional as any vocal on the album, shaking the dust off of a seemingly well-worn musical type and giving it new life through the deep, rich and expansive roots of his own cultural background as a religious and wedding music player. What it must be like to have him play your wedding. (buy)
Fontaines DC :: Dogrel
Twin guitars, high on the neck bass, careening drums, and a flailing frontman. Dublin's Fontaines DC don't reinvent the post-punk wheel with Dogrel, but they breathe fire and pen great songs. "Is it too real for ya?" Grian Chatten spits. Nope, just real enough. (buy)
Whitney :: Forever Turned Around
Supremely laid back indie pop from some of Chicago's finest. The good vibes carry over from the band's debut, even if the mood is slightly darker and more tentative. And let's hear it for the horn section, which imbues these balmy songs with even more uplift. (buy)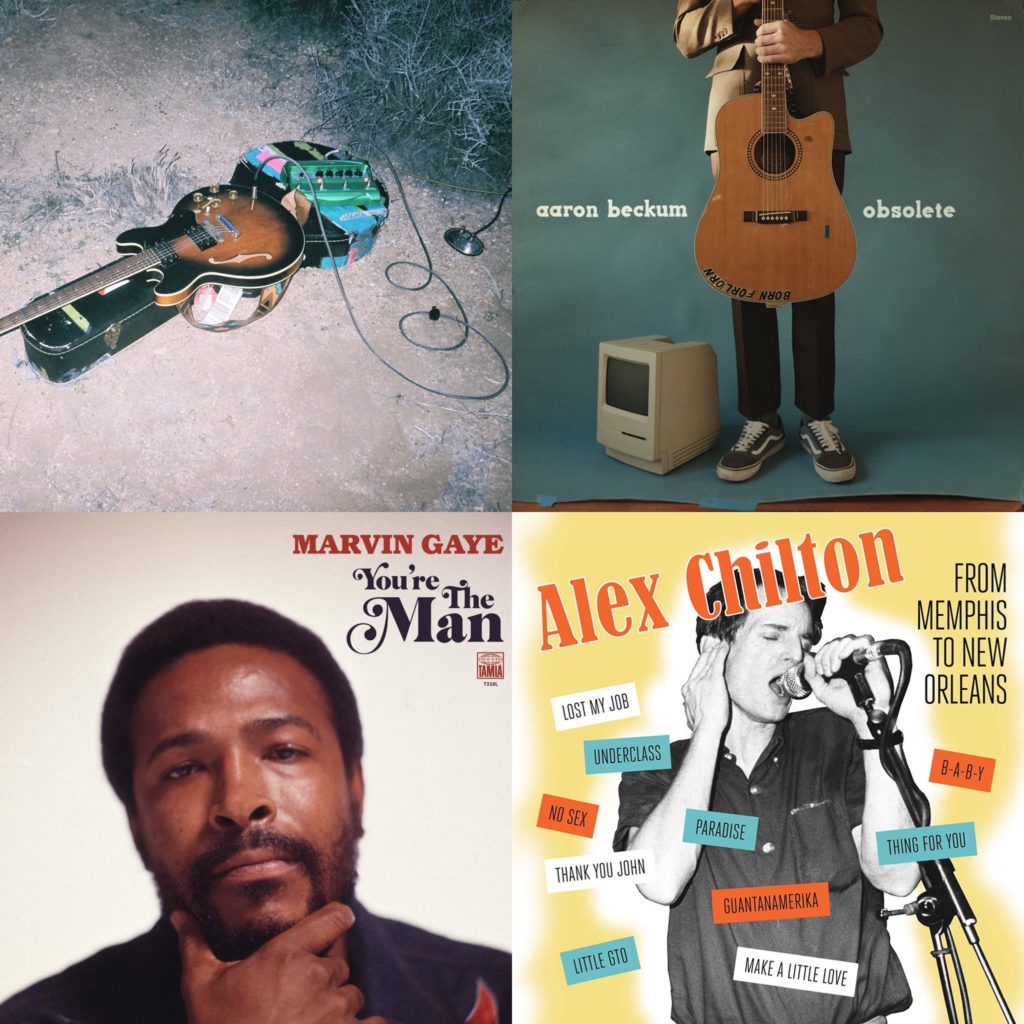 CY DUNE :: Desert
Recorded with generators in the deserts of Tucson, Arizona and Joshua Tree, California (and Brooklyn, New York), Desert conjures a blur of electric guitar, connecting the Hill Country to Mali and basking in low slung, blown-out freedom. (buy)
Aaron Beckum :: Obsolete
Los Angeles-based lo-fi country rock. Beckum's world-weary lyrics survey a technological wonderland, in which familiar human concerns still rule the day. "If you haven't got the money when times are growing hard, charge it to a high-interest credit card," he sings on "Credit Card Divorce," like some late capitalism Tammy Wynette. (buy)
Marvin Gaye :: You're The Man
Not really a "lost album," more a conceptual project utilizing Gaye's lesser known recordings and scraps, You're the Man nonetheless offers a look at Gaye's post-What's Going On head space. Gaye's progressive politics are apparent, as is his genuine confusion about the world, but so his unrestrained capacity for beauty—plus, there's a true Christmas classic here in the form of the synth-dappled instrumental "Christmas In The City." (buy)
Alex Chilton :: From Memphis to New Orleans/Songs From Robin Hood Lane
Right as he finally began to be recognized as a hero by a generation of indie rockers, Alex Chilton turned his attention to the Great American Songbook. Two 2019 collections document this shift: From Memphis to New Orleans and Songs From Robin Hood Lane, full of charming and understated standards, delivered with a sly, Chiltonian grin. (buy)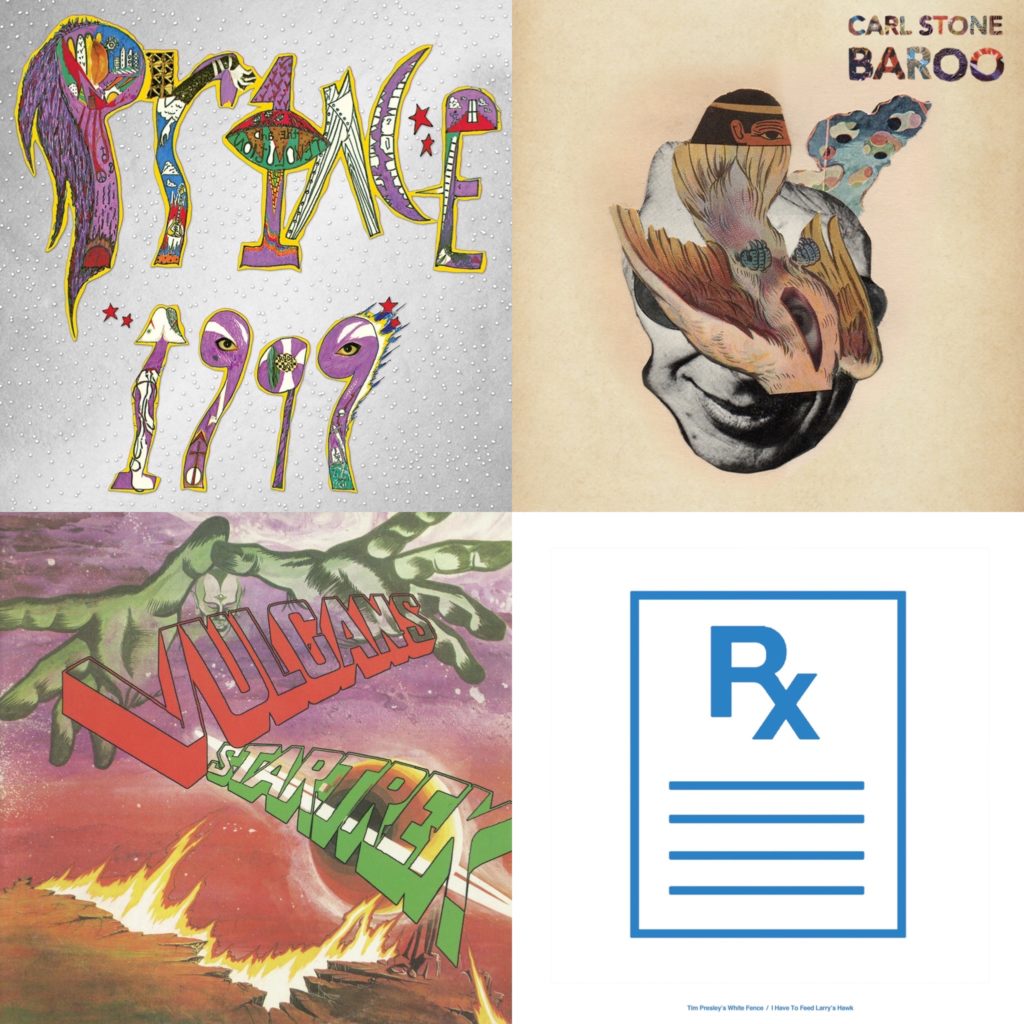 Prince :: 1999 (Super Deluxe Edition)
Alongside a remastered edition of Prince's 1982 masterpiece—plus essential b-sides ("How Come U Don't Call Me Anymore"), the deluxe edition of 1999 really digs into the Prince vaults, turning up early versions of future classics, live takes, and more. The album remains a vital and bracing transmission from a true master. (buy)
Carl Stone :: Baroo
The latest from minimalist/tape music innovator Carl Stone proves that he's grown no less inventive and daring with age as he splices innumerable sources from all over the globe—from jittering Afropop to Latin pulses and pan-Asian pop—into a cohesive, non-stop megamix. (buy)
Vulcans :: Star Trek
Synth-bolstered deep dub. It's hard to say exactly what market Trojan was aiming to capture in 1972, when Joe Sinclair, Webster Shrowder and Des Bryan teamed with prog-rocker Ken Elliot to mind-meld his ARP-2600 with their classic riddims, but the result is bewitching, even if it isn't strictly logical. (buy)
Tim Presley's White Fence :: I Have to Feed Larry's Hawk
The artists that tend to intrigue and hold our attention are rarely one dimensional. They build worlds. They create myths. Often they savvy the importance of both—for themselves as well as their audience. Tim Presley understands this. Aesthetically, it's all Presley, yet the fingerprints of Drinks (his ongoing collaboration with Cate Le Bon) are evident. In contrast to the earlier White Fence output, the record feels woozier. Gauzier. (buy)
Contributors: Justin Gage, J. Woodbury, T. Wilcox, J. Neas, B. Kramer, C. Depasquale, A. Spoto, J. Steele, K. Evans, T. Hale, J. Locke
'12 Year In Review / '13 Year In Review / '14 Year In Review / '15 Year In Review / '16 Year In Review / '17 Year In Review / '18 Year In Review
'Tis the season. You can help support independent media. Aquarium Drunkard has launched a Patreon page, which allows readers and listeners to directly support our online magazine. Patronage includes bonus audio, podcasts, printed ephemera, and vinyl records.