With a coastline of 840 some odd miles in California, it should come as no surprise that many of the artists we revere at Aquarium Drunkard seek refuge and inspiration in the Pacific blue with a surfboard underfoot. As the resident surfer amongst the AD ranks, and in the spirit of deeper discovery and appreciation, Tyler Hale will be paddling out in 2020 via a new column devoted to the surf: we're calling it Dawn Patrol. First on the list – Kyle Field aka Little Wings.
I've wrestled with this debut installment for a bit, and while buttoning up my thoughts I thumbed through Let My People Go Surfing – the inspirational guide by adventure-man, environmental activist, and founder of Patagonia, Yvon Chouinard – and fell upon a quote that really stuck with me (both Kyle and I appreciate Patagonia's business principles and wetsuits):
"A master in the art of living draws no sharp distinction between his work and his play; his labor and his leisure; his mind and his body; his education and his recreation. He hardly knows which is which. He simply pursues his vision of excellence through whatever he is doing, and leaves others to determine whether he is working or playing. To himself, he always appears to be doing both." (L.P. Jacks)
As a surfer and weekend adventurer, who balances a career in music, I was drawn to the harmony that message details. Following our surf session at Zuma Beach in north Malibu, I got the idea Kyle feels the same way.
On a windy, late fall morning Kyle and I convened for some blown out, pitchy surf and conversation about all things music and otherwise. During our pre-paddle lookout, I learned that Kyle's surfed at this expansive beach since he was 5 years old. He knows it well, so it came as no surprise that a) he's a very stylish surfer and b) he effortlessly reads the nooks and crannies of the waves to come out with good-lined rides (a trait certainly bestowed to regulars). I managed to track down a couple fun corners but envied Kyle's mastery of a not-so-great day of surf (he even had the foresight to bring a George Greenough-esque mat to rotate in the mix).
For him, surfing is a physical and mental health benefit, which would probably be a common denominator amongst all surfers. Kyle blurs the lines between lots of his creative pursuits. He's a visual artist, musician, surfer, seller of shirts and wares, voracious reader and fan of films. But, to him, they're all intertwined. He likes to keep a balance, telling me if he gets too good at music and puts all of his focus there, his surf would suffer and vice versa. Additionally, he tries to avoid definitions, since he identifies with all of those pursuits. He doesn't want to be pegged as one or the other. He just is… and that's how we want him to be. A vibrant character and multi-disciplined purist, we're all the better for it.
Kyle has been making music as Little Wings for a couple decades now and crafting accompanying album art (and other art pieces) even longer. He has a devoted following and a pastoral, clever and oft-regarded catalogue of albums. His music is suited for oceans, deserts, mountains, streams, valleys and rivers – things he all references. Music that's rooted in an appreciation for nature but also with a focus on folks in and around his life. His 2019 release – aptly titled – People, is a buoyant collection of songs that float with a relaxed, wistful delivery. Little bit dusty 70s psych, little California country, very much Little Wings.
He has more work on the way too, including a live acoustic recording project titled Rosy's Own. It features new tracks and a couple songs from People, in fact check the premiere performance of "Paradise" below. In between waves he told me he's a faithful writer even if there's nothing to write about. He knows all the songs will come into their own and proves to be true with his steady output.
After our session, we had a coldie* and chat under an old sycamore tree (*Kyle preferred a hard kombucha). He told me surf has taught him to respect, admire and envelope himself in peaceful and beautiful surroundings. Any pure-identifying surfer would tell ya that time away from the water is soul crushing… Kyle used the word 'debasing.' He gets in the water when he can on tour – certainly up and down California, even having a go in Maine on a recent eastern run – but, it's obviously a tough balance when you have to fill in the holes between coasts or in the middle of continents.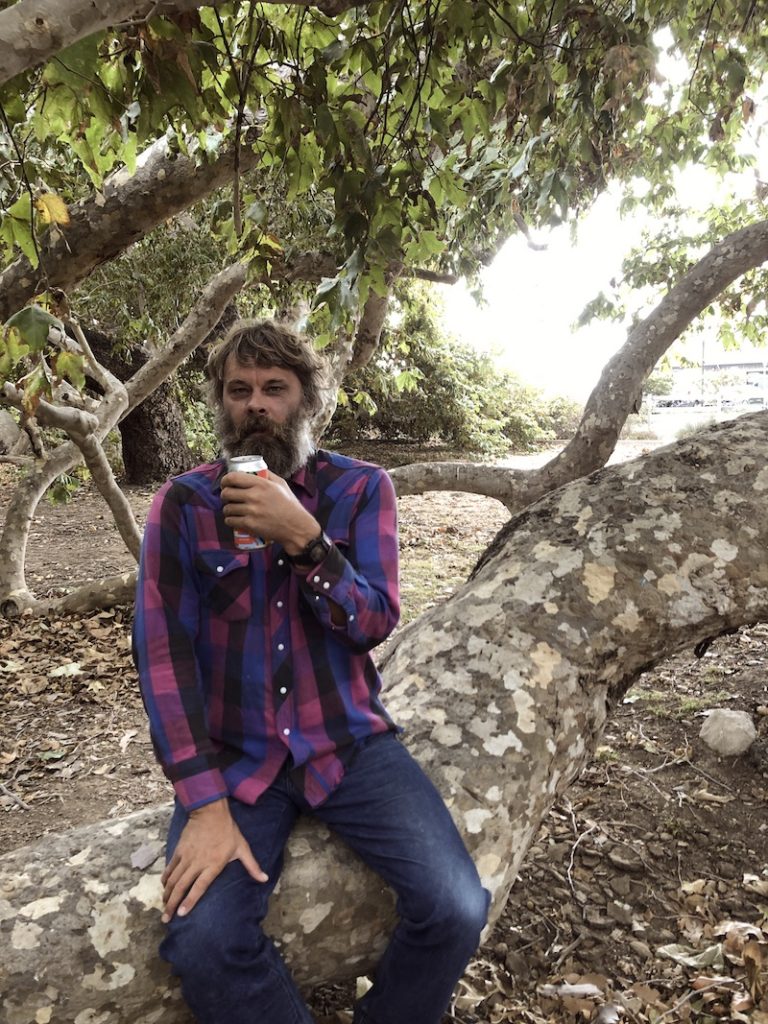 Even with the influence surf has had on his life, he's not quite sure the direct impact it has on his music or art. A permeating effect of course, but it's the relationship to the ocean and how it's connected him to something greater than himself that he loves the most. On a related note, I asked him if he has any pull to Joshua Tree (a place I had seen him perform a couple times and felt a natural fit). He likes it, it's nice out there, enjoys the space and beauty but with a wry smile he proclaimed 'I'm a water guy,' and with that, off we went our separate ways. words / t hale
New decade. New column. Dig what we do at Aquarium Drunkard? Do our mixtapes, features, interviews, essays, and original sessions make your listening life better? Help us continue doing it by pledging your support via our Patreon page. Doing so will get you access to our secret stash—including bonus audio, exclusive podcasts, printed ephemera, and vinyl records—and help us keep an independent publication going.