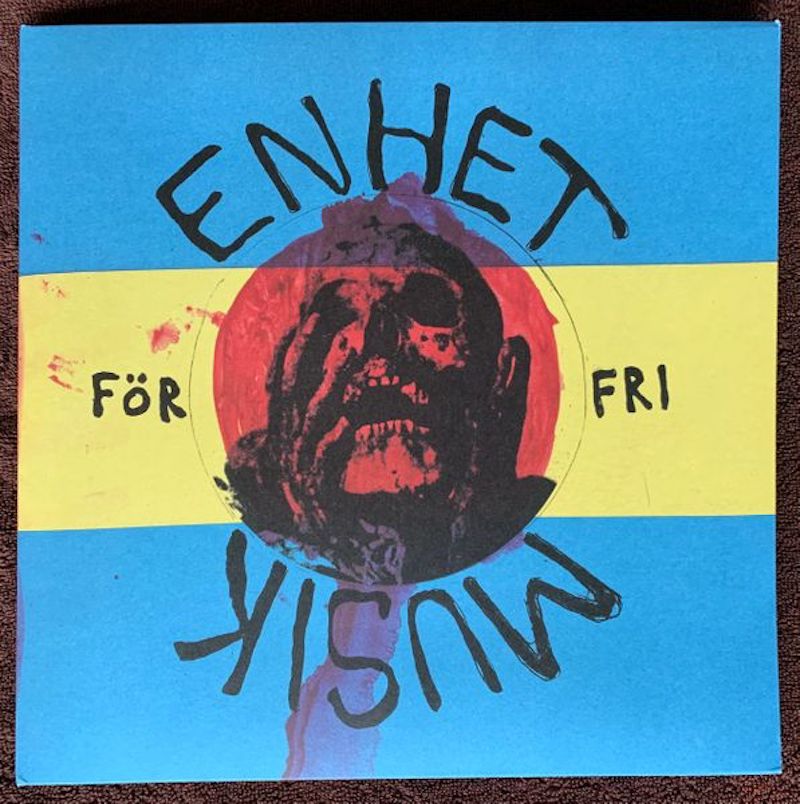 In August 2017 I visited Gothenburg, Sweden for the second time in my life. The first time was 12 years earlier when I had spent a grand total of six hours poking around the area immediately outside the train station before catching my next train. This time around I'd be spending several days there, playing as part of a festival and meeting, in person for the first time, Matthias Andersson.
Matthias spotted me getting off the train. He is very tall, handsome and walks with a distinct limp he acquired from a serious illness a few years back. He speaks thoughtfully and chooses his English words carefully, despite a near-perfect grasp of the language. He has a long history in the world of experimental music, running the prolific 7"-only I Dischi Del Barone label, doing the Release The Bats label before that, as well as making music as Arv & Miljö, and as a member of Enhet För Fri Musik and Heinz Hopf. Over the next few days Matthias showed me his Gothenburg – an apartment chalk full of music, art and books, the local pubs, his neighborhood and intriguing tucked away corners of a city where I felt far more at home than in any of the other sterile Swedish cities I visited.
Without Matthias' guidance I may never have found Music Lovers, a record store you must walk through a cafe to get to. Inside I found not just a store but several record labels being run. Gustaf Dicksson works in both the store and the adjoined cafe and somehow finds time to have his hand in a great many projects – making music as Blod, as part of Enhet För Fri Musik and one-off collaborations like Blod & Miljö and Oroskällan, as well as operating labels; Förlag För Fri Musik, Omlott and Höga Nord. The store itself proved to be a valuable resource for me to stock up on many Gothenburg releases, including some of the more obscure micro press cassettes.
A week previous to my arrival in Gothenburg I had met the duo of Sofie Herner and Dan Johansson, AKA Neutral, at a festival in Helsinki. While Sofie now lives in Malmö, both her and Dan have long histories in Gothenburg. Sofie performs solo as Leda and has numerous collaborations under her belt, while Dan is well known for his solo project Sewer Election, and endless side projects and collaborations; Heinz Hopf, Oroskällan, Amateur Hour, Private Arms and many more, stretching back to the early 00s. About a decade previous Dan worked with Matthias, Viktor Ottoson and others to run Utmarken, a space that featured a record store, label, rehearsal room, performance room called Lacken and a now legendary plastic bag toilet (oh to have a time machine to truly understand this piece of DIY disgust!). Utmarken became a valuable meeting point for what has developed into the diverse and deeply intertwined scene we see today.
These four are joined by Hugo Randulv (also a member of Amateur Hour and numerous other Gothenburg projects) to form the mighty Enhet För Fri Musik. It is nearly impossible not to think of EFFM as the supergroup of Gothenburg, with some of the most active members of the scene coming together in collaboration, but it is hardly a group at all. The members tend to record as individuals and then send the recordings to Dan, whose main job is to mix'n'mash the single components into coherent pieces. The results are stunningly original and nearly impossible to pin down. Despite a markedly impersonal approach to its production EFFM's records are deeply personal in feel and move with the same refined skill as The Shadow Ring did before them. For a listener with understanding of each members history and projects individual components can be grasped – Sofie's gentle spoken word, Gustaf's quasi Progg, Matthias' ambience, Hugo's wandering guitar and Dan's keen sense to bring all these sounds together into cohesive and undeniable movements. The whole affair has a deliberate manner that can only be classified as exactly what it is, Swedish.
Over the next few days I came to understand that this deliberateness and mixing of personal worlds is echoed throughout the rest of Gothenburg's scene. Speaking to Julius of Skiftande Enheter and Monokultur it was easy to understand how he was able to move between these two seemingly disparate projects. While meeting Marko of Levande Begravd Records/Booking and Erik of Team Boro Tapes, Capers and Heinz Hopf in the same room did not seem in anyway unusual. Individuals move freely from punk to noise, garage to industrial and so on. And it is precisely this movement that allows for such unique sounds, as collaboration and influence roam beyond the rigid boundaries of genre and purposeful choices lead to limitless possibilities.
I have long joked that most great music scenes are not made by large numbers of musicians, but rather, just a few very dedicated ones working in a manner that makes it appear that there are a lot more of them than there really are. Sort of a it doesn't take a majority, it takes enough mentality. And Gothenburg falls squarely into this trope. A small contingent of utterly committed and immensely talented musicians who have come together to make something deeply original and uniquely amazing.
Enhet För Fri Musik is out now via Grapefruit Records. Stefan Christensen is from New Haven, CT and currently makes music solo and as a member of Headroom and Center, as well as running C/Site Recordings.
New decade. Dig what we do at Aquarium Drunkard? Do our mixtapes, features, interviews, essays, and original sessions make your listening life better? Help us continue doing it by pledging your support via our Patreon page. Doing so will get you access to our secret stash—including bonus audio, exclusive podcasts, printed ephemera, and vinyl records—and help us keep an independent publication going.