Two weeks ago, the world lost a bit of its spark. Norma Tanega was a musician and artist of multitudes, with an unsettling wit and an unyielding urge for motion. Most striking was her smile, which widened with the amount of bullshit she detected, or the love she wished to express—her teeth like piano keys ringing with light. With no mind for societal predilection, Tanega spent her life channeling a singular creative pulse, to varying degrees of recognition. She was a trailblazer of 1960s folk-rock, and of 1980s avant garde. She was a teacher and a cult figure name checked by indie-rock luminaries. She was a woman who refused others' rules.
Tanega lived in the foothills of the San Gabriel Mountains, under the gaze of Mount Baldy, in an earthen home designed by a student of Frank Lloyd Wright. When I visited her in the months of November and December—conversations recorded for a forthcoming project—it struck me that she should live adjacent to the highest point in all of Los Angeles County, cradled and shadowed by its hulking presence, a natural metaphor for her journey through the industry of recorded music.
She spent much of the 1960s and '70s working within a musical landscape where no one else looked liked her, an unmarried queer woman born of immigrants, writing songs of love and resistence, occupying and subverting the establishment as a matter of course. Take her cover of the Appalachian traditional "In the Pines," included as "Hey Girl" on her 1966 debut Walkin' My Cat Named Dog. "Hey girl, hey girl, don't you lie to me/Tell me where did you go last night," she sings over bent blue notes, picked against the gentle rasp of her contralto voice, insistent, honest and literal as any man's interpretation. If Nirvana was the flagbearer of "In the Pines" for legions of dejected '90s era listeners, Tanega was its ambassador for second-wave feminism, working within the system rather than shouting at it from some external vantage point.
Walkin' My Cat Named Dog is Tanega's best known album, its title track covered by Yo La Tengo and its ninth, "What Are We Craving?," by Thee Oh Sees. That's not to mention the legion of YouTube hopefuls who've posted their take on arresting album opener "You're Dead." It's a singular meditation on the struggles of an artist's life, which melds shadowy lyrics with Tanega's distinctive picking, percussion and hand claps. "Don't sing if you want to live long/They have no use for your song…You're dead and out of this world," she sings without a hint of irony, a stoicism that belies its origins.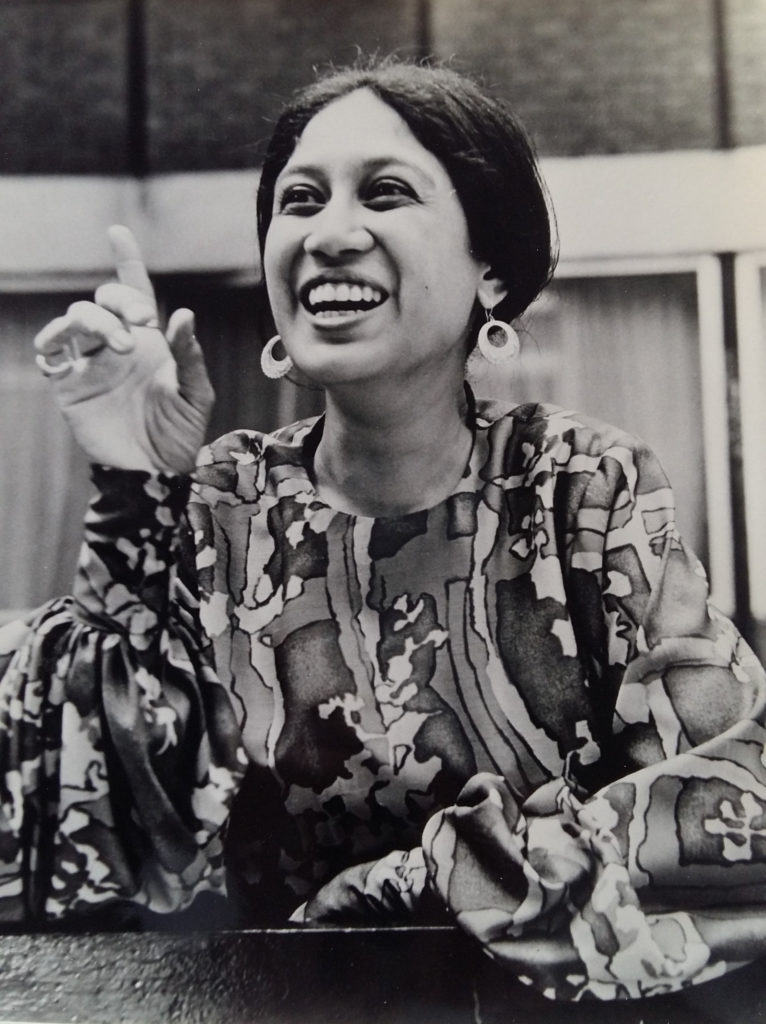 "Sarcasm," Tanega would tell me of the song. She had a particular way of diffusing praise, like when I likened the lyrics of "You're Dead" to Emily Dickinson's agile reflections on society and its limitations. An explosive laugh, a sigh, that big smile…a general reluctance to allow present company to hoist her atop a high horse. These wordless expressions ring truest to Tanega's core. She often said that laughing was what kept her alive. And this ability to lean into the cosmic joke—to refuse to take herself or anyone else too seriously—extended to her earliest days on the scene, as she labored in odd jobs and odd clubs in New York, serenading her cat (named dog) and a woman, Norma Kutzer, who she described as a friend. I pictured Tanega's studio apartment in Greenwich Village, her Hagstrom acoustic guitar drenched in a patch of sun shining through a window that opened to an iron fire escape, warming her calloused fingers. I thought of her dangly earrings, swishing to the beat of anti-war protests and coffee house gigs, of her smile beaming through this cultural momentum.
Then, I imagined her radiant guffaws when "Walkin' My Cat Named Dog" became a hit single in 1966, peaking at 22 on the Billboard and UK Singles charts. How she could suddenly indulge in her favorite activity—eating—upon any whim. When the song was covered by Belgian and Danish artists, and a French-speaking yé-yé group from Madagascar, Les Surfs, as "Mon Chat Qui S'Appelle Médor." Tanega spoke French, and threaded it into our conversations. The cover was a favorite for that particular throughline.
The song's success landed Tanega appearances on American Bandstand, and a package tour with Chad and Jeremy, The McCoys, Gene Pitney, and Bobby Goldsboro. I imagined her alone in women's dressing room after women's dressing room, struggling with the zippers of her shift dresses, hands in some mangled yoga posture. The rolling of stockings and parting of hair. The solitude of being the only woman to peer out from those stages, her bravery amid a cast of male pop stars and their fans. She was entirely green and, reflecting on the experience, was glad for it. For having no other experience with which to compare it. "Do you think women have more privilege than men?" she asked me. It was her way of expressing the complexity of the tour, and her fortitude among it.
Tanega released her second album, I Don't Think It Will Hurt If You Smile, in 1971, amid a high profile relationship in London with the singer Dusty Springfield. An excellent continuation of the folk-rock sound of Walkin' My Cat Named Dog, the album adds woozy psychedelic touches throughout, like on "What More In This World Could Anyone Be Living For," where Tanega's double-tracked vocals anchor wobbles of electric guitar. It didn't meet the same acclaim, though. And in 1972 she walked away from the whole thing—England, Springfield, major labels—for a quieter but no less revolutionary life as a professor and multimedia artist in Claremont, California.
"Je faire de l'auto-stop," Tanega proclaimed of a gap year she'd taken between completing her graduate work and moving to Greenwich Village in the early 60s, hitching around Europe, trailing the wind. More broadly, her life translates as a string of unexpected and inspiring rides. She was content to embrace each in their moment, and the momentum of change between them. Tanega leaves behind a volume of exceptional work, but above all else, she was a joyful and unending expression of what it is to be free.
Erin Osmon is a writer and critic. She's the author of Jason Molina: Riding With The Ghost, and has contributed to dozens of websites and penned liner notes for a range of archival releases.
New decade. Dig what we do at Aquarium Drunkard? Do our mixtapes, features, interviews, essays, and original sessions make your listening life better? Help us continue doing it by pledging your support via our Patreon page. Doing so will get you access to our secret stash—including bonus audio, exclusive podcasts, printed ephemera, and vinyl records—and help us keep an independent publication going.