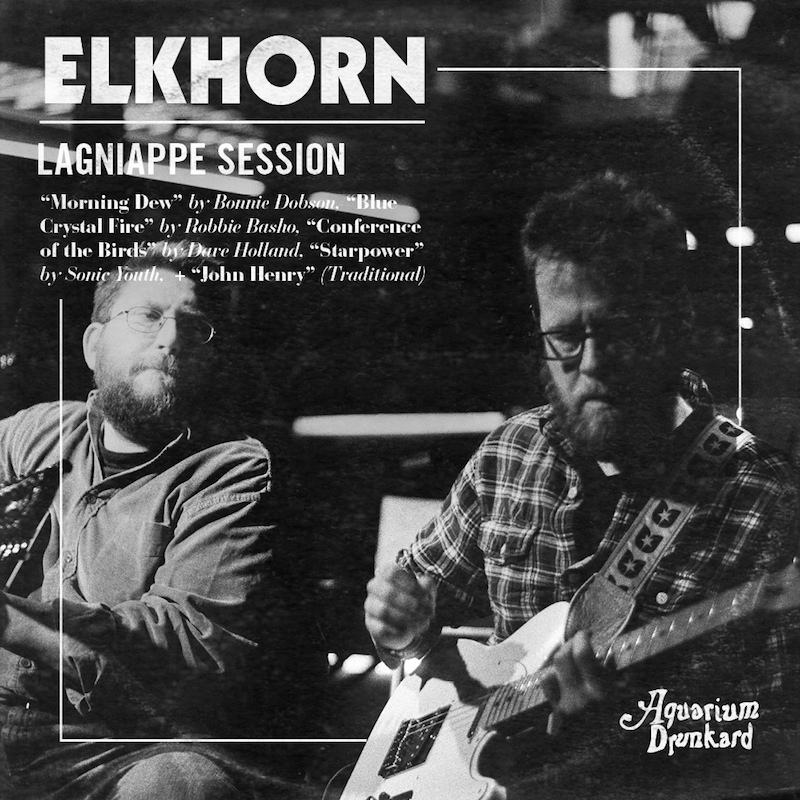 Lagniappe (la ·gniappe) noun 'lan-ˌyap,' — 1. An extra or unexpected gift or benefit. 2. Something given or obtained as a gratuity or bonus.
As Elkhorn, guitar duo Jesse Sheppard and Drew Gardner animate the tension between demonstrating the power of a specific form—in their case, American Primitive guitar—and gently but firmly expanding its parameters. In 2018, Sheppard helped organize the 1,000 Incantations of the Rose festival, which combined old school guitar soli types, including Peter Lang, Harry Taussig, Peter Walker, Glenn Jones, and more, with younger artists like Daniel Bachman, Itasca, Marisa Anderson, Sarah Louise, and others.
Their latest, The Storm Sessions, finds the two joining with Turner Williams on electric bouzouki and shahi baaja, a kind of electric zither, and pays homage to the titans of the genre (Basho, Fahey, Rose) but also feels tapped into the vein pan-psychedelia/folk roots communication that somehow informs everything from the indie jam of their label mates Garcia Peoples to the deconstructed blues and jazz standards of Bill Orcutt, Canned Heat, Sonny Sharrock, Richard Thompson, Michael Rother, Moby Grape, Television, and the whole field of Cosmic Pastoral Music. Equal parts Neil Young and Alice Coltrane, Elkhorn makes heady, thick, and fragrant tunes for connoisseurs. These two-side long improvs unfold steadily and lovingly; for the patient they offer more each listen. These guys have built on each release since 2013, their electric ragas and "Dark Star" explorations have always sounded good, but this is especially rich. 
For their inaugural Lagniappe Session, Sheppard and Gardner take on the traditional ballad "Morning Dew," as heard by Bonnie Dobson via Garcia, the aforementioned Robbie Basho, Dave Holland, Sonic Youth, and another traditional song, "John Henry," often heard as a ballad and a hammer song or work song. The duo's covers and comments to follow:
Elkhorn :: Morning Dew (Bonnie Dobson)
Drew Gardner: A cover of a cover. There were many incarnations of this tune before the Grateful Dead turned it into one of their signature songs. Part of what's so effective in Bonnie Dobson's writing is how indirectly she implies the theme. You might have to hear it more than once to figure out she's talking about nuclear apocalypse. Martin and Neil do a version with a slow, super-simple acoustic guitar part that I like—that's supposed to be the one that introduced it to the Dead. Tim Rose's version has a jaunty equestrian novelty percussion part in the first half and winds up with a Keith Moonish overdriven psych-folk drum vibe with lots of forward momentum. I think the Grateful Dead started playing it in 1967—there's a great version at the Be-In concert. They stay calm and pretty and they swing it more and more as they go. It eventually evolves to sound almost Hendrix-y.
"Morning Dew" is a delicate calm song about the end of the world, so you have to balance out the dark and the light in your own way. When I'm playing it, switching between the two tonalities, it's like driving through a forest, moving through shadows and sunlight. I wrap up the solo with a touch of wah as a nod to the Jeff Beck version.
Eva Sheppard, Jesse daughter, sings on this. She's been occasionally performing with us live for a few years. She has an incredible voice, and really knows how to interpret, even though she's so young. All three of his kids are musicians. I've sat in on a lot of Sheppard family hootenannies over at the years. I can feel the family living room band somewhere inside this version.
Elkhorn :: Blue Crystal Fire (Robbie Basho)
Jesse Sheppard: This is one that we've been doing for a while. Originally put it together as a nod to the band Arborea, who covered it on the Basho tribute album We Are All One, In the Sun. Since then we've enjoyed rolling it out occasionally when Eva is on hand to sing, but never did a proper recording. Something about the way Drew solos over Basho's changes has always reminded me of Peter Green's playing on the album In The Skies. Not sure why that is, but it works. Can't really recall if what I'm playing has any similarity to what Robbie's doing on the original, but I hope he'd agree that we captured some of the song's spirit.
Elkhorn :: Conference of the Birds (Dave Holland)
Jesse Sheppard: I come from the electric bass to acoustic guitar and spent a significant portion of my youth deep in the electric Miles hole. Holland's playing and musicality as a sideman and bandleader has been a north star for me longer than I can remember. Well-versed Elk-heads will note that we actually have a tune of the same name on our first album, although technically the two songs are just named after the same poem and have nothing to do with each other. Playing this feels like coming home.
Elkhorn :: Starpower (Sonic Youth)
Drew Gardner: We were in high school when EVOL came out and it just grabbed us. "Starpower" is a beautiful piece of psychedelic punk music. It's noisy and catchy and chic and angsty all at the same time. Instead of a breakdown section in the song, the song breaks open and to me it's totally psychedelic. It creates the altered feeling of moving though some kind of discordant space ether. I take the opportunity to flip out on the guitar, which I always enjoy. My partner Katie Degentesh joins Eva on this one and they have a great vocal blend.
Elkhorn :: John Henry (Traditional)
Jesse Sheppard: No matter how far Elkhorn travels, the music is always connected to its roots in the folk tradition. That is a quality I admire in the music I listen to and might be the single most important way our music remains connected to American Primitive guitar. Of course the melody of John Henry is a fundamental text of American music and offers endless possibilities. Although my favorite version remains Mississippi John's, here I'm pulling more from the slide version of Jesse Fuller. Something about how Drew weaves his melody through and around the familiar tune of the song gets to the heart of something he and I have been exploring with this band from the start.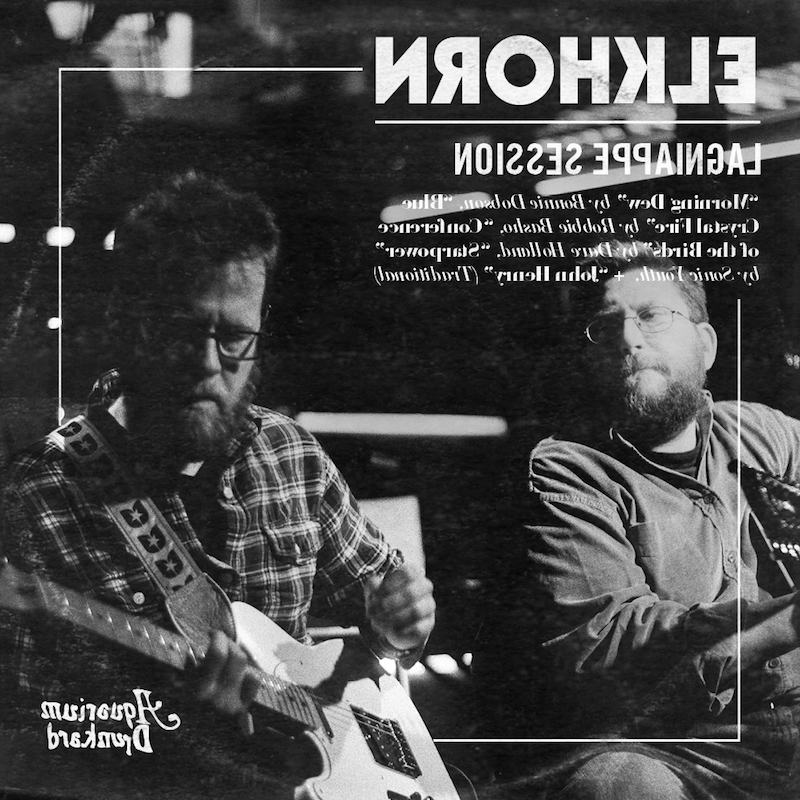 Lagniappe Sessions Archives / imagery via d norsen
New decade. Dig what we do at Aquarium Drunkard? Help us continue doing it by pledging your support via our Patreon page. Doing so will get you access to our secret stash—including bonus audio, exclusive podcasts, printed ephemera, and vinyl records—and help us keep an independent publication going.