With a coastline of 840 some odd miles in California, it should come as no surprise that many of the artists we revere at Aquarium Drunkard seek refuge and inspiration in the Pacific blue with a surfboard underfoot. As the resident surfer amongst the AD ranks, and in the spirit of deeper discovery and appreciation, Tyler Hale will be paddling out in 2020 via a new column devoted to the surf: we're calling it Dawn Patrol. This month – Alex Bleeker.
Real Estate have been proselytizing their brand of breezy, mellow indie rock for about a decade now, making them not only reliable but firmly veteran. Their sound has often been pegged as surfy, but even with their New Jersey roots, it wasn't until bassist Alex Bleeker moved to coastal Marin County in Northern California — some 4.5 years ago — that they could back it up with some validity.
Bleeker is about as affable and approachable as their music, often the one cracking jokes on stage and interacting with fans. He's a dynamic musician in the group and also juggles solo endeavors (Alex Bleeker and the Freaks, Grateful Dead cover bands) against Real Estate's output. Having met him on a number of occasions, I was very much looking forward to a surf and hang. So on a beautiful February morning — their 5th album release The Main Thing a couple weeks away— we paddled out to make the most of some small Venice Beach waves to discuss everything from his move to California to what inspired Real Estate's departure of sound on the new record.
Bleeker's surf journey begins in Marin County, where, as he says, "it was serendipitous that I wound up there." He fell in love with the pristine coastal environs while recording near Stinson Beach and through some friends, took on a sublet and more or less hasn't left. He knew instantly upon arrival that he was home. It was during this early period that a friend of his pushed him to take up surfing and now it's pretty much consumed his day-to-day.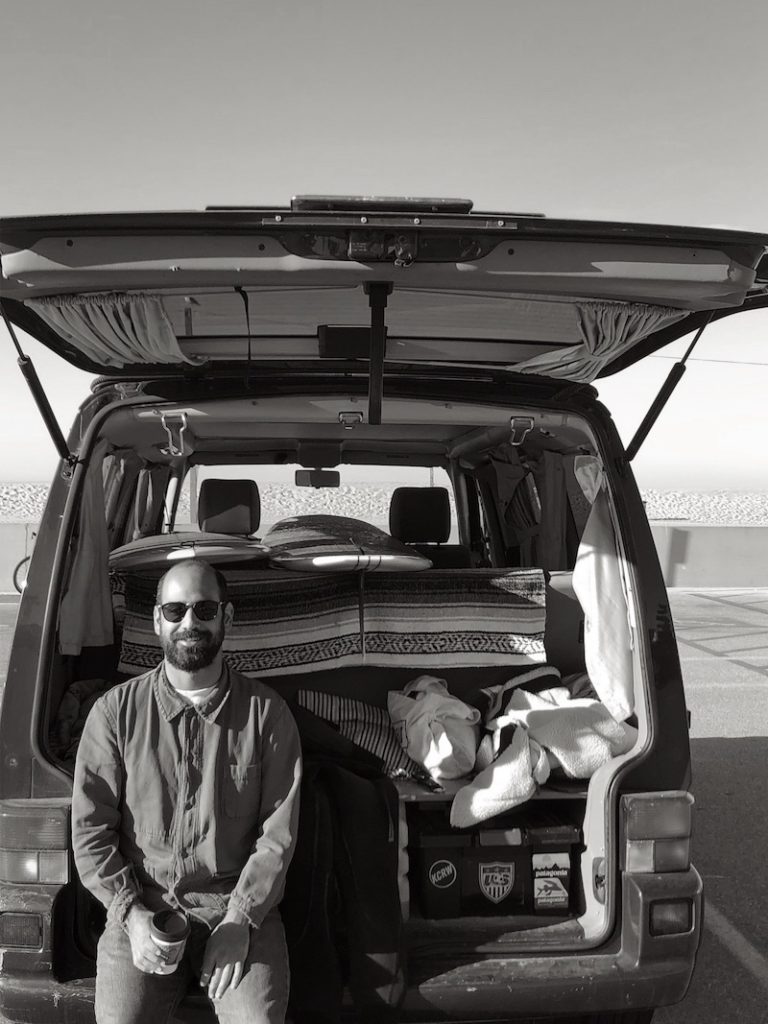 The water's power is magnetic, isn't it?
Bleeker initially found a break that was very accommodating to beginners and loggers (still his preferred hang), which helped with the learning curve. As he puts it, "learning how to surf is like learning a new instrument. I love getting better and when you break through to a new level – it's such a great feeling." Nowadays, he's catching waves with ease and it's had a profound influence on everything he does. From where he lives to seeping into his music.

Speaking of which, touring with Real Estate has afforded him the opportunity to paddle in idyllic, far reaching places: Byron Bay, Tel Aviv, Spanish seaside villages and the Domincan Republic to name a few. But it was a chance encounter in nearby-ish San Luis Obispo where he felt the energy of the surf community at large. Following soundcheck, he fired up Twitter to source a board from a fan and within a matter of hours he had snagged some waves and made it back to the venue to perform. One of his favorite shows in recent memory – primarily due to the mindset procured pre-performance.
I asked him about the intersection of surf and music, and he said: "They're the only two things that connect me to a flow state. Being out in the water and playing with a band is the same meditative and connected state of being. It's important to access that part of my brain…and I love the feeling of both."
Bleeker – who is a noted and dedicated Head – was very attracted to the lore and vibe that accompanies his now home, and it sounds like he's settled into the hallowed Dead stomping grounds seamlessly. He's a stalwart in the local music scene, surfs with a local crew, and pretty much lives a blissful life when he's not on the road. It's a launching pad to peace and comfort, and a nice contrast to the hectic nature of album cycles and recording. Which Bleeker is on the doorstep of — bringing us to Real Estate's excellent, new album The Main Thing (out 2/28 via Domino).
10 years in and 5 albums recorded – the band was literally searching for validity and direction in what they do. Singer Martin Courtney says this about single "Paper Cup":
"It's a song about questioning your chosen path in life and searching for meaning in what you do. Those questions don't really get resolved in this song, but ironically, the process of making this record – really diving deep and trying to make it the best thing we've ever made – reaffirmed in me, and I think in all of us in this band, why we are doing this."
The band turned (or returned) to Marcata Recording Studio in upstate New York, working with Kyle McMahon. This is the same barn and low-key setting where their celebrated 2011 album Days was recorded. Bleeker notes that McMahon has been invested since the beginning and almost a member of the band, so it was natural to utilize him in order to push them into a different space.
Which he most certainly did.

The Main Thing zags a bit from their typical effervescent melodies (don't worry, they're still there, just different) — venturing into meandering dreamy soundscapes a la Air (see opening track "Friday") and even drips of disco on the aforementioned "Paper Cup." That particular track finds them in new territory still, with the addition of Sylvan Esso vocalist Amelia Meath.
All in all, it's a convincing step and fresh direction for a band who needn't necessarily take one. And with a worldwide tour on the horizon — one thing that's for sure is Bleeker's footing will find him in the water.
Following our sesh, I reached out to Bleeker to cover some ground we didn't touch on. It's the follow-up 5.
AD: Set up your preferred day of surf. Location, conditions, music you're listening to pre-paddle, post-surf hang and eats?
Alex Bleeker: Wake up early on the beach and throw on Alice Coltrane's Journey in Satchidananda. The water is warm, the sun isn't too hot – you're with your buds on a surf trip somewhere. The point break is working – it's a long, shoulder high, fat, log-able right that just goes and goes forever. Come back to the beach and drink ice cold Mexican beer in the hot sun – lay in the hammock and listen to Michael Rother and other melodic krautrock. Surf again at sunset – come back to the beach and blast Gilberto Gil's Nightingale. Drink more Mexican beer and grill some fish on the beach. Sleep, repeat.
AD: You have one board to take on tour with you – what is it?
Alex Bleeker: I really want an 8'4 Andreini McVee – so I'll say that. I usually ride long boards that are around 9' or longer but these boards turn really well and paddle like logs even when they're a little shorter.
AD: Related – where do you plan on getting some water in during the upcoming tour? That Solana Beach gig looks ripe for some, might seeya down there.
Alex Bleeker: Basically anywhere there's ocean and enough time to get in the water before or after sound check! Might have to start using a surf mat for the sake of space though…
AD: Any pro (or notable musician) surfers you've connected with through your music?
Alex Bleeker: Once I met Cyrus Sutton and Anna Ehrgott through mutual friends. I barely knew how to surf back then, I was just learning. They were both super nice and unpretentious and tried to show me where to catch re-formed waves. I'm pretty sure I had no idea what they were talking about. When they found out I was in a band we talked about making a super ambitious surf video where we traveled the world chasing waves and meeting up with local musicians to make records. I think we exchanged emails and I haven't seen either one of them since.

Some musical surfers I admire : Aaron from Peaking Lights, Cameron Stallones of Sun Araw, and of course Kyle Field, the king of the California Coast.
AD: Finish this sentence – At the end of the day, surfing has…
Alex Bleeker: Changed my relationship to the ocean, joy, and my entire perspective.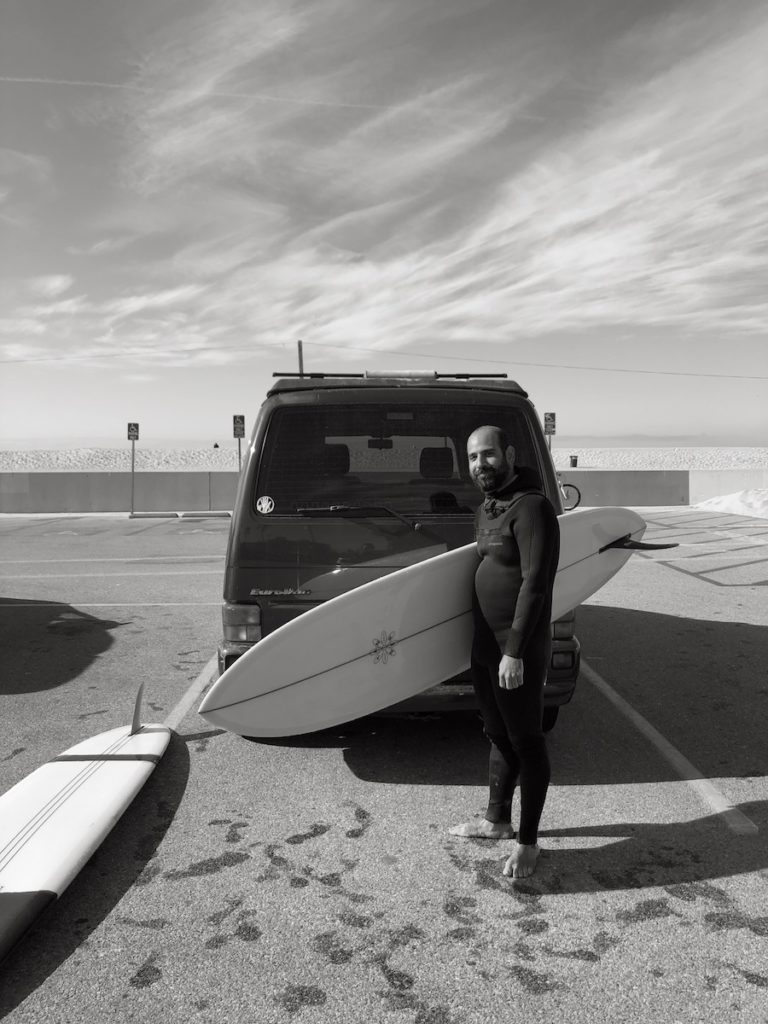 New column. Dig what we do at Aquarium Drunkard? Do our mixtapes, features, interviews, essays, and original sessions make your listening life better? Help us continue doing it by pledging your support via our Patreon page. Doing so will get you access to our secret stash—including bonus audio, exclusive podcasts, printed ephemera, and vinyl records—and help us keep an independent publication going.