"Psychedelic but readable" is how the proprietor of my local heady art emporium, Desert Island Comics, introduced me to the work of Jesse Jacobs a few years ago. While an accurate blurb, it only barely covers 2017's Crawl Space (Koyama Press, $19.95), the Canadian artist's breakthrough full-length book as a sequential narrative-maker. It's the importance of the breathtaking colors that comes through first, with a few pages of dense, entwined rainbows before anything like characters–let alone a story–begin to emerge from Jacobs's gorgeous figures.
What happens in the next frames, as a pair of teenage girls return from something very much like a psychedelic experience, is a perfect encapsulation of Jacobs' craft. This particular psychedelic experience, as it happens, is accessed by crawling into a dryer nestled in the basement of one of their houses. From this playful abstraction, Jacobs pulls out and develops a story that is emotionally real without surrendering an inch (or neon subterranean creature) of its weirdness as it follows and breaks its own rules. Too strange and personal to feel remotely moralistic, the consequences of having a doorway to a psychedelic other-world in the basement makes for a breathtakingly perfect setup for Jacobs, blurring the line between whimsical and menacing.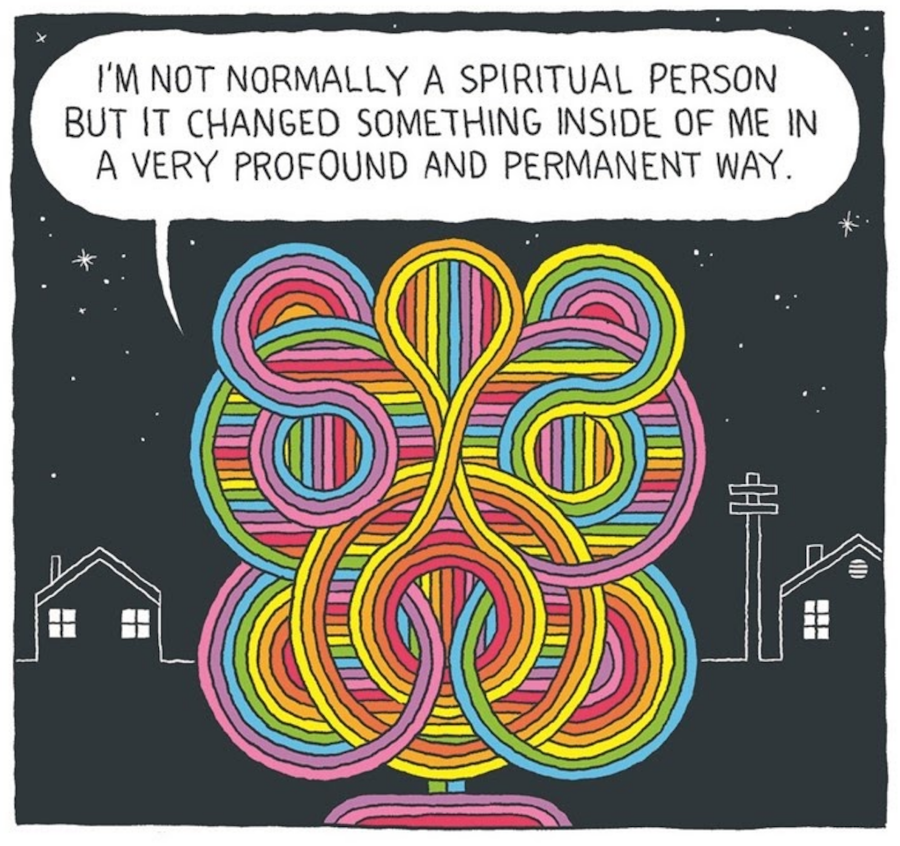 With an additional four narrative-driven books–two before Crawl Space and two since–Jacobs has found new stories to tell, and new ways to tell them in each. At their most abstract, certain panels seem like they might've come from the inkwells of a lost Zap comix illustrator (or team thereof), as if Victor Moscoso or Rick Griffin had decided to translate all those secret languages and bent landscapes into actual plots. But Jacobs's design sensibilities and humor remain thoroughly modern, or perhaps just out-of-time in their own particular way. In 2012's By This You Shall Know Him (Koyama Press, $15), the book begins with a Don DeLillo quote before going molecular and telling the tale of a trio of amorphous space-children (and their teacher) at play in a pink, blue, and black cosmos, learning to summon planets and creatures from the invisible. In 2014's Safari Honeymoon (Koyama Press, $15), a couple navigates another green world of Jacobs's creation populated by a variety of species, fauna, consciousnesses, and reality-dissolving phenomena.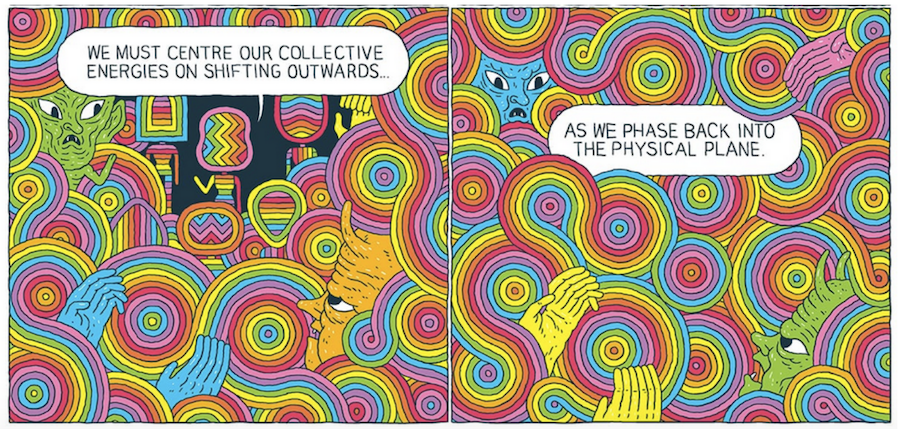 If there's formula at work across Jacobs's books, it's perhaps the sense that maybe the artist has merely reverse-engineered his stories from his fantastic landscapes, with only the plan to drive the characters towards an inevitable contact (and likely conflict) with some completely bananas entity that Jacobs can groove with for a few pages here and there, turn inside out, and make a platform for thoroughly wondrous fantasias as the book comes to an ecstatic emotional peak (or even repeated peaks) while dissolving the duality of ideas like "abstract" and "narrative" for a few extended moments. And that, as Jacobs has now proven several times over, is no mean feat, with more than enough theme, variation, and utter creativity for a reader to have any sense whatsoever what might be lurking on the the next page or plot turn.
Both of Jacobs's 2019 titles, the kinda horrorist Baby In the Boneyard (Hollow Press, $15) and They Live In Me (Hollow Press, $22) are quite literally darker, built around mostly black pages and even more existential plots. Though Baby in the Boneyard returns to the raised-in-the-weird themes of By This You Shall Know Him, the green-and-white electrical swamp creatures seem to come from a less knowing and even crueler cosmos than that of Zantek, Ablavar, Blovax, and their teacher. They Live In Him, narrated by a malevolent house, is even starker, both in point-of-view and illustrative style. Though markedly less dense than any of the previous four books, it's no less satisfyingly anarchic in its plot development.
Probably, each of Jesse Jacobs's five creations are comic books, though their standalone natures (and hifalutin levels of creativity) suggest they might be called "graphic novellas" or some such. Whatever their genre or format, each is a standalone bit of delicious storytelling that takes–for this reader, anyway–roughly the length of an album to intake, at least for the first time. (The mellotron-dabbed Brooklyn outfit Worthless, co-founded by artist Curtis Godino, pairs excellently with Jacobs.) Passing by with the effortless ease of self-contained storytelling in any medium, there's plenty to return to later in all of them. Crawl Space, especially, seems designed to be left lying around so it can do the work of finding the others, ready for a burgeoning teenage head to pick up, thumb through, and wonder about.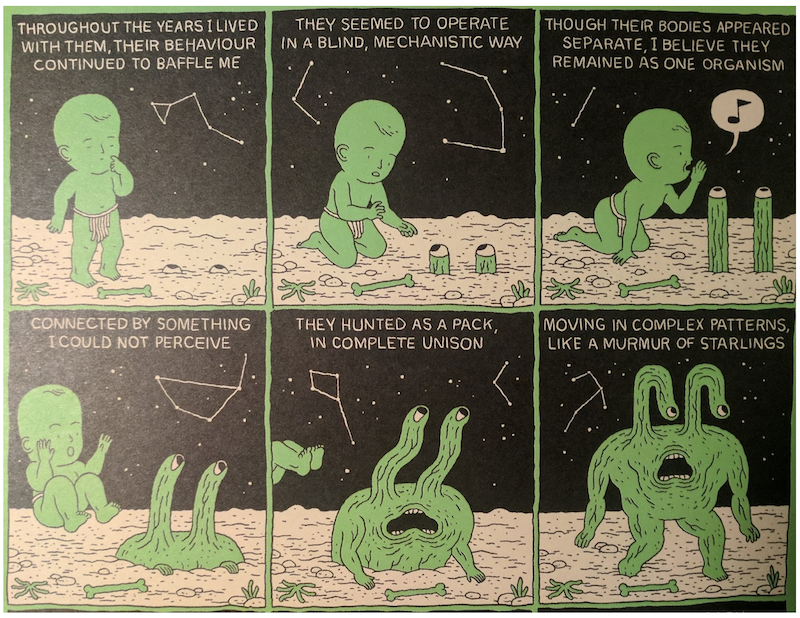 In the linear storytelling world, a logical next step for Jacobs would be to write something long-form, with characters and logics spilling out across pages or multiple volumes, and this reader would be absolutely delighted and looks forward (hopefully) to that day. For now, though, Jacobs seems to be working on a step even more ambitious than a long-form book, stepping from the printed page into transforming his world into fully realized video game. Previews for the side-scrolling game Spinch (expected to launch any moment now via the gaming platform Steam) look utterly bodacious. In ye olden days of the early '10s Brooklyn DIY venues, local video-game makers would occasionally set up their arcade-style wares for show-goers to play with during band changeovers (or during bands themselves) at spaces like Death By Audio. While they made great conversation (and were free to play), the games rarely made much sense, or compelled me personally to figure out the unstated rules. The idea that Jacobs's narrative logic might translate in even a tiny way to the world of side-scrolling video games is (maybe) enough to make this decided non-gamer figure out where I'm supposed to shove quarters in the side of my laptop.
Back in meatspace, Jacobs has five graphic novels, a few print collections, t-shirts, posters, swag, and (so far) maintains a lifetime commitment to excellent taste in first name and choice of initials. Spinch and its many worlds seem deliciously imminent, and I look forward to whatever horizons loom beyond (and within). Perhaps I'll report back sometime. Traditionally, it's considered bad form to ask for the manager, but in this case I definitely owe them a thank you.
Jesse Jarnow is the author of Heads: A Biography of Psychedelic America (Da Capo, 2016), Wasn't That a Time: The Weavers, the Blacklist, and the Battle for the Soul of America (Da Capo, 2018), and Big Day Coming: Yo La Tengo and the Rise of Indie Rock (Gotham, 2012). He hosts The Frow Show on WFMU. Explore the archives of his AD column, Blanks & Postage, here…
Dig what we do at Aquarium Drunkard? Do our mixtapes, features, interviews, essays, and original sessions make your listening life better? Help us continue doing it by pledging your support via our Patreon page. Doing so will get you access to our secret stash—including bonus audio, exclusive podcasts, printed ephemera, and vinyl records—and help us keep an independent publication going.